Rockharz 2014 – Review
July 10-12, 2014
Ballenstedt, Harz Region, Germany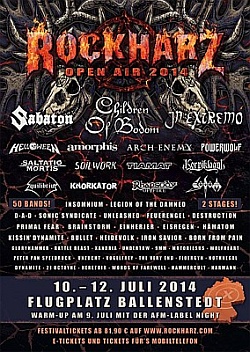 For a Female Fronted Metal fan this year's Rockharz was the "New Singers Edition". Even though this year there were only three female fronted bands – Arch Enemy, Xandria, and Battle Beast – the trip out into the remote Eastern Harz region in Germany was still worthwhile. One reason is that all of the bands named above made an appearance with their new (or not so new anymore) singers. On top of that, both Arch Enemy and Xandria have just released their new studio albums and had some new material in store. Lastly, a Femme Metal fan is almost never a Femme Metal fan only, and Rockharz always has an amazing array of male fronted bands worth seeing.
Read more: Rockharz 2014