Dead Man's Curse, Trillium & My Favorite Scar
@ 013 Kleine Zaal Tilburg (Netherlands)
Thursday 14 November 2013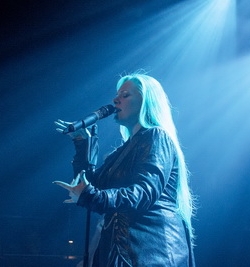 Tonight a well known name in the symphonic metal scene on stage in 013! Trillium is the band formed around Amanda Somerville, the American singer who worked with bands like After Forever, Epica, Kamelot and Avantasia. She toured as a substitute for Simone Simons with Epica in America but is also successful with her solo album Windows. In 2011 she founded Trillium to bring all her stage experience into an impressive mix of gothic, symphonic and progressive metal.
Read more: Dead Man's Curse, Trillium & My Favorite Scar