Rockharz 2014 – Review
July 10-12, 2014
Ballenstedt, Harz Region, Germany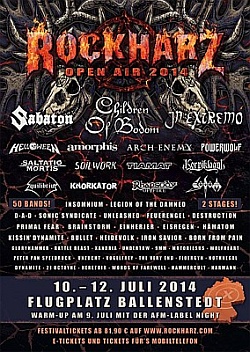 For a Female Fronted Metal fan this year's Rockharz was the "New Singers Edition". Even though this year there were only three female fronted bands – Arch Enemy, Xandria, and Battle Beast – the trip out into the remote Eastern Harz region in Germany was still worthwhile. One reason is that all of the bands named above made an appearance with their new (or not so new anymore) singers. On top of that, both Arch Enemy and Xandria have just released their new studio albums and had some new material in store. Lastly, a Femme Metal fan is almost never a Femme Metal fan only, and Rockharz always has an amazing array of male fronted bands worth seeing.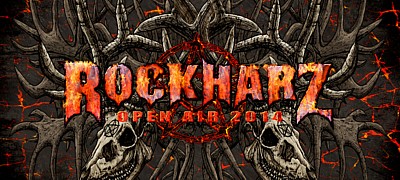 Those who have been following Sonic Cathedral in the past years might have noticed that Rockharz is one of the festivals that get a lot of attention here and that we are covering for the third time now. It is not a festival that focuses on female fronted bands, but (among others) Epica, Arkona, Delain, and Lacuna Coil have played here. Please check out our Rockharz 2013 and Rockharz 2012 articles as well to find out about the previous editions. Not much has changed, so instead of having a lengthy description of the festival setup (which is awesome!) I will focus on showcasing some photos and let you know about how those new singers worked out in the live setting.
Battle Beast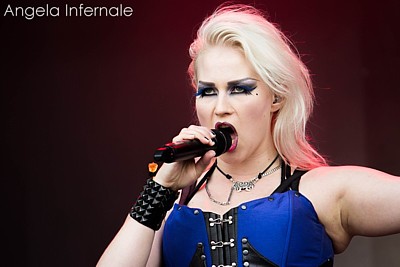 The last time I covered Battle Beast was when they opened for Nightwish in April/May 2012, see article here. At that time I was not exactly thrilled about their musical style, but impressed by their musical and vocal versatility.
Battle Beast had the first slot of the day, at roughly 2pm. Not a good slot, and not their original one as there was a change due to time issues. Yet they still gathered a large crowd that was already chanting their name before they went on stage. The fact that most people disappeared after their set makes clear they actually just came out to see Battle Beast.
The band has maintained its style of classic Heavy Metal, and if you enjoy listening to Science Fiction inspired Metal songs (about Metal), these guys are definitely worth watching. Their new singer Noora has a voice just as powerful as their old singer Nitte's, and her stage performance is energetic and characterized by an entertaining interplay with the the rest of the guys. They have definitely found a good replacement, and for someone unfamiliar with the band it may well seem like she has always been with them.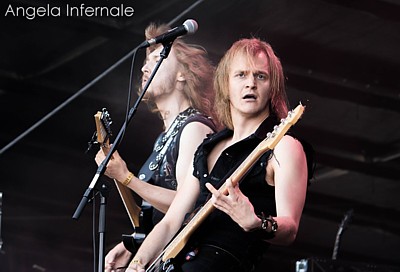 Setlist (order may have differed)
1. Let it Roar
2. Out on the Streets
3. Neuromancer
4. Iron Hand
5. Black Ninja
6. Kingdom
7. Enter the Metal World
8. Out of Control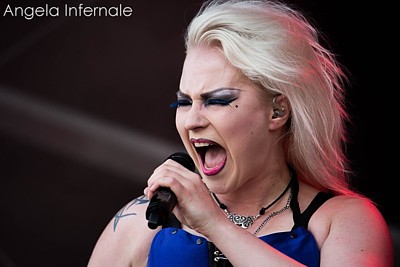 Xandria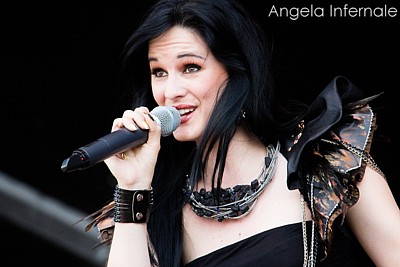 This was not the first time I saw Xandria live with their new singer Dianne van Giersbergen after the split with former singer Manuela Kraller. The first time was in a small club, with an even smaller stage, and obviously little space to perform and interact as a band. Still, Dianne and the guys managed even then to energize the crowd deliver a great performance. I was curious to see how their show would look on a big stage now.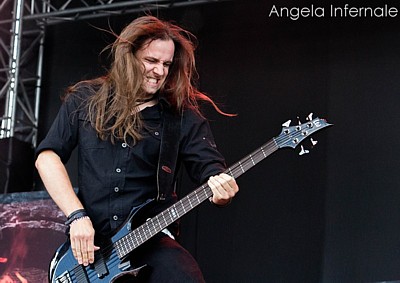 With more space to take up and a larger crowd to play to they one-upped themselves at Rockharz. Dianne's performance is very dramatic and maybe even a little bit choreographed, in a good way. She has mastered emphasizing the quite epic music and lyrics with her moves and facial expressions. She sings new and old songs with ease, which figures, as her voice matches the vocal style of the Manuela-era Xandria songs.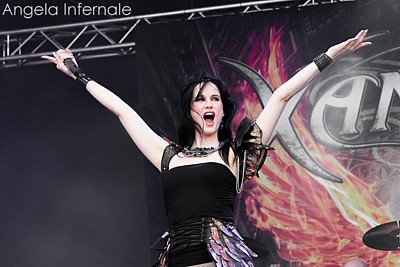 The set consisted of about 50% old and new songs, with "old" meaning the Neverworld's End album. The transition between this album and the current one (Sacrificium, which is newly out) was a smooth one despite the change of singers. They managed to pull it off without losing the sense of continuity in their music, and the same goes for their performances. It is always nice to see when things just fall into place after a change of band members, and in this case they definitely did.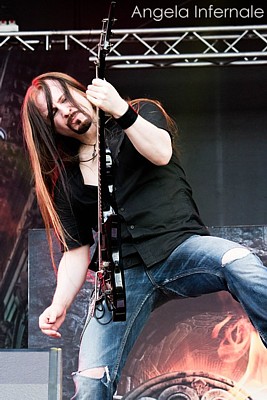 Setlist:
1. Nightfall
2. Blood on my Hands
3. Until the End
4. Forevermore
5. Euphoria
6. Dreamkeeper
7. Stardust
8. Valentine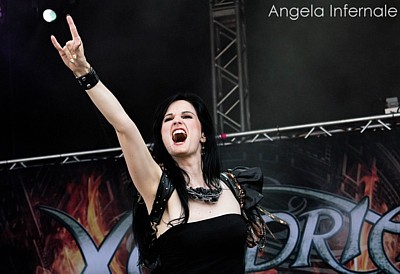 Arch Enemy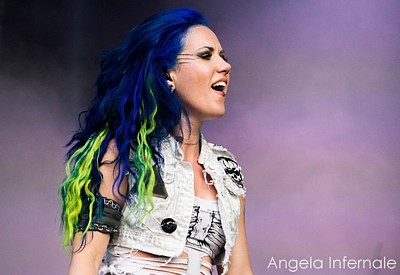 Arch Enemy were probably the band I was looking forward to the most. For some reason, their sudden announcement that Angela Gossow would no longer be their singer, along with the revelation of the new one – Alissa White-Gluz, former The Agonist– was a rather big shock that went through the Metal community. As one – if not THE – main female fronted band with rough vocals they had been on a kind of pedestal for years (nevermind they started off as male fronted). Angela was with them for 14 years, and seemed to be an irreplaceable part of the band. All of that being said, the change of vocalists worked out just fine.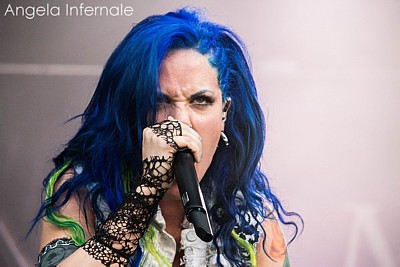 I was never a fan of The Agonist (musically), but happened to catch Alissa with Kamelot in November 2013, and really enjoyed it. Then after the first Arch Enemy songs with her surfaced, I could not wait to see them live again with her this time. I will give the conclusion away now: they blew me away!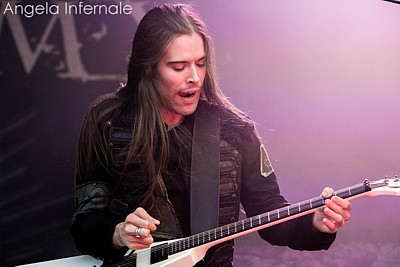 It is no news that the guys in the band are everything but static on stage. They have a great interaction with the audience, which a lot of bands just leave to their singers. Needless to say, Alissa had her fair share in it and took the crowd in a heartbeat. Her vocals are a perfect fit for Arch Enemy, which did not always show in her Agonist-times. It seems to me like she has adapted her style a little in order to cut the 'core' out of the Metalcore.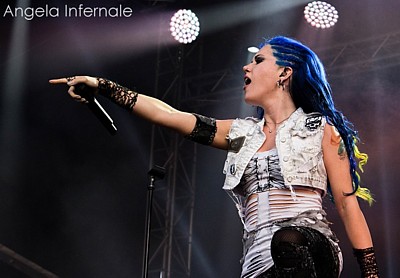 The band had just released their new album War Eternal just days before the show, and played the title song "War Eternal" as well as "As the Pages Burn". The rest of the set consisted mostly of Arch Enemy classics such as "My Apocalypse, "We Will Rise", and "Nemesis". Alissa proved that she has no trouble to follow in Angela's footsteps. During the upcoming world tour, as well as the remaining summer festivals, everyone should be able to assure themselves of that.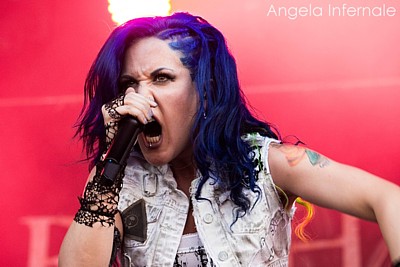 No setlist available, so please accept this extra photo as a bribe.