So, you wanna be a Rock Star?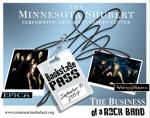 Backstage Pass: The Business of a Rock Band, will follow the Austro-American band Visions of Atlantis and Dutch band Epica on their North American tour and expose the inner workings of what it takes to bring their music from concept to album to the stage.
Participants will get a "real world" look at creating a successful band from the development of music to the product of an album and tour. It will show the ups and down, the nitty-gritty lifestyle, and completely expose the life from the rehearsal room to the tour bus to the stage. We will also take a look at all the roles that are integral to the success of a band. Music business professionals such as record company executives, national and local booking agents, band managers, sound engineers, entertainment lawyers, the members of the bands, and more will open up their world to you.
The really cool thing about the program is the fact that through the forum, you can ask the musicians and business professionals questions and have them directly answered! There will be scheduled chat sessions, journals, video interviews, blogs, and projects that if you complete and send in to the Shubert Center, you will be rewarded by the bands!
In addition, the concert in St. Paul, MN on Wednesday, September 19th will be webcast live via the Minnesota Shubert Center website for anyone to log in and view.
Your Backstage Pass will become valid on September 10!
If you have additional questions, please contact Melissa Ferlaak, Education Manager of the Minnesota Shubert Performing Arts & Education Center at 612-465-0220.