Revamp: North American tour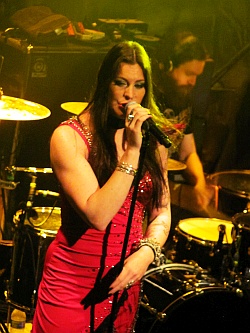 ReVamp: Hollywood, CA
May 2nd, 2014
By: C.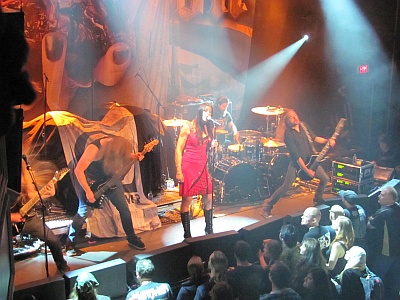 ReVamp: Vancouver, British Columbia, May 7th, 2014 (photo by Allyson Kenning)

May 2nd was the date: ReVamp in Los Angeles! As if to set a precedent for the day to come, what is the first thing we see upon exiting the freeway into L.A.? A customized license plate reading "FIN LND". Yes, I know Floor is Dutch, but considering that our little group are also Nightwish fans (and our reason for being at the show in the first place due to being converted to Floor-ism after seeing her perform with Nightwish nearly 2 years ago), we all got a big kick out of this and even waved at the person driving the car, yelling out what Finnish words we knew (which are not printable here!). Luckily the driver was entertained by this! Unfortunately she sped off before we could get a good photo of the license plate, but the memory will live on in our hearts!
As for the show itself, I was strictly there for ReVamp. I have never traveled this far for a show where I would only watch a band for about 30 minutes, but since my friends were fans of Iced Earth and were going anyway, I was happy to join them and get a chance to see Floor outside of a Nightwish setting. While I had always respected Floor as a vocalist and liked her voice, I was never a huge fan of her previous bands before Nightwish. But after seeing her with them, I became a fan. I decided to give ReVamp another try after Wild Card came out and I'm glad I did!
One thing that Floor possesses in spades (besides an amazing voice) is stage presence. I don't know if it's because she's so tall and therefore strikes both an imposing figure and a regal bearing, but when she performs, you are immediately drawn to her and nothing else. She also wears high-heeled boots, so as she moves around onstage, headbanging and windmilling and whipping her hair all over the place, you're left a little bit in awe; wondering how she doesn't fall and break a bone by doing all of this in high-heeled boots! ReVamp is a bit on the heavier side as opposed to a band like Nightwish, so there was a lot more headbanging and overall "rocking out" on Floor's part. Vocally, she has such a strong, loud voice that if her stage presence doesn't captivate you, her singing certainly will! There's a reason she is one of the most-wanted voices on the metal scene today, and whether she's showing off her operatic vocal chops, belting it out with passion, or incorporating her guttural growls; Floor makes herself heard!
It's so easy to make this review all about Floor and to spend all my time talking about how great she was, but the other guys in the band were pretty fucking awesome too! Unfortunately because I am relatively new to ReVamp, I did not know which name matched which particular bandmember, so I will just say that I particularly found the guitar playing to be quite impressive, and the rhythm section also kicked ass. There was a lot of headbanging among the ReVamp guys as well, so this is a band who definitely knows how to rock out together.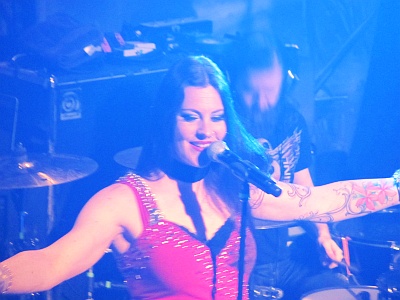 Floor Jansen: Vancouver, British Columbia; May 7th, 2014 (photo by Allyson Kenning)
Even though the band only did a set of 6 songs, it was a high-energy set packed with heavy tunes from beginning to end. The majority of the setlist was stuff off the new album, but some of the songs from the first ReVamp album ("Head up High" and "Disdain") found its way into the half-hour performance. One thing she said during the set that got the crowd going was that not only did ReVamp need to return soon, but that she would be back about the same time next year with Nightwish!!! That was the best news of the night, to be certain.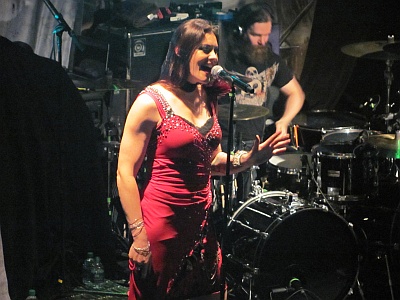 Floor Jansen: Vancouver, British Columbia; May 7th, 2014 (photo by Allyson Kenning)
During Sabaton's set (who also put on a good show), ReVamp came out to their merch table to meet with fans and sign stuff. It was very crowded down on the floor where their merch table was, so I really take my hat off to them for taking the time to hang with the fans, considering there was hardly any room for them to do anything. I met the two guitarists, who took pictures and signed my Wild Card CD; they were very nice. Floor was especially charming and sweet; we gave her gifts, she signed my Wild Card CD and my Showtime, Storytime DVD. Before we parted ways she gave me a big hug and thanked me and my friend for our gifts. I had met Floor once before with Nightwish and she was nice then, so it was good to see that nothing has changed.
All in all, ReVamp put on an amazing show and was worth the long travel, even if it was a short setlist. While I do hope they come back soon, I would be lying if I said I can't wait for Floor's return with Nightwish!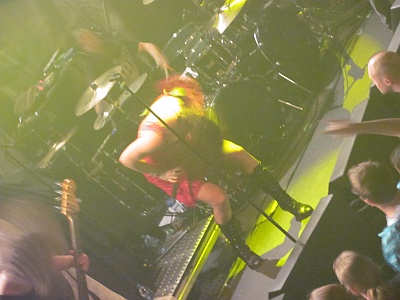 ReVamp: Vancouver, British Columbia; May 7th, 2014 (photo by Allyson Kenning)
ReVamp: Vancouver, British Columbia
May 7, 2014
By: Allyson Kenning
On May 7th, 2014, ReVamp appeared in Vancouver, and after a free meet and greet at a local record store, Scrape Records, they rocked The Venue in downtown Vangroovy. Despite some serious sound mixing issues where it was at times very hard to hear Floor sing, this was a great experience for me and the realization of a dream of mine to see Floor sing live. It was a great night out. Here are some of the pictures I took of ReVamp's performance.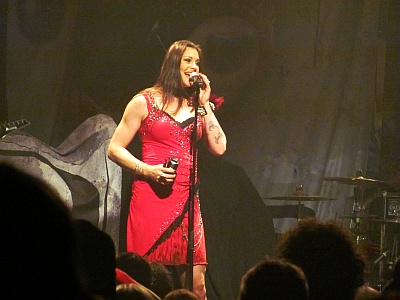 Floor Jansen: Vancouver, British Columbia; May 7th, 2014 (photo by Allyson Kenning)
For more information on ReVamp: www.revampmusic.com
Special thanks to Oceansouls of America: www.nightwish-osa.ezweb123.com