Therion (and others) – Metal Meeting
@ Effenaar Eindhoven (Netherlands)
Saturday 14 December 2013
For me the first day of the Metal Meeting Eindhoven, for quite some visitors already the third day full of Metal. This event started in 2009 as a single day event using both stages of the Effenaar. It has now grown to a three day event with almost 50 unknown and well-known bands. Like always the number of female fronted bands is limited at this kind of festival. In total 4 female fronted bands were scheduled. Izegrim (NL) was playing on Thursday and on Saturday Arkona (RU), Asrai (NL) and Therion (SWE) played. The last is not female fronted in the full sense but the female singers play a significant role in the show.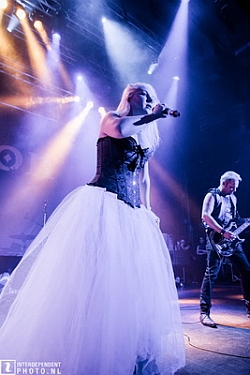 Read more: Therion (and others) – Metal Meeting