The Iron Maidens - Live in Anaheim
September 6, 2015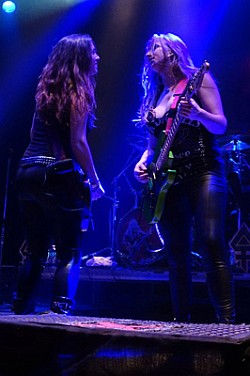 The Iron Maidens – from LA, billed as the "World's Only Female Tribute to Iron Maiden" – is one of my favorite live bands. In fact, they are the band that I have seen most (11 times), so a live report has long been overdue. I decided to write this one to mark a very special occasion, the Maidens playing at a release party for Iron Maiden's 16th studio album, The Book of Souls, at the House of Blues in Anaheim, California (at Disneyland's Downtown Disney).
The Iron Maidens do a fantastic job of recreating classic Iron Maiden, both the sound and the experience. Their musicianship is top notch, right up there with the original, which is no small feat. Kirsten Rosenberg has the range and power to deliver soaring vocals worthy of Bruce "air raid siren" Dickinson. She also borrows many of his classic lines and jokes (like "scream for me Anaheim" and "opening a pair of curtains" to describe what the song "Revelations" is about). She's backed by virtuoso shredders Courtney Cox and Nikki Stringfield, who respectively do Adrian Smith and Dave Murray proud. Of course Maiden can't be Maiden without its distinctive rhythm section, and bassist Wanda Ortiz and drummer Linda McDonald nail that too.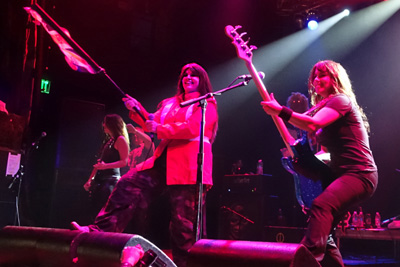 The Maidens focus on Iron Maiden's older material, hardly ever playing anything after "Fear of the Dark." This is fine with me, since I love that era (even though I also love the new albums), and it gives new audiences the chance to experience 80's Maiden (since Steve Harris and company now often play their new material, understandably).
The Anaheim show happened on September 3, 2015, the day before the release of Iron Maiden's The Book of Souls. This allowed the combination of three cool things: a 90-minute Maidens gig (with no other bands), a pre-release listening session for the new album (which I highly recommend, probably Maiden's best since Brave New World), and refreshments in the form of Iron Maiden's own Trooper beer (which is excellent). What fun! (Throw Disneyland into the mix, and it was pretty much the perfect day for me.)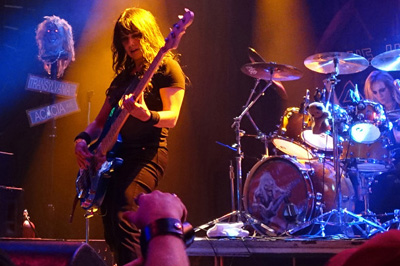 The evening began with the audience screaming on-air for Bruce Dickinson, who was hosting a radio show on Sirius in New York. Everyone was really happy that he has overcome his cancer. His illness also makes us appreciate him all the more.
The concert started like Live After Death, with Winston Churchill's "we will defend our island" speech and "Aces High." The crowd enthusiastically sang "live to fly, fly to live…." Next, the band continued with more Powerslave for an intense rendition of "2 Minutes to Midnight." After a couple more classics, it was time for one of my favorites, "Wasted Years" from Somewhere in Time. Several different Eddies and Maiden characters routinely appear on stage with the Maidens, and Anaheim was no exception. Courtney Cox always battles futuristic assassin Eddie during "Wasted Years" (and for the first time I've seen, in Anaheim she left him lying on the floor!).
Other highlights included the instrumental "Transylvania" from Maiden's first album; "The Trooper" from Piece of Mind, during which Kirsten always dons a military uniform and waves a British flag; the ominous "Number of the Beast," complete with menacing Beast on stage; Killers' "Purgatory," which gave Kirsten a chance to show off her high falsetto to enthusiastic applause; and my favorite Maiden song, the fast "Hallowed Be Thy Name," with Death on stage brandishing his scythe and noose.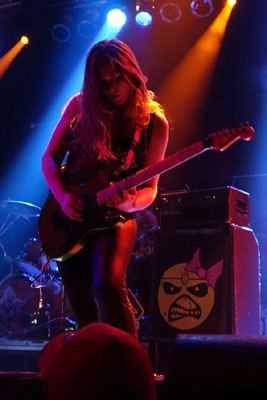 After the concert, the Maidens moved to the merch table, as they always do, where they are happy to meet fans, pose for pictures, and sign anything. And this time, while they were doing that, we were all treated to the chance to listen to The Book of Souls.
I also enjoyed meeting other fans during the show, including one guy who flew four hours from Mexico City for the gig! I also met someone who first saw Iron Maiden at age 13 in 1981, when he was living in Germany with his military family.
The only thing missing was Nita Strauss, now guitarist for Alice Cooper. The video of Nita and Courtney playing at NAMM has gotten millions of views and really captures the Maidens' energy. However, the band's lineup has changed several times since they were founded in 2001, and they have always been fabulous. The current group is no exception.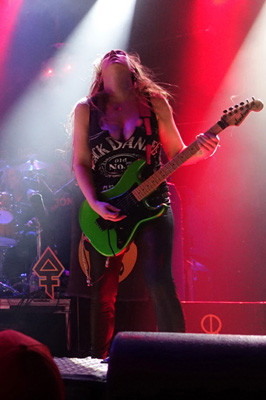 The Maidens tour extensively, not only in the U.S. but also Japan, Latin America, and Europe (where they will return in April 2016). I highly recommend that our readers go see them! You can find their tour schedule on their homepage, or learn more on their Facebook (which has an impressive 1.1 million likes). Up the irons!
Anaheim Setlist:
Aces High
2 Minutes to Midnight
Revelations
Sea of Madness
Wasted Years
Deja-Vu
Back in the Village
Transylvania
The Trooper
The Duellists
Heaven Can Wait
The Number of the Beast
Purgatory
Fear of the Dark
Hallowed Be Thy Name