Summer Breeze 2015 Festival Review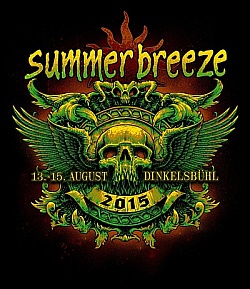 Where? Dinkelsbühl, Germany
When? August 12-15
Who? See full line up at end of article
Photo Galleries:
Battle Beast
The Sirens
Sister Sin
Avatarium
About 35,000 people, 4 days, 4 stages, 120 bands. Summer Breeze Open Air (est. 1997) is one of the larger German metal festivals. This year's edition was Sonic Cathedral's first, and one to be remembered. With Nightwish headlining and a bunch of other amazing bands playing, the festival left nothing to be desired.
Day 1 (Wednesday)
The first day of a festival is usually slow. People are arriving, setting up camp, and then maybe taking a leisurely stroll around the festival area. Most festivals either don't have any bands play on the first day, or they open only a smaller portion of the festival ground. At Summer Breeze, 2 of the 4 stages are open, and the program was everything but leisurely. .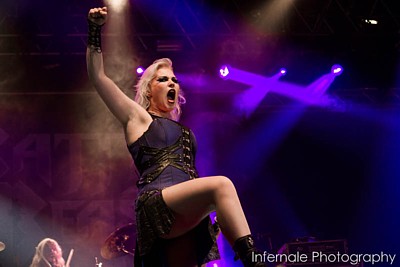 Battle Beast
The first band for me was Battle Beast, and there is probably no better start to a metal festival than a band that plays metal songs about metal. Everyone else seemed to have had the same thought, and the place was packed. The band launched into a powerful set that didn't slacken until the very end. They were able to prove their great skill as a live band once more, and soon had the crowd cheering their name. With "Black Ninja", "Enter The Metal World", and "Out Of Control" they chose the right songs to keep the mood going, but skipped "Steel", which I sorely missed.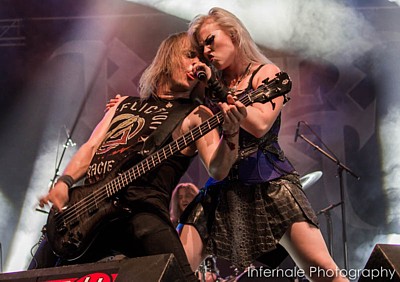 Battle Beast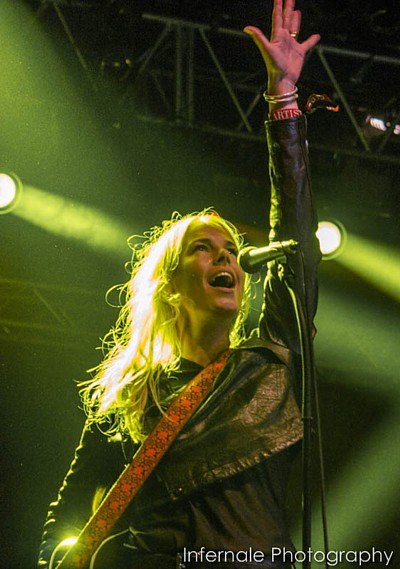 Avatarium
Up next was Avatarium. Following Battle Beast and their dynamic heavy metal is not an easy thing, and it might have been better to have the bands play in a different order. The crowd shrunk quite a bit, but after some shifting around and new people coming in they still had a decent-sized audience. Their set started out rather quiet, but then gained in heaviness and momentum. Their doom metal can almost be called psychedelic. All in all, their performance was somewhat different from what I'm used to, but definitely interesting.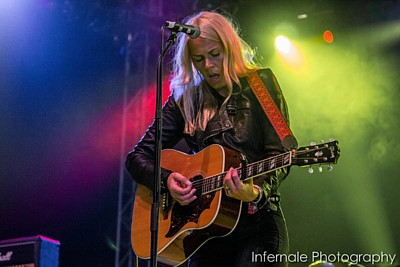 Avatarium
Other bands on this day included Sonic Syndicate, unfortunately recently severed from bass player Karin Axelsson, Death Angel, who brought some good old thrash metal, and Devilment, Dani Filth's second band, which has established itself pretty quickly in the scene, and rightly so. And thus ended the first festival day in a promising way that kindled the anticipation for the next 3.
Day 2 (Thursday)
With bands playing until after 2am the day before, it is never nice to get up early to start watching bands again at 11am the day after. There are of course bands that are totally worth it, though. . Trollfest is definitely one of them. Their genre is hard to describe, but their use of accordion, trumpet, and violin puts them in the folk metal realm. They are probably all completely insane and on day release from some institution. If you don't know what I mean you have to go watch them. Climbing of the huge main stage to take a little dive in the audience or simply crowdsurfing to the other end while playing are just a few of the things that are worth mentioning.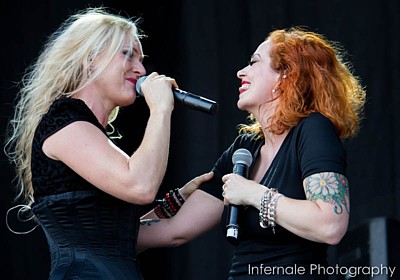 The Sirens
A stark contrast followed with The Sirens. Liv Kristine, Anneke van Giersbergen, and Kari Rueslåtten make up this project of leading ladies who combine their talents to bring alive some old songs you thought you'd never hear live again. They don't do all of their songs together, but take turns and sometimes perform in duos or as a trio. They 'cover' songs of their old bands, but also reinterpret them by bringing in the other ladies. Their choice of songs could have focused a bit more on upbeat and faster ones, but we got "Image" by Liv's former band Theater of Tragedy, so I'm not complaining. When Anneke did The Gathering's "Strange Machines", The Sirens basically turned into The Gentle Storm, Anneke's other project, as they do the song as well and also share a guitarist with The Sirens. A bit more differentiation might be a good idea.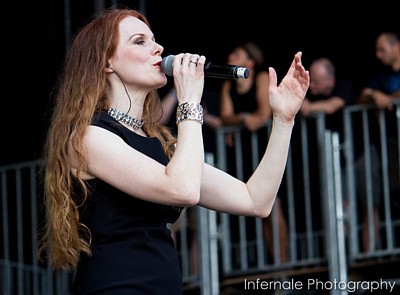 The Sirens
Day 2 didn't feature a lot of female fronted bands (The Sirens being the only one), but it had some big names in store for the audience. Sodom, Opeth, Amorphis, and Kreator are just a few to name.
Day 3 (Friday)
Another early day after a late night. This day was probably the one with the wildest mix of genres. Bands such as Heidevok and Ensiferum provided the folk metal, Combichrist brought in the industrial metal, and Walls Of Jericho blasted out some hardcore.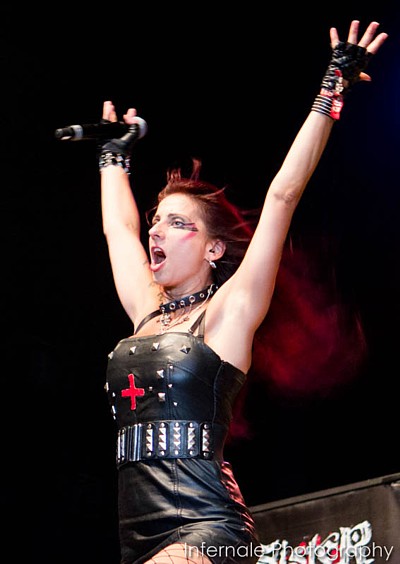 Sister Sin
Sister Sin picked up where Battle Beast had left off, playing some old school heavy metal. Some bands just love to have a nice slow start to a set and then build it up to its culmination. This band is not one of them. They cut right to the chase, and the crowd was hit by a solid wall of metal right from the start. Singer Liv was a ball of energy that bounced all over the stage, making it really hard to capture her on photo. All that effort definitely paid off, as the band was well received and had the crowd wrapped around its little finger in no time.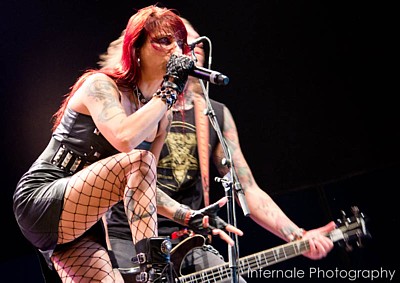 Sister Sin
Before we go into other bands, there has to be a little intermezzo which comes just as surprisingly as the actual event itself. It was known that there was a weather alert for the area, but most people probably didn't anticipate what happened at 6pm, just as Gloryhammer had set up and were about to go on stage. Due to the rising storm, the program had to be interrupted, and recorded announcements were made on all stages. The gist of it was 'Stay calm, there is no danger, there are emergency shelters available'. After some time, the T-Stage area (t is for tent) was evacuated. The festival ground outside, which usually harbors about 35,000 people, was all but deserted, giving the whole scene an apocalyptic appearance. Luckily, the whole thing turned out to be not as bad. An hour later the storm was over, and business could continue as usual.
Due to the delay all sets were pushed back an hour, which is why it was 1:20 in the morning when Cradle Of Filth finally took the stage. With Sonic Cathedral's former writer Lindsay on keys and backing vocals, this was of course one of my most anticipated bands of the weekend. Unfortunately, as soon as the intro came on, it became clear that there would be some severe sound issues. The bass was deafening, completely swallowing the rhythm guitar. Lindsay's vocals were barely audible. Luckily Dani was loud and clear, and the other instruments weren't too bad either. I could tell the band was actually doing a great job, but was completely screwed over by the sound. As I later learned from people in the very back, the sound was better there, and the show was actually great. These sound issues were a rare exception for the festival, so at least no other bands were affected.
Day 4 (Saturday)
The highlight of the last festival day would of course be Nightwish. Before that, there was a bunch of noteworthy, though not female fronted bands. Be'lakor, Troldhaugen, and Ghost Brigade should definitely be checked out.
That morning, some time around 9am, when we were still in camp, music suddenly started playing on one of the stages (this is unusual). Naturally we were wondering if a band was playing already. A moment later it became clear that it was just Nightwish, which meant there was probably someone on the campground blasting music. But it did sound like it was coming from the stage. That sinking in, we realized Nightwish were up on stage for an early morning sound check, Floor Jansen and all. They did 'My Walden' almost completely, and then they were gone just like that. Still, a nicer start of the day can hardly be had.
That night, leaving Dark Tranquility early to get a decent spot for Nightwish, I soon realized that such a spot was no longer to be had. As the main stage headliners they were of course the most sought out band of the day, and they had the place packed long before they actually went on stage. You could feel the anticipation grow, and when the intro started playing the crowd went nuts. Just to define 'nuts': at some point I was holding up one crowdsurfer with my left hand, and another one with my right hand. The band's set consisted chiefly of newer songs, meaning their 2 latest albums Imaginaerum and Endless Forms Most Beautiful.
As for the older songs that were played, 'She Is My Sin' was somewhat expected, as they have been playing it more or less consistently throughout the last few years. What came in as a surprised was 'Stargazers', which was revived more recently. They ended with 'Last Ride Of The Day', an all-time classic for a final song, and left the crowd screaming for more. Due to the tight festival schedule this was not possible, and the band took their leave accompanied by the outro.
Nightwish Setlist (according to setlist.fm)
Intro
01. Shudder Before the Beautiful
02. Yours Is an Empty Hope
03. Amaranth
04. She Is My Sin
05. My Walden
06. Weak Fantasy
07. Élan
08. Storytime
09. I Want My Tears Back
10. Stargazers
11. Ghost Love Score
12. Last Ride of the Day
Outro
The nice and hot weather we had throughout the festival ended with the last bands playing, and gave way to a steady drizzle that lasted through the night and well into the next day. We left the campground just before noon, completely drenched. The experience was amazing, nonetheless. In memory of the nicer mornings, here's a photo of the sunrise over the campground. .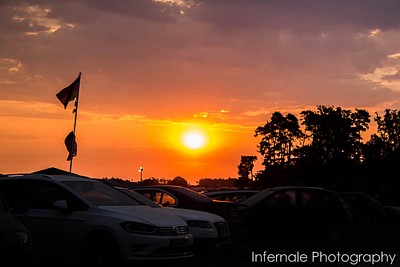 Complete Festival Line Up:
Diablo Blvd, Battle Beast, , Avatarium, Panzer, Sonic Syndicate, Death Angel, Devilment, Steve'n'Seagulls, Autumnal, Hark, Thrähnenkind, Deserted Fear, Demonical, Isole, Nervosa, Trollfest, The Sirens, Corvus Corax, Die Apokalyptischen Reiter, Black Stone Cherry, Opeth Kreator, Megaherz, Kyle Grass Band, Tankard, Destruction, Sodom, Saltatio Mortis, Amorphis, Ne Obliviscaris, Hämatom, Obey The Brave, Ost+Front, Betraying The Martyrs, Dornenreich, Carnifex, Eisregen, Agalloch, Death To All, Carach Angren, Hotrod Mayhem, Drescher, Rogash, Nachtgeschrei, Antropomorphia, John Coffey, Vitja, Dead Lord, The Green River Burial, Crown, Any Given Day, Kissin' Dynamite, Alestorm, Ensiferum, Sepultura, Powerworf, Trivium, Heidevolk, Blutengel, Kadavar, Pyogenesis, Suicide Silence, Bloodbath, Cradle Of Filth, Severe Torture, Lantlos, Sister Sin, Thy Art Is Murder, Gloryhammer, Combichrist, Ektomorf, Neaera, Marduk, Walls Of Jericho, Schirenc Plays Pungent Stench, The Gogets, Necrotted, Lifeless, Fuck You And Die, Fire Red Empress, Hour Of Penance, Below, Finsterforst, To The Rats And Wolves, Temple Of Baal, Serum 114, Be'lakor, Betontod, Kataklysm, Paradise Lost, Hatebreed, Nightwish, Majesty, Haudegen, Emil Bulls, Korkator, Cannibal Corpse, Dark Tranquillity, Venom, Milking The Goat Machine, The Duskfall, Suicidal Angels, Breakdown Of Sanity, Hackneyed, Belphegor, Morgoth, Sick Of It All, Inquisition, Ghost Brigade, Dark Fortress, Reliquiae, Pripjat, Dust Bolt, Rectal Smegma, Chapel Of Disease, Dreamshade, Revel In Flesh, Terror Universal, Troldhaugen, Nailed To Obscurity.