71,000 Tons of Metal
Femme Metal goes to Sea
Caribbean Cruise, Feb. 4 - 8, 2016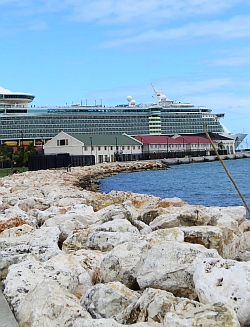 In the world of metal music, there are certain events that stand out each year. Wacken, in Germany is certainly one, there are other biggies. But, 71,000 Tons of Metal is certainly one of top venues on the planet. I mean, here's what we get: a 5 day cruise on a super cruise liner, leaving Ft. Lauderdale, Florida and heading south around Cuba from the east to Jamaica. Put into port for a few hours, then head back around the western part of Cuba back to Ft. Lauderdale. On the cruise are 60 of the top metal bands on earth, along with some 3,000 well healed metal heads from about 50 countries. You gotta love it. The music goes from about 10 in the morning until about 5 AM and, trust me, the bars are open and serving. If you love metal, this is pretty much Nirvana, complete with sun burn.
Yours truly made the decision to attend after looking at the alternative: 5 days of ice storms in Wisconsin. I'm weak and easily convinced. So, I caught a flight to Orlando, hung out with a buddy in Melbourne a few days on his boat and struck out on I-95 for my old stomping grounds in South Florida. My lovely cousin took me to the ship in Port Everglades where some 3000 metal heads clothed fully in black awaited me. We took to the ship with great expectation, and then the fun began as we left Ft. Lauderdale under clear skies and 80 degree temps. And not a snow shovel in sight.
There's clearly no way to talk about all the bands on the cruise. And, this is a Female Metal site so, I guess it would be appropriate to focus on bands in that category, although we can certainly mention some from the male vocal line as well. I'll try to address things from each day's events, again, with a focus on the femme metal, and there was quite a lot of that.
Day 1
As we pulled out of Ft. Lauderdale, I went up to the top deck to take a look at Miami Beach as we passed by, a place where I grew up and served as an ocean lifeguard in my youth, lot of memories there. Then I headed down to the Pyramid Lounge (one of 4 venues on the ship for this event) to catch Carach Angren, a Dutch symphonic black metal band I've wanted to hear for some time. I had press credentials which gave me access to the photo pitt and I had every cameral I owned to record the events. Unfortunately, there were some 600 Northern European metal heads between me and the pitt so I watched from afar. But, fortunately for me, Delain was scheduled next in a larger venue several decks below so I headed there early to make it to the pitt before the crowd. And, Delain didn't disappoint. The highlight of the set was their relatively new little blond guitar player who totally captivated me with her stage presence and her musical talent. Think her name is Merel Bechtold and, from what I've heard, she's playing with at least 3 top level bands in the Netherlands and has her own band as well, busy girl. Killer set.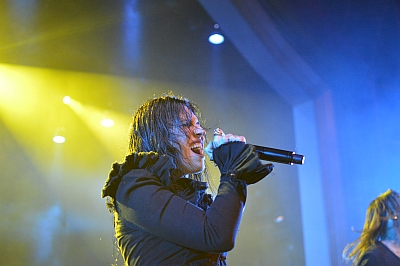 Lacuna Coil followed shortly thereafter and, again, they brought a large crowd to rapture with a collection of band favorites. Italian Gothfathers indeed.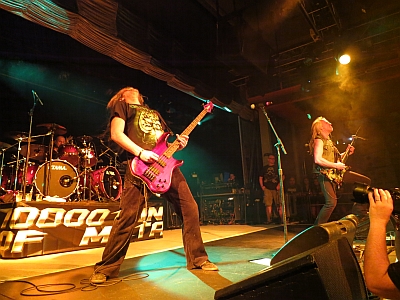 I guess I should point out at least one other set from the evening that had a lasting impact on me, and on the large crowd who enjoyed the moment. German thrash metalers Sodom have long been a power in Northern Europe, and their set was well attended. They are contemporaries and fast friends of Motorhead and, during their set, they did a tribute to Lemmy and the boys. When they were done there was a religious moment in the crowd; this was shortly after the death of Lemmy, and the crowd understood the significance. Metal remembers their own. A moment I will long remember.
Day 2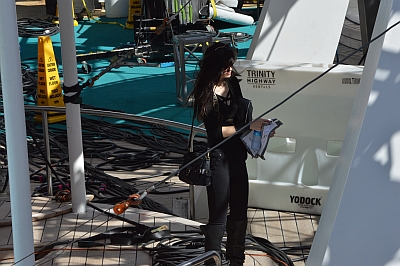 Following a medically induced hand full of pain reducers to deaden the impact of the previous night's frivolity, I quickly hastened to the top deck to catch the day's first performance, Visions' of Atlantis. Unfortunately, the top deck was still under construction and I caught the band's lovely vocalist looking at the as yet unfinished venue. Our first official rescheduling.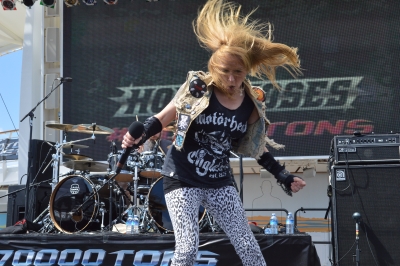 Damn, we all headed out to breakfast and waited for the next showing. And, that showing was Holy Moses from Germany. This is a band that has been to MFVF a lot of times, and they sure put on a show on the top deck. This was my first experience at that venue and it was something to behold. Of course, being the mature adult I am, I never glanced at the multiple swimming pools and hot tubs where the black t-shirts had been replaced by bikinis: after all, this was a musical event, not a peep show. But, I digress. Holy Moses put on a first class set, as I recall, and I headed back underground, I mean, below decks, with a quick stop for a frozen Rum Runner to take the edge off.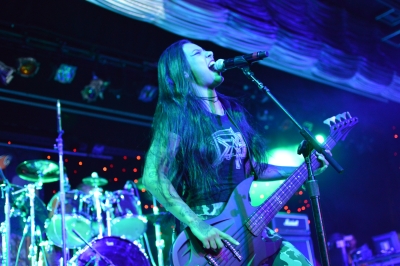 Nervosa was my next target; 3 hot Brazilian girls doing solid trash metal. I have a hard time understanding why anyone wouldn't like something like this. I mean, the visuals are understandable, but, these girls are as good as it gets in metal. The drummer alone was worth the price of admission for the cruise, and those two guitar players, well, let your imagination run wild. Over the top is the only way I can describe their set.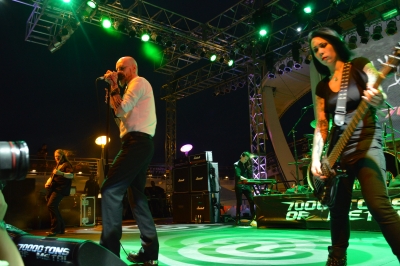 A number of solid metal acts followed Nervosa: Hammerfall, a killer Swedish power heavy metal band, My Dying Bride, a band most of you will be familiar with, and Stratovarius, the Finnish legends, all put on solid performances. I had 3 more frozen Rum Runners.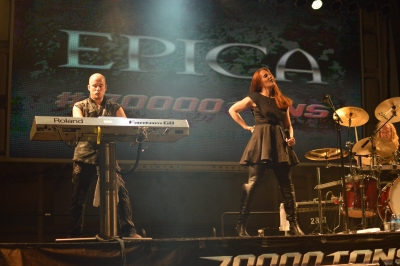 And then it was time to head back up to the main pool deck, now under the stars on a calm sea. On the starboard side, from some 15 stories above sea level, you could catch sight of the Cuban coast line, with lights from small coastal villages and the occasional fishing boat returning to port. And Epica put on a performance for them, and us. Simone showed up in black, with knee high black boots and the flaming orange hair that defines her physical personae. Now, one of the advantages of being in the pitt is that you are virtually on stage. And, Simone spent enough time with her face 6 inches from mine that I felt we had, somehow, become acquainted. They played a solid 45 minute set that was one of the best received performances on the voyage, especially the part where Simone was joined by the violin player from Eluveitie. As they concluded, Simone told the crowd, "See you again tomorrow, and we'll be doing a completely different set". She wasn't kidding. Each band did 2 performances which meant you had two opportunities to see each act, a good idea given the number of acts on the cruise.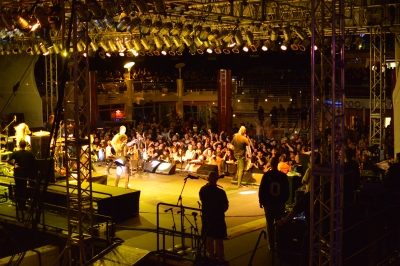 Eluveitie was next, my first time seeing them and they worked the crowd into a frenzy. I didn't know a lot about them but, I must admit, they were one of my favorite acts on the cruise, saw them twice. At this point, I got sidetracked (it happened more than once, a forgone expectation at an event like this) and missed a lot of material I had expected to see. Fortunately, there were always second chances. But, round about 1:30 in the morning, I dragged my rum soaked body to Studio B, a venue built over the inside ice skating rink, to catch the band I most wanted to see on the cruise, Arkona from Russia. I know their music well and most of their material is recorded in live performance. Vocalist Masha and her band mates came out dressed in leather pagan outfits and proceeded to kill it. Again, I was inches away from Masha as she sang from the tip of the stage and I shot a lot of pictures, which I needed since she never stops or slows down and my camera isn't the fastest one in the pitt. I saw both Arkona performances from start to finish, the only band I can say that about, and I wouldn't have had it any other way.
Day 3
Saturday was a short venue since we pretty much woke up in port in Falmouth, Jamaica. I spent much of the day ashore drinking with the Rhastas and shopping for, er… a. . . smoking material. In fact, I brought some back; Cuban cigars are now legal in the good ol' US of A, although they continue to frown on other high quality smoking products from Jamaica, mon. And the dogs in Ft. Lauderdale are well trained.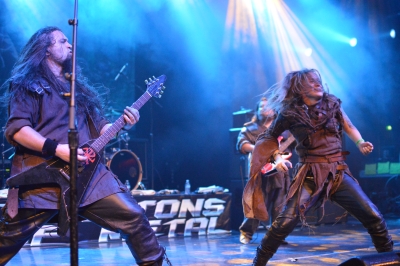 But, about 3:30 we weighed anchor and the music cranked up again. And guess who started the show. . . . Arkona, seemed like I never left. This time they performed in the main indoor theatre and it was packed, a lot of people had heard about their first performance and determined to see for themselves. Arkona didn't disappoint. And, I didn't have to go far for the next act who performed on the same stage. Visions of Atlantis followed with their new vocalist, Clementine Delauney. It had been interesting to note that the picture in the program for VoA had Melissa Ferlaak as the female vocalist, just a tad out of date. Anyway, Clementine is a solid vocalist and she waltzed through the material with ease. Gonna be interesting to hear her on the new VoA release, expected soon.
The rest of the evening saw me focusing on a variety of acts, Paradise Lost, one of the originators of Gothic Doom, Novembers Doom, classic death metal, Children of Bodom and others. But, one performance was especially interesting as Simon and Lacuna Coil vocalist Christina Scabbia joined to do a rendition of Heaven's a Lie, the song that first got me into Femme Metal. Nice moment. I caught a few more acts, but, one of the non musical highlights of the event occurred at the main bar outside the Platinum Theatre where I spent some time. I had just ordered a Rum Runner when a stunning German girl walked up and, in a lovely German accent, ordered a Miami Vice. I looked at her and said, "I'm from Miami, I worked with the people on the Miami Vice TV show and I've never heard of a drink called a Miami Vice". She looked at me, looked at the bartender and said, "Make that 2". At that moment, my life was changed forever; I lost count of the number of Miami Vice cocktails that went into my system over the next week, both on the ship and afterwards in bars on the Atlantic coast of Florida. But, I digress again.
Day 4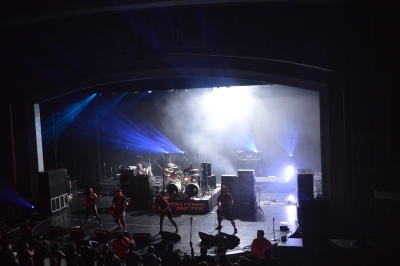 Sunday also saw a limited schedule, musically. But, there were some highlights and I'll provide a bit of overview. We began at 0 Dark Thirty with the Viking Metal band Twilight Force, complete in Lord of the Rings costumes. I found it interesting that, whenever these Viking Metal bands played, it seemed like the audience, other than me, knew EVERY word to every song and sang at full voice. Now, it was clear to me that the vast majority of people on board were from Northern Europe so that probably had a lot to do with it. But, I've never experienced anything like that previously, kinda like a European soccer game in some respects. Next up was the second set by thrash metal band Dia De Los Muertos, a band calling LA home these days but, I think, originally from South America. Female lead singer and female guitar player and one of the finest performances I saw on the cruise. I talked to them briefly, they have an interest in playing in "Europa". I suspect they would be very well received.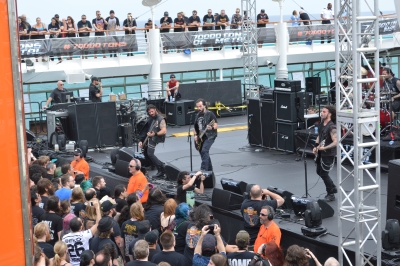 About this time, we were well into the hour of religious services and were not far off the coast of Havana. Appropriately, the act on the main pool deck was the Greek band, Rotting Christ. Again, a favorite of mine and a solid act. I suspect we may have provided musical accompaniment for Fidel's morning church services although I can't confirm that he was a fan. He may be now.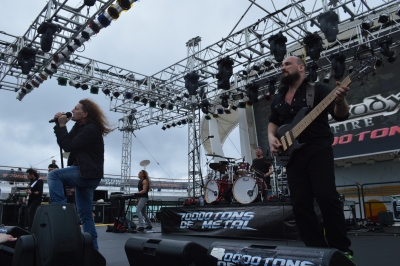 Interestingly enough, Sunday seemed to have been ordained as "Drinking Day". Of course, I'm not one to argue with authority so my participation was up to standards, and, following Rotting Christ, the assembled multitude took time out for the Belly Flop Contest. I noticed that Simone, Charlotte, Clementine, Christina and the rest of the ladies didn't seem to participate and those who did had something other than body builder's physiques. But, it was a hoot and then we got back to business. About mid afternoon, the seas began to rise and the winds began to howl as we headed into a rather intense squall. Rhapsody of Fire was playing the main stage and things got a bit interesting as Fabio nearly got blown off the ship. But, the bars remained open and the music continued. I caught a couple interesting acts, Subway to Sally for instance. They're a German act calling themselves Medieval Metal and they did some truly interesting stuff with a variety of instruments. Another interesting performance was turned in by Colombian band Koyi K Utho who made sure the concept "strange" was fully explored.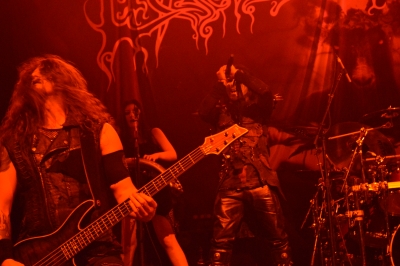 The highlight for me, however, was my first experience of the British band Cradle of Filth featuring SonicCathedral's own, Lindsey Schoolcraft. I guess there may have been a time when this type of visual experience was truly unique but, on this voyage, there were a lot more extreme visuals than CoF. But, looks aside, the band puts out a killer musical product. Lindsey was outstanding, both vocally and on keys and the rest of the band turned in one of the highlights of the cruise.
There were a number of acts that followed, but, by that time people were starting to wind down a little; it was late and we were scheduled back in port the next morning. There was still music to share, including a late night Karaoke session that I was in no shape to attend. The seas were still high and I left for my cabin to take a short break and partake of a Habanos on my private balcony overlooking that lovely thundering sea. But, there's nothing like the quiet rocking of an 1100 foot ship in moderate seas to put you to sleep and the next thing I knew we were docked in Port Everglades. Don't know what I missed but I don't think anyone went overboard so everyone was happy.
It's impossible to fully recount an event like this; where to start, what to address, what was the best part. It's an environment like no other, you're with over 3000 of your favorite metal heads listening to the music you love and the party never ends. How do you top that? New friends, old friends and you don't have to shovel the snow from the sidewalks. It's not the cheapest way to spend a week, but, it's difficult to think of a better way. Keep it in mind the next time you're thinking Metal Show. I guarantee, you won't be disappointed.