Amphi Festival 2015 Review


When? July 25 & 26
Where? Lanxess Arena, Cologne, Germany
Who? See full line up at end of article
This Amphi festival was a first in many ways. It was the first one for me and for Sonic Cathedral, it was the first time at the new venue, and it was (probably) the first time something went horribly wrong. The festival did everything right, and in the end everything ended up just fine, but the way to getting there was quite bumpy.
The Catastrophe & The Rescue (no, this is not a band)
Here's what happened. The festival has 3 stages, and each one has a 2-day program. Easy enough. The problem was that 2 of the stages are outside, and the weather service issued a weather alert for the first festival day. The local authorities forbade any outdoor events. In short, the first day they could only open one of the 3 stages, and consequently it looked like they had to cancel a bunch of bands (like, more than half of them). Luckily, the organizer team consisted of some extremely able and quick-minded people. Even as events were unfolding they set to work and came up with a solution. Set-up breaks on the indoor stage (Arena stage) were shortened. Bands were squeezed into the already tight program. The updated running order was displayed on screens throughout the arena. Announcements were made on stage in between bands. Some bands were moved to the next day, with the stages opening sooner than planned. Like this, the festival was able to give new slots to 6 out of 12 bands that were affected by the weather alert, which is a damn good result. Within a few minutes the new running orders for the next day were again displayed on the screens. Print versions were available at the info desk.
So why the lengthy intro on this issue? For a number of reasons. First of all, obviously, this extreme achievement made in such a short time is not only impressive, but probably also unparalleled. Also, the fact that some bands with evening slots (those are the good ones, duh...) were willing to play an early afternoon or even morning slot should be appreciated. But most importantly, at least for this article, if this scheme hadn't been a success, 2 main bands for us, Inkubus Sukkubus and The Creepshow, wouldn't have played.
The Actual Intro (still not a band)
The Amphi festival used to be at a different venue, one that a lot of the visitors seemed to prefer. It was outdoor (imagine THAT with the weather alert), while the main stage is now indoors. The new venue is Germany's largest multifunctional arena and it's just the right size for the festival's 16,000 visitors. The festival is mostly goth, with a bit of rock and metal here and there. With its shopping ops and food trucks (including a completely vegan one!) all around the arena it offers plenty to see and do, and I probably didn't even see half of it, despite spending 2 full days there.
Now to the bands.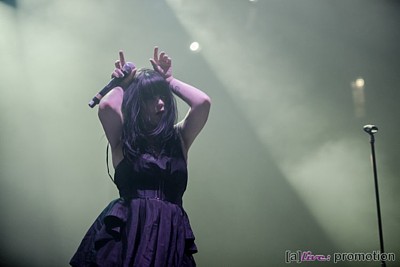 Photo credit: Sandra Hofmann at [a]live:promotion Erfurt
The Birthday Massacre (day 1)
This was my 10th TBM show in the same amount of years, and the fact that I still come running whenever they play in a reasonably close place should say it all. Still, they of course deserve that I go a bit more into detail here. The stage was veiled in smoke tinged purple by the lights when the intro, an Violet [album] style instrumental started. The fact that some band members had already shown their faces on stage for setup did not take away from the magic and anticipation. They hit it off with "Red Stars", and I could immediately hear people around me singing along (it was not just myself, I double checked). After this older song from their 3rd album Waking With Strangers they switched straight to their current album Superstition. This album is an over all very atmospheric and slow paced one, but the material still works live, and the consecutive 3 songs they played of it were perfect for building up the energy. The title song, which they also played, is a perfect example of the album's atmospheric soundscrapes, and sounded amazing in the large arena. With this set they hit the nail on the head like they've probably never done before. They played 2 or 3 songs from pretty much all of their studio albums, making the show accessible for fans from all periods of their career. The band's energy was immense as always, and it poured right down into the crowd, as their engaging performances usually do. Singer Chibi threw heart-signs out at everyone, and was repaid multifold.
I wasn't able to get photos from this set, but my friend Sandra Hofmann at [a]live:promotion [http://www.alive-erfurt.de/] let me use some of her photos. You can find her full gallery here.
The Birthday Massacre Setlist
01. Red Stars
02. Destroyer
03. Divide
04. Superstition
05. Pins And Needles
06. Video Kid
07. Lover's End
08. Alibis
09. Kill The Lights
10. Leaving Tonight
11. Blue
12. In The Dark
13. Sleepwalking

Photo credit: Sandra Hofmann at [a]live:promotion Erfurt
Inkubus Sukkubus (day 2)
During the disaster of the first festival day they announced that the outdoor stages would not open until the next day. At that point I was afraid this band's show would be canceled completely. Luckily, and thankfully, Inkubus Sukkubus from Gloucestershire, England, were willing to trade their evening slot for a noon slot the next day. And in a stark contrast to the day before, they played in skin-frying sunshine. For those of you not familiar with the band, they are wiccan-inspired, and they've been around for 25 years now. They describe their style as gothic pagan rock, which fits their music quite well. Early on during the show their pagan/wiccan connection became pretty clear through the song titles and the lyrics. "Wytches" and "Pagan Born" are 2 of the more obvious ones, while others refer to the mythology in a more subtle way, and people without a similar association would probably not have gotten the links without singer Candia's explanations. They started with a 5 song acoustic set, which was a nice warm up for he crowd this early in the day. Accompanied by 2 acoustic guitars, Candia's voice was the focus element of this part of the set. Just when I started thinking that I could do with a little more action, she announced that they would be switching to an electric set after a few more songs. As soon as they did, both the band and the crowd became more active. The band's live lineup consists of vocals, guitar, and bass. There is no live drummer, but electronic elements make up for that and add a danceable beat. As of this point, the hastily put together setlist (quoting Candia here) became a bit sketchy, as you can see below. Still, the band knew what they were playing, the audience knew they liked it, and everyone finished the set dancing.
See complete photo gallery here
Inkubus Sukkubus Setlist The original setlist for the acoustic part of the set.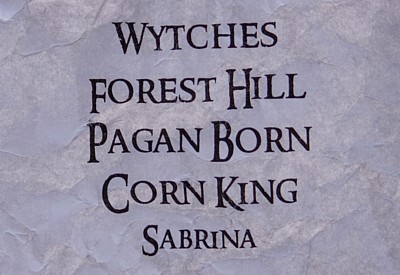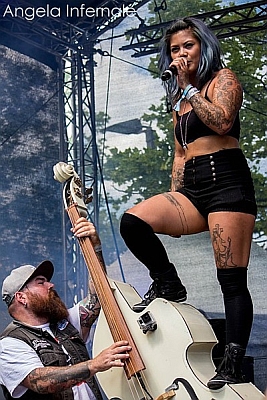 The Creepshow (day 2)
Do you ever go 'holy shit, that band!'? It doesn't happen often, especially once you've spent years watching bands and it gets increasingly harder to be surprised or impressed. This band, however, did it for me. A lot of amazing bands come out of Toronto, Canada. After The Birthday Massacre on the day before, The Creepshow were the second one of the weekend. They too had fallen victim to yesterday's weather alert and agreed to switch from an 8pm to a 1pm slot, for which everyone was extremely grateful. Even as they were soundchecking they started engaging the audience, and that was just the beginning. When they hit the stage to start their show they launched right into an audio-visual spectacle. Their main 2 attention catchers are the upright bass and singer Kenda, whose powerful voice does not falter, no matter how crazy she goes on stage. A good deal of the time she isn't even on stage, though, but either climbing its scaffolding, jumping down into the photo pit for a nice face-to-face with the audience, or disappearing in the crowd altogether. Not that the band needed any of those tricks, people were already singing along and dancing to their Psychobilly anyway. The guys in the band displayed no less energy, and together they put on a show that no one is going to forget any time soon. They have more European and US dates coming up, so I definitely recommend checking them out. You do not want to miss this!
See complete photo gallery here
The Creepshow Setlist The original setlist. Not sure they played all of the songs, though.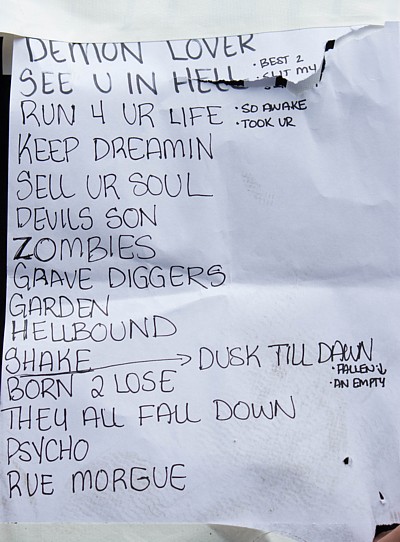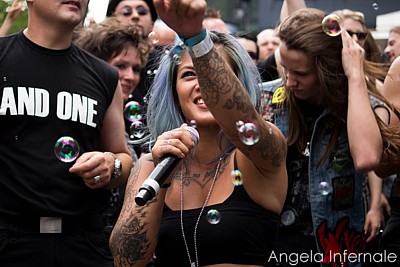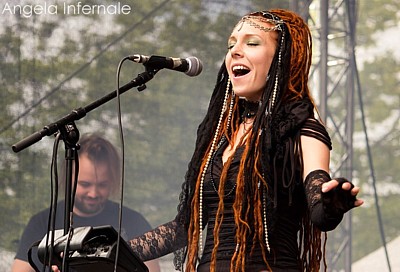 Euzen (day 2)
Euzen from Denmark are probably best known for their song "Judged By", which comes with an amazingly beautiful and at times disturbing video. It was this song that got me interested in the band. They are heavy on the electronica, but also use drums, guitar, and bass. One of the most distinct feature is that they use vocal distortion in some, but not all of their songs. Unlike other bands, they are not hiding this fact, and singer Maria's mic stand comes with an elaborate setup for this purpose. Unfortunately, sometimes the distortion along with Maria's intriguing singing style make it hard to understand the lyrics, which is a shame as their songs tend to have real, meaningful content. One doesn't need to know a lot of the songs to enjoy Euzen's set, though. Their combination of electronic music and almost psychedelic sounding guitars create an atmospheric sound that carries you away. Relaxed passages alternate with upbeat ones, making you either sway with the music or break out into dancing. Speaking of dancing, Maria's very expressive dance style is definitely an eye-catcher. If there is one thing one could complain about, it's probably that Maria is the only one in the band who really puts on a show. If the guys stepped up their game just a little, the band's performance would definitely gain momentum.
See complete photo gallery here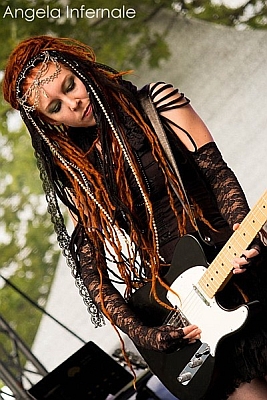 Bands I Didn't Get To Cover
Qntal: Luckily I was able to get some photos of Qntal, but due to an overlap in their set and Euzen I had to leave early to get a decent photo spot at the other stage. I don't feel prepared to give a full review for them, but in general I can say that their reception was quite good, and I enjoyed what I heard.
There's a Qntal photo set available here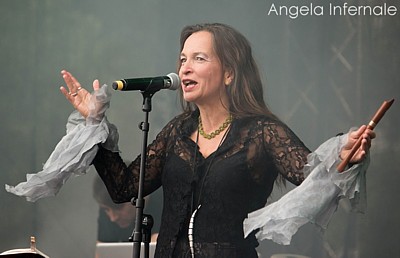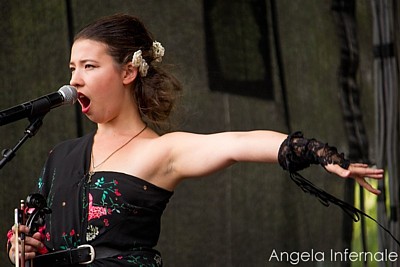 Male fronted (electro) bands:
Obviously this is not a topic for Sonic Cathedral. Still, a lot of people, myself included, do of course enjoy this type of music. This festival was a great opportunity to see some great genre bands, some of them for the first time. The Crüxshadows, Combichrist, Agonoize, Front 242 and VNV Nation were all worthwhile, and you should check them out when you get the chance.
Full Festival Lineup
(errors may occur due to changed lineup)
chöngeist, Chrom, Rabia Sorda, The Crüxshadows, DAF, The Birthday Massacre, Agonoize, Goethes Erben, Front 242, And One, X-RX, Diorama, [:SITD:], Inkubus Sukkubus, Patenbrigade: Wolff, Stahlmann, S.P.O.C.K, Das Ich, Der Tod, Combichrist, Oomph!, The Mission, VNV Nation, Pokémon Reaktor, Darkhaus, Qntal, Zraphine, Welle:Erdball, Samsas Traum, Diary Of Dreams, Sonja Kraushofer & Band, Folk Noir, Henric de la Cour, Rome