Rockharz 2015
Where: Ballenstedt, Germany
When: July 9th-11th
Who: See complete band list at end of the article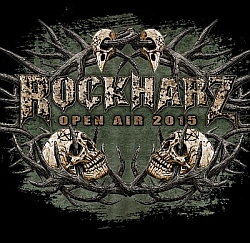 Once a year a field in a remote area of North-Eastern Germany turns into a little city of its own. Within a few days tents and stages go up, and in the end the place is teeming with black-clad creatures, more accurately named metal heads. Once arrived, one delves right into this bubble filled with like-minded people and treasured music. Rockharz Open Air has become a regular here on Sonic Cathedral, as I in particular am always drawn back there. This year, the stellar line-up and intimate atmosphere again lead to the festival selling out of all approximately 12,000 tickets well ahead of time. Presales for 2016 have started, and we can only recommend getting your tickets early.
Epica (day 1)
Epica's show started with the stage being almost completely submerged in stage smoke. The strong winds the festival was experiencing all but whipped the smoke across the stage. Add the intro music and the result was an eerie atmosphere, from which the band members emerged one after the other, accompanied by the crowd's cheers. Compared to the enthusiasm I have witnessed at other Epica shows, the audience at Rockharz did not take as well to the band, however. They put in a strong performance, though, and by that were able to engage the crowd until finally they even made a small but still substantial wall of death happen. For me as a person who is not too familiar with Epica's music it quickly became apparent that they were setting the focus of this set on newer material, which could also account for the crowd's initial reluctance. The band's older classics, of which they played 2 or 3, were the songs that got the best reactions. While it is not unusual for an audience to react like that, I could not help but get the feeling that Epica might be getting a little eclipsed by other bands in the genre. Their ability to draw people in has not suffered, though, and with new music on the way and their very own festival, Epic Metal Fest, coming up, they're still going strong.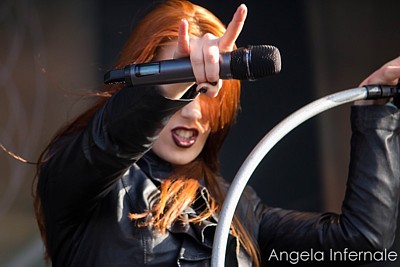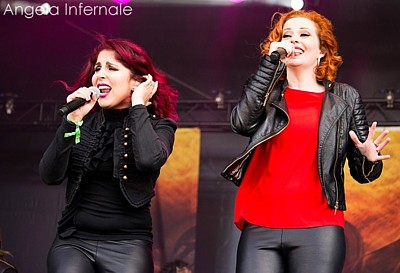 The Gentle Storm (day 2)

This project by Anneke van Giersbergern and Arjen Anthony Lucassen was new to me and I wasn't quite sure what to expect. The live lineup turned out to be quite an exciting bunch and included Anneke, of course, Marcela Bovio and Johan van Stratum of Stream of Passion, and Merel Bechthold, who is also a live member of Delain and was playing a pretty impressive double set that day. I was especially happy to see Marcela perform, as I am quite a fan of her voice, and it did indeed turn out to be a really nice addition to Anneke's vocals. The band's live show is surprisingly heavy, which came as an unexpected, but very positive feature. Especially Anneke's performance was a bit of a contrast. She was all smiles, and quickly won everyone's sympathy with her engaging personality. Her mood seemed to infect the rest of the band, and while the music was heavy, the spirits were not. The Gathering and Devin Townsend covers were played along with their original music, giving the audience some more familiar songs as well as the opportunity to discover new ones. Towards the end of the show Marcela got center stage, and delivered a powerful duet with Anneke. For such a new band, the progress they've made and the audience reaction they've got are very promising, and chances are we're going to hear a lot more of them. I'm hoping that the next time, the live lineup will be just as fantastic as this one.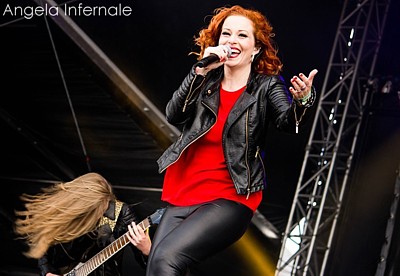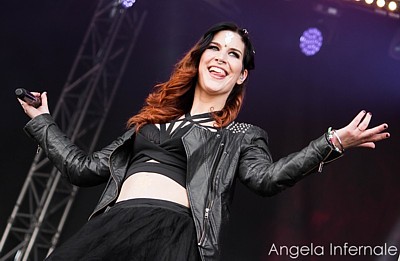 Delain (day 2)

Delain marked the third and last Dutch contribution to this article. At this year's Rockharz, Dutch female fronted metal was definitely one of the prominent genres. It was not Delain's first time at the festival either, and the regulars seemed to remember them well, and welcomed them back with open arms. The band launched right into a powerful performance, and by that delivered just what I had expected. As mentioned above, guitarist Merel Bechthold had just played another set with The Gentle Storm, and had gotten a break of only 5 minutes. This did not influence her game, though, and the energy on stage seemed to permeate all band members alike. The setlist was a good mix of newer material (off of The Human Contradiction) and older, well known songs such as "Get The Devil Out Of Me" or "We Are The Others", a tribute to Sophie Lancaster. Show-wise, the band's hair game as definitely improved (perfectly timed, synchronous headbanging should be recognized as an art form), and Charlotte's body language and facial expressions have become even more wicked, making her a prime target for the photographers. She has also upped her game vocal-wise, and sported some pretty badass growls, which I could tell didn't only surprise me but quite some other people in the audience as well. After a seemingly way too short set, they finished and soon left for Masters Of Rock.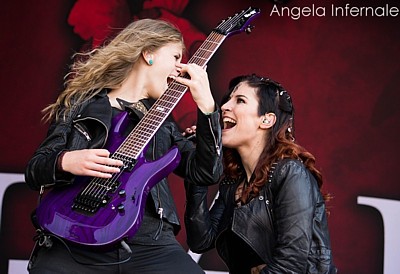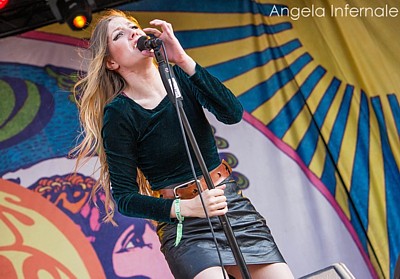 Blues Pills (day 2)

This Swedish band was a refreshment in more than just one way. First of all, they are like little time travel back to the late 60s/early 70s. Not just musically, but also, and especially, visually. Their backdrop looks like it was hanging on a stage in Woodstock yesterday, and the band's authentic stage outfits and even hairdos make the illusion perfect. Also, singer Elin's voice was a nice change from the high pitched female voices and male death grunts of the last days. Her voice is pure soul, and probably the most powerful voice of the festival weekend, hands down. Their blues rock is on the heavy end, making them a logical choice for this festival, even though they might initially not seem to fit in well. They are also signed to Nuclear Blast Records, further evidence of how well their concept fits with the metal genre. While the guys in the band were a bit stationary – scratch that, very stationary – Elin was a little thunderstorm that would either whip her mic-stand back and forth in all directions, or sweep across the stage with a tambourine during the quite psychedelic instrumental parts of the songs. They drew a large crowd pretty quickly, and were well received by younger and older audience members alike. Some of the people around me could definitely relate to the music from back in the 70s, and I think I smelled some weed.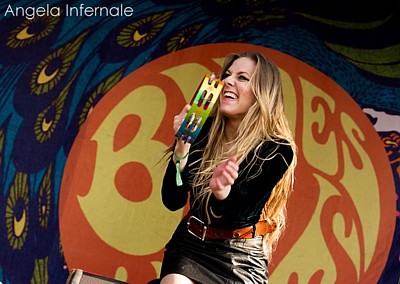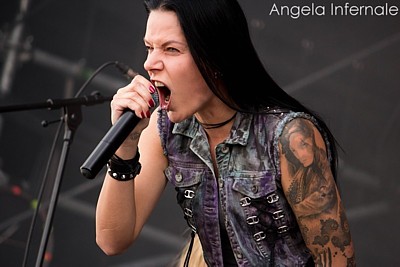 Cripper (day 3)

Cripper are from Germany, and not too well known outside of it. Their music is no frills thrash metal with rough vocals, and singer Britta has mastered this type of singing like few others. The last time I saw them was back in 2006 or 2007, and it was nice to see that they are still doing their straightforward, in your face metal. On this day they were a little handicapped, though, as they were lacking their bass player. However, this happened for a very positive reason, namely the impending birth of his child. The band didn't let his absence influence their performance, and managed to deliver a forceful sound nonetheless. Even though there were a few people with their bandshirts, not many seemed to know the band. A quick check of their Facebook page reveals that they have about 12,000 likes, not too many for a band playing a larger festival. Their early slot at 1:15pm was also not very promising. What happened, though, was that the area in front of the stage was soon very crowded, and people were signaling their verdict with appreciative nods. By the time they played their song "FAQU", whose chorus includes "fuck me I'll fuck you too" and which entails flipping off the audience, they had won the crowd over completely and received a lot of fingers in return.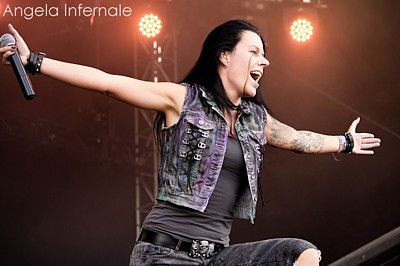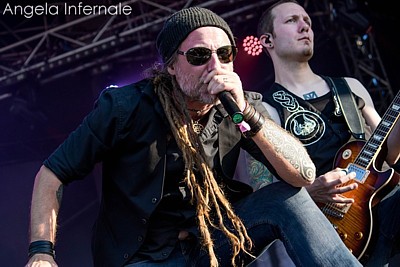 Eluveitie (day 3)

This is the point at which I start stretching the concept of female fronted metal just a tiny little bit. Even though Eluveitie are male fronted and feature only a limited amount of female vocals, they've become one of our favorite bands here at Sonic Cathedral. With Anna on the hurdy gurdy and backing vocals and Nicole on the violin they still sport 2 amazing ladies who rock. Eluveitie have been touring for months on end to promote their latest album Origins. One would think that after playing so many shows they would have gone into some kind of not-so-interesting routine, but their show at this year's Rockharz proves this is not the case. Their performance is still fresh and energetic, and with their 1-hour evening slot they also had the time to play the finest selection of their repertoire. One thing that is quite special about their shows is that they (more or less) give the audience the choice of which version of "The Call Of The Mountains" they want to hear. The band has versions in all 4 official languages of Switzerland, and in Germany they usually end up playing the Swiss German version. The same happened at this show, and Anna did an amazing job, even though she was suffering from a cold from climbing a mountain at 3°C a few days earlier. Swiss people... They finished their set with "Inis Mona", the all time classic, and were seen off by a roaring crowd.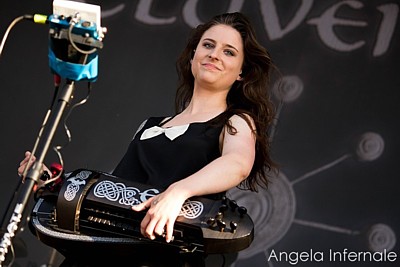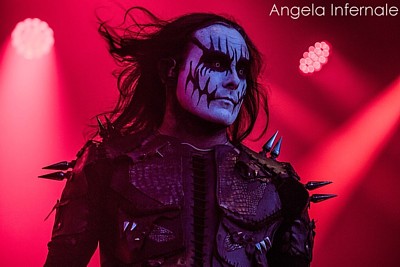 Cradle Of Filth (day 3)

Dani Filth would not fool anyone into thinking his behavior was remotely lady-like, but thanks to Sonic Cathedral's very own Lindsay Schoolcraft we have someone taking care of those operatic vocals and eerie spoken passages in Cradle's songs. They were headlining the so called Dark Stage on Saturday, the final day of the festival, and oh boy, were they putting on a show! With a dreamlike red and blue lighting in the background their dark figures were gloomily lit from behind, while Lindsay was bathed in monochrome light and fog. The guys performed at the very front of the stage, often making eye contact with the audience and giving them evil looks. The effect was of course amplified by their dark stage makeup. Their latest album, Hammer Of The Witches, was released just the day before, and they played some stellar songs out of this one. In the criticism of this last record there seems to be a consensus that it is the best Cradle Of Filth album in a long time, and the same can be said about the band's live show this night. Comparing it to previous times that I saw them live I enjoyed this show most. The new songs work great on stage, and with the older ones, especially classics like "Nymphetamine" and "Her Ghost In The Fog", the band has combined their finest material into one amazing set. My fellow Europeans should have an eye out on upcoming tour dates, because a an extensive tour is coming in October and November this year.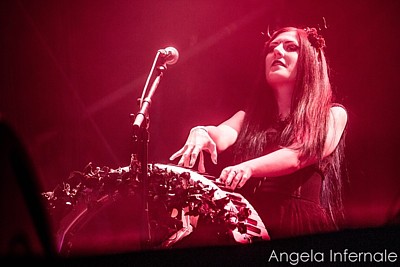 Some other bands you don't want to miss It's not always possible to review all bands in detail, especially if you don't want your readers to zone out half way through the article. The following (male fronted) bands all delivered amazing performances, and you should definitely give them a listen. They made this weekend extremely worthwhile, and are further proof of the amazing booking skills this festival has.
Skálmöld: This band from Iceland has something on all y'all other bands. 3 guitarists and up to 6 vocalists create a sound-scape that you've always dreamed of. Genre: melodic viking/folk metal.
Devilment: Dani Filth's new project. More melodic than Cradle Of Filth, excellently written and played. I might even like those guys a tad more than Cradle, but don't tell Lindsay.
Behemoth: Horned masks, burning things, demonic facepaint, and that's just the visuals. More than 20 years of experience have made this band perfect their blackened death metal.
Coppelius: Hardcore chamber music, for the lack of a better label. No guitars, but only classical instruments and drums. Still metal as hell. Will feed you champagne and won't mind of you through your boxers.
Trollfest: You haven't lived if you haven't seen them. They will have moshpits, a polonaise, and 'I don't even know what we're doing' within a 50 minute set and you will hate to see them leave.
The End Going back home after a festival is always a sad thing. Even though you're looking forward to a decent shower and sleeping in your own bed, those things don't seem too important compared to the amazing music and company you get at festivals. Rockharz in particular has become one of the most important festivals for me. Not only do I get to see some great people every year who have by now become friends, but the whole interaction between everyone involved, be it visitors, press associates, organizers, or artists, is a very intimate and friendly one, and people take care of each other. This is a place I can only recommend to everyone who's seeking to spend some days in a great atmosphere seeing great bands.
Complete 2015 Lineup
Day 1, Wednesday (AFM Label Night) Serious Black, Elvenking, We Butter The Bread With Butter, Suidakra, Stahlmann, Ektomorf
Day 1, Thursday: Drone, Majesty, Skálmöld, Panzer, Letzte Instanz, Emil Bulls, Epica, Alestorm, Kataklysm, Behemoth, Hammerfall, Fiddler's Green (after headliner late night slot)
Day 2, Friday: Volksmetal, Undertow, Ragnaröek, Finsterforst, Devilment, Manegarm, The Gentle Storm, Delain, Betontod, Coppelius, Blues Pills, Biohazard, Schandmaul, Fear Factory, W.A.S.P., Eisbrecher, Tanzwut (after headliner late night slot)
Day 3, Saturday: Asenblut, Waldgeflüster, Heretoir, Cripper, Hell, Artillery, The Haunted, Varg, Orden Ogan, Die Apokalyptischen Reiter, The Black Dahlia Murder, Eluveitie, Soulfly, Cradle Of Filth, Dream Theater, Trollfest (after headliner late night slot), Ghost Brigade (after headliner late night slot)