Devilskin Live at the Whisky
May 5, 2015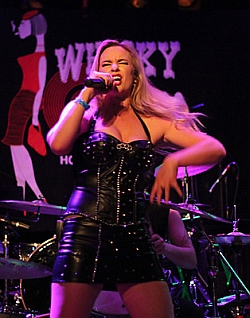 I got hooked on New Zealand's Devilskin last year as soon as Sonic Cathedral's Robin Stryker introduced them to me. All of their elements – vocals, guitars, bass, and drums – stand out from the crowd to create a fresh and exciting sound. Jennie Skulander has a powerful clean voice but can switch to a fierce growl in a heartbeat. Guitarist Nail delivers high intensity leads and virtuoso solos, and I especially like his use of a metal slide on "Never See the Light." Meanwhile, bassist Paul Martin and his son Nic play a variety of compelling rhythms, from the funky "Little Pills" to the death metal double bass of "Elvis Presley Circle Pit."
If you haven't heard them, check out this link.
Given all that, I was super excited when I learned that Devilskin was scheduled to play their first U.S. gig at the iconic Whisky a Go Go, on LA's Sunset Strip. I knew I had to go. I also sent the link for "Little Pills" to my musician brother to see if he wanted to join me, and he decided he had to go also, along with two other members of his own band and another musician friend.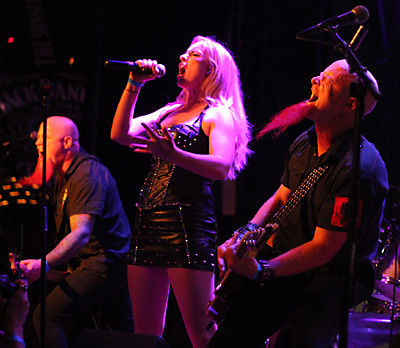 We are not disappointed. Devilskin starts off with one my favorites, the heavy "Elvis Presley Circle Pit." This song showcases the entire band's talent, and gets the set off to a high energy start. Jennie sings in an anthemic fashion worthy of Bruce Dickinson (with a flirty "ohhh" thrown in) and then snarls like a demon. Nic plays drums in a way my brother's musician friends didn't think was possible live. Paul plays a bass line reminiscent of the best death metal bands but then mixes things up, while Nail treats us to a strong riff and solo.
The band doesn't let up with the next song, "Until You Bleed." Perhaps my favorite song of the set is the angry "Violation," about what Jennie would like to do the people who robbed her house. ("I swing a cleaver from side to side. I'm breaking down what's on the inside. I'm fucking your insides. Hope it feels good, motherfucker.") I make a note to myself not to get her angry, or give her a cleaver. On the flipside, I also really enjoy the melodic and romantic "Surrender." Other highlights include the band's singles ("Start a Revolution," the ballad "Fade," and "Never See the Light.") Oddly, Devilskin doesn't play what is maybe their biggest single, "Little Pills."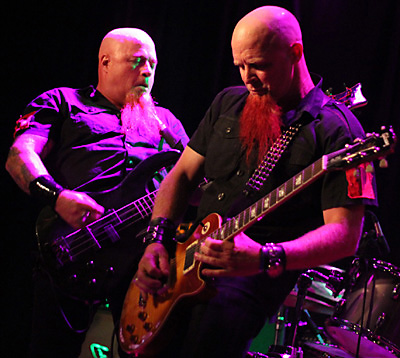 Apart from the sheer musicianship on display, I also really enjoy the band's stage presence. You can tell that they have been doing this for several years, even if this is their first U.S. show. Jennie seems to delight in giving a coquettish smile and wiggling her hip before launching into one of her low growls. Paul and Nail prowl the stage, showing off their cool red beards. Nic is a blur in the back.
The venue also adds to the magic. As Paul and Nail explain, "The history of the Whisky is mind blowing. Joplin, Hendrix, Motley Crue, obviously, the Ramones, just the who's who of everyone. It's a rock 'n roll icon, isn't it? Just standing in the building is a pleasure, let alone playing here. That's just icing on the cake for us, bucket list material, you know. " They go on: "LA is a rock 'n roll Mecca… So it's a real treat to be here….We also love this beautiful country. We're absolutely blown away by how cool and how friendly people are and by just the scale of how much rock 'n roll there is here and how cool it is."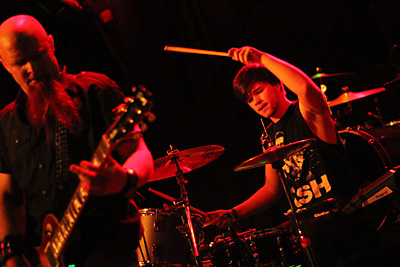 Even so, they understand they must "establish ourselves from the bottom up here," even though they've been playing in New Zealand for several years with significant success both on the charts and in concert. To that end, in addition to the Whisky gig, they also played a private show a few days before at LA's Rock Summit, attended by Sonic Cathedral's own Robin Stryker. Paul and Nail explain: "The Rock Summit is a global festival for industry folk. It's an opportunity for bands to showcase their material in front of industry from all around the world. Some of the bands were from all around the world as well. Denmark, Australia, Sweden, Dubai. We were the only Kiwi band, so that's good. It was great to have the opportunity to play in front of them."
Fortunately, the industry was as impressed as I am, so Devilskin will be back in the States again soon, hopefully before year's end. As they say, "You can't muck around in this business. You've got to strike while the iron is hot." I definitely plan to catch them when they return.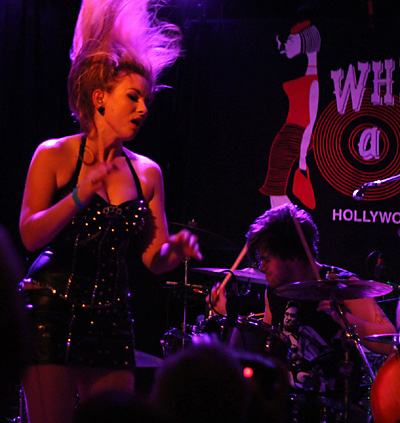 Special thanks to James Southgate for arranging my photopass and interview!