Lacuna Coil + Within Temptation + The Gentle Storm (+ more)
@ Paaspop Schijndel (Netherlands)
Friday 3 April – Sunday 5 April 2015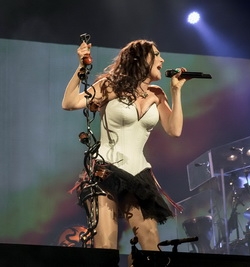 It was quite a while since I visited Paaspop. This opener of the Open Air Festival period is already a classic where for some it is more "You need to be there" than You need to go and see ...". I'm still in the category that goes to a festival for highlights in the line-up. In this case the ones mentioned in the title. Of course there were other interesting shows as you will read.
What initially started small is now a big Festival. Maybe not in number of visitors (over 21,000 visitors per day) but in the numbers of acts (and stages). It started 1985 on Easter Sunday (Pasen in Dutch). Paaspop grew over the year into a multi-day festival with now over 175 acts and at least 10 stages (a place with a defined program). The acts range from heavy metal to songs from the 40's, DJ's in all styles, kids theater to "adult" cabaret, and all in-between. The same with the visitors; young(er) and older, singles and families and a lot groups of friends that have come to party. The weather was helpful during the actual festival. No rain and quite some sun but the rain in the days before left their marks. On the parking space a lot got stuck in the mud but the service was not too bad. Six or more tractors were available to pull you out of the mud. At the festival terrain the measures are more or less successful. Yes there was mud and water but not that it affected the atmosphere in any sense. And most visitors were well prepared wearing high shoes or (rubber) boots.
Friday was for me a day to figure out how all was organized and what I needed to do to get the best out of the acts that I wanted to focus on. The main stage Apollo presented the Dutch Top in Pop (DI-RECT, Racoon and Kensington) but that didn't really appeal to me. I started my discovery tour in Thunderbolt. And yes this stage refers to good old Rock & Roll, it was more or less the home for cover bands, Jex Thoth opened on that stage ignoring my previous description. This American Doom-Metal- and Psychedelic-Rock-Band is from San Francisco. The based is fronted by Jessica Toth who linked her name with the Egyptian God Thoth. The show brought back memories of the old Black Sabbath. An interesting start.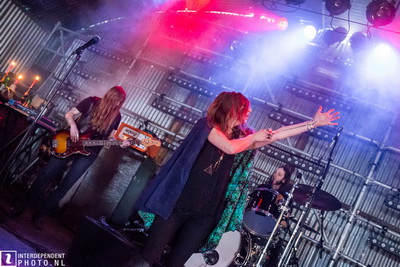 I checked out some other spots but spent most of my time at the smaller stages. A nice show was from Blues Pills at the Jack Daniel's Stage. This young American-Swedish-French quartet create a n intimate rock atmosphere with a mainstream appeal. The band has some fine songs like 'High Class Woman' and 'Black Smoke'. The amazing voice of Elin Larsson was full of strength. A Capella or with the band, it all sounded great. The public reacted very enthusiastically and the tent stayed full.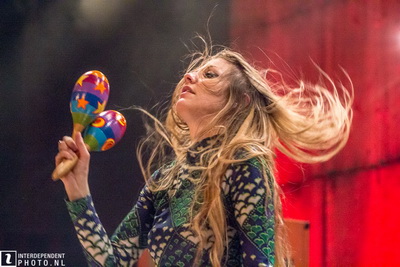 After a quick visit at Apollo with Selah Sue (the young Belgian singer-songwriter Sanne Putseys that was asked last year to join Prince's show in Belgium as support) back to the party tents; Thunderbolt with Little Devil All Stars (linked the small venue Little Devil in Tilburg) for a great cover show and Jack Daniel's Fiddler's Green. Although worried a little, I could leave (with some delay) the parking space without additional support.
Saturday would be my day. On time at the Festival (2PM) I started again at the smaller stages. It opened with PollyAnna, a Dutch Singer-Songwriter who tried to become a metal guitarist once. Then to Phoenix where my personal headliner would play later that day. Therapy? was on stage. These old(er) guys from Northern Ireland knows how to rock. The people who were there created even a small moshpit. The band definitely enjoyed playing and gave their energy to the crowd. A quite dark stage didn't bother the audience, who kept watching. The band rocked, gave a good show and the public was happy.
After the more heavy stuff time for (a glimpse) of the mysterious Kovacs with her band (including Maaike Peterse – Kingfisher Sky). This Dutch Singer-Songwriter Sharon Kovacs just released her first album and got a slot on the main stage. After the three songs in the pit I moved backstage to wait for a too short meet with Lacuna Coil. They were a little delayed and had to catch-up some scheduled interviews. But sufficient time to get some things signed, some photos and some talk about music and of course FemME.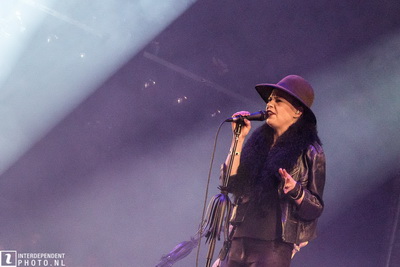 After that I headed to the completely packed Apollo, which wasn't a big surprise. The band on stage would be Within Temptation. The front rows had a different look than with Kovacs. That they exist for more than 15 years (still going strong) couldn't be seen from the first rows. The show was a break in their Theater Show. A festival has a different setting. The show wasn't as impressive as usual, no pyro and no big video wall. It was more basic. But at the end it should be about the music. That was brought as expected but was missing the real enthusiasm. The vocals are impressive, but although not really necessary, the vocals are strongly supported by a backing tape (visible when Sharon was missing the microphone). For the packed tent that didn't matter. They got all what where they came for. A good show with a mix of new and old songs and an enthusiastic crowd.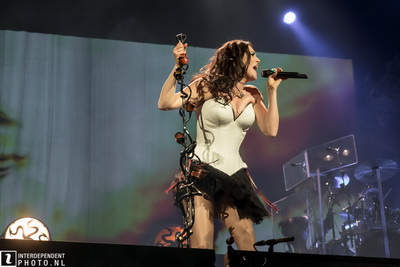 Not all can play on Apollo, so for my highlight I had to go the Phoenix. What was missing at Within Temptation surely was present with the Italian Lacuna Coil. On a small stage they gave their all. Clear voices, duets, good guitar riffs and hard drums bejeweled the show. Most of the songs were of the older albums, but they also played some new ones. The band still has a lot of fans, who were there to see Lacuna Coil play. The other part of the crowd was maybe not that familiar with Lacuna Coil and reacted in the beginning a little lukewarm. But Cristina and Andrea know how to entertain. And when the show progressed the public picked up also on the enthusiasm of the band. The stage was quite dark, which fits perfectly on the band. The dark clothing of the male members and the white "blood" covered dress with red roses makes it a little mysterious. And dark songs were the only things could be seen and heard this evening. With their energetic show for sure they gained new fans. Just one word: wow.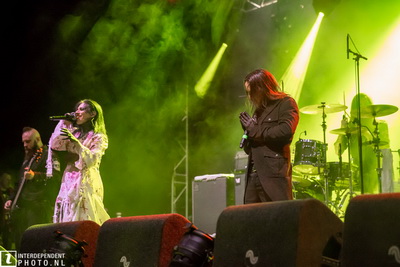 What to do for a musical dessert after main course Lacuna Coil. Enjoying "old" metal with the "older(er) guys". No, no cover bands but more or less the originals. The old men of Saxon are still going strong. Even after almost 40 years they're not getting enough of being on stage. This British heavy metal band are like a fine wine, they get better with age. With songs like 'Wheels of Steel', 'Princess of The Night' and 'Crusader,' Saxon puts down a great set and pleased all the older generation as well as the younger. The closing for me was American Sick Of It All. This was a band rock/metal fans were waiting for. The Phoenix was overloaded, moshpits were there from the beginning of the show till the end. Sick Of It All started in 1986, proved why they were still worth seeing with a very tight and energetic show. A super-energetic attitude resulted in big mosh pits and beer flying through the air. A great party to end the day.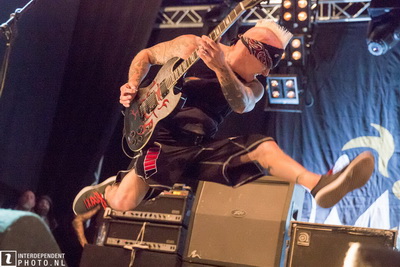 Already the last day of Paaspop. It started a little later for me as I had some family things on Easter Sunday. I'm grateful they let me go to be in time for The Gentle Storm in Jack Daniel's. As I had seen them a week before headlining at Rock Ittervoort I knew what to expect. From the first note they got the crowd in their favor. OK, Anneke van Giersbergen is a local. She is from Sint-Michielsgestel, a village very near. Although the band is on tour for a little over one week it is already solid as a rock. Anneke with Johan van Stratum (bass – Stream of Passion), Joost van den Broek (keys – Ex After Forever), Merel Bechtold (guitar – MaYaN, Purest of Pain). Ferry Duijsens (guitar), Ed Warby (drums – Ayreon) and Marcela Bovio (vocals – Stream of Passion), you can't go wrong with this Dutch super band. Adding some songs of the Gathering, a cover of Devin Townsend Project and Ayreon to the new songs makes the set memorable. The album "The Diary" contains two versions of the songs (Gentle and Storm) but definitely needs to be completed with a third live version: Hurricane. Definitely (my/the) metal highlight of the day.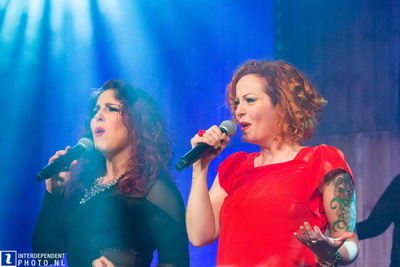 For the rest of the day I enjoyed a little other genres; Monomyth (Netherlands - hard to classify progressive Rock), Against Me! (US – Punk / Rock), Liptease (Netherland - rockabilly/swing style with a big band in a packed partying Theater), dEUS (Belgium - alternative and underground) and The Kooks (UK – Pop).
I had my main so I didn't need to stay until the end. But I left with a great smile on my face. It was a more than enjoyable festival. The ambiance, the setup, the tents, the acts, the available food, no rain, friends, colleague photographers and lots of nice and beautiful people made it a very well spent Easter Weekend, with personal highlights Lacuna Coil and The Gentle Storm. I'm very pleased that both will be at FemME in October. The festival season is open!!!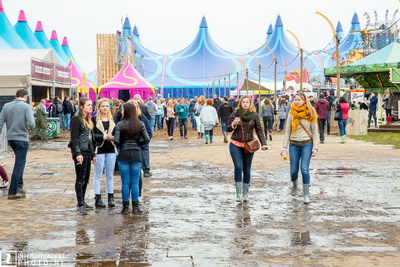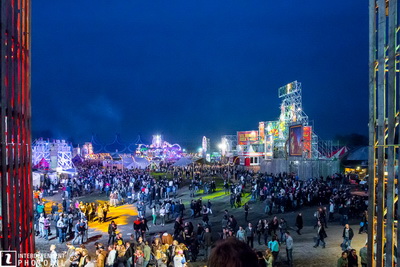 Larger and additional photos of overall atmosphere and other bands