Milwaukee Meowsic Fest
The Metal Grill
Cudahy, Wisconsin
October 11, 2014

We all have things we love in life that color our interest levels. For me they include metal, especially Gothic Female Metal, cats and swimming. Well, with Meowsic Fest, I got at least two, the first two. And, given that I made a significant impact on the Spotted Cow (a local Wisconsin brew) I guess you could say I was swimming in the suds. OK, that's a reach.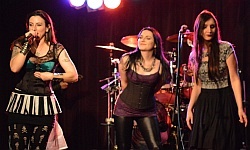 Meowsic Fest is an annual event in the Milwaukee suburb of Cudahy at one of the local watering holes that has a focus on metal music. It's intended to raise funds for a very worthwhile cause, the Happy Endings Cat Shelter in metropolitan Milwaukee. I know the place, I was a volunteer there, helping clean the place and feed the kittehs on Saturdays for a while. And, I fell in love with more than a few of the feline residents while there. Fact, that's about all I did there, play with the cats.
Well, this year they had a few acts I was somewhat familiar with. The first was Aria Flame from Michigan who stopped by on their way to MFVF in Belgium. And they were joined on stage by a couple locals from the US midwest, Grace Meridan from Chicago and Kassi Novell from Wisconsin, both of whom will be joining AF on stage at Oktoberhallen.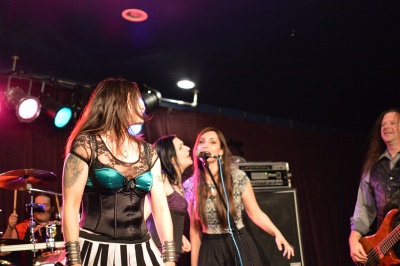 There were a total of 9 acts during the course of the evening. They included:
Bad Apple
The Outing
The Spirals
Roxie Bean
Wicked Realm
Will of Tomorrow
Aria Flame
Fibonacci Sequence
Go Go Slow
The event is more than just music. There's a free for all with the food, mainly sweets and baked goods. In fact, the stuff went so fast that Kassi had to go home and bake some more when her supply disappeared before the second band had completed its set. They have drawings for prizes, it's a really interesting experience. But, the music comes first. I won't talk about every act but I will talk about a few.
One of the first that caught my eye was Roxie Bean from Milwaukee. Roxie did a solo set covering a variety of styles ranging fro rock to pop and alternative with a bit of neo-soul thrown in. I love a lady who can go up on stage alone and make you want to listen. Roxie did that.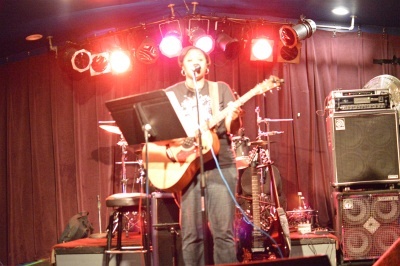 Another band that caught my eye was Wicked Realm from here in Milwaukee. They do an interesting blend of Femme Metal with a twist. And, that twist is lead vocalist Lindsay Jensen working with a stringed instrument that was a bit new to me. I talked to the lovely lass about it (you don't ignore the hot ladies at events like these, doncha know) and she told me about it. Seems it's a blend of a violin and a viola. Means it's an electric violin with an extra string. Whatever, sure sounded good and I like sounds that go beyond the traditional.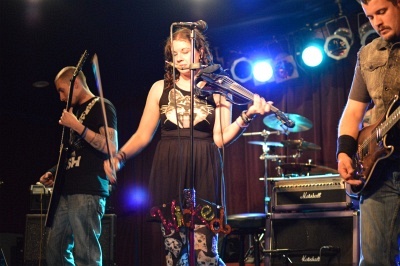 Couple bands later we got to Aria Flame. This was one of the two sounds I came to hear. My review of their new EP was published about the time they finished playing. And it's one of the best releases of the year IMO. Aziza and the boys cranked up tunes from A World of Silence and sounded every bit as good as they did on the recorded release.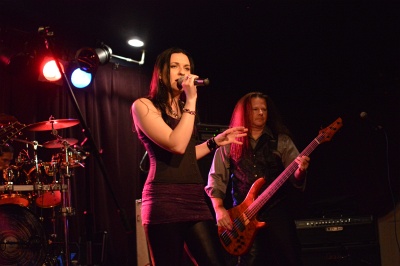 But the set offered more than just Aria Flame. As I mentioned, the band is headed to Belgium for MFVF this week and will be joined on stage by some seriously interesting talent. For instance, Joop De Rooij will be handling keyboards. But, beyond that, there will be a number of American vocalists many will be familiar with. I previously mentioned Grace Meridan from Chicago and Kassandra Novell from here in Wisconsin but they will add Sabrina Cruz from Seven Kingdoms in Florida for that performance. Grace and Kassi were here for this performance. And that's some serious fookin' talent.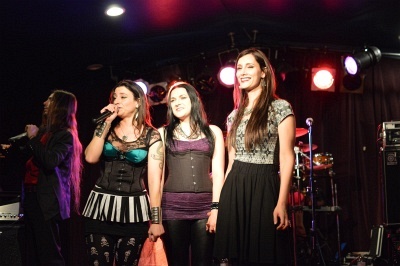 The band started out marching through material from the new release. Then Kassi took the stage and did a bit of Tarja era Nighwish with the band.
Not to be undone, Grace followed her and did another Nightwish track.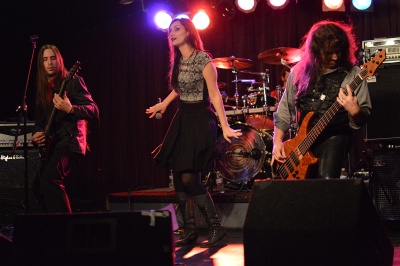 At this point, Aziza returned to the stage and did a track with each of the girls before the three came back to do a rendition of Cry Little Sister. Hard to beat three vocalists with this level of talent.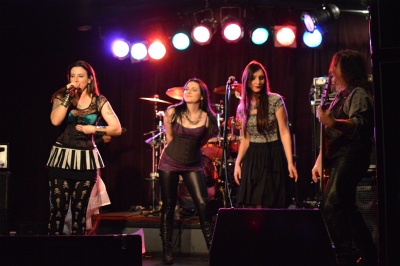 When this set concluded we went to another of my favorite sounds, Fibonacci Sequence, another Milwaukee band. FS is a 4 person band that does a particularly sophisticated brand of metal. Hard to describe this material. They do relatively long tracks, and the focus is on fusion grooves with some classical influences. Bass player Chad Novell is the significant other of Kassi and there's nothing I'd rather hear than a fusion of those two talents. Their set delivered some of the most interesting sounds of the evening.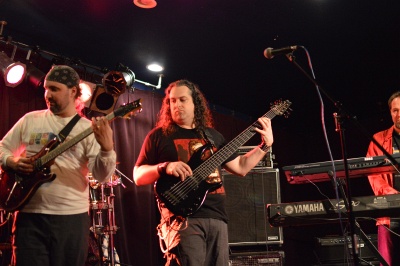 All in all a fine evening of metal. . . .and all for a good cause. It's always a great evening when you can meet new friends and say hello to old friends and that happened here. And the kittehs, well, anything to help them is a plus. It's a Meowsic tradition.