Oceans of Slumber Interview
February 2, 2016 (via phone)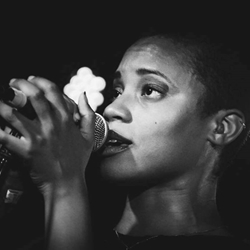 Oceans of Slumber is a six-piece progressive metal outfit from Houston, Texas. When you hear "Texas", the first things that might spring to mind are blues rock, country music, and twanging guitars. But Oceans of Slumber's sound is more Opeth or Anathema, than ZZ Top. Check out the first two singles -- the title track "Winter" and "Suffer the Last Bridge" -- for a taste of what you're in for. The band's first full-length album, with newcomer Cammie Gilbert, behind the mic, will be released through Century Media Records on March 4, 2016.

Sonic Cathedral's Robin Stryker circled up with vocalist Cammie Gilbert to get the scoop on Oceans of Slumber. Dive in for a behind-the-scenes look at Winter, haunted rehearsals, lessons learned as a tour newbie, and much more!
Sonic Cathedral: A warm Sonic Cathedral welcome to Cammie Gilbert! Cammie, how did you go from being a fan of Oceans of Slumber to being its vocalist?
Cammie: That was very exciting! I've known Dobber for a few years now. Being in similar circles here in the Houston metal scene, we've crossed paths multiple times. After seeing the previous band that I was in open for them at a benefit concert a few years ago, they asked me to be a guest on the upcoming album. Due to a few transitions within the band, it moved into me being the full-time lead singer. It was all kismet happening.
Sonic Cathedral: Oceans of Slumber was originally a male-fronted band (with Ronnie Gates on vocals), which had released a full-length album and written the upcoming Winter before you came on board. What did you need to do to make the album yours?
Cammie: There were quite a few things that ended up being changed. Originally, I was on the album with Ronnie being on there. Then, the album ended up being re-tracked completely with my vocals. A few other changes though … "Lullaby" is a family melody of mine that I redid and expanded on top of Keegan's really beautiful little bass riffs.
There was also kind of taking each song, and adding my own inflections and embellishment. It transitioned relatively seamlessly because I'd been there for a lot of the upbringing of the album, although it was in more of a secondary vocal role in the beginning.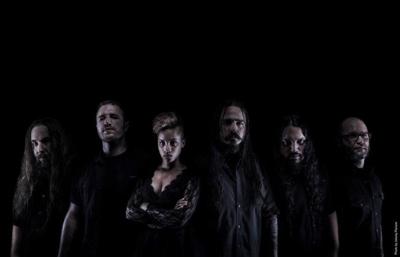 Sonic Cathedral: How much did that then change the feeling of Winter? Doing a compare-and-contrast of "Memoriam" off Aetherial and your interpretation of "Memoriam" on the Blue EP, those are two very different beasties.
Cammie: "Memoriam" was changed to be done acoustically, which changed the feelings of it quite a bit. It definitely gave it a more intimate vibe. However, it's a bit different with Winter. The songs were always envisioned with a female lead, and so I'd like to think they found more of their fit and essence in being conveyed through my interpretations.
Sonic Cathedral: The Blue EP is described as a live studio album. What does that mean?
Cammie: It was recorded all live. There were just two takes for each one. It was a full recording essentially for each song, so there wasn't a lot of going back and redoing it, like a normal CD where it's all tuned and tracked. It was 100% everyone at the same time.
Sonic Cathedral: You cite some of the jazz and blues greats as your influences. If you could spend a day with one of them (living or dead), who would you pick, and why?
Cammie: I would definitely pick Shirley Bassey! <laughs> I feel like we would have a lot of mischief to get into, and I love her brazen attitude. She was a huge forerunner for the strong, independent female persona. She was on the edge of fashion and on amazing vocal hooks -- just very theatrical and very emotional. So, I definitely would enjoy a day to see how that would be. I could learn A LOT in a 24-hour time span from that woman.
Sonic Cathedral: The only one that I've ever had a chance to see live was Nina Simone. She was already well into her 80s, but she still had it going on.
Cammie: Oh yeah, she is a phenomenal person as well. She is a musical genius, from piano to her blues and jazz singing. Any of them, I would feel extremely fortunate to have been able to see live.
Sonic Cathedral: Oceans of Slumber just came off a tour with Evergrey, Voyager, and Borealis. What were some of your personal highlights?
Cammie: That was my first tour. It was incredibly fun and awesome, and it was a really great learning experience. I guess the take-away was how HARD touring is, and how many things can go wrong between shows and during the shows. <laughs> I learned just how important the side-stage crew really is!
But one of my favorite moments was, after one of the shows, we were sitting with Tom [Evergrey's vocalist] at the bar at the venue, and he was talking about that feeling you get when you're up there on stage -- what you are trying to do in conveying your song and your music to the fans. You create a little world, and everyone is invited to be in it for the length of that song or the length of that performance. It was very, very cool that we had this common ground as artists. I mean, I look up to them extremely highly, and am a huge fan of them. To be able to be on a personal, intimate level was very meaningful for me. So, that was one of the best moments, and one that I definitely keep in the back of my mind.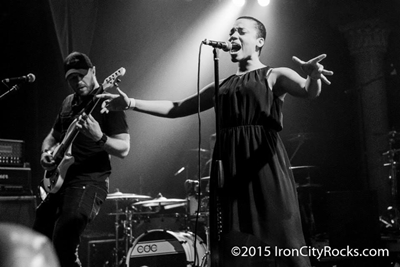 Sonic Cathedral: Now that you are a tour veteran, what is the one thing that you have put on your list of things to bring next time?
Cammie: I'm such a nerd and a lover of lists. <laughs> I have a huge list of things I'm going to do next time, like take less clothes and take more essential things. I packed all these snacks in this big cooler, thinking I was going to feed everybody. I was so disappointed at how it didn't last nearly as long as I thought it would. <all laugh> Everything went so fast! Okay, so next time, I'm going to forego these serious snacks. I'll still get a few things … some little munchies.
There will also be waaaay less clothes. I took way too many clothes, thinking I'm going to wear all these things and have all this time to go around. Yeah, but that's not how it works, so that was the biggest thing. Take fewer clothes. I think I lost some, and was always trying to figure out where my stage stuff was. The other thing will be to take Band-Aids. You're always being cut or scraped or something. That is skimming the top of it, but I have an Excel sheet of all the things I'll do differently.
Sonic Cathedral: <laughs> Excel spreadsheets! You are a woman after my own heart, Cammie.
Cammie: <laughs> I told you I was a nerd!
Sonic Cathedral: So what are the Oceans of Slumber guys like on tour? Who did what?
Cammie: Dobber [drums] is definitely our band manager. That is very much his actual role, as far as: "We need to go. We need to be at the venue, and check in at this time. We're not staying out all night. Lights out!" That was definitely Dobber. He keeps us on schedule, and is the amazing band manager/tour manager.
I'd say that Sean [guitars] is the one who gets everyone excited. So, going on stage, it's like: "Hey, let's get hyped. We're here. Get excited." Keegan [bass] and Anthony [guitars] keep it chill. They are good for sitting, and getting reflective, and chilling out after the show. I'd say that Uaeb [synths] is the right-hand man for anything that is needed. He always lends an extra hand when we're like: "We need this" or "we need that".
I was the one who found everything. I love Yelp, and I love using Google Maps and stuff. So, I'm the navigator, and the one who figures out where the hotel is going to be tonight or where there is a good place to eat. Together, we're a really good team -- a really good, smooth team! We all get along, and there is no … well, not too many … theatrics. <all laugh> It is really easy to get along with everybody.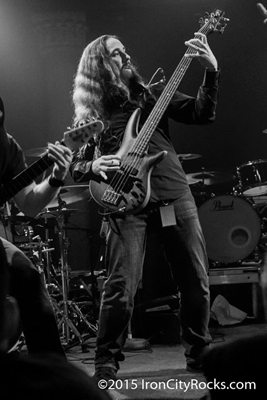 Sonic Cathedral: Did you guys have a nightliner? Or did you pile into a van, and take turns driving? If it was the latter, I hope y'all can parallel park.
Cammie: That was really funny. This was our first tour, and we were serious about what we wanted to do. So, we bought a van, and drove ourselves. But Dobber and Keegan were the only ones who could drive the van because the steering was incredibly wonky. You would move it all around, and you weren't actually turning. The steering wheel had a lot of play in it, so that was a little bit nerve-wracking. <laughs> Don't go too fast, especially when everything is loaded in!
It put a lot of pressure on us to get there. A few days into the tour, we had to actually get a lot of mechanical work done on it. They were like: "We're surprised you made it this far." I'm like, "yup". So, that was a little bit nerve-wracking.
Sonic Cathedral: To what extent did you play out tracks from Winter during the tour?
Cammie: Oh yeah, I would say they were a good portion of our set. It was pretty evenly split, where it was partly Aetherial, partly Blue, and partly Winter. We tried out different selections of songs -- like heavier, harder stuff, and then we'd go over to the more melodic, emotional stuff to see how that would go over.
There was always a really good reception for the new material, plus the old material. Of course, the covers are always crowd-pleaser favorites. A lot of Winter we have done live, and now, we get to continue playing it live. It will be nice for people to have heard it, and then to see it live.
Sonic Cathedral: When you were up on stage, which song from Winter did you totally feel?
Cammie: I'd say "Sunlight" is my favorite song to perform. It's kind of quiet and soft, so people have to quiet down, and then they get sucked in. It builds up really well. It is an overall pleasing song to perform. "Sunlight" is one that sucks people in, and sucks me into the whole atmosphere of it.
Sonic Cathedral: Winter has a gorgeous cover of "Nights in White Satin" on it. Did you play that song out live?
Cammie: Uhm, I don't think we did, now that you mention it. At least, not on tour. I think the only time we've done it is here in Houston. There's a bar here called Scout Bar that we like a lot … it's a great metal bar … and we performed it there. That may have been the only time we've done "Nights". But it's a GREAT song with a super-heavy finish, so that's a really nice one to perform too. People are a little bit surprised, like: "Oh, where are they going with this?!?" But yeah, we've only done it the once, but that definitely might be one that we'll take on rotation with us more.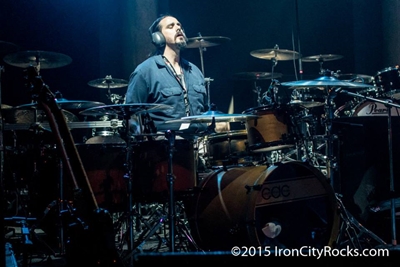 Sonic Cathedral: Winter has a couple of tracks with growling, compliments of the gents in Oceans of Slumber. Are you considering adding growls to your vocal repertoire?
Cammie: I am! I am always, always looking for new ways to expand my vocals. I consider anything that eludes me a personal challenge, and growling is one of those things. <laughs> I find it incredibly difficult to do well and to do to a certain level. I have to be very careful with playing around and trying to incorporate it, so there hasn't really been a good time for me to tackle figuring it out. But I definitely look forward to trying to get a little bit more of the essence of it into my own vocals.
Sonic Cathedral: What is your musical background? Listening to your voice, there are elements of jazz and blues. I could see you knocking it out of the park on a gospel track, as easily as you do with rock and metal.
Cammie: I grew up with very musical parents. My dad was a local jazz (kind of old school R&B) musician. My mom and him actually met in a church choir, so I kind of grew up with it as a staple, and there was a studio in our house. He was tracking people back before it was popular.
I dabbled here and there with different choirs. I did choir all through high school and then in college. I went to a Baptist school, so it was a big Southern Baptist style gospel choir, which was amazingly fun. On the social side, I got to hang out with a really big spectrum of musical influences. So, I thought that it really blended well. I was always very intrigued by strong vocals, whether they be male or female.
Sonic Cathedral: Your first rehearsal space was haunted; true or not?
Cammie: Yeah … although I'm tempted to ask: "How did you know that?" <laughs> The band that I was originally in was at this old hospital that turned into an artists' loft. Any time we took pictures, there were orbs in the pictures. So yup, I could see that being true.
Sonic Cathedral: You recently had some pretty major ink-work done with a deer skull and twining plants. Is your tattoo done, or still a work in progress?
Cammie: I am adding more to it. It is wonderful work done by one of my favorite tattoo artists, Cali Brown with Weathered Helm Art Studios, here in Kemah, Texas, which is near Galveston (south of Houston). It is amazing, amazing work!
I have a bit of an obsession with animal bones and skulls and stuff. So, I kind of took different ones that were Southern wildlife, and juxtaposed them next to flowers and different things to convey that whole Circle of Life. But it's still very much in the works. I actually just got something done on the top of my arm. There's a nice little mandala outline, and then I'm waiting and timing out get the rest. That way, I won't be healing on tour.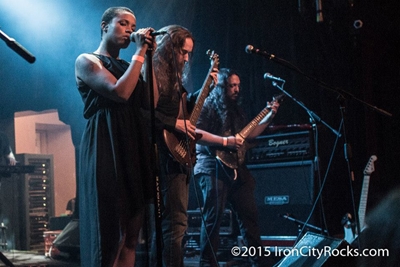 Sonic Cathedral: Are you shooting for a full sleeve or different tableaus going up your arm?
Cammie: I definitely want a full sleeve. Now, how well it's all going to be intertwined has yet to be determined. <all laugh> I formed the idea a little too late and too close to getting some other work started, but it's coming together pretty nicely. I am definitely looking for a full sleeve on the one side, and then getting started on the other one. It's always been kind of a tattoo vision of mine to have two nice long sleeves.
Sonic Cathedral: For those of us who were not in the East Coast for your recent tour run, when might we get some live Oceans of Slumber shows too? Are plans in the works for a more expansive tour?
Cammie: We definitely have a lot of talk about things in the works, but I can't say any details just yet. Things haven't fully been solidified, but we definitely are going to be out and about, making our way around. So, don't be too anxious!
Sonic Cathedral: <laughs> I will try to be patient! What was it like for you to hit the ground running -- recording an album, being signed to the largest independent metal label, shooting videos, touring alongside a well-known headlining band, and being poised to take off like a rocket? Does it make your head spin?
Cammie: Oh yeah, pretty much daily! I am so much in awe. I am always extremely grateful for how well I'm being received, with all of the changes. It's like one day at a time. I try and pace myself, but it's incredibly amazing and fun! I am prone to being like this little anxious bunny, so I do get a little overwhelmed sometimes. But in a good way, of course.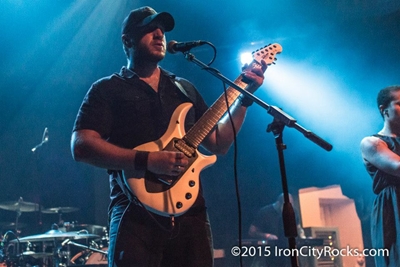 Sonic Cathedral: Cammie, do you have any final words for your Oceans of Slumber fans?
Cammie: We are so excited for Winter's reception. This album is pretty much as raw and real as it gets. It's a big thing for us to try to connect with people who want to connect with us. So, it's our offering and our little bit of shared experience to give people a catharsis through some of the turbulences of life. It really means a lot to us that everyone enjoys it, and we look forward to sharing more of ourselves with everyone.
Sonic Cathedral: Thank you so much for talking with Sonic Cathedral today, Cammie!
Cammie: Thank you!
Many thanks to Ebony at Century Media Records for setting up the interview!
Photo Credit (live shots): Sean Benedict (Iron City Rocks)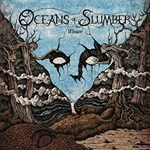 Oceans of Slumber official site
Oceans of Slumber on Facebook
Cammie Gilbert on Facebook