Bad Seed Rising - Interview
August 24, 2015 (via Skype)


Bad Seed Rising is a four-piece rock outfit from Baltimore (also known as Charm City) that has already checked off some damn impressive bucket list items. Youngest band ever signed to Roadrunner Records (home of bands like Rush, Dream Theater, and Opeth)? Yep, did that. Nationwide tours with some of the biggest names in the business? Yep, did that, too. Has a song on the soundtrack of a summer blockbuster? And yep, again. These rockers might all be teenagers, but that doesn't detract from their relentless dedication to music.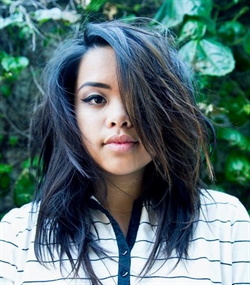 Sonic Cathedral's Robin Stryker caught up with Francheska Pastor, vocalist/guitarist for Bad Seed Rising. Dive in for Francheska's behind-the-scenes look at A Place Called Home, finding one's path in the rough-and-tumble world of rock, roving pedo-staches, and much more!
Sonic Cathedral: Francheska, welcome to Sonic Cathedral!
Francheska: Thanks so much for having me. I'm really stoked to be here!
Sonic Cathedral: I may have read the single greatest endorsement of any album ever, which is that you sold a copy of A Place Called Home to some proselytizing Jehovah's Witnesses who came to your door. Tell us about that miraculous moment!
Francheska: I'm not the one to be rude to people for their beliefs, and the fact that they want to spread their goodness and stuff. I'm not really going to talk about religion, but they pretty much just came knocking at my door. They asked: "Do you have time to talk about Jesus?" I'm just like: "Do you want to check out my mix-tape, dude?" I really didn't want to be disrespectful, and I didn't want to waste a lot of time trying to shoo them away, so I just threw some ADD at them … "oooooo, look … distraction … uhm, listen to my music!" I dunno, they liked it so, they took it home. <laughs>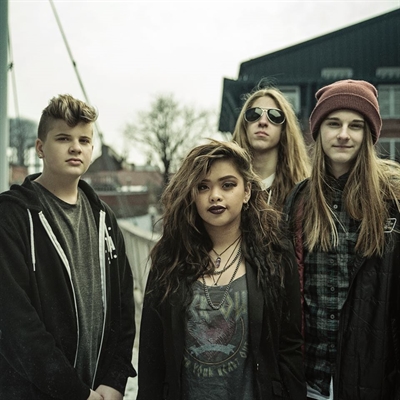 Sonic Cathedral: Did you have to take a Watchtower Magazine in return?
Francheska: They gave me some pamphlets, but I didn't really read them because I'm not big into reading. I mean, I was still nice to them. I think that you've got to be nice to people, regardless. It can get annoying if there are a lot of people knocking on your door, and then there's that Facebook hype of slamming doors on their faces. It's still rude, because that's still a person. So, I just kind of hit them with my sales tactic. "You wanna check out my songs? I'll check out Jesus, if you check out my songs." <all laugh>
Sonic Cathedral: Best sales pitch EVER. Of course, Bad Seed Rising have the notable cred of being the youngest band signed to Roadrunner Records, and you are on your second release via the label. Would you give folks an introduction to A Place Called Home?
Francheska: It's all in the title, really. A Place Called Home is about finding ourselves. A Place Called Home is a lot heavier than Charm City, our first EP with the label. With this album, we wanted to do our own thing, so we wrote independently. We wanted to go a lot heavier, so Mason [guitars], Aiden [drums], and Louey [bass] brought in a bunch of ideas. We are really proud of this one, because this is what we WANTED.
The lyrics are more of what I wanted -- they talk about more personal things, like finding myself, my depression, mental issues that I've struggled with, and the pressures of being a female in a band. Some people didn't want me to be in a band, or didn't want me to pursue music, or didn't want me to be a certain way when I pursued music. Like: "Don't wear THAT … you've gotta wear something different, or you've gotta look different than the boys." I don't really think there is a need for difference. It's not about what I look like; it's about the music that we make.
Sonic Cathedral: To my ears, A Place Called Home sounds more cohesive and consistent than Charm City. Were there other "cooks in the kitchen" with your previous EP?
Francheska: Yeah, actually we wrote [Charm City] with a couple of the best songwriters in the business, and we were just kind of thrown at them. I mean, they were amazing, and the songs we wrote with them are great. The thing is, they were written over a span of time, when I was at a young age. I was like … what, 14 or 15 at the time? … and I did not realize at the time that I had any say in it.
They brought in their ideas, and it was a little bit frustrating because we wanted to write our own stuff. We thought we would be able to have a lot more say in the songs we were creating, but it didn't turn out to be that way. We worked with Scott Stevens and Johnny Andrews. Scott Stevens has worked with Halestorm, Daughtry, Sick Puppies, and some of the greatest [bands]. He has definitely written some hits, and Johnny Andrews has as well. <laughs> He's done a crap-ton of shit! We worked with him, and we worked with Brian Howes, who is a great dude. He is from Canada, and I always joke with him about his accent. Which is always fun.
It was hard to stay consistent with Charm City because there were just so many people telling us what to do. That is one of the reasons why I wrote about a lot of the things I wrote about on A Place Called Home. We were just fed up with people leading us in the direction that we didn't want to personally go with. We wanted to be more heavy, and they wanted us to be … I don't even know what the fuck they wanted us to be. I still respect them greatly as songwriters. I love them, and we're all great friends. I love the songs that we wrote with them, but they're not as consistent as A Place Called Home. They were amazing songs, and they got us pretty far. But A Place Called Home is something that we personally wanted.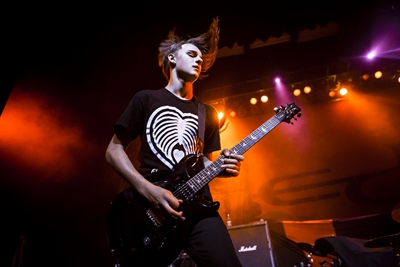 Sonic Cathedral: What song on A Place Called Home are you proudest of?
Francheska: I'd have to say "ADHD" or "Mess" … I can't really pick between the two. "ADHD" talks about my mental issues and a lot of pressures that I've had growing up. One of the main lines is: "I need the drugs you give me", and it talks about drugs. <rueful laugh> Uhm, there is no great way to put that. "Mess" is also one of my favorites because the chorus really speaks to me.
"Mess" is kind of a compilation of all these relationships I've had in the past. I'm not too into relationships, but I have been pretty disappointed from relationships. So, I wrote about a couple of things. I read through my notebook, and I gathered all these things that I've had with relationships. I wanted to write about my experience of just getting out of a relationship, and finding myself. I'm a mess, but I still understand that I've found myself, and I'm okay with it, and I know that I'm going to get better.
Sonic Cathedral: When you're on stage singing those songs, do you have to detach? I would feel rather emotionally naked, singing about something that is true and real in my life, in front of a sea of strangers.
Francheska: You know, it does seem really vulnerable, and it is. But that's the best part of all of it. My best shows are when I'm feeling the most vulnerable, or when I'm feeling upset. That's when my music actually does really well, and that's when I play better. I play better shows; I get more into it; and I lose myself in the music. It's best to get into that kind of way.
Sometimes, I'll wake up in the morning, and I'll have a really shit day. Then, I realize that I have a show planned that day. So, I'll mope all day, and then I'll get myself hyped up. We have to forcibly hype ourselves up for shows. You gotta get the blood rushing, because it's hard to just go up there and then try to get the blood rushing. When I have a shit day, and I get to stand on stage, and I get to be lost in my lyrics and our music -- and talk about things that actually mean something to me -- that's when I feel most powerful. I get to let down the barriers in my mind, and I take them out as an aggressive passion.
Sonic Cathedral: Bad Seed Rising have had some insane tours, including your first big tour after being signed, which was with Daughtry, Three Doors Down and Halestorm. When you get off the road, do you get the blues?
Francheska: Oh yeah, definitely! Post-tour blues. We were getting off tour with Adelitas Way, and I was texting Rob Zakaryan from the band. We made a funny-ass video for end of tour, just to lighten the mood, but he was like: "Franny, I miss you. How you doing? I've got those post-tour blues." and I replied "Same, but check this video out, because it's funny as shit. It'll make you feel better, I promise." It's on our Instagram, and you can find it if you scroll down a bit. It's just a video of us pranking them, because they egged us with these confetti eggs while we were playing on stage, so we got them back by toilet-papering their set.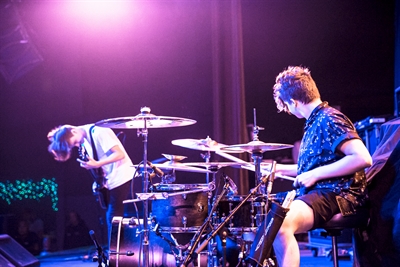 Sonic Cathedral: Nice!
Francheska: Yeah. We did a cool video, and then put a song behind the video. It's called "Burn That Kush", and that's literally ALL we listened to throughout the entire tour. <laughs>
Sonic Cathedral: Bad Seed Rising have a show with Issues at the Masquerade in Atlanta in late September [2015]. Did you realize you're going to be one of the LAST bands to perform there before the venue closes?
Francheska: It's pretty insane. I've never been there, but I've heard so much about it. Everyone is hyping it out, and saying that it's legendary, which I totally believe. They've got Heaven, Hell, and Purgatory, and we'll be playing in Heaven [the biggest stage]. We're going to be one of the last bands playing there, and Issues is such a great band.
Tyler Carter actually hit us all up one day on Twitter, which was insane! He told me that he found us from the movie Spy with Melissa McCarthy. Eventually, we started talking a whole bunch, and got to know each other. Then when he announced the Issues hometown show, we hit him up about it, and he got us a spot on the bill! Now we get to play with Issues, PVRIS (another amazing female fronted rock band), The Funeral Portrait, and Native Suns!
Sonic Cathedral: Tell the truth, did you squeal when you got the message?
Francheska: Yesssss! It was like 8:00 in the morning, when my manager hit me up. I was asleep, and he called me to say: "Dude, someone's raving about you on twitter." I was like: "Dude, I really don't care right now. It's soooo early!" Then, he was like: "Okay, well, Tyler Carter from Issues is talking about you. You should check it out." I shot up [out of bed], straight like a bullet, and I woke up my entire family. I was so STOKED.
It was crazy, because he was raving about all of us. It's like he totally fan-girled hard as shit -- he hit all of us up on twitter, all of us up on Facebook, and on Instagram. So, he DM'd me on twitter, and I DM'd him back. I got his number, and we just started texting a lot and Facetiming until like four in the morning. Then things led to another, and somehow he got us onto the Alternative Press Music Awards in Cleveland, Ohio, which was insane by the way!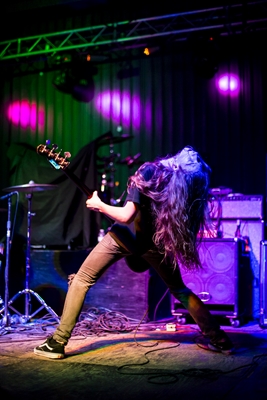 Sonic Cathedral: Cool, a stroll down the red carpet! Did you do the drawings for the "Bad Seed Rising" lyric video?
Francheska: No, and I didn't like those drawings; I hated them, actually. I'm going to be completely honest with you: I didn't really like them. Those were kind of cartoon-y. I actually do kind of draw … I'll draw some sleazy shit. I like to draw faces, and I like to draw people with nice make-up on. It kind of upset me, because it was nothing like I'd ever draw. But a lyric video is a lyric video. It would have been easier if it were just the damn words or something. It happened, and it doesn't really matter. A new music video came out for "Bad Seed Rising", when Spy was released. So, that makes up for it.
Sonic Cathedral: If I understand correctly, when Bad Seed Rising went to record A Place Called Home, what you brought to the studio just wasn't clicking with you guys, so you wrote 7 songs in 2 days. How was that even possible … did the lyrics stay, but the music was revamped?!?
Francheska: <laughs> No. The lyrics weren't even written. Every single song on that album (and the ones you haven't seen yet), all took 14 to 16 hours. I don't even remember how it worked; it just went by so fast. But my boys were working hard as hell, and they did what they really wanted to do. I don't really touch that subject because I don't play as much guitar as I used to. It's hard because … sometimes when they're on a wave, and I'm trying to catch that wave … it just won't work. Sometimes I'll have something to contribute, and sometimes I just don't.
Mainly, I just work on melodies and lyrics, and then I'll feel out the song while they're creating it. Then, I'll listen to the song a bunch of time once it's finished, and I'll catch the vibes that it's putting out there for me. Sometimes I'll see colors when I listen to a song -- I'll close my eyes, and see purple, or I'll imagine Fall or Summer or something that it reminds me of. Then, I'll work off that.
Sonic Cathedral: That's about what I think it would take for ONE song …
Francheska: Yeah, but literally seven songs in 48 hours … uhm, I'm bad at math … so 48 hours, divide by 7 songs, is like 6 hours for each.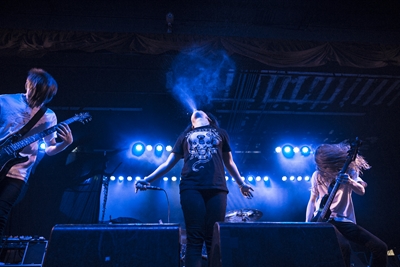 Sonic Cathedral: If you didn't sleep at all.
Francheska: So, take out 10 hours, then it is like 5 hours. Then, add 14 to 16 hours onto each song for lyrics. So like, 19 to 20 hours for each song.
Sonic Cathedral: Awkward question, that I'll ask awkwardly because I can't think of a graceful way to word it: You're a female; you're Filipina, and you're young. From the standpoint of being a professional musician, which of those factors have you found to be the most challenging? I imagine that your folks probably pushed the college thing pretty hard.
Francheska: It's kind of difficult sometimes. My family used to push me to do something in accounting or something like that. But then, they realized that music is what makes me genuinely happy, and I'd be doing it for basically nothing. I mean, I would love to make money off of it, but I feel like it's just kind of impossible, especially with the digital age and everyone downloading music illegally. But they understand that it makes me happy. I'm not in it for the money -- I'm in it for the music, and I'm in it for the band, and I aspire to inspire others.
For the college part, my mom finally accepted the fact that I wanted to be a musician. I figured that it would be nice if I went to college, got an education, and understood something other than music. Because I'm already signed to a label ... I'm not trying to jinx anything here … there's not much of a reason to go to college for music. Why would I go to school for something that will just put me in more debt, when I'm not going to be making any money as a musician? ?
I kind of figured that I am very, very passionate about helping other people and trying to make the world a better place … just trying to teach a lot of things that I believe in. So I feel like the best way to do it is to go to college, and major in political science because I'm very politically inclined. I just want to know valid information -- not just to see things that I see off the internet.
Sonic Cathedral: Francheska, I've seen references to you being very passionate about "millennial feminism". What does that mean?
Francheska: "Millennial feminism" is like this rebirth of feminism when the millennial era started. I never really had a preconceived notion about feminism, but I had a lot of people around me saying that feminists were horrible people, who wanted to kill off men. But then, I actually did some research about it, and it's just about women wanting to be treated respectfully and just as equally as men. I feel like a lot of Millennials understand these concepts, without having to know the actual meaning of feminism. We were just born into a more accepting era than the last.
It's hard putting all these into one general thing, but essentially we need to be treating each other equally. We need to understand the difference between a misogynist, misandrist, and the peaceful feminist. I'm not trying to stand up for men here, because men don't need to be stood up for, really. But men need to understand that feminism isn't about taking down mankind; it's about empowering other women, it's about being god damn EQUAL. Guys get so offended about: "Oh, if they have power, that means I'm oppressed." I'm like: "Dude, calm down. You've still got the power. You just don't fucking understand oppression."
Millennial feminism … <laughs> this concept that I made up, and I'm using quotation marks as I say these words … is just equality and treating women the way they want to be treated. It also covers the entire LGBQT movement. It's just about basic human morals. I don't understand why people want to destroy women for wanting to have their rights. For God's sake, we can't even show our boobs without being sexualized. I hope this is all making sense to you. It's hard to talk about something so broad, and squeeze it into an interview.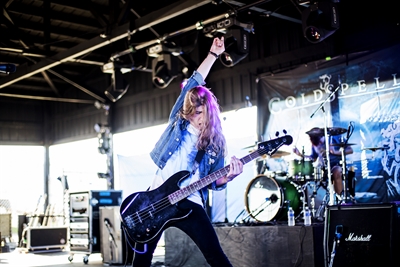 Sonic Cathedral: That leads to an interesting conundrum. For women in metal and hard rock, why do the only roles seem to be either a sex kitten or "one of the dudes"? And how does one strike the balance between the two?
Francheska: Man, I don't really know about that. Go ahead, if you want to be a dude, be a dude. If you want to be a sex kitten, be a sex kitten. I find myself to be very neutral and in between. Some days I'm a bit masculine, some days I'm a bit feminine. I don't need to show my body to get recognized, and I don't care if anyone does; I support it actually, I don't judge. But I don't have any care for showing off my body (besides, it doesn't matter what I wear, because I've learned that I get hit on ten times more in my "masculine attire"). In all honesty though, I just dress like everyone else in the business. People say I dress like a dude when in reality, I'm wearing a shirt and pants… it's just gender neutral, people, get with it.
But one thing that I do have a lot to say about is that I just turned 18, and I remember when I used to wear skimpy little shorts. It's not so much like I tried to get dudes' attention; it was just because I felt good in it. But now, I see 16 year-olds doing the same thing that I did at 16, and I regret ever wearing those kinds of things. I saw this one 15 year-old I played with in Sacramento wearing shorts with her ass hanging out, and I thought "That's gross. There are 30 year-olds, and 40 year-olds, and 50 year-olds in this crowd. That's disgusting. Do you really want their pedo-stache on your butt?!?"
Sonic Cathedral: <bursts out laughing> I shouldn't laugh, but the pedo-stache imagery was pretty damn funny.
We are getting down to the home stretch with our interview. To wrap up, what is coming down the pike for Bad Seed Rising?
Francheska: Well, we have the Issues show. Right now, we're working really hard on making new music to make this EP into a full-length. We're going to be flying out to LA to work with our producer, Drew Fulk, at Studio 606. We'll be recording things there. We're also going to be working with Tyler Carter from Issues -- writing and recording with him. We're going to see where we go from there, if we like those songs or not. We've been putting a lot of work into these songs.
On A Place Called Home, we did have a lot of say, but I felt like I was also very constricted because it was my first time writing on my own. So, it felt very pressured. But now, I feel like I have a lot to say. The few songs that you might hear from me are going to be a lot more about being self-empowered and about empowering others. Hopefully, that comes out very soon; we're very excited about it! We also have a tour coming up, but I can't announce anything about it yet. Yeah, be on the look-out for dates!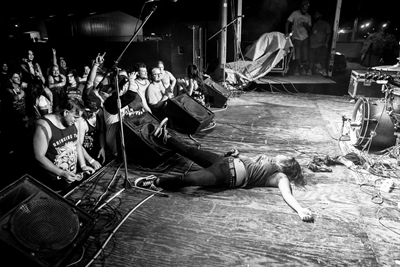 Sonic Cathedral: We'll keep our eyes peeled. Thank you so much for talking with Sonic Cathedral tonight, , Francheska!
Francheska: Thank you for having me!
Photo credit (promo shot): Aaron Marsh Photo credit (live shots): Caitlyn Willard A big Sonic Cathedral "BOO-YAH" to Amy at AtomSplitter PR for setting up the interview. You ROCK, Amy!
Bad Seed Rising official site
Bad Seed Rising on Facebook