Delain Interview 2016
March 6, 2016 (live)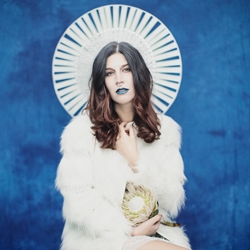 Delain have roared into 2016 with a frenzy of activity -- a special Suckerpunch show in the Netherlands to introduce their Lunar Prelude EP, a repeat appearance on the 70.000 Tons of Metal cruise, the release of the "Suckerpunch" video, and a fourth North American tour. All that, and we're barely two months into the new year! Folks catching Delain's current tour with Nightwish and Sonata Arctica might notice a couple of changes. Otto Schimmelpenninck is sitting out this tour to be home for the birth of his child. But there also is a new face on stage, that of guitarist Merel Bechtold. The on-stage guitar-dueling between her and Timo Somers adds to the exuberance of Delain's live shows.
Sonic Cathedral's Robin Stryker and her dog met up with vocalist Charlotte Wessels during the show in Montana. After butt-scratches and treats were lavished on the dog, we got down to business. Dive in for a closer look at Lunar Prelude, exclusive details on Delain's upcoming album, and much more!
Sonic Cathedral: Charlotte, with so much going on, how did Delain even find time to record the Lunar Prelude EP?
Charlotte: So, what basically happened is that we are touring more than we have EVER done the last couple of years, and it has kind of changed the writing and recording process. Traditionally, you'd find a long period of time in which you go into writing mode, go into the studio, and produce everything. We don't even have a break long enough for a process like that. <laughs> Since we didn't want to tour any less, rather than making room for a process like that, we cut up the writing and production process into different chunks.
By now, we have completed two out of three of the chunks -- which means we have a lot of songs that are done, and have been done for quite a while already. When the idea of the EP came up, we were really excited about it because we can already let people know what we have been working on; also, we can already play the songs from the EP live. Traditionally, we'd have to save that until the album is finished. Especially with this new method of writing the album, the EP was very welcome because: (a) we already had some tracks; and (b) we don't have to wait so long to share them. <laughs> So that is really how it went. I am pretty excited about how it will lead into the actual album as well.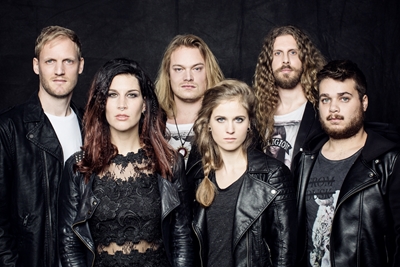 Sonic Cathedral: Are the two new songs, "Suckerpunch" and "Turn the Lights Out", a prelude of what is to come on the next full-length Delain album?
Charlotte: I think so. "Suckerpunch" is the first song that we finished where we really felt like: "Yes, this is what we want to do; this is the direction that we want to go!" Even though "Lights" is a very different track … more melancholic, a little less upbeat … it kind of fits more thematically with what we are going to do on the eventual record as well.
Of course, the Lunar Prelude title is a variation of what we had done on Interlude. It is very much a prelude, as it's connected to the album that is going to come. With Interlude, we took a couple of songs that we wrote during the We Are The Others writing sessions, and put them on that record. So, it was more pointing backwards. Lunar Prelude's songs were part of the writing session for the album that is yet to come, so it is pointing forwards.
Sonic Cathedral: In October 2015, you added Merel Bechtold as a permanent member of the Delain family. Will we hear any of her guitar work on Lunar Prelude, or is she still a live guitarist at this point?
Charlotte: She performs on the live tracks of Lunar Prelude. As for the new songs, we are developing this. You see Martijn, Guus and myself, we've been writing and recording together for over 10 years, and everybody's welcome to contribute in the group, but obviously whenever someone new joins in, it takes a little bit of time to find what part they will play in the process and how. I mean, Merel's contribution to the group and to the whole live department is VERY apparent and obvious.
Sonic Cathedral: Absolutely! She is a dynamo on stage.
Charlotte: Creatively, with the things she has already done, I think that there is huge potential as well. It needs time, now that we are going into the full album, to see what exactly that will be, and I'm very excited about it.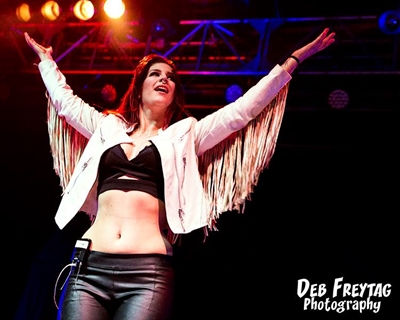 Sonic Cathedral: The Lunar Prelude cover art is again done by Glenn Arthur. But it is a lot darker and chillier than the artwork for We Are The Others and Interlude. It looks like someone may have suckerpunched that skull right in the eye. Visually, what were you going for?
Charlotte: With this one, I think we really wanted to go back to Glenn because we do feel that the style fits us very well. I like The Human Contradiction artwork, but I always feel myself being drawn back to his work. This one was actually an adaption to a work he had already made some time ago. It will be connected to the eventual album artwork in a way that I don't want to say yet. <laughs> But we just felt that with that one [the artwork for Lunar Prelude] and then the one which is going to be the eventual artwork, it will really, really work nicely together!
So, I do like the fact that it's darker. I mean, "Suckerpunch" talks about fighting your demons, and bringing them down. You could see the cover as her holding some kind of a trophy. <all laugh> "Turn the Lights Out" was inspired by Neil Gaiman's character of Death from his Sandman series, which I LOVE. So, to have the album art be a little bit darker … well, everyone agrees that skulls are cool, but we're not just throwing them around … so, to incorporate that into the album artwork as well, I think it's a good fit to what it is about.
Sonic Cathedral: Despite the darkness, I giggled over Alissa White-Gluz (Arch Enemy) and Justine Ethier (Blackguard) reenacting the album cover at the Montreal show. How did that marvelous photo op come to be?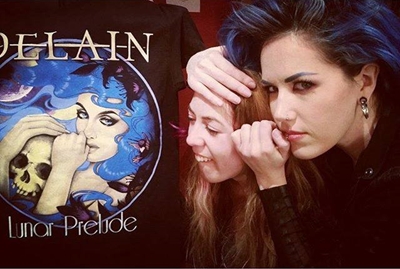 Charlotte: Okay, so the Lunar Prelude artwork was an adaption to an already existing work in which the lady on the cover had blue hair. We had no intention of changing that, and it was only later that we thought: "Ah, Alissa worked with us, so people might put a connection there." When Alissa was joining us, she actually said jokingly: "Thanks so much for putting me on the cover of your EP!" And then we thought: "Okay, we have to do this!"
But yeah, with someone like Alissa, if people think the artwork refers to her, that is not even a bad thing at all. We love her! So we thought we had to do this recreation, and show the very significant likeness between the two.
Sonic Cathedral: I thought it was adorable … in a very metal way, of course.
Charlotte: I especially like how Justine was trying to be the corpse with her teeth. That was good!
Sonic Cathedral: Charlotte, you tour nonstop far from home, often with a six to nine hour time difference. How do you keep relationships flourishing when you are not home for months and months at a time?
Charlotte: It is quite hard. I am often the one in my circle of friends or family who is not there all the time. Of course, when a friendship and love runs deep, that doesn't matter. But it is challenging, and it's challenging to find ways to keep that connection. We are in very different time zones, but also in very different rhythms. Yesterday, I told my parents: "I will wake up early tomorrow to call you." Then I called them, and they asked me what time it was. I was like "2:30 in the afternoon"!
Sonic Cathedral: <laughs> Well, that is early on tour.
Charlotte: It is early on tour, but they had a giggle out of that. Yeah, I truly feel that it can work, but I do miss home and family and friends. It has nothing to do with how much I like touring, because I LOVE touring. For the last couple of years, it's become easier and easier to get into that rhythm. But there are also parts where it is really difficult.
My grandmother actually passed away a few days before the tour, and we were leaving on the day of her funeral. Those are the moments where you really feel like: "This is sad and strange. Am I doing the right thing?" My cousin and I wrote a song for her, and it was played at the service, so I felt like I was kind of there in a way. Still in those most important moments, you just really want to be there.
I don't want to miss out on the big things, and I get sad when I miss out on the big things. Last summer, I became an aunt for the first time, and since we weren't touring, I could actually be THERE. You know, life and death, life and death -- those are the moments when it is especially hard. For the rest, I think everybody kind of adjusts to it. The good thing is that technology makes it a lot easier to stay connected these days. Still, you always want to be there for the big things.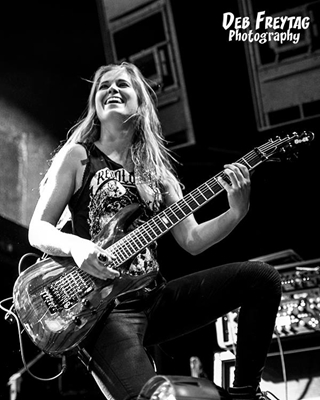 Sonic Cathedral: Congratulations on becoming an aunt!
On a somewhat related topic, you obviously are a multi-dimensional person, even if music is your first love. I imagine tour life is a closed ecosystem of load-in, play show, drive to next venue, repeat. How do you feed the other sides of your personality on the road? Or do you just eat, sleep and breathe music until the tour is over?
Charlotte: I have come to realize that it can be. I have had some tours where I was so focused to do the show, that I forgot to eat and forgot to shower. And then, at one point, you are not healthy enough to do a show. So, I taught myself a bit of discipline to keep focusing. Now, for example, I do the yoga every day, and I love it.
Sonic Cathedral: How did yoga get added to your tour life?
Charlotte: I had been doing yoga at the gym for a while, and I really liked it. But gym yoga is always the same, basically. During our most recent headlining tour, it was Marcela Bovio who was doing yoga every day. We joined in with her, and I really liked that kind of structure of doing yoga and then doing the show. During that tour, it got a little bit more frequent.
I'm just trying to keep it up now because it's a nice thing to do, and it makes you so much more aware of your body and your breathing. I feel it helps me stay relaxed long after I finish a session. I SUCK at it, by the way; I am really not good at it. But the nice thing about yoga is that your level doesn't really matter in order for it to work for your body. So, that's a good thing, I guess.
Sonic Cathedral: Who are your yoga buddies on tour?
Charlotte: Usually, it's Merel. Now we have found out that Nightwish's production manager is very good at yoga, so we are expanding our little group.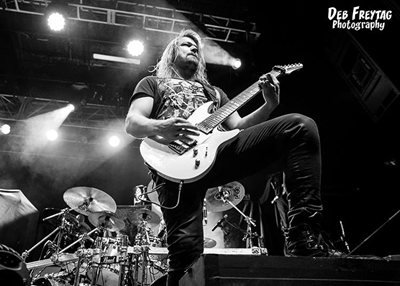 Sonic Cathedral: The haunted swimming pool yoga session, did it have a creepy vibe? The empty pool in that old seemingly abandoned room was cool, but strange.
Charlotte: I just saw the pool, it looked perfectly creepy … and the acoustics were phenomenal. You would say something, and it would come back to you 10 times. I thought: "We HAVE to do yoga here."
It was hilarious because everyone who came in was impressed with the room. I remember that Marco and Troy from Nightwish came in, listened to the sound of the door slamming, immediately grabbed a guitar and flute, and started playing. We had a little serenade there, which was really nice. I'm not superstitious enough to even feel weirded-out there, but the space itself was just really different from any other space because of the sound. It was interesting.
Sonic Cathedral: Delain returned to 70.000 Tons of Metal in January, where each metal band played two sets on a huge cruise ship. What do you do between sets?
Charlotte: You EAT. <all laugh> There is an unlimited free buffet, so that's what we do. I know it's different for a lot of artists. A lot of them enjoy being out with the rest of the fans; some are a little bit more private. I myself really like being out there in the sun with a cocktail in one hand, in a pool watching a lot of bands perform. We have done a lot of that. I do notice for me that, if I know that I have a show tomorrow or the same day, I am not completely relaxed because I always feel like I'm in that "I have to perform" kind of mode. So, it was only after our last gig, which was on the last day at 6:00 …
Sonic Cathedral: Awwwww!
Charlotte: <laughs> No, I made up for it after that; I totally did! And that was really nice, just enjoying everyone's gigs. We went completely crazy actually at DragonForce's show … crowd-surfing and then moshing … we had a really good time there. In general, I really like the atmosphere on the boat. Everyone is super-nice to each other, and it's like one big family. It's really, really nice.
Sonic Cathedral: Did you pop back to Europe, or did you stay in the States during the week between 70.000 Tons and the beginning of Delain's North American tour?
Charlotte: Some of us stayed, some including myself went back home for a while. Like I said, we are touring so much that it starts to feel a little bit more like a holiday to be home with a bed and shower to myself. Especially after a long tour, I do feel like I NEED that rest every now and then.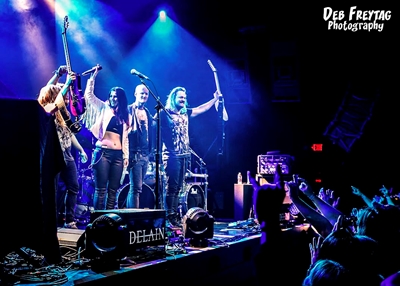 Sonic Cathedral: Of the many, many places that Delain have played, what is the one place where you were tempted to jump off the tour bus, go AWOL, and hang out for a while?
Charlotte: PORTLAND. That is easy. I love Portland! I want to go back there, and I want to have a holiday, and I want to live there. It's a fabulous place. It's so creative … I don't know, maybe it's because I just spent a few days there -- one time on a regular show day and one time on an off day. But I just really enjoy the place! There is good vegan food and all of the very nice vintage shops. It seems like a nice place to get a tattoo at one point too, so that is one of the places where I really felt like I could stay here for a little bit longer.
Sonic Cathedral: Speaking of tattoos, have you added any new ink since our interview in 2014?
Charlotte: I've added one small one. I got it on tour as a surprise for my significant other. <removes ring to show tattoo> It's a little line sign for the number 10 -- every stripe is like a 5, and I plan to keep on adding stripes every 5 years.
Sonic Cathedral: Oh my, 10 years with your beloved, and also 10 years after the release of Lucidity! Are Delain planning to have a special anniversary show to celebrate?
Charlotte: We do actually. We are planning right now for a special occasion at the end of the year to celebrate the 10-year anniversary. It's going to be BIG.
Sonic Cathedral: Earlier, you said that two out of three chunks of the new album are done, so when might we get our hands on it? In a recent interview, Martijn indicated that it would not be released this year.
Charlotte: He did? Maybe the interview was from last year, and he was talking about 2015.
Sonic Cathedral: That could be.
Charlotte: It's DEFINITELY going to be this year. We are hoping for the end of summer. We truly never sleep. We have got so many things to do when we come home after this tour, as well. I am hoping that I can take a day off. It's brutal, but then again, we are reaping the fruit of doing it like this for a long time -- the fantastic tours that we are doing now, and we've got great offers from festivals. We are doing such a great festival season in 2016, so it's working out!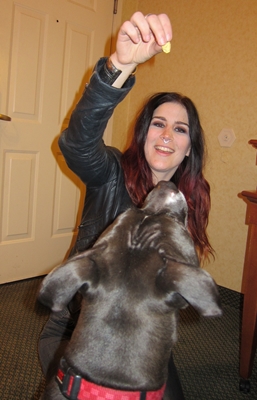 Sonic Cathedral: Charlotte, what final words from your heart do you have for Delain fans?
Charlotte: Thanks for the support, as always! This is going out to everyone, everywhere: whether it's by coming to the shows, or (if that's not possible) by getting the music, or by just telling your friends, it doesn't matter -- because it ALL helps us to do what we want to do. We hope that people will enjoy the new EP, and we hope it will get them excited about the new album that is coming out. We are very much looking forward to celebrating our 10-year anniversary later in the year.
Sonic Cathedral: Charlotte, thank you so much for talking with Sonic Cathedral today!
Charlotte: Thank you!
Many thanks to Jon at Freeman Promotions for setting up the interview!
Photo credit (promo shots): Sandra Ludewig Photo credit (live shots): Deb Freytag Photography

Delain official site
Delain on Facebook
Charlotte on Facebook