Interview with Esther and Rene of Crimson Chrysalis

Africa has not exactly been a hot spot for Femme Metal so the first release from Crimson Chrysalis was a bit of a shock. And, the review of that release seems to have drawn a lot of interest on the SonicCathedral site. I've gotten to know vocalist René van den Berg a little but was interested in speaking to both René and lyricist Esther Slabbert about both the music and topics related to the project. That's difficult because of the nature of René's work. But, we finally got together, largely through a difficult Skype contact, and the results proved more than a little interesting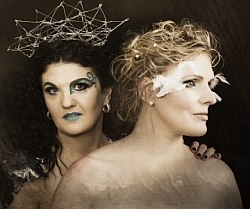 Doctor T: CC has an interesting model for developing their music. Could you talk a little about how you do things.
René: The CC creative team consists of 3 people - I'm the vocalist, composer and producer of the music, Esther, the lyricist and my co-executive producer, and Elben Schutte, the arranger. It starts with Esther conceptualizing a song and then writing the lyric, and then, before I start working on the music, Es and myself sit down and talk about the song. It's important for me to understand what direction she intended the song to go, otherwise, no matter what I do, it will just not ring true. The lyric determine the mood yes, but there are one of a few different avenues to follow musically, and it's important for us that we start off on the same page. We'll talk about the vibe, maybe mention some references or influences before I start working on the music. Once we've finished the song, I'll take it to our arranger, along with some notes on what direction I want him to take, maybe mention specific riffs I have in my head, or specific musical movements I hear, or whatever.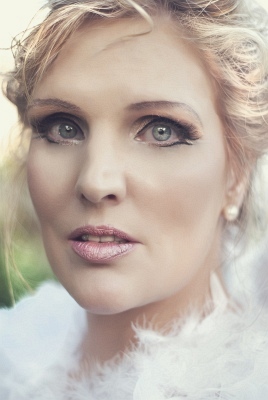 Doctor T: I understand that you two are the core of the band but I wonder how you go about bringing in additional musicians. Are you flexible in terms of who the background musicians are or do you have a relatively stable group.
René: As stated, the CC creative team consists of myself, Esther, and Elben. We use session muso's for the rest because we want to have 100% control over the creative process, the production and the end product. We do, however, use as far as possible te same session musicians for obvious reasons. The better we all know one another, and they the CC songs, the tighter the sound. We plan on getting session musicians in both the US, and Europe, for tours, as it is too expensive to fly the band from South Africa for tours every time. But as far as recording the new album goes, we'll use the same session musicians in South Africa again.
Doctor T: We don't do a lot of work with musicians from Africa. But this release strikes me as being "African" at some level. Was this an intent and, if so, how did you bring that about.
René: Although we never officially decided to leave a fingerprint of Africa on the album, it was inevitable that it would find it's way into our work. Africa has a rich and varied musical history of song, dance and rhythm, and although we never made a conscious decision about it, it had to surface somewhere - especially because the genre does not exist at all here, and we created in isolation.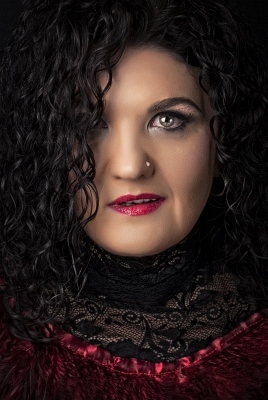 Doctor T: Esther, as I mentioned in the review, I was blown away by the song Blood Diamond. Could you talk a little about that track and what your intention was with it.
Esther: As a student of history I have always been interested in world politics. It is ironic to me that through the ages we cannot seem to solve our problems through any other way than war and blood. And in the end women and children pay the price through heartache and loss. As a child of Africa this heartache and loss is often more in our faces. I wanted to write a song as an epitaph to those people, but struggled for almost four years to find the right words. I wrote the bridge in 2007, but the rest of the song just didn't happen. When I finally wrote the rest, one night past twelve, the whole song was done within 10-15 minutes. I told René the next morning her song is done, but I am not changing one word. And she did - compose the music without one word being changed. René said on our album launch, when introducing "Blood diamond": " History has always been a testimony of power hunger individuals, or belief systems, and yet, the inocent always end up paying the price. This is their post script". We can only hope this song does them justice. . .
Doctor T: Well, on a personal note, when do we get a video? And what would that video focus on?
René: Yeah, you've been nagging me about that one since your review. :-) There are a few things in the pipeline for 2014. A video of Blood Diamond is definitely a possibility, but the process itself will determines what happens next.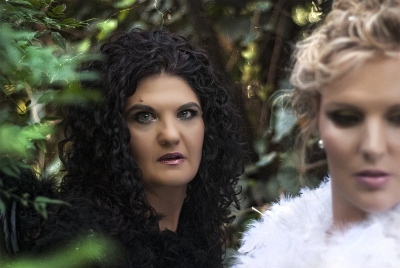 Doctor T: René, you have an interesting background professionally and it has some impact on your musical career. I wonder if you could address that a little.
René: I have a degree in nursing, and an honors in Forensic Medicine. Although the two fields are very clinical, and light years away from the arts, it sure teaches one the art of fine observation. I would love to do music fulltime though - not only as a performing artist, but as a producer for other artists as well.
Doctor T: Esther, you also have an interesting professional track, how has that influenced your lyrical work on this release and song writing in general.
Esther: I think that one's profession does influence your world view, and the way you observe people and their behaviour. Psychology has produced some very practical thinkers, as well as a lot of symbolism in for instance the archetypes and dream analysis. From time to time I will draw from all of this when writing a lyric.
Doctor T: There's a number of musical directions with this release. We get some symphonic metal, some solid ballads. But there's one track that stays from the fold. Could you talk a little about Fuck Off and Die.
René: We see ourselves far more rooted in rock, as in metal. We do cross over to the Symphonic metal genre in some songs yes, but 70% of the album is more Symphonic rock. That's why a song like FOAD made sense, being included on the album. I love performing that song - it is such a feel-good, release song. I gave Es the title and said I want a song about that. Es loved writing it and I love singing it.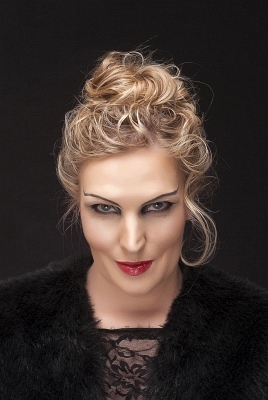 Doctor T: That track certainly went in a little different direction from most of the tracks on the release. How did that one sneak in there?
René: I wanted a songs with that title, and so Es wrote it. It was written in the early days of CC, when we were still developing the sound. But we all love the song, and I love singing it, so we decided to include it. We knew it might be somewhat of a gamble, because some people are offended by the word, but we decided that is the beauty of modern technology. That is why skip buttons were created! :-)
Doctor T: There was a little use of Latin in the track Dio Volente. Given the various languages you speak, is there an interest in doing some lyrics in another language, Afrikaans, for instance? That would be different.
René: No, there will definitely be no CC track in Afrikaans. The language itself is more suited for folk/acoustic music. I did that for many years and then made a directional change with CC.
Doctor T: Given the rather unusual professional career René is following, how exactly is the project being organized. How and where do you perform live? How do you plan to move forward?
René: I realized that I have to get abroad if I want to take this further. Although the peole love the music, we get no support from the South African media. I have resigned and started doing remote site work abroad. We give medical assistance for specific projects. My contract is 4 weeks on site, 4 weeks back home, for the rest of the year. That gives me essentially 6 months of the year to show, tour, whatever, which is awesome. I still have the security and back-up of a steady day job, but I can actively pursue my dream.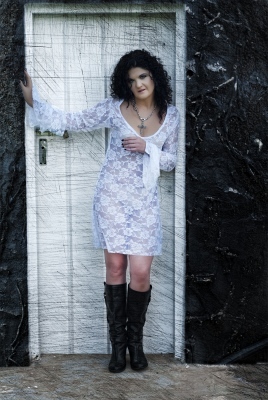 Doctor T: Rene, given that you tend to develop the music component, how do you two merge the music and the lyrics. And how do you develop the music, on keyboards, on guitar, what's the model?
René: Yes, Es writes the lyrics and I write the music. I think it helps that we know and understand each other so well. I really get her writing and so it's easy for me to bring her words to life. Es sets the scene, or describes the emotion - it is my job to make people feel it. . .We have learned to trust each other's opinion, and are truly each other's best critics. We know what the other is capable of, so we are constantly pushing each other's boundaries.
I write some songs on the guitar, and some on the keyboard. Some songs are by nature just more guitar based, or more piano based. Normally I have a gut feel about it and then work on that instrument. But I sometimes hit a dead end, and whatever I do is just not a comfortable fit. "Crimson passion cry" was one of them. I tried the song on guitar and it stayed mediocre, no matter what I did. Es agreed and sent me back to the drawing board. I then realized what the problem was, and the moment I changed to piano, and brought in the 9ths etc in the chords, I finished the song within 15 minutes.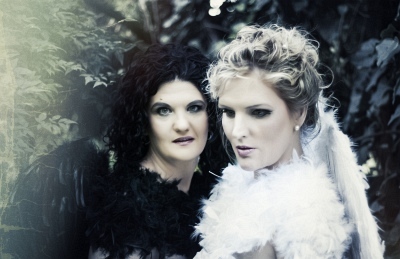 Doctor T: I understand there's a new release being planned. How far along are you in that process and will it differ from the previous release.
René: Yes, the new album is well on its way. We have finished the pre-production of the first 4 songs, and will be going to studio with them from February. Personally I like to work with the full, mixed tracks at least a month before I go do vocals, so we'll only record the vocals in April.
The studio time is booked for everything so we are very excited about it. The rest of the album will be written and recorded over the next 12-18 months. We believe attention to detail pays off in the end, so we like to take our time with it. The full new CC album wil probably be released only in 2015, but we will release these new 4 tracks the moment they are done. We're planning on releasing another new track before Christmas as well.
We have written half of the album already, and Es walks around currently with the other half in her head. She knows exactly where she is going with it, and will write them the moment she's ready. She sometimes walk around with an idea for months, sometimes only days. The conceptualizing part takes the longest - the minute she has everything structured and formulated and starts writing, it normally goes very quickly.
The album is pretty much going to be the same musically as the "Crimson passion cry" album, as that is the CC sound. Conceptually we think this album will be better, because with the first album we were still experimenting and developing the CC sound. This time around we know exactly what we want to create. As with all work in progress, the process will determine the album's ending. As with "Crimson passion cry", we hope that all of us will be equally surprised by the end product.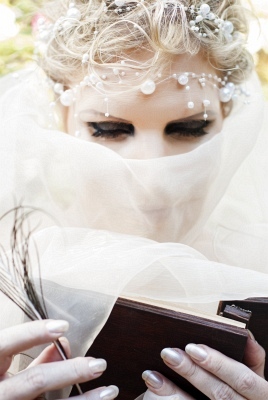 Doctor T: Esther, what are the literary topics that you're planning to address in the upcoming release?
Esther: Without giving away too much, I will aim for the middle ground between Danté's Inferno, Macbeth and Trial and Retribution. :-) I can however reveal that the first 4 new song titles (to be released in April/May 2014), are: "Sacred vow", "The raven", "Fear" & " Surrender".
Doctor T: What are the big picture plans for CC? How do you expect things to unfold in the next year, the next two years?
René: The next 12-18 months we will spend on finishing the next album, and performing as much as possible internationally.
Doctor T: When you say internationally, what countries do you have in mind?
René: Europe, and spesifically Germany, Holland & Belgium, the UK, and the US are first in line. After that we'll look at the rest of Europe and Japan.
Doctor T: Some interesting thoughts from an interesting team. Any final comments for our readers at Sonic Cathedral?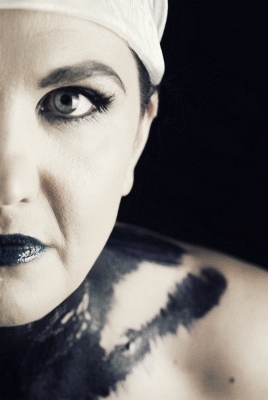 René: Nothing I have ever done musically has pushed and shifted my boundaries remotely as this album did. It was an amazing experience and an incredible priviledge to start sharing it with the world. I promise that the next CC album won't dissapoint! *evil grin* Thank you to you Terry & Sonic Cathedral for your support.
Esther: Writing this album has been an amazing experience. Thank you for all the support from Sonic Cathedral and you guys Terry. I promise that we will deliver an even better album the scond time around.
Doctor T: Thanks René and Esther for your thoughts and Good Luck René in New Guinea with your next assignment. We're looking forward to more from Africa, and sure hope to see you in Belgium next October.