Clementine Delauney Interview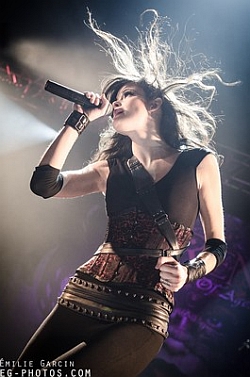 Before this year's Metal Female Voices Fest, I had the chance to have a nice and cool chit-chat with the new face of the symphonic metal world, Clementine Delauney. Clementine joined Serenity (one of the bands on the MFVF lineup) earlier in 2013 as a permanent member. However, she had already entered the world of "beauties and beasts" a long time ago. She is very young, but this did not stop her from joining several bands before Serenity and working hard on her dream to make it come true. And guess what? She did it!
Sonic Cathedral: Hello Clementine! First of all, I would like to thank you very much for your time and this interview! Well, let's start! I have to admit that I was a little bit shocked (if I can use this word) when I was informed that you joined Serenity as a permanent member. I thought that they used to be a male-fronted band. And I can't help but wonder: Now that you joined them, will the band become a "duet-fronted" band (like Lacuna Coil, for example)?
Clementine: Hi! Since their second studio album, Serenity added some female vocal parts to their songs. From one single song on Fallen Sanctuary, it went up three songs on Death & Legacy. So when you've been following the band from the start, it's not a sudden change of style to add a female singer to the band, but a way of going further in enriching the music on the vocal level.
But for sure, Serenity has always been a male-fronted band, and there is no question to forget this. Yet the idea was to slowly turn it into a "duet-fronted" band, as we believe it is more interesting!
Sonic Cathedral: I am asking you this question because I listened to Serenity's latest studio album, War Of Ages, and I noticed that the female vocals are not playing the main role (let's put it in this way) and you are more like an additional singer. I guess the main reason for this is the fact that the band is in a transitional stage (I mean with the two vocalists)? Or is there any other specific reason for this?
Clementine: War Of Ages is indeed the transition record between what Serenity was and what it is going to be. We couldn't make my presence too big on that record, as I had just arrived and people were used to knowing the band as a male-fronted one. We didn't want that change to be brutal.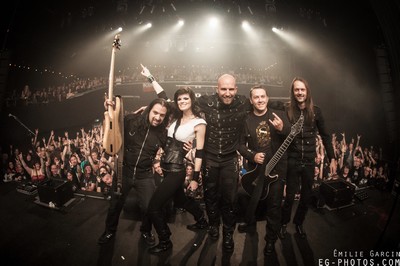 Sonic Cathedral: So, do you guys plan to have more female vocals in the following studio albums? Or is it too early to think and talk about that?
Clementine: We do plan to have more female vocals in the future, since they made me a full member and no longer a simple guest. Yet no songs have been written so far, so we can't tell precisely how the new Serenity stuff is going to sound like!
Sonic Cathedral: War Of Ages was released in late March. What kind of feedback have you received until now?
Clementine: We've been extremely touched by the very positive feedback we have received from all over the world, from reviews in magazines and webzines to personal messages and from fans who had got the record as well! They said that the record is very rich, each song having its own atmosphere yet making the whole album coherent. We put a lot of efforts on it, and we were highly rewarded! A lot of people said War Of Ages is the best record the band ever made. The only "reproach" we got was that, for some people, I am not singing that much, but I think they understand why.
Sonic Cathedral: I think I am one of these people, Clementine! (laughs) I wonder, why War Of Ages? Why did you choose this title for your new album? Is there any special reason, story, or message behind this title?
Clementine: When we listened to the demos of the songs, we somehow realized the whole atmosphere was darker and sometimes more melancholic than on the previous record. Therefore, we decided to choose themes for the songs to match this feeling, and all the stories and characters that inspired us are from darker times or facing a tragedy. Since we were referring to a lot of different periods of time, and since a lot of characters were related to war, we decided to pick War Of Ages, as we believe war exists at all times and under different faces from a national scale to a personal one.
Sonic Cathedral: This makes sense! The artwork of the album is rather dark, and how it couldn't be like that since Seth Siro Anton (Septicflesh) created it! What really made you pick this very special artist in order to cooperate with?
Clementine: Seth had already worked with Serenity on the cover of the first album [Words Untold & Dreams Unlived], so the band knew how he was working and that he would always present an outstanding result. As I said right before, we felt this new album was darker than the previous one, so we wanted the artwork to follow this mood and Seth was definitely the right person for it!
Sonic Cathedral: Maybe your lead parts in the album are not that much, but there are some certain moments and parts in the whole album that you add many points with your vocal performance (even as a backing vocalist). I was wondering if you participated in the writing process of the album at all?
Clementine: When I joined the band, many songs were already almost finished, so it was too late to add new ideas. But I had the chance to write the lines of the bridges I'm singing on, like on "Age Of Glory" or "The Matricide." I also arranged the chorus line of "Royal Pain." We worked on the choir parts and backing vocals together with our producer Oliver Philipps.
Sonic Cathedral: Some time ago, you came back from a European headlining tour along with Visions Of Atlantis and Souldrinker. If I am not mistaken, this is your second time on the road with a band for a full-length tour. (Last year, you participated in Out Of The Dark Tour.) Can you share with us and our readers any cool memories from the road? How was it?
Clementine: Going on tour is always fun. As long as you get along with the other band members, so far it's been always a very cool experience. My favorite part is when we all sit in the living-room of the tour bus after the shows to enjoy a beer while leaving for the next gig. There are always a couple of party animals to share funny tour stories and so on. It feels more like holiday camp!
Sonic Cathedral: If I am not mistaken, after parting ways with your previous band Whyzdom, you continued as a solo artist for a while, and now you enter Serenity. Do you feel like you have found your "home" in a way? How do you feel about this?
Clementine: No, I have not been a solo artist yet. We took time to make new pictures and work on the upcoming album with Serenity before announcing that I had joined the band, but I was already involved in Serenity, which partly caused my departure from Whyzdom. As for the other part of your question, no, I don't really feel like I found a "home." Music has no home, it's a travel. Each band, each song, each project is a journey, a new experience. There's no destination. But I have way more to give, so I definitely will involve myself in other projects!
Sonic Cathedral: You toured with Serenity back in 2012 as a guest vocalist, and you finally became a permanent member of the band! How did the band finally decide that they needed you by their side as a permanent member? This is a question that I should ask to the rest of the band, but I guess there were certain reasons that made them make this decision and you are fully aware of these reasons.
Clementine: Well, as I've said before, the band always flirted with the "female-fronted" metal scene, as they worked with four different famous singers on their previous albums. When we toured together, we received great feedback and the band started to think about the future. Serenity is being criticized to sound like already existing famous bands sometimes, so they had to think about how to make themselves special. It's not the first band to have both a male and a female singer. Still, they feature some quite rare elements. My addition helped the music and the visual aspects of the band get richer, I suppose.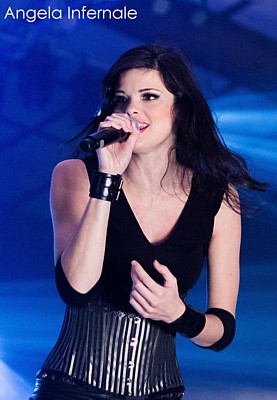 Sonic Cathedral: A few time ago, you shared the stage with a progressive oriental metal band called Myrath. If I am not mistaken you shared the stage with them for 3 shows in France. How did this happen? And what were your impressions?
Clementine: I had been contacted by the guys in 2011 to perform a duet with their singer on their latest release, Tales Of the Sands. We even shot a video for it! So, when the band toured in France, the idea of trying that song live with me and see how it would sound and look like came up. It all sounded promising, so they invited me again on their latest gig in Tunisia, and it could happen to share the stage with them again in the future. As for my cooperation with them, I have to say that their way of working is completely different to what I was ever used to, so it's very enriching and inspiring. Furthermore, they are astonishing musicians. Music seems so natural, so easy, like breathing. It flows in and around them. It is part of their culture, their blood, and I like this very much.
Sonic Cathedral: This is a quite nosy question. I read that Myrath will release a new album during 2013. Considering the fact that you have participated in their previous studio album, Tales Of The Sands, maybe you will be a guest once again in their upcoming album or something like that? Is there any chance for this to happen?
Clementine: Well, they are going to start the writing process, so it's definitely way too early to be objectively able to answer this question! They know they can count on me, though. (laughs)
Sonic Cathedral: Serenity played at Metal Female Voices Fest this year, along with some really huge names like Lacuna Coil, Tarja, ReVamp, Delain, etc. But this was not your first time playing in this festival. You have played there with Eve's Apple as well. How do you feel about the fact that you shared the stage with Floor Jansen, Tarja Turunen, Anneke van Giersbergen, Liv Kristine, and many other great singers? All these women are like idols to many young female metal fans and singers. Did you feel scared? Maybe really proud?
Clementine: I had the chance to play in this unique festival last year with Eve's Apple, and it had been my first time there ever. Well, I don't want to sound unimpressed by those names, because I do totally respect all the above mentioned artists, but I think more about the audience, the stage, the lights. We had an amazing chance with Serenity to present our band to the people who love this genre, on a very big stage! I'm definitely absolutely excited and proud about our show there!
Sonic Cathedral: And speaking of idols, do you have any idols?
Clementine: When I was young, I considered Michael Jackson and Madonna as my spiritual parents. I still have a huge respect towards these two artists. Nowadays, I don't have idols. I have bands and musicians inspiring me, touching me a lot. My "gods" these days are the guys from Tesseract. Their latest release is a masterpiece, in my opinion.
Sonic Cathedral: I totally agree with you Clementine! (laughs) Could you tell us a few words about how you started your career as a singer? I am sure there is a nice story behind this decision.
Clementine: I always loved to sing. My dad is a huge music lover. There was always music at home, so music has been completely a part of my life. When I entered middle school, I joined the school choir and we sang gospel music. I continued singing in choirs until I joined the special teenager class at Lyon's National Opera. There, I learnt the basics of classic singing during a very intensive year. By that time, I was listening to Evanescence, Placebo, Muse, Nirvana, Queen. And then, somebody introduced me to Nightwish! It appeared as a revelation, this was what I wanted to do. I looked for a band of this genre, and indeed I found one band searching for their new singer. And here I am!
Sonic Cathedral: You also participated in a really nice worldwide community of professional singers called Eve's Apple. I personally find this community a really clever and challenging idea. You know, I am really sick and tired of listening people and fans saying that female singers hate each other and they cannot cooperate simply because of their female nature. There is a certain sexism and discrimination in metal scene. Eve's Apple, in my humble opinion, proved all these people wrong. You made it, you are getting bigger as time passes by, and you are doing great things. I was wondering about your opinion about all these issues. Do you think that there is certain sex discrimination in the metal music scene?
Clementine: One of the challenges of Eve's Apple was indeed to prove that girls, though evolving in the same environment, can help and protect each other instead of being rivals. We believe there's no rivalry in art. Everyone is different, so everyone deserves to exist. There is not a limited number of places in the scene. Jealousy is ridiculous and doesn't help you get better. We believe one should give himself or herself the chances to do what he or she wants to do. Criticizing others doesn't help you go further. Public opinion and metal fans can be very mean in their comments, though sometimes they don't mean to be so, and we thought that creating such a community where we all could share our experiences without being judged would help us all quite a lot.
And yes, it is still harder for girls to evolve in this genre, as it's mainly a guys' world. They don't always take us seriously. "Female-fronted" metal is stereotyped to symphonic / gothic, though girls have proven they can be way more versatile like men are. However, I would be unfair to say that they don't accept us. It's not true. Successful female-fronted bands have their undeniable audience and therefore are respected. What people don't like above all is bad music, no matter who performs it.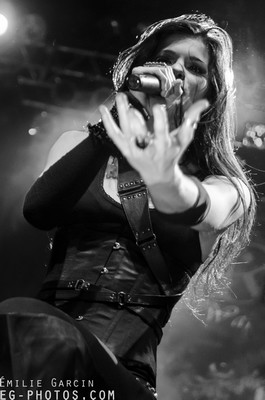 Sonic Cathedral: And speaking of the Eve's Apple community, we got some news a while ago about the end of this community. However, I found the point of view of the majority of the ladies really interesting; most of them said that "all the good things come to an end". I guess they tried to keep all the drama out in a way. You just answered to my previous question that "one of the challenges of Eve's Apple was indeed to prove that girls, though evolving in the same environment, can help and protect each other instead of being rivals. We believe there's no rivalry in art". Do you think that this community fulfilled its purposes and met its goals and eventually there was no reason to exist? How do you feel about that? Would you share with us some of your thoughts?
Clementine: This community had fulfilled its purposes since we managed to make it work for 3 years and to create 2 great shows and even involving more than 20 women in 2013's show. However it has been a massive workload just to handle the community itself as it gathered more than 40 singers and at some point we didn't find anybody willing to commit themselves on a greater scale that would have enabled Eve's Apple to remain organized and to plan shows and events again. Furthermore, within a 40 people group, no matter if there are women or men, musicians, politicians, sportsmen, there are always fights over different points of view and people trying to serve their own interest through the community. Eve's Apple was no exception to that. There had been tensions; some wanted the community to be very selective, others wanted it to be open to as many singers as possible. It was a hell of a job to try to make everyone happy and at some point, after a long time, those who were the most in charge gave up and I totally understand their reasons that I share.
But we can prove that the community and the message itself didn't fail as the spirit still lives on. Those who were close are still and we keep supporting each other as we came to know each other and get interested in each others' work. The core of this community will always be strongly connected and that's the best thing I personally took from this experience.
Sonic Cathedral: You are coming from France, and to be honest I am not sure if this country has a strong or any certain tradition in metal music. And if this is true, I guess it was harder for you to finally make it in the music scene. What do you have to say about that? Do you agree or disagree? How was your way until now?
Clementine: France used to have a rock scene, but it disappeared. Nowadays, France doesn't even have a rock culture, so it's easily understandable that hard rock and metal are publicly non-existent. However, the French metal scene exists. Take a look at Gojira or at Hellfest. But for sure, it's nothing comparable with the United Kingdom, Germany, Netherlands, or Scandinavia. We need our very good bands to get more recognition and cross borders! When I left the first band I joined in 2005, I tried for years to look for musicians to work with me on a new project. And yes, I had troubles gathering a team around me. The metal world is small, and in France it's even smaller. Many bands share the same band members, you know.
Sonic Cathedral: Interesting answer Clementine! Nowadays, the music industry is in crisis, that's for sure. What do you think about the future of music industry?
Clementine: Well, I think some people will still buy records because they appreciate to hold the object and still listen to music this way, but downloading music will never stop. Labels, bands, we all should reconsider the business while having this fact in mind and try to make money in different ways. We've already witnessed that crowd-funding in the case of well-known bands is working. Fans don't always buy records but would help a band they like produce their new record or go on tour, earning a nice counterpart. By getting directly supported by their fans, bands are getting the chance to get more power and tend to show that it's no longer a shame not to have a record deal with a label.
Sonic Cathedral: And let me get this question a little bit further: Musicians nowadays have to work in different domains and fields in order to make their living. This is the hard truth. You are quite young. How do you feel about your future as an artist?
Clementine: I never expected to live from metal music. I was always aware that I would need to earn money from other activities. I don't think too much about the future, to be honest with you. I want to do what I want, and I know I'll find a way to make my life around it and live. Somehow!
Sonic Cathedral: Do you have any kind of advice for the young singers out there who are just making their first steps? You are a young artist, and I think that you really made it!
Clementine: Thank you, I really appreciate that comment! Well, it's a combination of hard work, patience, luck, talent. One should keep learning from every experience and adopt a professional attitude from his/her very first steps, doing the job, giving the best of yourself, and being aware of your weaknesses in order to work on them and improve. Working with better musicians, people that will pull you upward by being more demanding, being demanding toward yourself, aiming for the best – all these stuff combined together. I think it is a way of thinking and, of course, never giving up!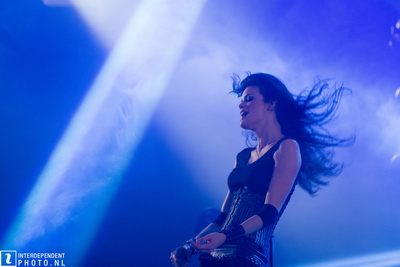 Sonic Cathedral: Clementine, I have noticed that you always give some really dramatic and theatrical performances onstage. This is not usual, if you ask me. This is a special ability, in my opinion. Many singers have great voices, but while they are on stage they are like a fish out of water. Congratulations! I guess the contemporary dancing and theater lessons you took when you were younger helped you with this?
Clementine: Thank you again for your kind words! For sure, having been often onstage since I was very young helped me get familiar with it and feel comfortable. Singing is not only about the voice, the interpretation involves the whole body. Being on stage with a symphonic metal band implies to give a performance, to give birth to the characters and stories of the music of Serenity, in my case. Dancing and theater lessons helped me on this direction, indeed. But I don't think about it. Once I get onstage, I drown myself in the songs and their ambience.
Sonic Cathedral: And speaking of theater lessons, have you ever thought about becoming an actress or something? Did you have any plans about this when you were younger?
Clementine: When I was 14 years old, I truly wanted to become an actress, indeed! I've always loved cinema, but when I discovered metal I realized this is where I belong.
Sonic Cathedral: Also, you are a classically trained soprano singer and you participated in choirs, as you already said. You also attended classical and jazz piano lessons for several years. This is an impressive biography, if you ask me! Have you ever thought of creating something different than a symphonic metal project? Like a jazz project? Or something more folk? Something totally different than a metal project?
Clementine: I've been thinking about a more personal project with piano and voice as a basis. I'll do it in the future, but I can't tell when yet!
Sonic Cathedral: We all have dreams. You are a low-profile artist and person, but I guess you also have some big dreams. So, this is a rather predictable question, but I will ask it anyway: What is your biggest dream?
Clementine: My biggest dream would be to live from several musical projects, one of them I would be the frontwoman of. I am beginning to work on this, actually.
Sonic Cathedral: Do you consider that you had any "moment of glory" in your career until now? I mean, can you recall any very special moment that you had onstage that you will never forget?
Clementine: ProgPower USA has been the biggest stage and event I've played so far, and it felt very special. Seeing people singing along our songs even though we had never played there before was very impressive and enjoyable. The standing ovation we received at the end of the show will remain forever in my memory!
Sonic Cathedral: Let's go back to band-related stuff. Apart from Serenity's show at MFVF last year, in early November Serenity shared the stage with Delain on their very special show called My Masquerade. Do you have any special memories from this show to share with us? Any special moments?
Clementine: The show we performed with Serenity on that day wasn't particularly different from the shows we give as support act. Georg shared the stage with Delain on the song called "Control the Storm". I like collaborations and special appearances, it makes the show richer and it's also a nice surprise for the audience. Marcela Bovio, from Stream Of Passion was there to perform a duet with Charlotte as well, and it was great to meet her again. We had a pretty long signing session at the end of the day; our fans from the Netherlands are really nice and generous people and it's always a great pleasure to play there!
Sonic Cathedral: That sounds like you had lots of fun there! Except for the shows you played with Serenity, I think you kept yourself busy with some more music-related activities during 2013. Can you tell us some more things about that?
Clementine: Yes, I have been on tour with a French metal opera project called Melted Space. Their latest release features Liv Kristine and has been receiving very positive reviews! The live lineup was composed of Pierre Le Pape (compositor, keyboards / Wormfood, Embryonic Cells), Gaël Féret (drums / Misanthrope, Triple FX, Octavion), Brice Guillon (bass), Adrian Martinot (guitar / Disconnected), Black Messiah (growls / Seth), and Manuel Munoz (clear vocals / The Old Dead Tree). We were supporting The Old Dead Tree in their comeback tour in order to celebrate the 10th anniversary of The Nameless Disease. We played shows in France, Belgium, and Switzerland from October 4 to 13.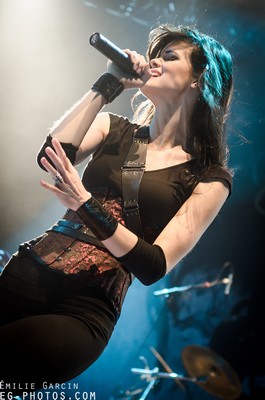 Sonic Cathedral: This sounds awesome! Well done Clementine! Well, I guess 2013 was a hell of a year for you because you joined Visions Of Atlantis as a permanent singer as well! Congrats on that! That was really something that nobody was expecting to see; you really caught us by surprise! According to the official VoA statement: "This is and will be the last and final line up of VOA ever! We are working on a new album as you read this, shows are planned and will be announced soon." First of all, I would like to ask you how do you feel about this whole thing?
Clementine: Well, first of all I was very surprised as well when I got such a request from Thomas Caser. I was absolutely not expecting it either. Now that it's official, let me tell you that I am very excited about it! It will fulfill an old dream of mine to perform some classic singing over symphonic metal which has been my first influence when I got to know the metal scene!
Sonic Cathedral: The upcoming album will be sound-wise more like the stuff that was featured on the very first VoA albums and I guess some musical stuff is currently being written for this album. I was wondering if you will contribute in the songwriting process. Can you tell us anything about this upcoming album? Can you give any clue?
Clementine: So far, from the talks we had, I am not meant to contribute to the songwriting process and regarding the upcoming album, it is a bit too early to give a global feeling about it.
Sonic Cathedral: Okay, that's fair enough. Serenity announced the "War of Ages Over Europe" Tour Part II which will happen in April, 2014. It's a little bit early to ask you this but are you ready to hit the road again? What should we (fans) expect to see on these shows?
Clementine: I can't wait to hit the road again! Our first tour as headliner had been a success so I can't wait to play cities we haven't played yet. We are currently thinking about it, I would personally like to see more songs from the War Of Ages album being featured on the setlist and maybe some different songs from previous records than the ones we are generally playing. As for the visual aspects, I would strongly advise you to come and see by yourself if you can attend any of shows! (laughs)
Sonic Cathedral: That would be absolutely fantastic! (laughs) So, it seems like 2014 will be a busy year for you personally. You will hit the road with Serenity and Visions of Atlantis. Do you have any further plans for 2014 to share with us?
Clementine: I will still continue to contribute to the Melted Space French Opera metal project. A new album is already composed; I'll take part in the choir recordings and live shows which are also being scheduled right now. I can tell you that there is a bunch of huge names of the scene that will appear on this upcoming record so it's better to keep an eye on this project!
Also, I might start a new collaboration in order to create my own band where I'll be finally fully implied in everything and creating something different that will look and sound more like what moves me now on the musical level, but it's also too early to talk about it!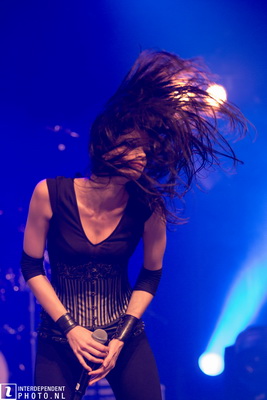 Sonic Cathedral: As we speak some certain thoughts crossed my mind and I would like to share them with you. I was just thinking that you are so young and you have already joined two great symphonic metal bands. This is not an issue of minor importance if you ask me. You have achieved such significant things until now and I would like to really congratulate to on that! My question is, do you feel blessed in a way? Or nothing like that?
Clementine: I am aware that some things have gone really fast for me; that only 3 years ago I was only singing for myself or in choirs, but far from the metal scene that I had left in 2005. I had tried to set up my own band, but I had never managed to get known as a singer. I never searched for opportunities. I only answered Whyzdom's call in 2010 because it was the type of band I wanted to join and the music I wanted to express myself through. Afterwards, things happened because I have been contacted and this has always been a surprise.
I do what I do, I practice singing the way I had been taught and how I feel it, I use my experiences and I more than enjoy and need to express myself on stage. I feel blessed when other musicians are showing me their trust by inviting me to participate to their projects. However, there are always new challenges and I need to work harder to fulfill the expectations.
Being supported and followed by people from all over the world is an indescribable feeling. In moments of doubt it helps me to remember that I must have done something good and right at some point. I cherish their trust which is very important to me and I only want to send it back to them as long as I can.
Sonic Cathedral: So, this is my final question for you, and it will be a very typical one! (laughs) Do you have any last words for our readers, Clementine? Maybe any promises for the future?
Clementine: I would like to thank you and Sonic Cathedral readers for your interest and support! I promise to be more present in the scene for the years to come!
Sonic Cathedral: It was my pleasure to have this nice conversation with you, Clementine! All the best to you, and thank you for your time!