Rainover Interview
December 14, 2013 (via Skype)
Given the insane number of albums that sail across Sonic Cathedral's desk every year, and the divergent taste of our writers, it is worth taking note when a debut album makes the Top 10 list for multiple staffers. Rainover, a gothic metal band from Murcia, Spain, was the dark horse for 2013! So, what made Rainover stand-out from a field of hundreds of worthwhile albums? There is the variety for one thing -- flavors of symphonic metal, doomy parts, a couple of up-tempo numbers, clean male vocals that are reminiscent of Depeche Mode, and a sprinkling of male grunting. The lyrics are another thing. But really, what seals the deal is the extraordinary voice of Andrea Casanova.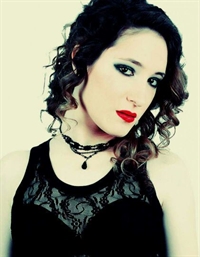 Sonic Cathedral's Robin Stryker sat down with vocalist Andrea Casanova for her very first Skype interview. Dive in for an in-depth discussion of Transcending the Blue and Drifting into Rebirth, being thrown head-first into a new album, Andrea's biggest fan-girl moment, and much more!
Sonic Cathedral: Hello, Andrea! It is so nice to talk to you live, after emailing back and forth. Jumping right in, would you give us an introduction to Transcending the Blue and Drifting into Rebirth?
Andrea: Yes, of course. Well, firstly I would like to say hello to you, Robin, to all the staff in Sonic Cathedral and to people reading this interview, because I am very glad to be talking to you today! About Rainover, we are a gothic metal band from Spain. But actually, we have got plenty of influences -- in the album you'll find some darker sounds, reminiscent of some older gothic metal bands, while some of the songs are more upbeat, and we mix these two sides of the music with melodic hooks and a modern and powerful production. We also use female vocals, evidently, which are actually a central part of the songs, and get them together with some male vocals.
I would describe our music as emotional, evocative and intense. In general, I think the songs are pretty diverse as well. Also, conceptual-wise, there's a main idea behind the album, which speaks about renovation and rebirth, about the cyclic nature of life, in which everything dies to give way to a new beginning, just like water or rain. This is very connected to the band itself; to our name and even history. So I think this is what I can say about it for now. Describing one self's music can be hard! <laughs>
Sonic Cathedral: I would like to go back about two-and-a-half years, when you first joined Rainover in May 2011. At that time, the band had just parted ways with their vocalist and needed to rewrite the lyrics for some songs, but nonetheless had studio time booked for (I think) September. What was that like for you, diving in head-first?
Andrea: It was pretty crazy, actually. It wasn't in September; it was in AUGUST. So I joined in May, and they weren't even sure that they would be on time to record the album. You know, the former singer had all the lyrics written by her, plus you aren't always lucky enough to find someone fitting for the band in all senses, who can as well prepare a whole album in such short notice, so the guys had to start over with all of this in a very short time.
It all came thanks to a common friend. This is a person with whom I used to play with his band as a guest live vocalist. He told me: "Hey, I know this band that is looking for a new female singer. They have their album recordings in August. I really thing you should try, because I think you would fit into it." So I sent them a message, and we arranged an audition.
Well, they called me back again a couple of weeks later, and I went to a second meeting. They told me: "We want you to sing in the band. But we are recording in three months, and you would need to be prepared to learn the songs and make any changes you'd need to adapt the songs for your vocals." They also advised me that they weren't looking for some sort of session singer, but they wanted someone who would get fully dedicated to the band long-term. I wouldn't easily engage in such a commitment to a band, but the thing is that I already knew them beforehand (I had coincidentally seen them live once) and I loved the new songs. They were the kind of band I wanted to play in, and of course the album plans sounded great, so I finally committed myself to it.
I think they were actually a lot more stressed than me. When I joined the band, Quini (who plays drums for Rainover) had written six of the lyrics, out of eleven, so that I could start learning them, then I wrote the rest. Well, we had to work A LOT; those were very intense, but exciting months. I remember that I also had university exams by then, so I had to fight in order to survive and record the album. We also made some changes to the songs, and I also wrote some new melodies to make them more fitting to my vocals.
Everything turned out okay in the end. We arrived in Italy to record, and we were a bit afraid because we had only been together for the three previous months. But In the end, everything was very good … I remember when I had just joined the band. <laughs> It was like: "Okay, I don't believe I'm going to record an album until I'm actually there. For now, it's only working, working, working. Then when I get there, I'll give my best." Because you know, I was suddenly going to record such an album, something I'd always wanted to do, and this was very exciting, in an almost overwhelming way. Mentally, I just went step by step and that let me be more serene and focus on each part of the process. And that is how we did it.
Sonic Cathedral: Carlo Bellotti, who is the head of the Wormholedeath label, produced Transcending the Blue and Drifting into Rebirth. How hands-on was he during the recording process?
Andrea: He worked a lot on the album. Actually, before I joined, he came to the rehearsal room here in Spain, and worked with the guys because they had composed about 20 tracks. So they worked together to choose the best ones. He knew how to guide them to get the best result possible, so he helped them to make the tracks even better. When I joined, they told him they were changing singers, and he was actually supportive all the time, which we were thankful for, you know, since these things aren't easy sometimes.
Regarding the studio experience, well, I had heard … uhm, how should I say this? … that he was a "hard" producer because he's very demanding, especially with singers. But this is how it should be after all, and actually, I felt relieved after my first day of recording because he only had good words. Maybe it also helps that I'm quite self-demanding. Of course, some days were a bit harder, especially since I had little time to record. In the end, I felt like I had passed the test, haha. I think that we made our best in the recordings, thanks to this collaborative effort. . He also advised us on all the other aspects of the album: design, image…His contribution has been quite important to the album, and we really appreciate his work.
Sonic Cathedral: There was a two-year gap between when you recorded the album in August 2011 and the September 2013 announcement that Wormholedeath signed Rainover. Two questions: first, what were you doing during that two-year period? Second, when did you know that, not only was Carlo producing the album, but that his label would be releasing it?
Andrea: Regarding the first question, those years were a bit of a nightmare because we suffered several delays on different aspects of the album. First, we put a lot of time to get a fitting mix. Then, we were going to work with somebody for mastering duties. But in the end, it didn't work, so we had to look for someone else, and that took us some time. Then the CD design, pictures, visual concepts, and everything else in the visual section, which is an important part of the overall concept of the album, plus all the paperwork… We are also pretty self-demanding with the work that we do. So, all of that explains why it took us such an incredible gap of time to get it published. There were times when it got to our nerves, especially to mine, since I was dealing with many of these questions and I was always the first to get the news. It was pretty mind-exhausting because you were working a lot, and you didn't know where it was going.
With this, I will also answer your second question. From the very beginning of the process, we knew that we were going to sign with Wormholedeath. Well, actually, we didn't know if we would do it precisely with them because Carlo works with several labels, but he finally chose to sign us to his own company because he liked the album and the band very much. It was something that would cheer us up, when we were down: we knew that, in the end, we were going to get to work with them. But the thing is, we didn't want to publish it until we had a full packaging of pictures, songs, and everything ready to make a decent press release. This is how it went. It took us actually a lot of time, and it wasn't an easy ride. But hey, we're proud of the work we have done, so we think it was worth it in the end.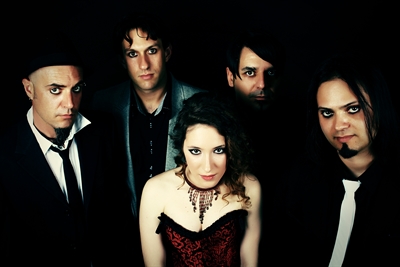 Sonic Cathedral: During that two-year period of delays for month-after-month, did you ever think of just quitting?
Andrea: It was hard, but we never thought of quitting. No. I mean, we worked really hard to get where we are. Especially the guys because they have been around for like 10 years. You know, they started in 2003, and they have been working their way to get to this. Then when I joined the band, I worked a lot together with them as well, especially in postproduction. So we never thought of quitting. It was difficult, but we knew we had to be strong.
Sonic Cathedral: Please tell me a little bit about the personalities of the guys in the band.
Andrea: <laughs> This is a fun question because I remember when I joined the band, they told me that we should do some sort of Big Brother with the band because that way we would get a lot more money than we would ever get from music. I just couldn't stop laughing when I joined because they use a lot of funny expressions which I wasn't used to hearing when they speak, haha. I would say they are a bunch of crazy guys; it is usually pretty fun to be with them. Of course, we also have our fights: "I think we should do this." "No, I think it's better this way." "No, it's better the other way!", and I sometimes feel like a big mamma with them when taking care of the serious stuff even being the youngest of them all, ha. But they are GOOD guys. They have their strange things, the same way I do. So that's why I think we are in the same band. <laughs>
Sonic Cathedral: Rainover's music has a dark, melancholy feeling to it, which seems at odds with a group of people who love to joke around. So where do these darker flavors come from?
Andrea: I think if you're talking about darkness, the two people who are more into this dark kind of music and so on are Quini and myself. We both love gothic and doom metal, and it's also more present in our personalities. He's also very fond of black and death metal. So we are the ones who add this more gothic flavor to the compositions. The bass player (who is also the male singer), Perea, has also listened to this kind of music a lot, although he is keen as well on more modern sounding bands lately, same as Anthon.
But anyhow, I believe, even if you're a joker kind of person, you've always got your dark side. For example, Arturo, who plays keyboards and composes a big part of the songs, is very joker in the outside, but then he takes away his keyboard and comes back the next day with a melancholic tune. The good thing is, we get these two different aspects in the music, the dark part and the bright part, and it makes it diverse. All of us have listened to the old school gothic metal bands from the '90s to a certain extent, so it shows, and this is probably why there is this dark feeling underlying most of the songs.
Sonic Cathedral: In addition to needing to learn the Rainover songs, you wrote or contributed to five tracks. Had you written lyrics before?
Andrea: Previously to this band, I had another less serious project, and I had taken part in writing two or three songs only. <laughs> But I've always liked writing. When I was little, I used to write fantasy novels, and I always loved it. I also used to record melodies with an old recorded my father bought for me when I was around 11. I had never done it in such a serious way (both lyrics and melodies), so this was really my first serious time writing lyrics and pieces of music.
Sonic Cathedral: Going back to when you were little, you actually started performing when you were 6 or so, and had already done some recording by the age of 13 or 14. Could you give us a quick musical bio?
Andrea: As you said, I started singing in choirs when I was 6 years old, thanks to my mom's support. At age 9, I joined a white voices choir where we performed mainly religious classical music so I also got a little bit of classical background. I recorded two albums and gave a good bunch of concerts with this choir.
I also studied at the Professional Conservatory of Music for four years, with musical theory and the playing of an instrument. <laughs> I used to play oboe, but I was never too good at it, actually. I just wanted to sing. And I also studied classical dancing in the Conservatory during that time, by the way!
When I was about 14 years old, I recorded several songs in a studio and shot several video clips. This was for educational videos that we made in school, and different kinds of presentations. So during all these years I made solo appearances within different styles -- sometimes classical, sometimes more pop-rock, or sometimes more like musicals. I've also been a backing singer for a soul, blues, rhythm & blues and rock and roll band for a couple of years.
And at the age of 18, I began taking singing lessons together with a great opera singer. Firstly, I would take classical singing lessons. But in the end, I kind of dropped it a bit because my voice naturally developed in a slightly different way. I do sometimes sing in a classical way, but not really with metal. You probably noticed that I sometimes do a couple of lyrical notes, but it's not a wholly operatic voice. I leave that for singing opera, which I don't do very often. Actually right now, I have a bit of a different style really.
Then I discovered metal when I was 15, made my first appearance in the metal world as a guest live vocalist in a band being 16, and started working with different bands until today. This is how it all came.
Sonic Cathedral: What was the first band that really turned you on to metal?
Andrea: Clearly, it was Within Temptation. I discovered WT when I was 15 years old, thanks to a friend. I was totally in love with them! I remember that I first listened to their then latest album, The Silent Force, and I LOVED it. I spent all day listening to their music, and then I went to their first albums. I remember the very first time that I listened to their album, Enter, where they would use growls. I was like: "Oh my god, what is this?!? I can't listen to this; it's too aggressive."
But in the end, I learned to appreciate it, and it opened the door to me for a different kind of metal. From that moment on, I started listening to Draconian, Tristania, and that kind of darker thing with grunts which I love today. Later on I would find The Gathering, which was again a new thing and let me appreciate brighter and more experimental music. I love different styles today, but Within Temptation is still my first love within the genre. Every time they come to Spain to play, I go see them, and I went to see them at their anniversary Elements show in Belgium. Even though their most recent stuff is not exactly what made me fall in love with them, I still appreciate them a lot. They were my first love, as I said.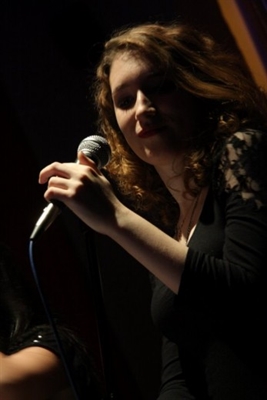 Sonic Cathedral: What did your family think about you switching from choirs and the classical styles of music to metal?
Andrea: Yeah well, when I started this, my family said: "Andrea, this is not for you. You have to understand that you'd be much better in pop, than in metal. You know, metal is so much noise, and you have such a sweet voice. I believe, in a year or so, you will have forgotten about it."
But in the end, they have had to accept it. I am not going to drop metal, and they realized this is what I want to do with my voice and my life. Still, my mom sometimes says: "Andrea, that music sounds pretty good. But I would just wish you were singing this [whatever] music." But they know that I'm still a very responsible person, not the kind of sex, drugs, and rock-and-roll person they maybe feared. I am doing fine with my studies while I'm into this kind of music. And they actually love the band now, and are super excited and proud of the new album and everything coming along with it.
Sonic Cathedral: I am curious about attitudes towards metal in Spain. In the US, there is a pervasive perception that metal is negative and violent music, created for anti-social people and Satan-worshippers.
Andrea: Sometimes, I find that some people stare at me in a strange way when I mention that I'm singing in a gothic metal band.
Sonic Cathedral: You have recently finished your university degree in Law, and are working on a master's degree in Advocacy. Do you ever worry that being in a metal band may be an obstacle to working as a legal professional, because of prejudices against metal?
Andrea: I have been thinking about that a lot lately actually, because music is very important to me, but my profession is too. Music is in my heart, and I cannot leave it because of one profession. Of course, I will try to do both things. But I am kind of concerned because, as you said, people related to law are usually very formal, and they judge upon looks, and taste, and all of this, and there are prejudices against metal. I am sometimes afraid that somebody would not hire me because they would find that I sing in a gothic metal band, or that I dress in a particular way when I sing in shows, or whatever. I still don't know what kind of effect it will have. I just finished my studies, so I haven't really started working. But we'll see.
I remember that you told me that you didn't know many other female metal singers who are lawyers, except for one person. I bet it must be pretty hard to combine the two. The other day, I also read an article (I believe it was by Mary Zimmer), and she said that it wasn't the best thing to do, using your real name as a stage name. It got me thinking. When you apply for a job, people are always going to google, and trying to find strange things about you. I thought: "Hey, maybe when someone is going to hire me, they will google me, and they will find that I dress in strange clothes." But I don't really know what I will do with this. I can only hope that I will do a good work in both fields, and try to combine them in the best way I can.
Sonic Cathedral: On to a lighter subject, I saw a video on your YouTube channel from 2010 with you and Anneke van Giersbergen after a show. That seemed like a really special moment for you. Would you tell us about it?
Andrea: Yes, indeed. Then you have seen that I am a total fan-girl! <laughs> I believe it was in 2008 that I went to see Draconian live. I remember that I was speaking to the members of the band, who are really close to people, and I said: "Okay, I would love to sing with you." And then Lisa, who was their previous singer and is a lovely person, sang with me, and we made a similar kind of video.
Then, when I went to see Anneke live, my friends told me: "You have to sing with her." I said: "No, no, no, I can't. I admire her so much; I can't stand at her side, and start singing." But my friends were pushing me to do it because they knew I actually wanted to. So they told her: "Hey, Anneke, there is a girl here who wants to sing with you." She said: "Oh, of course! Come here, and we will sing together."
She is just so lovely that we actually did it, and I couldn't BELIEVE what was happening. I think it shows in the video. At the end of the video, I started crying because I just couldn't hold my tears back. I guess that I am a very emotional person, but it was a truly important thing to me, and I just couldn't avoid showing it on the outside. It is like a treasure for me to have this video.
Sonic Cathedral: Speaking of emotion, Transcending the Blue and Drifting into Rebirth packs an emotional wallop. Would you pick a couple of songs, and give us an idea of what you were thinking about when you wrote the lyrics or what emotions you tapped when singing lyrics written by others?
Andrea: Well, that's a complicated thing because, as I'm sure plenty of people working in the music industry have told you, every song is like a baby, and it's difficult to choose. If I had to choose a couple of them, I think I would pick "Cycles" because I just get the goosebumps every time I am singing it because it's just so powerful. I LOVE those choruses. I just get very emotional at singing it.
Also, I love the combo formed by "Hopeless" and "In Free Fall". Usually, when we play live, we play them together, and I always get the chills too, because they are so dark and intense. I have a particular affection for "In Free Fall" because I wrote those lyrics, and they are pretty personal to me. I really like this kind of atmospheric and experimental vibe that is going on in the verses. Another song I also have a special appreciation for is "Despair" because it is actually the first song I learned for the band, and also the first one I recorded for the album. So, it stays as a special one. And then, "Rebirth" is a song I like singing live too. <laughs> But actually, I could start talking about all of them because they all are special to me. It is difficult choosing, but I would say those ones.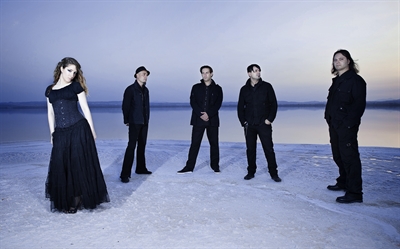 Sonic Cathedral: What was running through your mind when you helped write the lyrics for "H2SO4"?
Andrea: Well, the original idea came from Quini, who initially wrote the entire lyrics, but then I changed many parts of them and added new things but always in the same spirit of what he had previously written.
The title stands for the chemical formula of sulfuric acid, and basically speaks about someone who is very bitter and destructive, as if this person had sulfuric acid instead of blood. The idea came from several experiences the band has encountered with certain people along their career, and it is something everybody can probably apply for many people you meet in your everyday life, hehe.
Sonic Cathedral: Since this is your first full-length album, are you nervous every time a review comes out?
Andrea: Well, I think I would be lying if I said "no". Yes, of course, I am, to some extent. I am always kind of anxious when I have to read those reviews: "What will they say about it?" Most of them have been very good 'till now, but sometimes, of course, we find people who aren't that nice to us. And it's like: "Okay, why are they saying this? They might be right." Actually, so far, those who have done not-so-good reviews (which aren't many) aren't really speaking about the music. It seems strange, but I found that some people judge the band just because they have a female singer.
Sonic Cathedral: <growls>
Andrea: It's true; it's true. I also understand that, while this is metal, it is quite … I don't know how to call it, but it's generally easy to the ears. I understand that people who are used to listening only to brutal metal won't like it, and that is okay. But sometimes I think: "Okay, you just aren't familiar with this kind of metal at all. Maybe you can't really judge. Maybe you should have a little bit of previous knowledge about this genre to actually speak about it." They compare us to bands they like, or to bands they believe are similar to us but are actually not.
I still take into consideration everything they tell us. I think everything can maybe help you get better, if they are constructive reviews, either positive or negative. The destructive ones are not to be taken too seriously.
Sonic Cathedral: The official album release date is in a couple of days. What is coming up next for Rainover?
Andrea: We are now going to make a release party for the album which, if nothing changes, will take place on April 12th in our hometown of Murcia. We are working on preparing a special show for all our friends and followers. Also, we are planning on doing a video. Actually, we are curious to know which track people think is the best one for this because we've got a couple of easy-to-listen-to tracks which could work just fine for a video. We are doubtful about which song to choose … maybe "Rebirth", which was the first one we released, but maybe another one.
What we are planning is this: the release party and some shows after this. We would love to play abroad, share stage with some different, cool bands from different places in the world, and maybe play some festivals too. This, and also the video. We have of course the worldwide release of the album as well, and then the Japanese release on March the 5th, which is just exciting. Apart from this, the truth is that we started composing new music too. But of course, this will have to wait to see the light of day because we are now focusing on Transcending the Blue and Drifting into Rebirth, and we want to promote it as much as we can.
Sonic Cathedral: We have about reached the end of our time together. What would you like to tell Sonic Cathedral readers? <laughs> This is not the part where you're supposed to say how much you love Sonic Cathedral. But addressing your fans directly, what would you like to tell them?
Andrea: Actually, I would have to say that you are wonderful. <laughs> But if you don't want me to say that … we are very thankful that you are offering us this coverage because we are an underground band, and it's great that you are working this way. So, I really have to say that we are very thankful for that!
In regards to the fans, we just want to say: "THANK YOU." Really, thank you from our hearts to everybody supporting us. There are plenty of people who are commending us and sharing our stuff on Facebook. And that is very appreciated because this is how we get to reach people's ears, and this is what we need right now. We want for people to hear about us. We want to make big things with this album because we put our hearts in it, and we want to share it all with you also. We want to meet you in live shows as well, when it's time. I have to say that, for anybody who hasn't given it a try, just do it. And for people who have already done it and are supporting us, thank you so much. Truly!
Sonic Cathedral: Thank you so much for talking with Sonic Cathedral today, Andrea!
Andrea: Thank you, Robin! I am so glad to have spoken to you.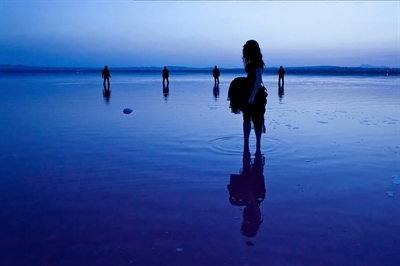 Read Sonic Cathedral's review of Transcending the Blue and Drifting into Rebirth HERE.