Huntress -- Live in Minneapolis
September 31, 2016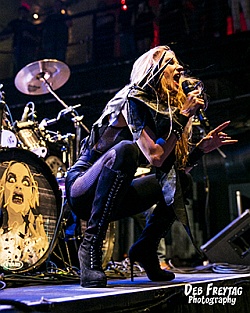 On Friday, September 31, 2016, Huntress rocked their way through Minneapolis, Minnesota. On tour with Sabaton and headliners Trivium, Huntress is supporting their last album, Static, which came out in late 2015.

Mill City Nights, which recently announced it will be closing at the end of December, hosted the affair. It's hard to believe the venue will be shutting down as they are a hot spot in Minneapolis, hosting a variety of popular national touring acts. The line to get in started easily an hour or more before the actual show, and ended up stretching around the block at the time the doors finally opened. The venue itself was packed elbows to assholes, and only got more crowded as the night went on.
I first saw Huntress preform live on their 2012 tour, supporting their newly released album, Spell Eater. Back in 2012, lead vocalist Jill Janus appeared to have a stiff demeanor in front of the crowd. Since then, it is clear she had come into her own, having full command of the stage and her audience. During the performance in Minneapolis she appeared very comfortable on stage, and looked like a bad-ass wearing a skin-tight leather ensemble. With a small outfit change after the third song, Jill transformed into a metal beast. With spiked shoulders and a cape, she was as irresistible as she was menacing.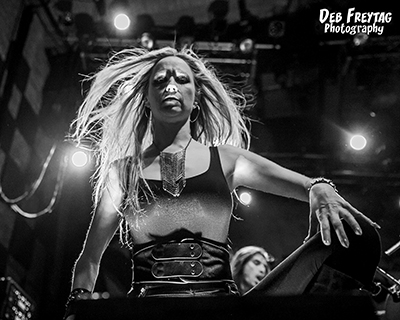 Jill is back from the edge of a tough mental health crisis in 2015. After seeking help, she is tougher and bolder than ever. Advocating and becoming a role model for others, Jill has helped to normalize mental health crisis within the metal community and reach out to her followers with the message: "If you need help, reach out. There is no shame in hiding your condition; reaching out to others and to professionals is the right thing to do."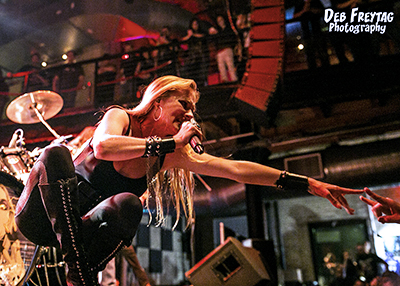 With this venue, Huntress unfortunately got the short end of the stick. None of the bands shared equipment with each other, and because of this, Huntress had about three feet of performance space at the very edge of the stage for Jill. However, she was able to do excellent job of navigating around the stage, trying to fire up a tough Minneapolis crowd. With three-inch heels, and a high energy performance, she almost took several nose dives off of the cramped and poorly lit stage. With the stage issues aside, the actual sound at the venue was amazing, although Jill's own voice was a bit harsh over the monitors -- possibly a mixing issue, as the band itself sounded dynamic and on point.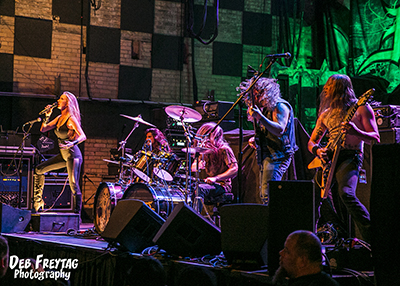 Overall, the crowd had a hard time getting into the performance, but not through any lack of effort or skill on Huntress' part. Jill likened the crowd to a male member who would not be satisfied, no matter how vigorously a hand job was applied, the threatened the crowd that she would need to put her finger up the crowd's asshole to get everyone going.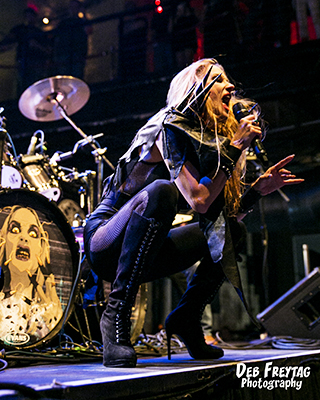 The performance included a touching tribute to Lemmy Kilmister, a friend of Jill's, who had written a song for the band, called "I Want to Fuck You to Death". The performance by the band was great, and left us wanting more! After the performance Jill graciously made herself available to chat with fans at the merch table after the next band's set. Meeting with fans and signing autographs Jill also sells her own hand made jewelry which she hand makes while on the road.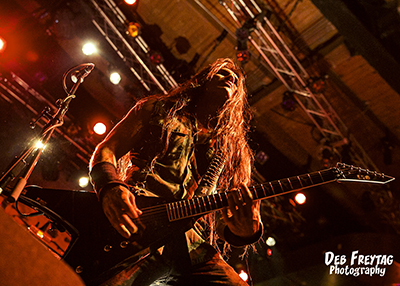 Huntress Set List:
Sorrow
Flesh
Spell Eater
Zenith
Harsh Times On Planet Stoked
I Want to Fuck You to Death
Eight of Swords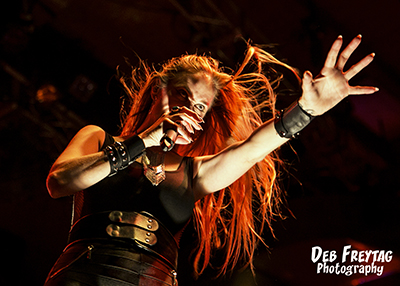 Up next was Sabaton. Before their set started, the crowd seemed to surge, packing in tighter with camouflaged patterned clothing and metal patch covered denim vests. The stage itself more than doubled space as Huntress' gear was hauled off to make room for the military metal powerhouse. Security also tightened, anticipating a rise in crowd surfing and moshing.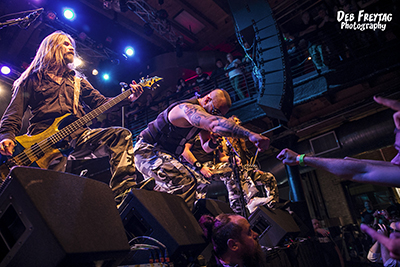 Once Sabaton got started, they had no problem firing up the crowd, especially with drummer Hannes Van Dahl, who recently announced he is expecting a child with Nightwish's Floor Jansen. Through the night, the band hazed their new guitarist, letting him choose any song out of Sabaton's catalog to play. He was up to the task, the band brought their loud brand of military themed music and exceeded my own expectations live. Sabaton is touring in support of their new album, The Last Stand, which came out this past August. The band had absolutely no problem holding the crowd's interest and finished off their set strong.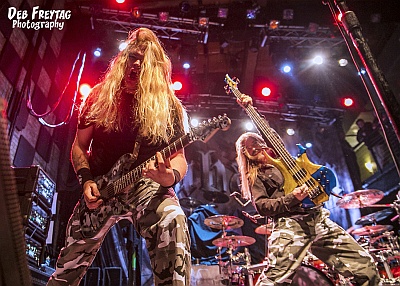 Sabaton Setlist:
Ghost Division
Sparta
Blood of Bannockburn
Swedish Pagans
Carolus Rex
40:1
The Lost Battalion
To Hell and Back
Winged Hussars
Encore:
Night Witches
Primo Victoria


Rounding out the night was headliner, Trivium. The stage area was even larger, as the last bit of gear was cleared off, leaving a wide open performance space for the band. Trivium was the evident headlining act, with the crowd going crazy almost immediately singing along and crowd surfing. It was unmistakeable which of the three bands the promoters had hyped the most before the show. The crowd was obviously here for Trivium, and it felt impossible to move or even breathe through the dense sea of people which filled Mill City.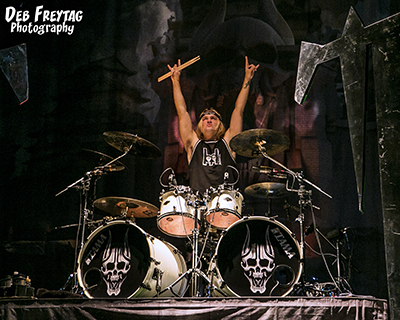 It was hard to imagine why Trivium needed so much space on stage, considering that they generally stayed close to their microphones and did not move around much while on stage. Despite being rather stiff and unmoving, overall, Trivium held their audience's interest, and delivered the quintessential Trivium performance. The night ended on a strong and energetic note.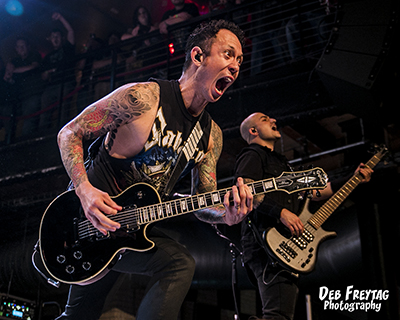 Trivium set list:
Strife
A Gunshot to the Head of Trepidation
Forsake Not the Dream
Rise Above the Tides
Into the Mouth of Hell We March
Silence in the Snow
Entrance of the Conflagration
Detonation
Requiem
Until the World Goes Cold
Down From the Sky
Built to Fall
Pull Harder on the Strings of Your Martyr
Encore:
In Waves