Written by Various Members of the SC staff including:
Justin Boyer, Max Levites, John Thornburgh, and C.
Whenever Nightwish comes to our shores, fans in the US invariably get very overexcited about the forthcoming Nightwish tour in their part of the country. Much like many of our readers, many of the writers for Sonic Cathedral, represented here, are huge fans of the band Nightwish. It has been a few weeks or so since their recent US tour ended, and we are here to share our thoughts about each of the respective Nightwish shows we happened to attend.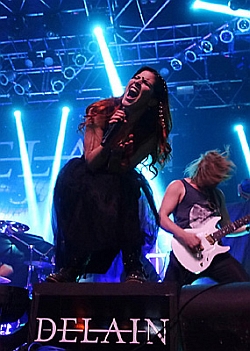 Justin (Philadelphia, April 10):
Before the day of the concert, I was fortunate to have acquired the money to buy a ticket for probably one of the most anticipated concerts of the year for many fans of this genre of metal music. During the weeks leading up to the concert itself, I was still having some pretty mixed feelings about Nightwish's recent album Endless Forms Most Beautiful, which had music that was composed as well as previous albums, yet I felt so ambivalent about the presentation of the sound in that album.
Live concert experiences tend to alter my perspective of an album for the better, though, even if that does not always happen. Take the recent Amaranthe album, for examples, hearing some of the leading tracks performed live did not miraculously change the overall tedious nature of listening to that album. At least, that was how I perceived that album; many other fans had a very different listening experience.
Luckily, hearing Nightwish perform a bulk of tracks from their recent album live completely changed my overall feelings on the album. Their newest vocalist, the highly touted lead singer of retired metal band After Forever, Floor Jansen terrifically ushered in a brunt of new energy for the band, as a whole.
I'm keeping the following impressions of the concert short and sweet, so as not to overindulge on too many details. Part of experiencing a Nightwish show first-hand involves experiencing a wealth of different indescribable emotions, so palpable, yet so difficult to describe within words.
Here are a few of my recollected impressions of both the opening acts, and the lead act of this concert, Nightwish themselves:
Delain: As always, Delain was predictably very good, but I think the major problem that really detracted from my enjoyment of their concert was the fact their playlist was far too predictable. This stems from the fact that they are still trying to tailor their setlist to potential new listeners, who may have not heard their music before heading out to see Nightwish that evening. Therefore, it only makes sense that the band would try to limit the songs on the playlist, to keep with tracks they know are reliable crowd-pleasers. As someone seeing Delain perform live for the third consecutive time, this led to boredom, even though the band technically performed as great as ever. They just needed to be a bit more experimental with their playlist. Perhaps, next time will be the day I can finally hear "Tragedy of the Commons" live with Charlotte Wessel' raw growling vocals included.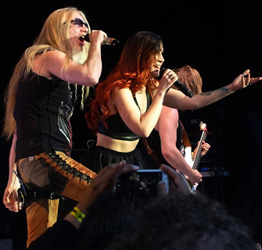 Sabaton: Sabaton was definitely energetic, but I had great difficulty getting too enthusiastic about their set. Overall, I am fairly indifferent about their music, meaning I don't feel one way or another. Their songs are steeped in militaristic metaphors, and historical allusions to great battles of the past and war bravado, themes of which I see as being clearly metal themes, yet it is something I cannot get excited about. Their vocalist was awesome, though, and if he were singing songs that appealed more to me, thematically, then maybe I'd perhaps not feel as apathetic about the band as I do. Nonetheless, I can definitely understand how they may appeal to a certain subset or demographic of listeners, and they were very interactive with the crowd attending the concert, who were enthusiastic with their frenetic, fast-paced, set.
Nightwish: Floor Jansen is awe-strikingly wonderful, and she is deserving of the adulation that is bestowed upon her by the many listeners of female-fronted metal music because she is not just a deft singer, but also a terrifically versatile one. Everything about Nightwish's set was magisterial, in the sense that their new vocalist makes them feel much larger and self-assured than ever before as a band. They actually feel like a band, rather than a solo artist with a back-up band. Floor interacted with all the other members throughout the show. Compared with the last Nightwish show I attended, all the members seemed much more with it, in terms of looking like they're genuinely enjoying the lively environment of a concert.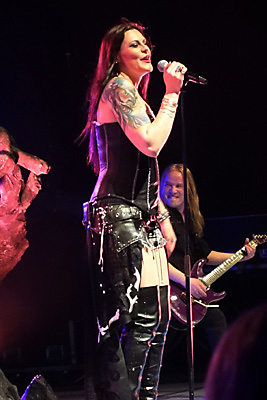 The setlist was phenomenal, with "Ghost Love Score" and an abridged version of the lengthy track "Greatest Show on Earth" being my two favorite songs from the whole set. The whole performance felt so fleeting, and that has to do with a band that finally looks satisfied with where they are, musically and professionally, at this point in this long-spanning music career. With the extremely talented singer Floor Jansen as their lead, they have an extremely good outlook, in terms of their professional future.
John (Los Angeles, May 1; Las Vegas, April 30):
I was super excited when I learned that Nightwish and Delain would play LA's historic Greek Theater and bought VIP tickets the day they were announced. That was a good thing, because VIP tickets sold out in less than two days. After months of anticipation, the show did not disappoint. About 5,000 people gathered in a wooded bowl in the hills above Hollywood, to witness the best that the symphonic metal genre has to offer. Delain started the evening, and although they had only thirty minutes, they took advantage of every second to thrill existing fans and make new converts from people there to see Nightwish or Sabaton. From the energetic opening "Mother Machine" to the anthemic "We Are the Others," the band and Charlotte sounded fantastic. Perhaps the highlight was the appearance of Nightwish's Marco Hietala to sing "The Gathering," but I was also really moved by Charlotte's gorgeous rendition of "Not Enough," which brought a standing ovation. You could also tell from the packed merch area after the show that Delain was a huge hit.
Next up was Sweden's Sabaton, a band new to me. I would characterize them as Rammstein meets Judas Priest, with cool historical lyrics. They are definitely master entertainers on stage.
After that headliner Nightwish took the stage. All I can say is wow. I finally got to hear "Ghost Love Score" live, and I finally got to hear Nightwish live as they are meant to be. (I thought Anette was ok on the albums, but she disappointed me live, and I never got to see Nightwish with Tarja.) Other highlights for me included "Dark Chest of Wonders," "Last Ride of the Day" (which really captures the mood of a roller coaster), and songs from the new album, Endless Forms Most Beautiful. That album took about a month to grow on me; I think I was expecting an entire album of "Ghost Love Score," and it's more subtle. But now it's almost certainly going to be my album of the year. And it was absolutely brilliant live, including a shortened version of "The Greatest Show on Earth," during which I'm pretty sure Floor did live animal growls. Speaking of which, her voice is simply stunning in its power, versatility, and emotion. And although I would have enjoyed some pyro like the band had at their 2012 LA show, Floor's flying hair is special effects enough, especially when combined with the Greek Theater's beautiful setting. Troy summed up the evening very well: he said he'd been to Greece, seen the Parthenon, but this was more magnificent. I agree.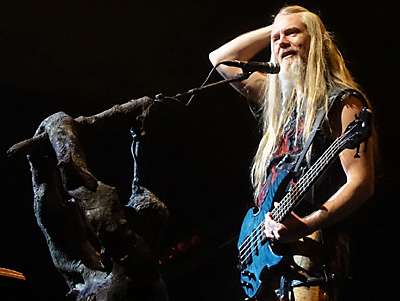 I also want so say a word about the other show I saw, in Vegas at the House of Blues. It was mostly the same but even better for me since I had a spot on the rail near the center. I love the personal interaction with the musicians that that allows. And I had the privilege of standing next to a thirty-nine-year old attending his first concert. He saw the Showtime, Storytime DVD and simply had to come. He loved it! And on my other side was a person who travelled from Switzerland for the show, and who was attending his 112th Delain gig. Impressive! We are the others, and we were here. And I'll be back, when Nightwish/Delain return to North America in early 2016.
C. (Los Angeles , May 1):
Delain: My second time seeing Delain, and they were just as good as I remember. High-energy performance; they get the crowd jumping up and down from the first song all the way to the end. The band played a rockin' set with songs like "Get the Devil Out of Me", "Electricity", and the closer "Not Enough" showed off some of Charlotte's finest vocal work in a live setting. I also love that Delain all headbangs in sync; their long hair flying and whippping in the wind as the fans pump their fists in the air. But for me (and undoubtedly for many other people in the crowd as well), the highlight of Delain's set was when Marco came out and joined the band for the fan-favorite "The Gathering". It sounded just as good live as in the studio. Definitely a moment that many fans had wanted for a long time, and it was worth the wait.
Sabaton: This was also my second time seeing Sabaton, but my first time really getting a chance to check out their live performance; the first time was last year when they played between ReVamp and Iced Earth, and at the time, my friend and I were busy trying not to get crushed on the floor when trying to buy merch at ReVamp's table, so while we heard a great deal of Sabaton's set, we were unable to *see* very much of it! This time, I was front-and-center and was able to watch as well as listen. Sabaton is a very energetic band to watch; quintessential "power metal" in that they have songs that stick in your head, are easy to sing along to, and encourage crowd interaction. I daresay that among the audience, there might have been as many people there for Sabaton as for Nightwish! Some highlights for me was the song "Carolus Rex" (which is currently my favorite), and the final song of their set, "Metal Crue", where they choose a young fan to join them onstage. I think it's very cool that a mini-headbanger gets the opportunity that most of us only dreamed of as kids (and some of us still dream of now!). But my favorite part of Sabaton's set was right before they went into the song "Swedish Vikings", when they encouraged the audience to raise their arms, and then insisted that they weren't going to go into the "YMCA" dance. But that elicited a few disappointed groans from the audience, to which Joakim (the band's frontman) responded, "really, you want us to do the 'YMCA'? What kind of freaks are you in California?" Well, we are rather proud of our freak status in California, so that just prompted further cheers and encouragement from the crowd, to which they obliged! The band and the audience did a fun little "YMCA" dance at that point, which I'm sure did not happen on any other stop on the tour!
Nightwish: So everyone knows that I *really* love Nightwish. They're definitely in my top 5 favorite bands, and they are the band I have seen live the most times; this show tallying #8 for me. I have seen the band with all 3 singers, and I have to say that Floor has been an awesome fit for them from the start. She sounded spectacular during those early shows when I first saw her with Nightwish, but she has really grown into her role since then and sounds even better now. She's the best of both the former singers: the operatic beauty of the Tarja era, coupled with the rockin' pep of the Anette days. In some respects, she sings those songs better than her predecessors! When hearing songs like "Storytime" or "Amaranth", I'm inclined to think, now that's the way they should be sung! But Floor really pulls out all the stops on the Oceanborn classic "Stargazers", where she goes into full-on opera mode and stuns the crowd into silence. She doesn't let up either; when the band kicks into the mighty epic "Ghost Love Score", I feel like that song should be renamed "Ghost Love FLOOR", because she has made that song so much her own that it's almost easy to forget that it was ever performed by anyone else.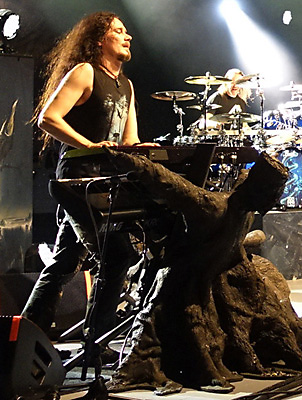 I could go on about Floor's vocal ability and her onstage ability, but Nightwish is more than just the vocalist and the guys in the band are just as entertaining to watch! I was right in front of Tuomas, and watching him in his element is always a treat. He headbangs to where you wonder if his head is going to fall off, he sings along to the songs (no, you can't hear him sing!), he really gets into the music. He and Emppu have a playful onstage chemistry; whenever Emppu comes to Tuomas' side of the stage, they engage in funny banter consisting of humorous gestures, smiling, and signaling to one another. Marco screams his ass off on the songs like "Yours is an Empty Hope" and "Last Ride of the Day"; but he also has a softer side, which he shows to us during his solo spot on "The Islander". Troy is unobtrusive yet very present; adding his Uilleann pipes to the songs in a way that breathes new life into old favorites, but is not overkill. Last but not least, there is Kai Hahto, the newest addition to the band. He not only does a fine job of taking Jukka's place, but he is an incredible drummer in his own right. I was very impressed by his performance and think he is a perfect fit for Nightwish. There were so many highlights during the show; I couldn't even begin to name a favorite moment because the show was phenomenal from start to finish. Getting to hear "Ghost Love Score" was a huge deal, but also new favorites like "Weak Fantasy" and "The Greatest Show on Earth" were high points as well. While each Nightwish show I have attended has special memories for me, I would have to say that performance-wise and overall onstage chemistry, this is the best I've seen them so far. It seems as though they've finally gotten the right lineup together and it shows. I can't wait to see them again in March!
Max (Silver Springs, May 14):
Nightwish, Sabaton, Delain… could three more beautiful words ever be uttered in the same sentence? How about on a poster in the window of a venue just outside of the nation's capital? An enchanting concept, I know. I myself couldn't believe my eyes and ears when it was announced that these three bands would be playing a mere metro ride away, but indeed they were, and there I was, two hours before doors, standing in line and waiting patiently for what certainly promised to be a miraculous concert. I was not disappointed.
Delain exceeded my already high expectations. The new songs sounded wonderful live, and the band brought an energy to the show most headliners would envy. The crowd loved them just as much as I did, any whoever didn't know Delain beforehand was surely won over. Then of course there was Marco, who came out during "Sing to Me" in nothing but swim trunks and a top hat, the first of many end-of-tour pranks that evening. And if there was anyone in the crowd not warmed up by Delain, Sabaton surely did the trick. Their pounding "war metal" was such a hit that the band themselves was overwhelmed with the crowd, who chanted their name for what seemed like the entire set.
Finally, Nightwish took the stage and the magic of the night reached its peak. The band gave a performance worthy of a last show of the tour, making their way through a varied mix of songs from their new album and old favorites. The biggest surprise (or at least it would've been had I not snuck a peak at the setlists of previous shows) was the journey back to the Oceanborn days, with Floor tackling "Stargazers" and "Sleeping Sun," executing these two classics flawlessly to much applause from the rowdy crowd. I use the word 'rowdy' because this is the first time I'd ever seen moshing or crowd surfing at a Nightwish show. I didn't mind too much, as it added to the energy and excitement of the whole experience, but I did feel a bit sorry for the people in front of me who were being squeezed up against the barrier by more than a few large, sweaty masses. Regardless, I think everyone had a good time, and I look forward to the band returning next winter (with Delain no less!) to serenade their American fans once more.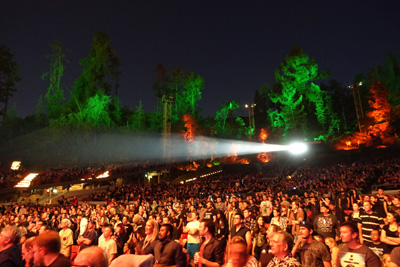 A very special thanks:
Additional photos Courtesy of Wilkinson Image and Design
Link 1 / Link 2