Pamela Moore - Live at the Metal Grill
Cudahy, Wisconsin, March 5, 2015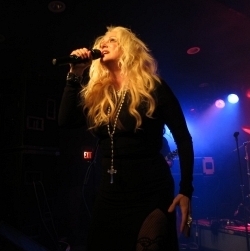 Pamela Moore, Live at the Metal Grill, Cudahy, Wisconsin, March 5, 2015
Well, that's one thing off the bucket list. Been wanting to see this lady for a long time, never thought it would happen. But it did and it was very much worth the wait. The problem with Pamela Moore is that she is so well known for one production, in her case, the voice of Sister Mary on the Queensryche release Operation Mindcrime, that we are sometimes not aware that she has done a lot of other stuff as well. She's released a number of solid recordings, we covered one of them several years ago. I covered another project entitled Solna and there are others. But, you just can't get that Sister Mary thing out of your mind. Well, Sister Mary, Pamela Moore, whatever you want to call her, she damn sure does a killer live set. One of the most enjoyable presentations it has been my pleasure to witness. She has the voice, the style, the material and a killer backup band to put it all together. And, of course, the look ain't bad either. There's a lot of beautiful women in this genre, Pamela is right up there with that blond from Imperia, Helena Irene Michaelsen on the visual chart. But maybe the most interesting thing I walked away with, regarding the presentation anyway, is that what we saw from Sister Mary in Suite Sister Mary was pretty much what you get with Pamela Moore. And, when she did some material from Mindcrime towards the end of the show, it damn near brought tears to my eyes. Course, maybe that was in anticipation of having to leave the venue shortly after and walking a couple blocks to the car in -15 wind chill Wisconsin weather. That can bring tears to anyone's eyes. Even Pamela commented on it wondering how anyone could deal with the weather outside, a far cry from her Seattle home with it's far more gentle climate.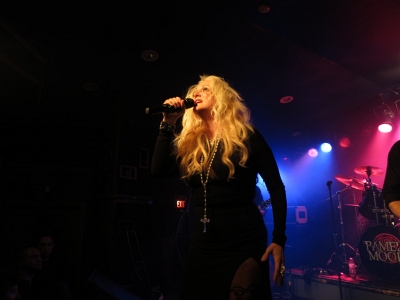 The night started out with two more traditional bands, Something Wicked and Sauce Bucket. The later was from my part of Wisconsin. They provided a nice blend of metal covers and self produced material. More importantly, they didn't seem to be bothered by the frigid conditions outside. Wisconsin people seem to get used to it and, even though it was March and Spring was right around the corner, none of the locals seemed to notice. Of course, copious amounts of liquid dinner will always help through times like that and the booze was flowing like Niagra Falls at high tide.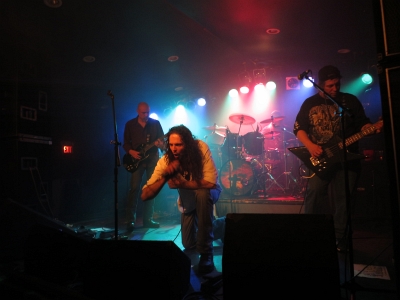 When Sauce Bucket finished, Pamela's band made preparations to take the stage. This wasn't her first time in Wisconsin and people seemed to be prepared for the upcoming music. Not all of it, of course, Pamela has a relatively new release and was prepared to cover a fair amount of it. But, as she took the stage there was a feeling of excitement. She's a hot blond, but everyone seemed very aware that this was a lady who they had come primarily to hear, she's a vocalist of the highest order. And, she didn't disappoint, working the crowd through a variety of tracks, some old, some new. The supporting musicians were clearly up to the task of working with one of the premier talents in the business, they were outstanding.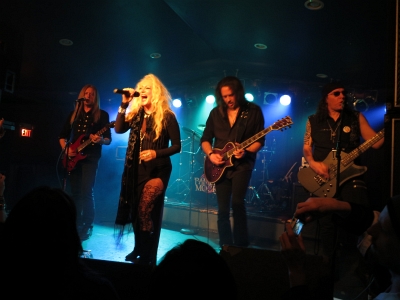 One of the more interesting things about Pamela's presentation was her interaction with the audience. She seemed completely at ease and went out of her way to touch people close to the stage. At one point, she actually came off stage and walked through the crowd, embracing people in the audience without missing a note. Nice touch, and I didn't notice anyone, male or female who wasn't interested in the physical contact. Pamela is a warm and friendly entertainer beyond the musical talent. But, it was the talent that made the difference. Anyone who's seen Suite Sister Mary is aware of the emotive nature of that character. Pamela demonstrated pretty much the same capabilities on stage during her presentation, a dramatic approach at times, and a soft delivery at other times. She interacted with her band mates in addition to the interaction with the crowd and addressed people in a conversational style like she was talking to them in their living room.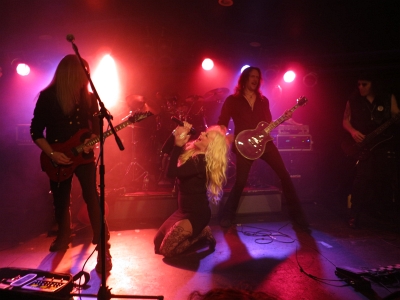 Towards the end of the performance, we actually got to hear a couple Mindcrime tracks, not Suite Sister Mary but tracks originally performed by former vocalist of Queensryche Geoff Tate. I've always thought the two had very similar sounding voices and this presentation seemed to cement that assessment. Certainly a highlight for me. And, as the set began to wind down, Pamela picked up a guitar and talked a little about her history and how she got into the music. She then performed a couple songs with limited accompaniment, softer than what had come previously but every bit as entertaining. Following that, the band kicked out a couple last tracks and the performance concluded, with a very satisfied listening audience at The Metal Grill.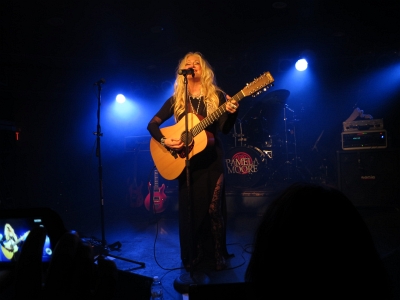 But Pamela wasn't done, she stuck around the scene for some time, talking with the folks who had been listening and taking picture after picture. The band was there with her and I had some interesting conversations with them regarding how the music was conceived and developed. It's not just a one man, er, woman show, these musicians are fully capable of developing material on their own. Of course, it helps to have a Pamela Moore to present the vocals. My companion and I finally departed, after putting on every article of clothing we could find and headed back to Madison, a 100 mile trip with several stops on the way for refreshment of the non liquid variety. But that wasn't my last interaction with Pamela, she texted me the following morning saying she hoped we had liked the show. A nice touch I don't think I've ever experienced with any other artist and a classy conclusion to the event.
Pamela was performing in Chicago the next night and seems to be traveling around some. This is an act you don't want to miss if it's in your neighborhood or anywhere within driving distance. Get your tickets, and be prepared for one of the finest live acts this genre has produced. You can't go wrong.