Blackmore's Night @ The Paramount Theatre
Long Island, New York May 22, 2014
It was a cold and dreary evening in Huntington Long Island, as dark clouds hovered over the sky. Yet the mood surrounding The Paramount Theatre was quite festive as Blackmore's Night fans from around the world, many dressed in costumes, gathered at local bars prior to the performance. The concert was in support of their most recent studio LP, "Dancer and the Moon."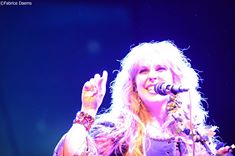 Blackmore's Night was formed in 1997 by Guitarist/Songwriter Ritchie Blackmore and Vocalist, Lyricist, and Multi-Instrumentalist Candice Night. As a founding member and leader of seminal Heavy Rock bands Deep Purple and Rainbow, Blackmore is one of Rock's most important and influential guitarists, having inspired three generations of artists ranging in genres from Blues to Progressive Metal. He and Night, now Candice Blackmore, met in 1989 at a soccer match between members of Deep Purple and a New York radio station Candice was working for. The two shared an interest in Rennanaisance music and soon moved in together, marrying in 2008. The band has eight studio LP's, three live CD's and one holiday CD. While personnel changes have been frequent, the supporting cast for the evenings events included: Keyboardist David Baranowski "Bard David of Larchmont," Bassist, Guitarist Mike Clemente, "Earl Grey of Chimay," Drummer David Keith "Troubadour of Aberdeen," Kelly Morris, "Lady Kelly De Winter," Backing Vocals, and Violinist Claire Smith," Scarlett Fiddler."
The show began with Ritchie, once known as "The Man in Black" taking the stage warmly greeting members of the front row with handshakes. This was not the Ritchie of years gone by who menacingly trolled the stage instilling fear in the hearts of those within an arm's reach of his Fender Stratocaster. Now affectionately labeled by Candice as "The Man in Tights," his transformation and presence seemed almost incredible. Candice then took to the stage and like Ritchie was warm and ingratiating. I recalled my first Blackmore's Night concert in 1999 at Chicago's Vic Theatre. Candice seemed somewhat ill at ease at times, perhaps feeling the enormity of her future husband's legacy weighing on her shoulders. But like Ritchie, Candice seems to have transformed as well, as she was completely at home and supremely poised and confident greeting the audience on stage.
As the rest of the supporting cast took to the stage the lights dimmed and the music began with Ritchie playing Eastern-Flavored scales on the Hurdy Gurdy resembling "Do you hear the people sing" from "Les Miserables." The crowd seemed to be in a trance when the opening verses to "Dancer and the Moon," a Folksy but up tempo song was introduced and seemed to snap the crowd out of the awestruck hypnosis induced by Ritchie. Candice's vocals were quite crisp and dynamic, and the crowd responded accordingly. Next up "Darkness" a Renaissance ballad ushered in by Candice's penny whistle. The song featured a strong and catchy chorus underpinned nicely by solid percussion throughout.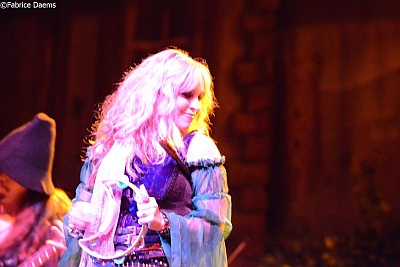 For years Blackmore's Night has included an acoustic version of the Deep Purple ballad 'Soldier of Fortune," which was written by Ritchie and Vocalist David Coverdale, who would later form the supergroup "White Snake" after Purple's first demise back in 1976. As Ritchie began to warm up with some flamenco styled acoustic fingerpicking, Jim Manngard, Ritchie's long time guitar tech and right hand man took to the stage to tidy things up when many in the audience, acknowledging that it was Jim's birthday broke into an impromptu rendition of "Happy Birthday to Jim." And while totally off key, the sentiment was heartfelt and brought smiles of approval from the entire band. Ritchie then proceeded with his intro and again brought the crowd into another world as he gently eased into the pensive G minor chord that introduces the song. Candice's vocals were solid and inspired throughout, especially as the song faded out to its chorus. Another particularly soulful performance from Candice and Ritchie was on the Joan Baez Folk classic "Diamonds & Rust." Later, "Fires at Midnight," another staple of The Blackmore's Night set list would become another highlight of the show. While its origins date back to the 12th century, Ritchie and Candice have formulated their own interpretation which, when performed live is always punctuated by a virtuoso solo from Maestro Ritchie, and of course this evening was no exception as he launched into an ethereal , improvised solo that seemed to come from another world. His technique was pristine and played with remarkable skill, incorporating a touch and feel that only Blackmore can express. And while most of his contemporaries still cash in on tired retreaded songs of the distant past, Ritchie showed at that very moment why, I my opinion, he was and always will be the greatest Rock guitarist of his generation.
Then the moment everyone was waiting for: Ritchie strapping on his signature Fender Stratocaster and while "Highway Star" was not part of the set list Ritchie again showed he need not dwell in the distance past, launching into "Lorely" which again featured another jaw dropping solo with Ritchie, directing both the supporting cast and audience like a traffic cop, as he did back in his glory days, commanding complete control of the stage like no other guitarist I've ever seen. The solo featured some vicious sweep picks, a technique Ritchie first brought to his arsenal back as a session guitarist for the likes of Jerry Lee Lewis and Screaming Lord Such. It was just at this moment, towards the shows end that the band seemed to gain energy. Like a dominant pitcher in baseball, who seems to get stronger as the innings pile up, it seemed as if the band was just hitting its stride. As up tempo versions of "St. Teresa," a Joan Osborne cover would follow along with aborted versions of "Drink, Drink, Drink" "Home Again," and "The Happy Wanderer" would soon follow leaving the crowd in a fevered pitch of exuberance. As the show ended Candice and Ritchie simmered the crowd down with a somewhat introspective version of "Dandelion Wine" as The Blackmore's and their supporting cast would leave the shaking hands with their fans with smiles abound.
Reflecting back on the performance I was struck by two things in particular: Candice's growth as an artist and Ritchie 'refusal to rest on his laurels. While often criticized for not reforming some type of Rainbow or Deep Purple reunion, Ritchie continues to do what makes him happy. Candice in the meantime has proven herself worthy of sharing the stage with her legendary husband. Always surrounded by solid support, they continue to deliver strong performances. While quite eclectic and unpredictable, they're anything but the standard faire heard on contemporary radio. Their performance was nothing short of extraordinary.
Rating: 10 / 10