Flyleaf
Wednesday, May 14th – Nokia Theater - New York City
Nowadays it is common to see bands opening up with video clips before they take to the stage. What is not common however is for a band to show video of humanitarian acts that they have performed all over the world. This is what sets Flyleaf apart from many of their contemporary artists in the rock world. They have a deep caring of the planet and it's people as opposed to many rock stars. Playing to an acoustic version of All Around Me is video of the band visiting Rwanda on a hope mission for World Vision.
After that lovely introduction the band came out in full force. Starting off the set with "Justice and Mercy". The band has a strong presence on the stage and lead singer Lacey Mosley moves around effortlessly. She hops up and down getting the crowd to bounce along. She has full command of the crowd as they hang on her every word. She also packs a punch on the stage climbing up to the top of the speaker racks and jumping off to the floor below during the song "Tina". You usually won't see frontwomen doing these kinds of stunts, but Mosley throws all of her energy into her performance on stage.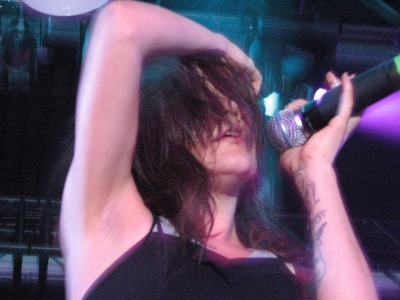 After this the band went into some of their more popular tunes such as "Fully Alive" and "All Around Me". During the second song they got the whole crowd to sing along to the catchy chorus. At this point of the show it was clear that the New York City audience truly liked what they were seeing and hearing on stage. Later in the night the band broke into other hits such as "I'm So Sick" and "Cassie". During the later song, bassist Pat Seals also climbed the speakers and jumped off while strumming his guitar.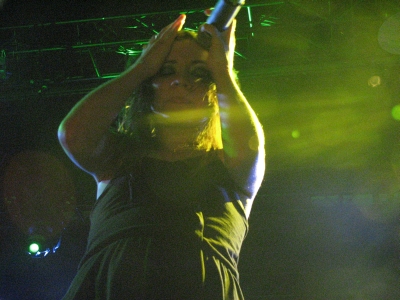 The band sounded flawless throughout their set, which was unfortunately cut short due to Lacey Mosley's vocal chord problems. Of course being at the show you would have never known that she had any vocal problems at all. Her voice was sparkling during the entire evening. Lacey really makes you feel the music with her outstanding vocals and shows the passion she has inside of her. To get on the stage and put out the effort to perform as well as she did in her condition shows what a trooper she is and how much she cares about her fans. This is what makes this band truly special.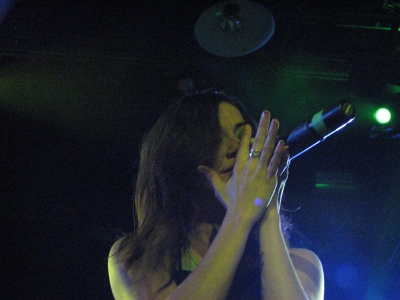 The next night of course Lacey had to see her doctor and cancel the rest of the Seether tour. But for those in New York City who got to see her perform, it truly was an amazing evening. The crowd walked out feeling inspired by the uplifting message that Flyleaf brings to their music. Those who weren't lucky enough to see the band this time around should feel happy to know that Flyleaf will be back around for years to come and with a rested and healthy Mosley. For anyone who loves a good rock show and a great female singer who can perform as well live as she does on the album, this is one band not to be missed.
Setlist:
Justice and Mercy
Breathe Today
Tina
Fully Alive
I'm Sorry
Sorrow
David Crowder
All Around Me
I'm So Sick
Cassie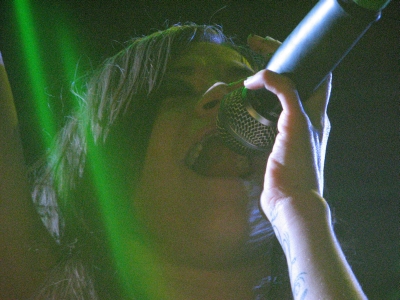 For more information visit www.flyleafmusic.com or www.amoctone.com