Caterina Mix - Chaos Magic Interview
June 26, 2015 (via Skype)
Chaos Magic is the solo project of Chilean vocalist, Caterina Nix, and former Stratovarius composer and guitarist, Timo Tolkki, who wrote and produced the album to showcase Caterina's vocal talent. Those of you who have been following Timo Tolkki's Avalon Angels of the Apocalypse rock opera got an introduction to her voice on the tracks "High Above Of Me" and "Angels Of The Apocalypse", alongside Floor Jansen, Simone Simons, and Elize Ryd. Others may know Caterina as the vocalist of AghonyA, whose Oxygen album is a mighty nice slab of melodic metal.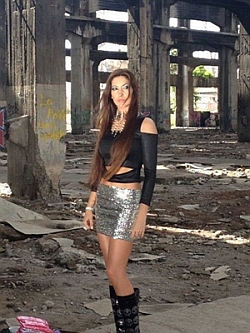 Sonic Cathedral's Robin Stryker circled up with Caterina Nix on a sweltering summer night to chat about her new solo project, Chaos Magic. Dive in for all the details on her collaboration with Timo Tolkki, the meaning behind the term "chaos magic", European shenanigans, and much more!
Sonic Cathedral: A warm Sonic Cathedral welcome to Caterina Nix! Would you start off by introducing yourself and your project, Chaos Magic?
Caterina: That could take a moment or two! <laughs> Well, I started singing when I was very young. It has always been cathartic for me, and I was always involved in bands at school and in the choir. I just discovered heavy metal when I was a teenager probably, and I never let go of it because I think I carry it in my blood. I met Timo when he came to Chile with Stratovarius many years ago. We were at a meet-and-greet, and we started talking, and kept in touch.
Many years later, I sent him my material. We always had this idea of making music together because he really likes my voice. We finally had the chance to when Frontiers Records came up with the idea of having a female vocalist to have a solo project written and produced by Timo. So, he proposed three names of female singers to them, and they picked me. So, here we are!
Sonic Cathedral: Which came first, Chaos Magic or the Avalon Angels of the Apocalypse rock opera?
Caterina: The Chaos Magic project was first. We recorded it about a year-and-a-half ago, and then they had this idea of having me on Avalon, so people would get to know me a little bit before releasing the Chaos Magic project.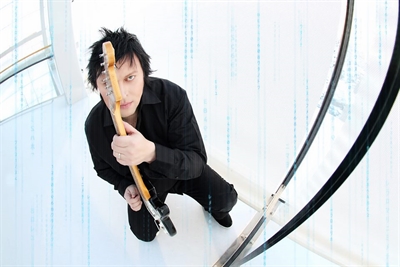 Sonic Cathedral: When you first met Timo, was it just as a fan attending the Stratovarius show or was your band playing local support?
Caterina: I was in several bands growing up, but I was there as a fan. I talked to all of the [Stratovarius] guys, and they were really nice with the fans. They were very happy to interact with the fans, and Timo was a really nice guy!
Sonic Cathedral: What is the significance of the name Chaos Magic?
Caterina: I came up with that name. For me, it has this spiritual background where I believe we are energy -- we emit energy, and we receive energy from the universe and from people. It relates a little bit to that because I think that, when you're positive and you project your spirituality towards the universe, it doesn't matter whether you are praying to this god or that other god or to the aliens <laughs> … you are connecting with the universe. I think we are just one piece of energy altogether. So, that is how I came up with that name because I wanted to portray this spiritual point of view that I have.
Sonic Cathedral: With Timo having written and produced the album, how did you take his material and make it your own?
Caterina: Well, he wrote the songs, and he sent me the demo versions sung by him. <laughs> I took that, and translated it into what my interpretation was. He was very happy once I sent him the demos back, sung by me. That is what he was expecting me to do, just take the songs and own them … just being the interpreter of the songs.
Sonic Cathedral: Were there particular songs that you felt a stronger emotional connection to, once you started digging into them?
Caterina: Yeah, there are some songs that I can relate more to, but they are pretty universal, I would say. Anyone could relate to them because they talk about things that happen to everyone. You know, being in a dark place, and just trying to get out of there, and succeeding, and reaching your goals. Those are things that most people go through.
Sonic Cathedral: Can you give us a couple examples of the tracks that you have the strongest connection to?
Caterina: I connect to most of the tracks in the album, but I think I have a special place in my heart for "Seraphim" and "Passionflow". They're both kind of sexy and put a woman in a position of power, portraying a Femme Fatale (not that I am one or anything), but it was fun to dive into the Femme Fatale character and sing from a powerful point of view.
I also really like "I'm Alive" because of the message that it carries. The lyrics aren't complex or anything, but they're pretty relatable. It talks about what I was telling you about -- about being strong, about trying to survive. You know, "I'm alive; I'm here!", and just doing your best because this world is quite fucked up. <laughs>
Sonic Cathedral: And, of course, "I'm Alive" is the first single and the first video off Chaos Magic. Where was the video filmed?
Caterina: It was filmed in this abandoned train station, here in Santiago, which has actually been used for many metal videos in Chile. But in Europe, they haven't seen it, so I used it anyway. <laughs> Yeah, I wanted to portray being in the rubble and the dirt and just trying to get out of there. And then, we go to a different place … with the golden outfit, and the peaceful environment. It is a mountain where you have rivers and forests, so it's a very beautiful place. I wanted to have that difference between being in the dirt and rubble, and then being in a peaceful place.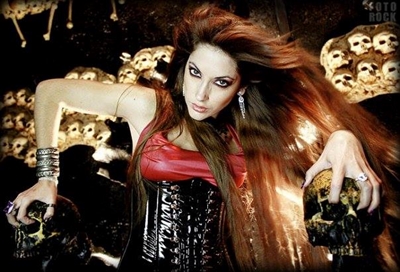 Sonic Cathedral: You recently went to Europe for a press junket and to meet your Frontiers family in Italy. What were some of the high points of that trip?
Caterina: Well, just being able to meet them and to meet the bosses, and seeing how the process worked was eye-opening. I had the chance to talk about all the future of this project, among many other things. This is not really a band. They told me: "It's YOUR solo project, which has the participation of Timo's production." But if there is a second record, it could be with Timo or without him. Being able to be more familiarized with the industry was a great experience, because I've been singing for long time, but I've never really had this opportunity of being hired by a record company. So, it was very positive meeting them, and they're really nice people!
Sonic Cathedral: On a personal level, what were some of the non-musical highlights of your trip?
Caterina: Oh my god, ITALY. Wow! Florence and Venice are wonderful, also the Czech Republic where we went to Prague and to this church in a city called Kutná Hora, which is made with human bones. So yeah, I had TONS of highlights. It was like a dream come true for me because I'd never been there.
I had been to London when I was 14, but I went with my classmates. <laughs> You know, when you're 14, you have no idea about anything. I think England is a beautiful country, and I really want to go back there. Also, I went to an AC/DC show in Paris which blew my mind! I had wanted to see them for years and years, and I finally got the chance to do so.
Sonic Cathedral: Did you find the Bone Church to be beautiful, or did it kind of creep you out?
Caterina: Anyone would think that it's creepy, but you understand why they made it. And then, you realize it's not creepy at all because those people wanted to be there. They had so many people buried in that graveyard that they didn't know what to do with the bones. The entire town wanted to be buried in that cemetery because an emissary of the king went to the Holy Land, and brought [back] some soil from there, and he spread it on the graveyard. Everyone went crazy, and they all wanted to be buried there. <laughs> So, it's not that creepy. It's beautiful.
Sonic Cathedral: If you were allowed to film a music video at the Bone Church, which track from Chaos Magic would you pick?
Caterina: There? Hmmmm, that's a tricky question … probably "The Point of No Return".
Sonic Cathedral: I was thinking "Dead Memories", but that's based more on the track title than on anything else.
Caterina: That would be good too, but "Dead Memories" is about moving forward.
Sonic Cathedral: Cati, a random non-musical question, if you had the power to correct one injustice in the world, what would you use it for?
Caterina: I have asked myself that question many times. I think violence against the innocent -- it could be animals, or children who are suffering, or women being attacked -- that would be it; creating empathy. I think it would be great to connect the attacked with the attacker, and give him some empathy for that person to feel their pain.
Sonic Cathedral: From your Facebook posts, it seems like your heart is especially moved by animals.
Caterina: Yes, that's right. I adore them and feel very connected to them, especially cats.
Sonic Cathedral: Do consider yourself an activist, or just someone who is trying to help abused and neglected animals?
Caterina: I think being an activist involves a lot more than what I do. I just try to help as much as I can. If I find an animal in distress, I'm DEFINITELY going to help. I do what I can with what I have. But it would take a lot more to be an activist.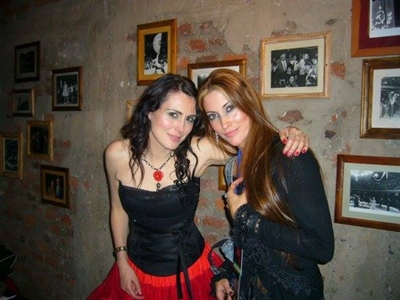 Sonic Cathedral: Do you have pets of your own?
Caterina: Yes, I do! I have cats. (Well, I used to have a dog, but she died three years ago.) I also have a turtle and some birds.
Sonic Cathedral: Oh my!
Caterina: <laughs> I just love animals! I feel really connected to them, and I've never been bitten by a dog.
Sonic Cathedral: Lovely! With your previous band AghonyA, you have opened for some fantastic bands. What has been your best live experience so far?
Caterina: When we opened for Within Temptation! Yeah, it was so GREAT. There were three or four thousand people there, and we weren't expecting that because we started early. But there were a lot of people there anyway, and they received us very well. The band members are also very nice people! We had the opportunity to share a little bit with them, and they are really humble. We had a ball; we had the BEST experience then.
Sonic Cathedral: What is the metal scene like in Chile?
Caterina: People are quite passionate about this kind of music. If you have (for example) one of the classic heavy metal bands here, the venue is going to be absolutely crowded. But I think it is a bit different from Europe because the [local] bands don't have the resources to get to be known or listened to. Thankfully, we have now software and the Internet. But a few years ago, it wasn't like that. It's still really hard; it's hard for the bands. I mean, you have to be really passionate about it. Of course, you don't do it for the money. You do it because you just LOVE doing it.
Sonic Cathedral: Is it difficult to balance a real job with creating music?
Caterina: When there's a will, there's a way! Music is my true calling. I wanted to be an opera singer, and my parents said "hmmmmm, don't". It's hard being a musician here in Chile, and to earn a living being a musician. So, I went to college and got my law degree, but my heart is 100% music. I do my day job for the money, but do music for the passion.
Sonic Cathedral: You are classically trained and were thinking about becoming an opera singer, what tipped you over into the metal camp?
Caterina: I used to listen to these metal bands when I was little, and I thought: "These people are amazing!" I think you can relate to that. With metal, you listen to it, and there's something that is electrifying. I feel at home when I listen to metal. <laughs> That has never happened to me before with other musical genres.
Sonic Cathedral: Was there a particular band that hooked you, or was it the passion of metal in general?
Caterina: I started with the classics when I was little -- Metallica, Pantera, Iron Maiden, and that sort of bands. And then I started listening to Tool and Fear Factory, and then came the female-fronted bands like Lacuna Coil, Nightwish, After Forever, and you name it. When we started with AghonyA, we used to be a cover band for Nightwish … and I think it grew up from there to become the singer I am today.
Sonic Cathedral: Other than your voice, do you play instruments?
Caterina: I play a little bit of guitar, but nothing relevant. <laughs>
Sonic Cathedral: It seems like a number of vocalists seem to use a keyboard or guitar to help develop vocal lines when they're creating music.
Caterina: Yeah, I do have a keyboard for writing songs, but I don't know a lot of music theory. So, I just have these songs in my mind, and I bring them out the best way I can. Then I work with other musicians, and I explain what I want it to sound like.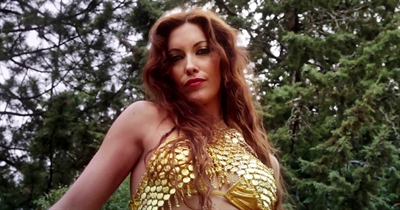 Sonic Cathedral: Is there a particular place that you go when you're searching for inspiration?
Caterina: I just go outside. I really connect with nature, so laying in the grass is great for me. Staring at the sky and having that instance of being alone with nature, helps me a lot.
Sonic Cathedral: What is coming down the road for Chaos Magic?
Caterina: I really don't know. <laughs> I really hope that it does well, and we would take it from there. If it's a successful album, we could schedule a few shows, and maybe start planning a second album. Right now, it's too early to know.
Sonic Cathedral: You have about a week until the album is released, right?
Caterina: Yeah! I really hope people like it. You know what? I've been reading some comments, and I think there is a lot of prejudice about this project because it was written and produced by Timo. So many people are expecting it to sound like Stratovarius, and that's not gonna happen. That was 20 years ago! Timo is exploring new territory, and that's okay. So far, experts' reviews are really good, and I'm so thankful for it! I have high hopes for the album, and this is a very exciting time for me, a dream come true.
Sonic Cathedral: Caterina, thank you so much for talking with Sonic Cathedral tonight!
Caterina: Thank you so much for having me!