Leaves' Eyes Interview 2015
August 8, 2015 (via Skype)


Liv Kristine has a special place in Sonic Cathedral's heart, since she was one of our earliest interview guests. Back in 2003, we interviewed Liv at a time when her split with Theatre of Tragedy was still a raw wound; she and Alex were newlyweds; and Leaves' Eyes were a fledgling band that had not yet released an album. Now, 12 years down the road, Leaves' Eyes are on the verge of releasing their sixth studio album, King Of Kings (via their new label, AFM Records) and heading out for another European tour.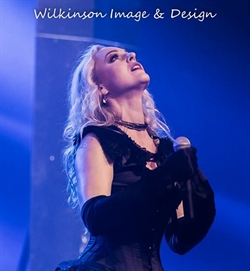 Sonic Cathedral's Robin Stryker jumped at the chance to interview Liv Kristine again, and get the inside story on the new Leaves' Eyes album. Dive in for Liv's behind-the-scenes discussion of King Of Kings, marauding Vikings, the role of Latin American fans in bringing reconciliation, and much more!
Sonic Cathedral:  Hi, Liv, and welcome back to Sonic Cathedral! It is always a treat to talk with you.
Liv:  Thank you, Robin! It's such a pleasure being back, and talking to you again. I'm very, very sorry for the delay. I have had some serious Internet problems today. Basically, all of the interviews have taken place in a cornfield 200 meters from my house. <laughs> But now, I've finally found a way because my son has got a tablet, and this seems to work much better. I am so happy to talk to you today. How are you?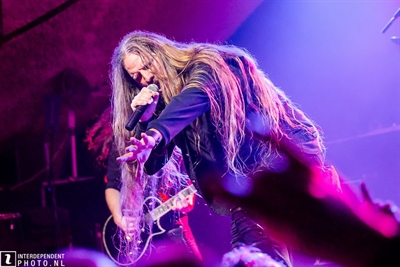 Sonic Cathedral:  Splendid, thanks! For our readers who may not know about Harald Fairhair, protagonist of your upcoming King Of Kings album, would you give us an overview of why he is such an important figure in Norwegian history?
Liv:  There are a few facts -- they have discovered that something must have happened in the ninth century in the western Norwegian history. There must have been a man who was able to rule over most of the semi-kings and the jarls (the earls) within the Norwegian borders at that time. One important man is called Harald, which is what the sagas say … but, you know, we are on the border between facts and fiction here. But still, at least the name Harald Fairhair is often mentioned in the Norwegian sagas of kings and in the Faroe Island and Icelandic sagas. (There is even more information about this man in the Icelandic and the Faroe Island sagas.)
King Of Kings is a concept album, and I did a lot of research. I love digging my nose into history, and the Middle Ages is just my period of time. The nicest thing for me is that it is said in the sagas that Harald became the first king of Norway, after he won a battle that took place in one of the Norwegian fjords called Hafrsfjord. You know, that is a very important place -- not only for the history of Norway -- but also for me, because I was born there. So, this album is a concept album, but it's also a very PERSONAL album. The day when it's going to be released is certainly going to be a passionate day for me!
Sonic Cathedral:  Your hometown also has the amazing Swords in Rock, commemorating that battle at Hafrsfjord. It must have been pretty amazing growing up in the shadow of such a massive monument.
Liv:  Yes, absolutely. These Swords in Rock are placed at the Hafrsfjord, nearby to Stavanger, Norway. This monument tells us about the battle of Hafrsfjord and about Harald. So, we were lucky to travel to Hafrsfjord a couple of weeks ago because we needed authentic film material for our documentation about King Of Kings for our upcoming video for "The Waking Eye". It was kind of magic to touch the three swords. It's a very tall monument, and it's very beautiful. You will see the three swords in our postings, if you visit our Facebook pages and scroll down. It is a very magical place for me.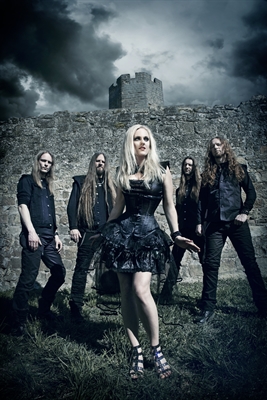 Sonic Cathedral:  I will sheepishly admit that I didn't realize the stage setting for Leaves' Eyes 10th anniversary show at Metal Female Voices Fest depicted the Swords in Rock. I thought they were just imaginative props.
Liv:  It is amazing. We had one of our buddies here who is working with sculptures, and he made these three swords. I was like: "HOW am I going to transport this to Metal Female Voices Fest?" I have been on the road with a Viking ship a couple of times, and that's a huge thing to take apart and put together again. And now we had these humongous swords with us. I thought: "Okay, so we have to find a way to transport them." Which we did, and it was solved in a very nice way. I would love to have these swords on a big stage again, with flames, pyro shows, animation, lots of folk musicians, and Vikings. Wow, I would love to have it so! Yes, if it is possible, we will do it again.
Sonic Cathedral:  You are filming a video again with Rainer Fränzen, who directed your "Hell to the Heavens" video. "The Waking Eye" will be the most sprawling, over-the-top video Leaves' Eyes video; is that right?
Liv:  You are right! I thought the video for "To France" from a couple albums ago, which was done in Sweden with Patric Ullaeus and Revolver Productions, was big. I think "Hell to the Heavens" was great too. But this video clip is going to be HUGE. We have gotten all the support that we needed from AFM Records, so that we could just give it our all and make everything happen that we have been dreaming of for a long time.
First of all, the reason why such a video can happen is because we actually have a new label supporting us. So, no hard feelings toward Napalm Records, but AFM Records was definitely the right move for us now. So, it feels good, and we are going to make a documentation about the video shoot because it was awesome!
There were Vikings coming from all over Europe, and then gathering in tribes and fighting against each other in mud, and rain, and wind. We had the WORST weather ever on that day. There was a warning even coming out that "okay, nobody is going to be in the forest because of storms", but the Vikings were so cool and so tough … and my band members too! This video is going to be over the top; I'm really looking forward to it.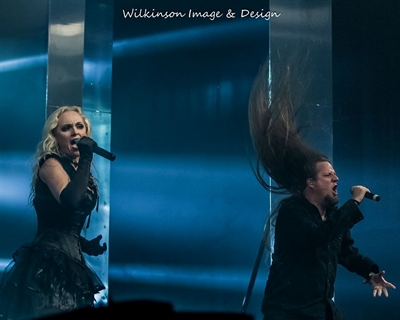 Sonic Cathedral:  And these Vikings aren't just playing around, are they? They are part of a historical reenactment group, called Værjaborg, where they sew their own clothes and use authentic tools and weapons.
Liv:  Oh yeah, they are professional because they do have their performances at certain castle events and medieval events. On the weekends, they get together and camp. Well, they call it "camping", where they bring along their wooden beds, the furs to sleep on, and everything is done (as far as possible) like it was back in the Middle Ages. I think it's a brilliant way to switch off from daily stress.
I am hoping to join one of their camps very soon. So, I have to get myself a tent that I can set up myself. Nothing like a modern tent … it has to be like in the Middle Ages. I would love to be part of this! <laughs> I'm Norwegian, so it feels like there is calling for me out there to really do it. I have to experience it!
Sonic Cathedral:  Rrrrrrrowrrrrr, Vikings in the woods! How did your son Leon like playing the role of young Harald in "The Waking Eye" video? Did he have a good time?
Liv:  He did! I think we parents were more nervous than he was. He knows a lot about performing because he has been on the road with us. He has been having a few theater appearances in connection with school, parties, and gatherings. He was so calm, and he had such a good time.
I talked to Rainer, and he said to me: "Parents, please just stay away. We can work with this boy. We don't need you, and we don't want him to feel disturbed or shy. Just let him do his thing. So please, just stay away, and we'll take care of it." After every take, Leon was returning and telling us parents: "Okay, that was it." Then the next scene is coming up: "Sorry, have to go." So, he was very busy.
It was funny because … first of all, he himself had a good time … but afterwards, he said to us: "Okay, this was worth at least 50 euros. You've gotta pay me for this." <laughs> He did soooooo well that we gave him 100! <all laugh>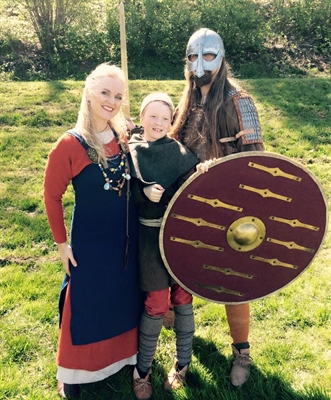 Sonic Cathedral:  His first professional acting gig. Nice!
Liv:  Absolutely!
Sonic Cathedral:  One of the most rousing tracks on King Of Kings is "Edge Of Steel" …
Liv:  Oh yessssss!
Sonic Cathedral:  It is one of those tracks where audiences are going to have their fists pumping, while they chant "edge of steel, edge of STEEL" during live shows. Simone Simons joins you on vocal duties on the song. How did that come about?
Liv:  I had recorded my own vocals a couple of times for this song. I think it took a while until I realized how I really wanted to do it and what I really wanted it to sound like. So, I worked a bit on this. It was a challenge to find out what I really wanted to do. But then in the end, when I was finished and when I was satisfied with my own contribution, I realized that this is pure heavy metal female singing. This is just something I discovered for myself.
I did a little bit of it on my latest solo album, Vervain. It was there all the time, but I just had to explore this manner of singing more. With "Edge of Steel", this happened! I was thinking: "Well, this is what Simone is doing; this is her technique of singing." At least it sounded a little bit like that to me. So, we just called her … because she is living an hour away from us … we knew she was busy because she is also a mother (like myself) and has been traveling a lot lately with Epica.
Simone said: "Yeah, no problem! In between kindergarten and further shows, I do have a half-day off or so." She came to the studio, smiled, and said: "You know what? Aren't we a perfect matching in this song?!?" I said: "It is the same kind of singing manner, right?" And she said, "yes!" So, that was something that happened per chance. It wasn't planned, but in the end, I think it really is a perfect match.
Sonic Cathedral:  Shortly after King Of Kings comes out, you and Alex are going to be hosting the Metal Hammer Awards …
Liv:  Yes, it was a request from Metal Hammer that came as a big surprise. I had never thought that we could be part of something like that. I've never hosted a show, so I'm really looking forward to that. I hope that Black Sabbath will be one of the winners, or at least a nominee. <wistful voice> Ah, if I am able to meet Ozzy and his guys in person, that would be a dream come true to me. So, I'm going to have my original Black Sabbath albums in my hand luggage in case I cross roads with Ozzy.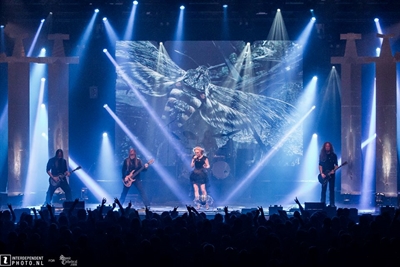 Sonic Cathedral:  I hope that happens for you, Liv. Well, things must have gone great with Metal Hammer because they are also the sponsors of your upcoming European tour. It seems like Leaves' Eyes have a special place in your hearts for the UK. Is that correct, and if so, why?
Liv:  Yes, it is very interesting. Your question is very good because, every time we've played in the UK … and it hasn't been that often, I have to admit, although it doesn't take long to fly over. But if you bring along equipment, it is a quite long ride. But the thing is, every time we've played in the UK, whether it was Wolverhampton, Manchester, or London, we saw that every time the audience kind of doubled.
So, things happened very fast in our favor within the UK. This is definitely a place where music like our music can be appreciated, and we have great audiences in the UK. Really fantastic! So I'm hoping that we'll be able to attend a couple of festivals next year, like Bloodstock. That would be nice. But we have a few shows coming up for the UK, and I'm really looking forward to that!
Sonic Cathedral:  It was so much fun to have been at the Dames of Darkness Festival in Wolverhampton back in May when Leaves' Eyes revealed the title of the new album and played one of the tracks. Everyone was so excited to be the first to hear the news!
Liv:  Thank you very much. It was a very, very nice night, and an ecstatic audience. Moreover, that was the first show with our new guitar player, Pete Streit, from the band Elis. It was a special night for us, I can tell you. And it was the first time we also played "Halvdan The Black", since the anniversary show in Belgium at Metal Female Voices. So yes, it was great! <laughs> And it was so nice to see so many people singing along, although the song hadn't been released yet.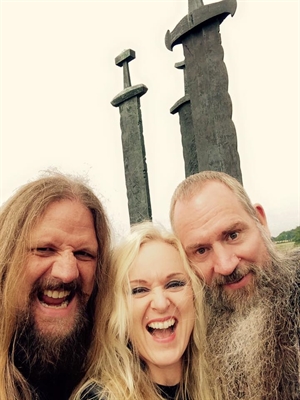 Sonic Cathedral:  Liv, you have shows in December for your Vervain solo album, where you are going to be playing some classic Theatre of Tragedy. This will be the first time you have been on stage with Raymond Rohonyi, since your split with ToT in 2003. Do the upcoming shows mean that you have found a sense of closure and healing from that hurtful episode in your life?
Liv:  You are so right, Robin. 2015 has been such a good year also. The last 12 months have been such a great time for me because of the Sirens, because of everything which has happened with Leaves' Eyes and also my solo album Vervain, and also to find peace with what happened with Theatre of Tragedy. As you already said, it wasn't a nice departure. Actually, it was a forced departure. I was forced to leave the band, and I had no clue that this was going to happen. I mentioned this before that I read about it on the home page of Theatre of Tragedy.
I have been playing Theatre of Tragedy songs at my solo live shows during the latest two years, and I've seen that audiences everywhere have been really happy about it. I get a lot of requests from people saying: "Well, it would be nice to have a reunion." When it comes to Theatre of Tragedy, I think the person that I really would like to reunite with is Raymond because it was the two of us who founded Theatre of Tragedy back then, in the beginning of the '90s.
So, actually, I promised my fans in Latin America during the Leaves' Eyes/Atrocity tour in the Spring of this year [2015], I promised these fans because they asked me: "Why don't you ask Raymond?" And I did. He said: "You know what? I'll do it, whatever. This would be my pleasure. It's good that you called because now everything has been said. It's all fine now, and I owe you something." I thought that was very sweet.
So, we are going to tour together. The set list is online, so you'll have old Theatre of Tragedy songs in my solo set list in December. It is going to be Russia first, and then Germany. Probably I'll have a few more shows added to this tour, so we'll see what happens. But stay tuned for good news. I can't wait to share a stage with my special guest Raymond!
Sonic Cathedral:  As a Yank, it was wonderful to FINALLY get a proper Leaves' Eyes tour in North America. Will we see you again live for King Of Kings?
Liv:  I am working on this at this very moment, so that is probably going to happen next year. Heh, it is not just probably … it WILL happen next year. Yes.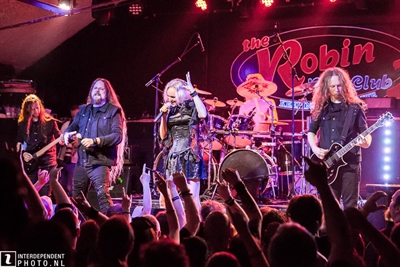 Sonic Cathedral:  We're holding you to that! <laughs> Liv, thank you so much for chatting with Sonic Cathedral today!
Liv:  Robin, it was such a pleasure and honor talk to you again. I wish you a beautiful day, and I hope to see you again very soon at one of our shows!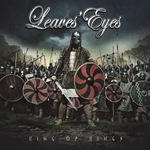 Photo credits (live shots): Ton Dekkers (Interdependent Photo) and Jim Wilkinson (Wilkinson Image & Design)
Leaves' Eyes official site
Leaves' Eyes on Facebook
Liv Kristine on Facebook