The Rue - CD Review
The Rue

CD Info
Genre: Acoustic rock
Label: Pied Viper Music
Language: English
Tracks: 6 Total time: 22:01
Rating: 9 of 10
Soothing, mellow acoustic guitars and calm, mellifluous female vocals: that is The Rue, and they're no less complex for their no-frills simplicity. Born from the father-daughter team of Chris and Rylie DeGarmo, this is relaxing music that puts you in a peaceful, happy mood.
That being said, if one of those two names rings a bell to you, then you probably know that "relaxing, mellow acoustic music" is not necessarily what comes to mind when someone recalls the name of Chris DeGarmo. Former guitarist of progressive-metal icons Queensrÿche, he is known far more for composing bombastic metal epics; yet considering that the band's biggest hit, "Silent Lucidity", was an acoustic guitar-driven masterpiece, it should really come as no surprise to anyone who knows anything about his music, even remotely, that this is just the style of music he would write. It's always been there as far back as the band's earliest efforts; so after nearly 20 years of silence since departing from the band he helped form (barring a few side-projects or guest appearances with other bands here and there), it isn't too far of a stretch to imagine him doing just the kind of music that The Rue creates.
Nor should it be too shocking to anyone that young Rylie has chosen to follow in her dad's footsteps and pursue music; the two have been jamming together at small live shows throughout the Seattle area here and there over the past several years while Rylie was still a teen, and demos of a few of the songs that would end up on this EP have been on her Soundcloud page for quite some time. Citing her musical influences to be less metal-oriented and more rooted in blues and jazz, Rylie appears to be an old soul for being just 22 years of age, and what might come as a surprise to listeners is how mature her voice sounds for someone so young. (Or maybe not; her dad's former band did not get the moniker of "thinking man's metal" for nothing, so maybe it isn't all that astonishing to learn that his offspring would be equally smart and savvy! After all, Chris couldn't have been much older than Rylie is now, back when he wrote songs like "Roads to Madness", "Prophecy", and "Queen of the Reich".)
Vocally, Rylie reminds me a bit of the pop vocalist Lenka, only with less whimsy and more sophistication—especially on the second track, "Honey?" (I would even go as far to say she is better than a Lenka type!) Even though he unobtrusively plays guitar in the background, the melodic playing style of Chris DeGarmo can be heard throughout this EP; it can't be helped. His harmonies on the acoustic guitar are part of his trademark sound, which is instantly identifiable to anyone who knows his music. Even when he gets bluesy on the electric guitar part on the track "Sweet Love", you still know it's him; but he's not trying to play the role of guitar god or to take up any of the spotlight. Rylie's vocals are the centerpiece here, and his guitar melodies are there to complement that.
Still, you can't help being what you are, and DeGarmo's guitar style is recognizable, at least to me, because as you all know, I have been a fan of Queensrÿche for over 2/3 of my life (don't bother to do the math; I will just save you a lot of time by telling you this means I am very old!). When you hear Chris' backing vocals, you remember those contributions he brought to the table in his former band in that department as well. He and Rylie sound superb when singing together; I wish they'd do it more often. The final track, "Sap", is especially indicative of Chris' trademark harmonies, coupled with Rylie's youthful verve and wonder.
Much as I would like to resist all references to the adage, "the apple doesn't fall far from the tree", to not mention this would be just as blatantly false as making this the only point of reference worth mentioning; so I may as well say it outright (besides, to not write honestly is something I never learned to do!). No, this isn't metal; so if you are a Queensrÿche fan who has heard that Chris DeGarmo was back making music again, don't go into it expecting a resurrection of his older sound the way his former bandmates have done over the past few years. Unless you are a die-hard fan who knows his ability for penning melodic, pop-flavored acoustic gems, The Rue is probably something way left-of-field for the average metal fan who comes across this by way of the Chris DeGarmo connection. Nor is this a Chris DeGarmo solo project either: for all that this is a collaborative effort, Rylie is still the main attraction here, which I think is important to point out. Their time together as songwriters may only be limited to this EP, while she goes on to pursue her own style of music. So if you're only interested in this because of who her dad is, then that's not only unfair to Rylie, but it's an injustice to them both. None of us like to be constantly compared to what we were 20 years ago, no matter what we do for a living, so do yourself a favor and approach this just as it is: a debut offering from a new band. While I admit that I would not have even known about The Rue had it not been for Chris DeGarmo's involvement, I also have a wider range of musical tastes besides just metal or progressive rock, so I was able to listen to it fair and objectively and enjoy it for its own merit. Perhaps that is the "pleasant surprise" hidden in plain sight all along.
The Rue is an interesting combination not only of father and daughter, but obviously of youth and experience: Rylie's lively voice coupled with Chris' seasoned guitar style makes for an exciting sound where each plays off the other. Her youthful spirit gives the songs that modern edge, while his proficiency at crafting songs lends a more evolved sound to the music; making Rylie sound wise beyond her years, while infusing some new life and ingenuity to Chris' playing. It's cool to listen to how they vibe together, and how each brings something to the music that bounces off the other. It's a unique partnership that you seldom hear in music, but it works so well for them both. I would love to hear more from The Rue in the future; not only as a longtime fan of Chris' work, but now I am also a fan of Rylie as a vocalist too, so even if she does go on to pursue her own music without her dad, I will keep looking forward to hearing more from her. But I hope that there will be more between the two of them; this was only a 6-song EP, so it would be nice to hear at least a full-length album from The Rue, anyway!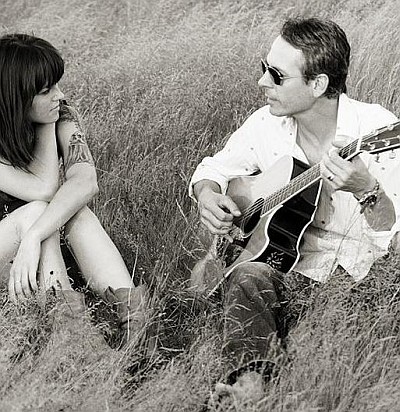 For more information on The Rue, or to purchase the EP online, visit the band's website: http://www.theruemusic.com/