John Two-Hawks & Johanna Kurkela
CD Review - Noel

CD Info
Tracks: 11
Language: English (with some Finnish and Lakota)
Label: Circle Studios Records
Total time: 43:28
Rating: 9 of 10
It's that time of year again: no sooner than the Halloween pumpkins are tossed away, and the trick-or-treat candy has given all the children bellyaches, than it is time to break out the Christmas music. There used to be a time when we waited until Thanksgiving was over to get into the holiday spirit, but not anymore: television channels, radio stations, and retail stores do not hesitate to bring forth the Christmas-themed programming, music, and merchandising as soon as the calendar flips over to November, and will continue to do so clear into January.
That being said, I am one of those people who love this time of year; I love Christmas music, I love Christmas decorations, I love what the spirit of the holiday embodies (or is supposed to, anyway). Every year I have my standard Christmas albums that I play all throughout the holiday, and every year I try to look for a new one to add to my collection. So when I found out that two artists that I liked were joining forces to create a Christmas album together, I couldn't wait to hear it.
If you are a Nightwish fan, then the names John Two-Hawks and Johanna Kurkela are familiar to you, and if you are like me, you probably became aware of both of these artists through that connection. If you are not a Nightwish fan, or you only know a little about their music, then let me bring you up to speed on who these two people are: John Two-Hawks is a Grammy-nominated Native American Lakota flutist, who shared his talents with the band on the Nightwish song "Creek Mary's Blood", from their 2004 album Once. Johanna Kurkela is a Finnish singing star, has composed with Tuomas Holopainen on her own albums, and was a guest vocalist on his 2014 solo album, The Life and Times of Scrooge McDuck. It probably goes without saying that it is this shared acquaintance that these two got together in the first place, so it is not too much of a surprise that musically, they share much in common in that they have a very spiritual quality to their music. Neither of them are metal artists, but through their association with Nightwish (both directly and indirectly), they have garnered an audience within the metal community among Nightwish fans who appreciate their music on its own merit. As I am one of those people, I was very excited to hear this collaboration between the two of them. For me, it was win-win: I love Johanna's voice and I have enjoyed John Two-Hawks' music for a long time, and I love Christmas music, so I looked forward to giving my insight to all of you good readers here.
From the opening track, "The First Noel", the contrast of Johanna's high, lilting vocals and Two-Hawks' deep, resonant voice are beautifully complementary to one another, especially when their voices soar together towards the end of the song. Musically, there is not much more accompaniment than a piano and Two-Hawks' distinctive flute sound, but it's all you need.
In fact, most of the album is sparse as far as instrumentation goes (as we see in the acoustic guitar-laden second track, "Silver Bells"), but its power lies in its simplicity; like a perfectly decorated Christmas tree that is not dripping in tinsel or weighed down by too many ornaments.
The third track, the instrumental "What Child is This?" is so powerful in its delivery, yet it is little more than guitars and Two-Hawks' flute. "The Little Drummer Boy" is hypnotic in its tone; the simple beat of the drum and the two vocalists chanting the lyrics, and "The Christmas Song" conjures up all the nostalgia that the lyrics invoke.
Johanna brings her delightful charm that gave the Scrooge album such sweetness on "The Wexford Carol", and "Carol of the Bells" is about as close as you will come to a a "rock" track on the album, in that it features some guitar work; but Two-Hawks' flute is what takes the spotlight here.
Because Christmas music is supposed to be fun, "Sleigh Ride" is a merry ditty that is sure to be stuck in your head as soon as you hear it. If you play this at your Christmas party and people don't start dancing, then you are hanging around a bunch of wet blankets! You can almost picture Two-Hawks and Johanna riding along in a sleigh, traversing through the snow.
So, because I don't really get to talk about Christmas music all that much, few of you probably know that one of my favorite Christmas songs of all-time is Dream Theater's rendition of "O Holy Night". The way James LaBrie hits those high notes towards the end makes me want to cry every time (and yes, sometimes I actually do). While it is probably unfair for every other artist who covers this song, I tend to judge any version of "O Holy Night" by those standards. However, when Two-Hawks' flutes intertwine with the piano, and then his voice joins with Johanna's, I am inclined to say that I have found a version of "O Holy Night" that meets the standard that DT has set for me. I may never love it as much as the DT version (if only because I have had years' worth of Christmas memories listening to the DT cover already), but this is definitely a very close second. I am getting tears in my eyes listening to it right now.
"Silent Night" showcases the unique blending of the worlds of John Two-Hawks and Johanna Kurkela: the Lakota and the Finnish. They each sing their verses in their respective languages, and it sounds heartrendingly beautiful. You don't need to understand the language, because this is a Christmas classic that we all know the words to, and can easily follow along. For the final verse, they sing together in English, which ties everything together and rounds out the song nicely.
The final track is, of course, "Walking in the Air", in case you didn't already know that Two-Hawks and Johanna were brought together through and by Nightwish. They pay a gorgeous homage to the Snowman theme that has become a beloved Nightwish fan-favorite, but don't expect it to sound anything remotely like Nightwish! This is their take on it, and just like the rest of the album has been, they rely on the strength of their vocals and a minimalist approach to the music. If anything, it sounds closer to the original version from the Snowman cartoon, only Two-Hawks' flute gives it that magical quality that makes it feel even more Christmas-like. It is obvious that the two of them know who their audience is for this collaborative effort, and couldn't have picked a better song to close out the album.
Overall opinion: Combining the ethereal voice of Johanna Kurkela with the mystical flute sounds of John Two-Hawks, Noel is spellbinding with its wintry melodies and enchanting vocal harmonies. What makes it all the more captivating is that it is so pure: the music is uncluttered and allows the song itself to stand alone and to breathe. Christmas music has gotten so over-the-top over the years that people expect everything to sound like Trans-Siberian Orchestra or Mannheim Steamroller all the time (nothing wrong with either of those two, by the way!), that I think sometimes we tend to forget that Christmas music is supposed to be soft, warm, inviting, and comforting. We have almost come to equate Christmas with being ostentatious, so it is a joy to hear a Christmas album that is just about hearing tunes that you know and love, and allowing your memories and imagination to carry the music. Nostalgia is the hallmark of any good Christmas album, and Two-Hawks and Kurkela take us back to a simpler time when all you needed for a good Christmas song was a good melody and strong vocal harmonies. Obviously, if you are a fan of Nightwish, it stands to reason that this is a good recommendation and probably something you will enjoy if you are used to the music of either artist. Even if you aren't a Nightwish fan, but are just a fan of female vocals or of Christmas music, Noel is a fine addition to your holiday music collection; I would put it right up there with the Tarja or Tori Amos Christmas albums (which have become standards in my Christmas music library). However, this album is so good that it's almost a shame that you can only listen to it at a certain time of the year!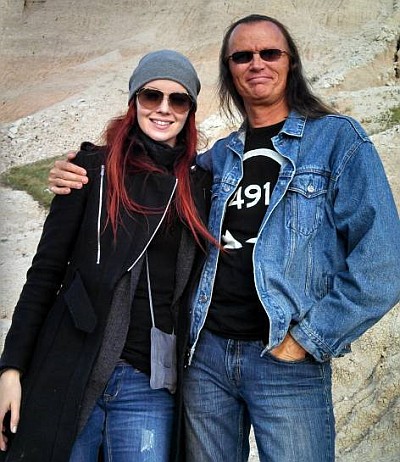 For more information on John Two-Hawks, visit his website: www.johntwohawks.com
For more information on Johanna Kurkela, visit her website: www.johannakurkela.fi
Special thanks to Peggy Hill and Allen Webb Extra-special thanks to Oceansouls of America