Macbeth - CD Review
Neo-Gothic Propaganda

CD Info
Label: Dragonheart Records
Genre: Gothic rock
Language: English
Total tracks: 10 Total time: 44:57
Rating: 10 of 10
For anyone who reads my reviews or keeps close tabs on the bands I've featured here at Sonic Cathedral, then it is no secret to any of you that Macbeth has been one of my favorite "open secrets" on the scene. They were the first band I reviewed at Sonic Cathedral. I've reviewed their music even before I started writing here. So when in early 2014, the band released their newest album in nearly 7 years, it goes without saying that I was very excited about it. They are one of those bands that no matter how long it's been since I've last heard from them, I am instantly enthusiastic as soon as they're back on the scene and doing something new.
For good or ill, Macbeth has sort of become a band that goes a few years between albums (an average of 3-4 years), and it is probably one of the reasons they have remained just below the radar when talking about the femme-metal scene in Europe. They've been around just as long as their big-name contemporaries like Lacuna Coil or Within Temptation, but even all these years later they are still a hidden gem within the vast landscape of gothic/symphonic metal. In a way, that makes them all the more endearing to me.
But this time around, the lapse between albums was about twice as long as usual. What happens when a band goes that long without any new music? Some bands (like Tool, for example) can go that long without new music and reemerge on the scene as if they've never been gone. Other bands (many too countless to name) stay away so long that the landscape changes to such extremes that they become lost in the mix and never find their way back to a mainstream audience. In the years since Macbeth last put out an album, the femme-metal scene has gone through a lot of changes. Would they be able to pick up where they left off, or would they have to prove themselves all over again to a changing audience who might not have remembered them?
"Scent of Winter": The first track and the band's first single ushers in classic Macbeth; the gritty guitars coupled with the contrasting male and female voices of Andreas and Morena. For any Macbeth fan, it's like slipping on a pair of shoes unworn in quite some time, and finding they are still a comfortable fit. This track is in the same vein as classics like "Lifelong Hope" from Malae Artes, or "Without You" from Superangelic Hate Bringers. Morena sounds better than ever, and Andreas' voice still has that morose goth sensibility. Fab's drumming is relaxed yet rife with kick-ass drum rolls, while Max's unique style of melodic and grungy rounds out the elements that put the Macbeth stamp on it.
"Slow-Motion Tragedies": True to the title, this is a song that has a slow, heavy groove to it. The gothic components of old-school Macbeth are still there. Andreas shows us more of his guttural voice on this tune; making for a more traditional "beauty-and-the-beast" vocal delivery between he and Morena. Sem offers some tasty bass grooves here too. This is a song that perfectly couples the dramatic grandeur of early Macbeth, with the straightforward rock assault that has defined their sound over the last decade.
"Void of Light": Some quirky keyboard work starts off the song while Morena takes the lead vocally. Andreas joins in at the chorus and offers more growly vocals, interspersed with his clean voice. The chorus is simple, but catchy as hell. This is another slow-groove song that builds up in heaviness as it goes on.
"Last Night in Shanghai": This song has become a fan-favorite and it's easy to see why. It has all the components of a quintessential goth-rock song, and shows that Macbeth has not completely abandoned their gothic roots. This is a song that easily could have been on Vanitas (my favorite Macbeth album). Andreas sounds as aggressive as ever, and Morena lets loose a little vocally too. While they are both good singers in their own right, they complement each other so well that it's hard to imagine them sounding any better with someone else. Everyone in the band has stepped it up a notch; Max's guitar solo is all-guns blazing, Sem is holding it down on the bass, and Fab is kicking ass on the drums. This song alone made the 7-year wait totally worthwhile.
"I Don't Care of Being Just Like You": The band keeps the heaviness going with bombastic keyboards and crunchy guitars. This seems like it would be a great song for live shows, where the crowd can just headbang or jump up and down, especially right before the guitar solo, when Andreas screams out the song's title repeatedly.
"Empire's Fall": A fade-in brings us to heavy guitar work and another track featuring Andreas' guttural voice that could easily be a crowd-pleaser at shows. This is probably one of the heaviest songs Macbeth has done, and I absolutely love it. The verses are fast and heavy while the chorus is slow and melodic. Max just completely rips it up throughout the entire song, but especially on the guitar solo. This track is one of my favorites.
"Dogma (Symmetrical Illusion)": This track starts off slow and eerie, then builds up. Morena's whispery vocals are a stark contrast to Andreas' harsh growls. I can see this song being another fan-favorite; it's one that could easily fit on any of their older albums and could become a future classic in the band's catalog.
"Opaque": Some random sounds kick off a track that by all accounts, could be heralded as a full return to old-school Macbeth. Not only could I envision this track as being on Vanitas, but I could also see it as a lost cousin of Romantic Tragedy's Crescendo, the band's first album. Yet it does not lose any of the polished sound that they have perfected over the years. This could be called a mature version of how Vanitas or Romantic Tragedy's Crescendo might have sounded if done by Macbeth today. This is another song I'd cite as a favorite.
"Little Spark": Fabrizio's drumming is the centerpiece of this song, and he sounds amazing! Yet another track that could get the crowd going at shows; that slow-heavy vibe that Macbeth does so well, with a catchy chorus, fist-pumping chants by Andreas, and a fiery solo from Max.
"The Archetype": Macbeth always ends their albums on quite the bombastic note, and once again, they keep to tradition with a "neo-gothic"-meets-new-wave tune that packs a heavy punch. While it's hard to top "The World (In my Mind)" from Malae Artes as the best Macbeth album closer, this comes pretty damn close. Just as it's a fitting album closer, this would make an excellent closer at live shows too. It's high-energy, it entices the crowd to get involved, and leaves the listener absolutely spent to where there's nothing that could top it…until the next album.
Overall opinion: Macbeth seems to have not lost any steam in their years away; and perhaps one advantage to their long absence from the scene is that they have not let it affect their sound or what they want to be. They just keep making their records the way they want, and seem not to be swayed at all as to whatever changes have occurred since they last put out an album. While many of the more well-known bands on the scene seemed to have embraced a more palatable sound in order to maintain an audience or keep up their large numbers, Macbeth keeps on doing what they do and not putting out anything until or unless they feel comfortable with it, even if it takes a long time in coming. They know their audience, knows what their fans like to hear, and are damn good at bringing it. Listening to Neo-Gothic Propaganda, it sounds exactly like the album you'd expect after Superangelic Hate Bringers; yet as the band promised, this is also a return to their classic sound, that longtime fans have missed and longed for. If this is your first time hearing of Macbeth, then this is a good place to start. This album is a nice blend of their early sound, but also a cohesive account of the newer elements they have incorporated into their music for the past several albums. As the saying goes, absence makes the heart grow fonder, and the last 7 years have not dulled Macbeth's sound; it has only enhanced it. The band sounds even better than before, and their years away seem to have made them tighter, if that is even possible! After nearly 2 decades together, Macbeth is a stronger unit than ever; their sound has matured, they know who they are as a band, and continue to deliver top-quality music.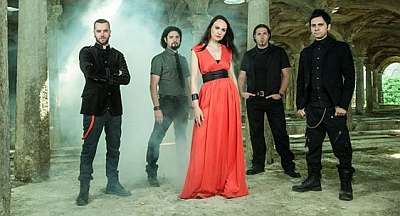 For more information, visit the band's website
Special thanks to Fabrizio Cislaghi