Doctor T of the SonicCathedral staff talks to Godyva front woman Lady Godyva to discuss the band, their upcoming performance at MFVF and the music scene in Italy. This interview was NOT conducted with the lovely vocalist on horseback, contrary to the wishes of the interviewer. The Lady's real name is Cristina and was used here during the conversation.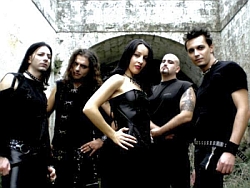 Doctor T: Well, before we get to the music, we have to address the name. I don't know how it works in Italy, but in the US, it's hard to get past the name Lady Godyva without seeing a lovely lady, sans clothing, on horseback. Is that what you had in mind.. . or not?
Lady Godyva: Exactly, it's correct but you cannot see only these things. Lady Godyva is the beauty, is the courage, is the honor, is the respect, every legend has its braveries and an important meaning. So I wanted to call our band Godyva to honor all women strong and courageous, and I like the naked body of a beautiful woman because I think that in this body the art lives.

Doctor T: OK, that works for me. One of the things that strikes me about Italian bands in general is the musical quality, both instrumental and vocal. Godyva is certainly no exception. How do you Italians seem to find the outstanding talent?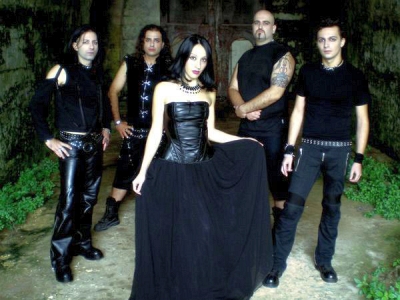 Lady Godyva: I think in Italy there are a lot of bands famous and not that play a very good music, but personally I love the technique and the quality of Nordic bands. The exoticism we feel for the foreign music maybe it's the same you enjoy with Italian music.
Doctor T: Lyrics on your CDs tend to be interesting, especially since I have to assume you are writing in a language that is not your primary language. How are the lyrics developed and could you talk about themes.
Lady Godyva: All lyrics are written by myself and I use to speak about me like an ambiguous person, so every lyrics are personal and obsessed by the eternal drama of the love (I love Shakespeare) and death. Sometimes the music arranged inspires me, while other times I feel the irrepressible need to write words and thoughts on a paper and this is a moment to calm down my mind.

Doctor T: Now let's talk a little about the instrumental development. You have a heavy keyboard component to most of your songs. Is that what serves to develop the melodies or is it more of a group effort?
Lady Godyva: Yes, the keyboard is the most important instrument of our songs. Botys is an awesome musician and a talented composer. We work all together just to find a good structure for the song to fit well with lyrics.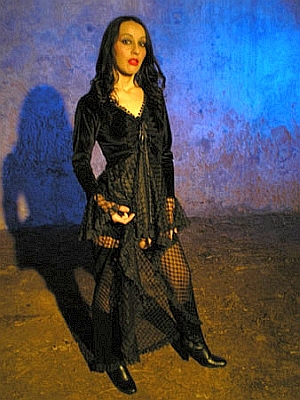 Doctor T: Cristina, I have to ask you, how does a woman working in a bank end up doing metal, especially calling herself Lady Godyva. Bankers in this country tend to be a little, how can I say this politely.. . . boring. And you appear to be anything but boring.
Lady Godyva: Hehehe. Absolutely no, I'm not a boring woman. I'm full of adrenaline and I don't like to spend my time in vain. Yes I work in a bank agency since 2003 year and I like to take all goodness from this job. It really seems I have two lives like Doctor Jekyll and Mister Hyde hehehe, but I've told you just now that I'm ambiguous ;-)
Doctor T: There are a lot of great bands coming out of Italy these days, especially female fronted. Is there much in the way of social interaction between these bands, how much do you attempt to play with similar bands and how do those associations, if any, tend to work out?
Lady Godyva: Yes, a lot of female fronted bands in Italy are raising and becoming numerous in these last years and this is the demonstration we got talented bands and singers here. Anyway in Italy this isn't a business so these bands try to find celebrity and fame outside. We don't attempt to play like them, we play and stop, but I think that in every genre of music influences of bigger bands are a regular thing.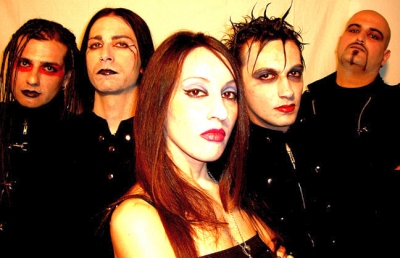 Doctor T: Bands tend to prefer playing live whenever possible, however, there are those who prefer the studio and rarely do live performances. How do you feel about live performances, and what kinds of performances do you prefer, small clubs versus big festivals, for instance?
Lady Godyva: We have played for years in every place was possible, but now things are different and we use to choose with care places where is possible to play. I really prefer to exhibit on big stages, festivals in a particular way because you can find there a lot of people that listen to various genres of music and you can know bigger bands you play with. I'm very excited and I cannot wait hours to play on the same stage where Arch Enemy will exhibit at the MFVF.
Doctor T: We often never know which songs on a CD are band favorites. Sometimes, it's the one that gets the video, for instance My Inner is a great video, we highlight it in the review. However, sometimes that's not one of the songs the band likes best. Which song on Planetarium is the band favorite?
Lady Godyva: I'm agreeing with you, in fact I think My Inner is one the best songs of Planetarium album but I adore On The Floor Of Ice and Innocent too. We decided for My Inner songs to shoot the new video because fans love this song and we didn't want to disappoint anyone of them.
Doctor T: I know Cristina is a banker, could we get some information regarding what other band members do for day jobs or as outside interests, beyond the music.
Lady Godyva: Apart from music we are common persons that works almost all days. Botys is a sound engineer, especially he works on stages of live concerts and shows at theaters throughout Italy. Nick works for a national communications agency and Enyo for a local advertising agency. Mori is a student instead (he is the younger member of the band). Everyone of us also have other musical interests beyond Godyva, for example Enyo play in the Cure cover band called The Baby Screams and Nick plays and sings in the electro-rock project named Vespertilia. Botys arranges keyboards and synths for bands.
When I'm free I help my boyfriend with his graphic agency (he is the webmaster of our sites) and we work for artworks, websites, MySpace profiles and more graphic services for bands.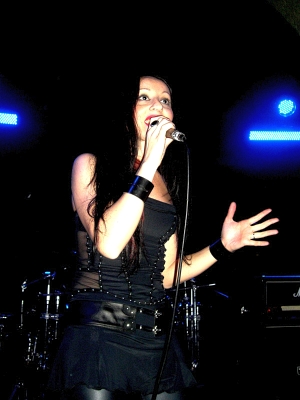 Doctor T: Bands often include personnel with varied musical interests. What are some of the musical directions, or other bands, that are of interest to individual band members in Godyva?
Lady Godyva: We like so much extreme music! Personally in this period I'm listening to the last cool album of Soilwork, The Panic Broadcast. I love Samael and Dark Tranquillity. Something different I'm listening to all the time is a band called Dredg and the Daughtry band, I think their albums are brilliant and catchy and their voices are awesome. Also I like Alice In Chains and I can say that their last album Black Gives Way To Blue is an admirable return (I went in Rome to see their show in June and they are fantastic evermore!).
Doctor T: Well, some of them are certainly recognizable names here, an interesting selection.
We want to thank Cristina, er, Lady Godyva, for taking the time to respond to our questions, and we're very much looking forward to seeing her, with the band, on stage at MFVF this fall. Thanks Cristina.

Be sure to check the Godyva website here (http://www.godyva.it/)
And their MySpace here: (http://www.myspace.com/godyva)