The Mariana Hollow Interview 2010
Sara Letourneau chats with one of the UK's best up-and-coming bands
These days it's difficult to say that a band of any kind is unique. Take female-fronted metal for example. There are so many bands of this kind – particularly in the symphonic and gothic genres – on the scene now that after a while, a lot of them start to sound the same. Luckily, The Mariana Hollow has been able to avoid this. Its five members have created a fusion of alternative and progressive metal that's highlighted by sophisticated guitarwork and the fierce, engaging voice of Rebecca Spinks. Altogether, The Mariana Hollow's sound is emotive, unpredictable, and complex yet surprisingly accessible – in short, some of the most refreshing music our staff has heard all year.
Metalheads in the UK must think so, too, because The Mariana Hollow has been busy with gigs across their home country all summer. In between opening slots for prog-thrashers To-Mera, eclectic rockers Neon Choir, and the darkwave project The Eden House, the band sat down with Sonic Cathedral's Sara Letourneau. All five members talked about their debut album "Coma Heart," composing music, live performances, and what to expect on the next CD. And if you think only the music is interesting, then you need to read on and learn more about the people behind The Mariana Hollow.

Sara: First of all, could you introduce The Mariana Hollow to our readers at Sonic Cathedral? Tell us a little about the band's history.

Richie Walden (rhythm guitars): The Mariana Hollow really began when Danny joined Paperplane, my previous band. As soon as we met, we completely clicked on the writing front, and the music immediately became much heavier and more focused. Due to the change in direction, the other members of the band departed. Danny and I were then able to look for musicians who could understand and contribute to the music we were writing, and they came quickly! Adam was the first drummer we auditioned, and Scott was the second bassist. By the time the four of us had begun to really gel with the songs, Rebecca had arrived and blew us all away with the incredible vocals that she contributed.

Sara: Your music combines rock, metal, alternative, and progressive elements, and results in songs that are unique and very appealing. How did you come up with this approach? Which bands/artists have inspired the band as a whole?

Richie: When Danny and I began writing together, we never had any set bands or sounds that we were striving to copy. We just wanted to write music that was ours, honest, and from the heart. We felt we could make dark, emotional, and powerful music that was heavy without needing to rely on endless pinch harmonics or double kick drumming. We definitely shared a love of bands like Paradise Lost, Anathema, A Perfect Circle, early Metallica, and Type O Negative, but we were never interested in copying other bands. We just took inspiration from the kind of moods those bands are so good at creating. As a whole, we all love many different artists, but there are quite a few bands everyone in The Mariana Hollow agrees on, such as Tool, Opeth, Mastodon, Alice in Chains, Pantera, and the Deftones.

Adam Stanley (drums): Richie and Danny set the tone for the songs and have a strong aesthetic which was appealing from the get-go; while I think Scott and I, as a rhythm section, have quite different influences not related to the band's sound but which do positively contribute on different levels. I think we've come some way in developing the right phrasing, energy, and pocket for this band, which comes from what we're both listening to at home. I don't want to individually mention these because essentially we are playing music and not creating a pastiche of influences, but there are always subconscious references. The guitar parts are complex, distinct, and defining, but references outside of these play an important role in building song structures, hooks, and adding to the vibe. I'd like to think we contribute balls to things! (laughs)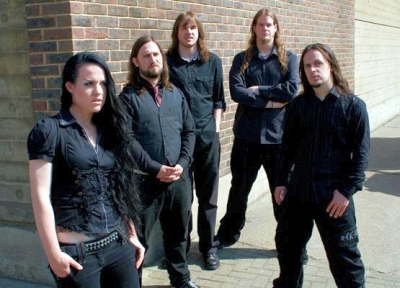 Sara: Your band is named after the Mariana Hollow (a.k.a. the Mariana Trench), the deepest point in the Pacific Ocean and the lowest elevation on the Earth's surface. What makes this name an appropriate choice?

Richie: We knew that we wanted something evocative of the ocean, as it seemed to fit with the music we were writing. The Mariana Hollow is something that really caught our imagination, something so deep and remote, pitch black as no light ever reaches the depths…yet life still exists there. We felt that this mirrored the themes of the album, which frequently touch on darker emotions of isolation and loss, but mixed with hope and redemption.

Sara: Rebecca joined The Mariana Hollow after answering an online ad, submitting a MP3 audition, and meeting the other band members only once. What about her made her the perfect vocalist for the band?

Richie: Between The Mariana Hollow and my previous band, we'd auditioned around 50 singers, and we just couldn't find someone who could bring something special to the music. I can clearly remember the first time I heard a recording of Rebecca's old band. I heard about 10 seconds and thought to myself "THIS is our singer." She had a fascinatingly unique and emotive voice. As soon as we heard her singing along to early versions of "Come Undone" and "Enemy Lines," we realized that her vocals and lyrics were perfect for the music. Not only that, but when we met her we found out she was one of the most lovely and modest people you could ever know. We offered her the position immediately after our first jam together. It was obvious to everyone that she was the one!

Danny Russell (lead guitar): I could tell straight away that Rebecca was an amazingly gifted musician as well as vocalist, and I was blown away when she started notating vocal lines so she could remember them for later.

Adam: She broke away from all the vocal trends you hear in so many female-fronted rock acts. She had (has!) depth and originality, and is never contrived. She doesn't try hard to be something. She just does it, I think. Oh, yes.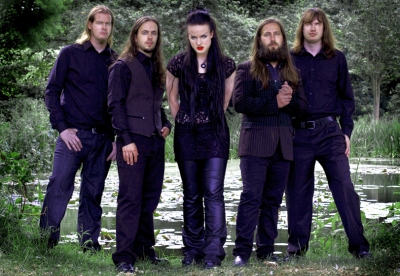 Sara: Rebecca, how does The Mariana Hollow fit your musical tastes and ambitions?

Rebecca Spinks (vocals): The decision to leave my previous band, Nessa Rose, was a difficult one to make, but I had come to a point where I wanted to give myself greater challenges vocally. I knew I would be more fulfilled in a band where the music had greater depth, and was essentially heavier, than what I'd been used to previously. When I first heard Richie and Danny's songs on the Myspace page, I knew immediately that I had found something I wanted to be a part of. I was completely stoked to discover the band and was thrilled when, after various get-togethers and one audition, they asked if I'd like to be the singer. The Mariana Hollow fits my musical tastes in many ways. I enjoy a huge variety of music, from classical to metal to acoustic, and I find it a pleasure to write the vocal lines and lyrics alongside the music that the guys create. There is always scope to challenge myself with the vocal lines for The Mariana Hollow, which hopefully means I can continually improve my sound and ability. My musical ambitions have always been to find a great band, make great music, and hope that other people enjoy listening to it. And with The Mariana Hollow, that is exactly what I have found.

Sara: The female-fronted metal scene features countless classically trained frontwomen. Rebecca, your approach is more rock-oriented and very distinct. Who are some of your influences as a singer?

Rebecca: I grew up listening to my parents' music, like most children do, and so my early memories of vocalists were mainly soul and rock n' roll artists from the 50s and 60s. In my mid-teenage years, I discovered rock and metal and from then on became fascinated with a number of vocalists who I greatly admired and took inspiration from. Steven Tyler from Aerosmith was one of the first singers to really capture me – both for his vocal talent and stage presence! I love a huge number of metal vocalists, notably Phil Anselmo (Pantera), Randy Blythe (Lamb of God), and Peter Dolving (The Haunted), but also the more alternative vocal styles of Nick Cave (Nick Cave and the Bad Seeds) and Mike Patton (Faith No More). As I started playing in bands myself, I was always eager to discover female vocalists who could I felt could equal the guys in terms of passion and skill. My favorite female vocalists have always been Jessicka (Jack Off Jill), Aimee Echo (Human Waste Project), Angela Gossow (Arch Enemy), and Skin (Skunk Anansie); and I have been inspired by each of them in different ways. I saw in them confidence and originality, and it contributed to the passion for vocals that I have today. Currently, I'm really enjoying Imelda May's voice, as it is effortlessly beautiful and has such a timeless quality to it.
Sara: The Mariana Hollow's debut album, "Coma Heart," was recently released via Plastic Head Distribution. Congratulations! How does it feel to have it out for the public to purchase and listen to?

Richie: Thanks! It feels great! We put a lot into the record, and the songs are all very important to us, so for people to be able to hear them makes us really proud.

Adam: Sweet. It feels like a proper achievement holding the album in your hands after all the work that went into it.

Sara: The album's already received rave reviews from Power Play Magazine, Ravenheart Music, and Altsounds.com, just to name a few sources. What do you think of all the positive feedback you've received thus far?

Richie: It's really exciting! We've worked hard to create music that we really love, so the thought of getting any kind of outside feedback was initally a little unnerving, as we were a bit unsure what people would make of us. We're quite aware that we don't fit into a particular genre, which can make it hard to get attention. But, the reviews we've been getting have been overwhelmingly positive, and we're absolutely stoked that people seem to be getting us.

Adam: It's a great affirmation of what we set out to do. I think people are quickly seeing that we play with as much thought as we do passion, and that we have something to offer that hopefully has as much depth as it does instant gratification. Thank you to all critics, good or bad.

Sara: Why "Coma Heart" for the album title, other than the fact that it's one of the tracks on the album?

Richie: "Coma Heart" was actually a phrase that Adam came up with when we were looking for a band name. It wasn't quite right for that purpose, but the feeling behind it was perfect for the song. This went on to become the title track, as we felt that it was the song that best encompassed all of the moods and emotions touched on by the album. It became the centerpiece of the record, if you will.

Adam: "Coma Heart" was originally a name I thought up for the band, but it didn't make the cut! (laughs) I was coming home from somewhere, feeling disillusioned with a relationship I was in, and I wanted to think of a phrase that described the melancholy feeling I was experiencing. I tried to be dramatic in an understated way, and it really just came into my head in a second. I wish I had those moments every day. It takes ages for them to happen!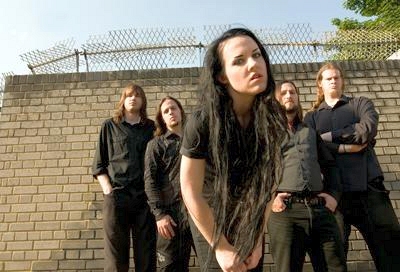 Sara: Renowned producer Chris Sheldon (Foo Fighters, Skunk Anansie, Anthrax) mixed "Coma Heart." How did this come about? How does it feel to have a music industry veteran such as Chris helping out on your first album?

Scott Chesworth (bass): The Sheldon connection was a stroke of luck, really. I was tracking guitars in a dilapadated old barn out in the middle of nowhere for an EP I was producing. It came up in conversation that the chap who owned the place was also in a female fronted alt rock band. We played each other some tunes over lunch, and I couldn't help noticing that his band sounded like they'd been mixed by Sheldon. The guy was impressed that I was a big enough geek to pick out who'd mixed his material just by listening to it, and I talked him into dropping me Chris's phone number.

Danny: It was great working with Chris on the mix. Given that we were complete unknowns at the time, he could hear we knew what we were doing and worked patiently with us when sculpting the sound, always open to our opinions. The guitars and vocals were pretty much there, but Chris brought a lot to the table in the way of ideas for drums and bass sounds. His genuine appreciation for our music also gave us a great confidence boost at a time when very few people had heard it.

Adam: It makes you proud to have the contributions and endorsements of someone like Chris. I had a really great personal moment a while ago just contemplating the connection we have to The Colour and the Shape, and Biffy Clyro, however tenuous!

Sara: I know this question is difficult to answer, but I have to ask: Out of the seven tracks that make up "Coma Heart," which ones are your favorites?

Richie: "Coma Heart," "Final Call," and "As The Dust Settles."

Adam: "Coma Heart," "Enemy Lines," and "Come Undone."

Scott: Tracks 1 to 7 are pretty good. Tails off a bit after that. ;)

Danny: We've also started playing "As The Dust Settles" live again after not for ages, and I'm digging the way that tune bounces along. I'm also very proud of the solo on "Paperplane."

Rebecca: For me, it would be "Final Call," "Coma Heart," and "Fires Go Out."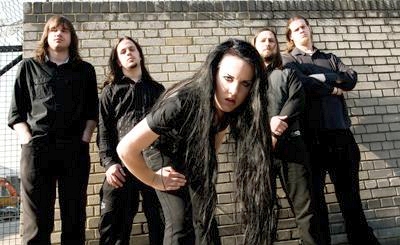 Sara: Danny and Richie, I love the guitarwork in your music. The arrangements as well as the solos are layered and complex, and nothing short of awesome. How do you come up with these arrangements when you're composing your songs?

Danny: Richie comes up with a lot of the initial riff ideas for songs. We'll then get together, and I'll come up with a second guitar part, or change the timing, key, or whatever. In fact, we sometimes end up writing each other's parts and then swapping. I love the way Richie writes music with complete innocence and honesty. I have a degree in music, and this can be a double-edged sword; it's given me an understanding of harmony, rhythm, and whatnot, which helps arranging the riffs into songs, but I'm wary of being unbiased by the "rules" of composition that I've learned. As far as my solos and parts, they're often stream-of-consciousness stuff where I just switch off the right side of my brain and "feel."

Adam: And then the drums and bass come in and f*** it all up! (laughs)

Sara: Rebecca, what inspires your lyric writing for The Mariana Hollow?

Rebecca: The lyrics for "Coma Heart" were inspired by both relationships in my life, and also the relationships I observed around me. It may well be a cliché, but at that time I was writing in the aftermath of a breakup and it certainly contributed to the atmosphere within the lyrics. Each song on the album started with a different lyrical plot, and I could picture in my head a scene playing out through each song which led to a variety of metaphors and imagery that helped me to portray feelings of guilt, anger, loss, and confusion. The lyrics for "Coma Heart" are fairly dark throughout, which no doubt echoes my mood at that particular time. The lyrics for the second album will deal with a much wider range of issues. This stems from my increasing dislike of the way people, groups in society, and indeed countries treat each other, the apathy displayed by so many, and the general "turning a blind eye" to the problems that surround us.

Sara: The Mariana Hollow's chorus melodies are also outstanding. How important do you think it is to have a memorable chorus in a song?

Rebecca: Firstly, thank you! That's a huge compliment because it's something we think about a lot when we're writing. We always aim to achieve a chorus that is powerful and memorable. We don't always set out to write choruses that are "catchy," but we do hope to achieve melodies within the chorus that people can connect with and, most importantly, enjoy.

Adam: It's always important to have memorable choruses, especially if you're playing any form of rock music, although I think that timelessness and maturity come from many other factors aside from catchiness. The whole creation must be great from start to finish – not just relying on a chorus. It's easy to tell if an artist has just tacked a few musically logical bits onto one hook they've written.

Danny: As Stevie Wonder once said, "Melody is king." Bet you've never had a band quote a Motown artist at you! [Editor's Note: Nope. You're the first one, Danny!]
Sara: The Mariana Hollow plays a number of shows in the London area each year. What can people expect when they attend one of your gigs?

Adam: Gratuitous tallness. And arse-crack showing. No, really, we just want people to be completely captivated by the power and quality we hope our songwriting shows. We always play with passion and energy, so I guess you can expect a solid, head-cracking set of melodic tunes – although maybe not so many death grunts, speaker stack leaps, or circle pits.

Sara: You've opened for bands such as Theater of Tragedy, To-Mera, and The Eden House. Each plays a different style of metal music from the other. Do you enjoy playing for a wide variety of metal audiences?

Scott: It's certainly refreshing to be the only band with melody playing on a thrash bill! That said, though, I think it's important to make sure you play alongside bands that are heading in the same direction as you every so often, because they'll provide a relevant benchmark... a bar that we can collectively try to raise.

Adam: Of course. It's a new challenge each time, and it feels all the sweeter when we win over a new audience – especially if they've only come for the main band.

Rebecca: I think it's great because as a band we listen to a wide variety of music, and I think that comes across in our songs. I believe that the different audiences we have played to so far have been able to appreciate that. I would hope that they have picked up on something they like within our music, even if it isn't what they normally would listen to.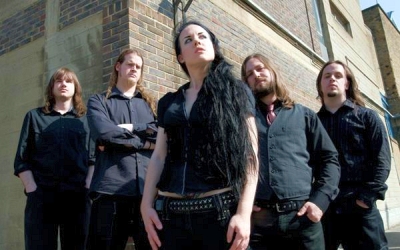 Sara: Would The Mariana Hollow like to tour or play at festivals outside the United Kingdom if you're offered such opportunities? I know, for example, that the Metal Female Voices Festival in Belgium is looking for new bands to play there every year. Would you like to play there someday?

Danny: Hell, yes. I'd love to have the experience of going on tour outside the UK. You hear about bands getting really organic and tight after a couple of weeks on the road, and I'd love to experience that in The Mariana Hollow.

Adam: I think any festival slot at this stage would be awesome. More people, different vibe, new challenge, definitely what any emerging band needs to do. I like playing at festivals. You absolutely s*** yourself, but the buzz is often unparalleled!

Sara: I heard that The Mariana Hollow is already working on its second album. Is there anything you can tell us about the new material or what stage in the process you're in right now?

Danny: We're still tracking guitars and bass. So many guitars! I'm producing again, and getting much more into creating soundscapes with guitar sounds on this one. I want it to sound f***ing huge, but in a way that's still guitar-based and not swamped in the lazy fake keyboard strings that other bands use. Having said that, a good friend of mine is an amazing violin player, so expect the odd flourish of the real thing. Haven't even thought about recording vocals yet, but it's all written and ready to go. Should be 10 or 11 songs on this one.

Adam: Personally, and as humbly as possible, this is pretty much the best stuff I've ever done! If you like "Coma Heart," this will blow your head off! I think we sound like a proper band and proper songwriters on this album, and it's not even 1/3 done!

Scott: Seriously, it does sound F***ING HUGE.

Sara: What other plans does TMH have for 2010 and perhaps next year?

Adam: Write even more kick-ass music. Tour. Meet rad music lovers and music moguls. Drink beer.

Rebecca: I think we would all love to spend more time concentrating on the band, but we face the problem that pretty much all bands face when you're relatively unknown and you still have to work the day job to make ends meet! We would love to move towards a position where we can spend less time in the office, so to speak, and more time rehearsing together and playing live! That's what I hope for 2011 definitely.
Sara: Thanks very much for your time! Is there anything you'd like to say to fans and to readers at Sonic Cathedral?

Adam: Sincerely, thank you for listening and supporting even this early on. We believe in our music and love making it, but without anyone paying attention we are nowt [a British way of saying "nothing"].

Danny: Thanks for the support, guys!

Thanks once again to all members of The Mariana Hollow for taking part in this interview! Also, additional thanks to Richie for turning us on to the band and arranging the interview. Photos in this interview appear courtesy of James Laidlaw and Hagen Bernshausen.

For more information including tour dates, check out The Mariana Hollow on Myspace (http://www.myspace.com/themarianahollow) or Facebook (http://www.facebook.com/pages/The-Mariana-Hollow/109061291252).