Genre: Alternative rock
Total tracks: 8
Album length: 28:01
Label: 4818 Records
Language: English
Rating: 9 of 10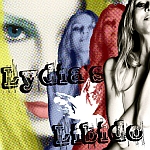 The term "supergroup" has been tossed around and used to describe so many different sorts of bands, especially over the last decade, that it's nearly lost all meaning. But when it comes to the Texas-based quintet Lydia's Libido, the term "supergroup" might just be an understatement.
The band consists of not only session musicians, but also actors, script-writers, and graphic designers. Needless to say that when this band says they have an "artistic vision", they really mean it! Formed by musician Gary McGrath, whose résumé boasts working with such legendary musicians such as Peter Frampton, Jon Bon Jovi, and Guns 'n' Roses alumni Steven Adler and Dizzy Reed (just to name a few); the band was rounded out by fellow expert musicians: keyboardist Dean Minnerly, drummer Andy Weaver, and bassist Sean Ieager. Then at last, through the introduction of a mutual friend, the pièce de résistance of Lydia's Libido came along to fill the position of vocalist.
Enter Samantha Newark, a name that any female who grew up in the mid-1980s should instantly know; if not by her name, then definitely by her distinctive speaking voice as the cartoon character of Jem from the popular '80s cartoon Jem and the Holograms (businesswoman by day, rock star by night!). Coining such phrases as "Truly outrageous!", "Showtime, Synergy!", and "Doing the right thing makes you a superstar!", little girls around the world in the '80s (including myself) admired and emulated Samantha's character, whom she still gets recognition for to this very day. In fact, I will even let you in on a small bit of my history by telling you that when I was 8 years old, I searched high and low to find a pair of star-shaped earrings like the ones Jem wore on the show. I finally did succeed by finding a hot-pink pair at the JC Penney (which were not an exact replica, as the earrings were the one iconic symbol from the show that wasn't merchandised; but close enough for my liking!), and I must have worn them religiously through most of 3rd and 4th grade! That was probably the first (and last) time I willingly wore the color pink, and it can all be credited to (or blamed on) Samantha Newark!
So when Samantha announced on her Facebook page earlier this year that she would be a part of this project, it went without saying that Lydia's Libido would have a built-in fanbase just from the many Jem fans who still followed Sam's career (by way of her solo records or her various voice-acting projects). But when the material was described as "music that would make Mick Jagger blush", it was clear that whatever Jem fans might have been expecting, it was not going to be anything close to the noble, do-good, pink-haired superwoman that they all knew and loved! But it only stood to reason: her fans were now grown-up and mature, so why shouldn't the music be too? When the self-titled album was officially released in early July, fans would learn soon enough just what Lydia's Libido was all about!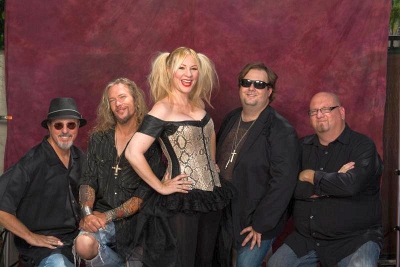 The opening track is also the album's first single, a groove-laden tune called "Release Me". It's got sing-along lyrics, a memorable chorus, along with gritty guitars and electronica-inspired vocals just before the chorus. Guitarist Gary McGrath says that this song was originally written as a country song, and you can hear the faint twang of its origins in the guitar work. But Sam's synthpop sensibility brings a modern twist to this song that makes it a little less country and a lot more rock 'n' roll! And then Gary really rips it up in the solo, and whatever country-music inclinations this song might have had, they've flown right out the window! This was a fitting choice for a first single; it's got all the components for a hit song, borrows influence from several different musical genres, and wraps it up nice and tight in less than 4 minutes.
Some keyboard work and heavy guitars interchange with each other at the beginning of the second track, "I'll Lick You". Then Sam's vocals jump in; teasing and playful. Another memorable chorus that sticks in your head and will have you singing it out loud at inopportune times, and more tasty guitar licks from Gary in the solo. This is another song that just passes the 3-minute mark.
Track 3 is the band's upcoming second single, "Steal Your Soul", which has already become a huge fan favorite, for reasons you will hear soon enough. This is probably the most "metal" of the songs, even though it's a slow-tempo song. The guitars have a certain bite to them, and Sam's vocals are whispery and seductive as she lures you with the song's sexy lyrics. Once she hits the second verse, some of the lyrics could almost borderline on "musical porn", as graphic as they are! Well, if you're going to say that your songs make Mick Jagger blush, you'd better back it up, and they certainly do!
"Coupon Song" is little more than a "go-between" or musical intro; it could almost be described as the Lydia's Libido infomercial, as there's a voice-over mentioning where album buyers can take their coupon at the band's merch table so they can buy t-shirts; all this over some wailing guitars and pounding drums. There's also some advice for those who bought the vinyl that it might now be time to flip the record over!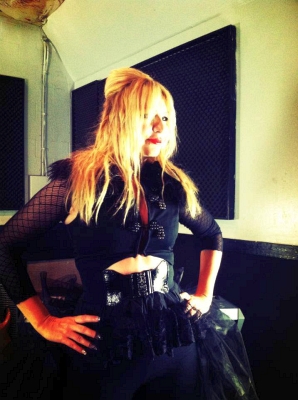 Sam's hypnotic vocals kick off the fifth track, and one of my personal favorites, "Kiss my Pink Starfish". You've gotta love a song title like that! This track gives off a vibe of those early '80s "tough chick" artists like Joan Jett, with the pop-rock feel of bands like Missing Persons. But that's not to say the song sounds dated! Between Sam's sassy vocal delivery and Gary's blistering guitar solo, I could see this song possibly being the third single.
"Pour me Another" is less than 3 minutes, and a catchy little ditty about those things we all love about rock music: drinking and partying! Sam channels her inner bad girl as she sings, "Girls, raise a glass and kiss my ass…I ain't your mother, so pour me another!" Sam is taunting in her vocal delivery, and also makes a reference to her past as Jem: "You like Barbie? Guess what, that ain't me!" So just in case you didn't know who you were listening to, you do now! The middle part of the song features Sam drunk-dialing someone to talk about a guy she has met, while Gary delivers a melodic solo amidst the lyrical debauchery. I definitely see this one as a fan favorite that will get the crowds going at live shows.
Track 7, "Hollywood Vampire" starts off with Sam's vocals, coupled with smart riffing and quirky keyboard playing. The song is basically mid-tempo throughout, but then Gary really lets loose in the solo, showing off his "guitar god" tendencies. The chorus is repeated quite a bit for a song that's just a little less than 3 minutes, but it's another fine indicator of the Lydia's Libido charm: short songs, memorable choruses, cheeky lyrics, and heavy music!
The final song, "Sober Lullaby", is no doubt the heaviest track on the album. The song starts straight off with crunchy guitar riffs that could hold their own in any metal band. This is definitely the track to headbang to (although you can do so with the others if you are so inclined!), and even the Lydia fans out there who aren't necessarily fans of metal may actually find themselves throwing the horns up as they rock out to the slow, heavy groove. A perfect closer to the album.
Overall opinion: As expected, I obviously had to put aside my "Jem fandom" when it came down to judging this album objectively; but in all honesty, that was the easiest part, because the music is really good! While it's not the traditional metal sound that is normally featured at a site like Sonic Cathedral, I feel that many readers here would like this band. The music is fun and quirky, with tongue-in-cheek lyrics and sexy imagery. As far as the music itself goes, I find very little fault with it, aside from that I wish the songs were a little bit longer. Maybe it's because I have become spoiled by the sounds of progressive rock and symphonic metal that I am not entirely used to songs that are just under the 3- or 4-minute mark; but even so, it wasn't like I felt as if I was being short-changed by the songs not being so lengthy. I would just like longer songs because then it means more music! Likewise, the album was far too short; 28 minutes was not nearly long enough to delve into the many layers of this band. However, this is a debut album, so let's hope that we will hear more from Lydia's Libido in the near future. The diversity of the music ranges from alternative rock to electronica to metal influences. It probably should come as no surprise that a band consisting of accomplished session musicians can do anything they want musically, and they certainly show this in less than half an hour. While they are a "supergroup" in the truest sense of the word, I do feel it's not an accurate enough description for this band. Their individual credentials are impressive enough on their own; put them all together, and you get a band of highly-talented musicians who are not only skilled enough to pull off whatever they're aiming for, but also have enough creative freedom to just write what they feel, and not care about the labels or genres that stifle the progress of so many other bands. As one of their lyrics states, "Gonna do what I do and just be me." Couldn't have said it better myself! Lydia's Libido is having a great time making fun music, and if you can't appreciate that…well, you can always pour them another, and kiss their pink starfish!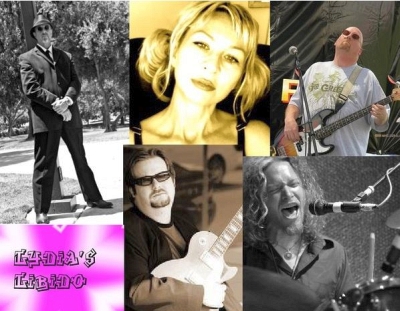 Pictures provided courtesy of the band's website
Collage artwork created by and provided courtesy of Amy Rhoades
Special thanks to Amy Rhoades and Craig Phillips of KJEM Radio