CD info
The Q-Music Sessions
Artist: Within Temptation
Genre: Gothic/symphonic rock
Total tracks: 11
Album length: 41:57
Label: BMG
Language: English
Rating: 8 of 10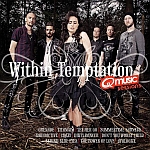 To paraphrase a currently popular saying: Within Temptation normally doesn't do cover songs; but when they do, they're really good at it. As far back as 2003 with the release of their cover of the Kate Bush classic "Running up That Hill", Within Temptation has shown that when they have a mind to, they can easily take someone else's song and totally make it their own.
Since then, they haven't really done any other cover tunes; maybe toying around with one here or there in a live setting or for some acoustic performances, but nothing concrete. So when they were approached by the Belgian radio station Q-Music to perform various covers once a week for the next fifteen weeks as part of their fifteenth anniversary celebration in 2012, it appeared that it would be more of the same here as well.
However, the task at hand was not as easy as it seemed. Not only was the band required to put their special "WT stamp" on the various pop songs they were given to play, but they had to learn each individual song in one week's time, so as to play that song in the following Friday. So they not only had to memorize the song, they also had to rearrange it to fit their style without compromising the integrity of the original while still making it sound like something fresh and new, and then pulling it off as if they'd been playing it for years. All in a timeframe of 7 days, for 15 consecutive weeks!
With every week that passed, the band enjoyed the challenges that learning each new song gave them, and they met those obstacles with that same high-spirited gusto that has been WT's hallmark over the years. There was no doubt to any of their fans that they could do it. But were they ready to hear their favorite symphonic metal band take on songs from OneRepublic, Bruno Mars, or Enrique Iglesias; music that was as far removed from their sound as they could possibly get? Within Temptation has built a reputation on defying the odds, but even this seemed to some as if though they'd bitten off more than they could chew.
Yet with each "Within Temptation Friday" that passed, they were winning the audience over, as they were wowed by what the band could do. Though it probably came as no surprise to their fans, it was still a pleasant surprise to hear how musically diverse they could be; another metal band happily dispelling the myth that metal music (and metal musicians) are one-dimensional. For the Within Temptation fans who were not in close proximity to Q-Music's airwaves, or who were not content to hear these covers on YouTube, the demand for a high-quality studio recording of these songs was great indeed.
When it was announced in early 2013 that the band would be releasing a proper album of the Q-Music sessions as something to tide fans over while they went to work on an upcoming album of original material, it was also announced that they were still working on getting permission from some of the artists to use their songs for the cover album. Fans wondered, which of the 15 songs would ultimately make the final cut? Eventually, 11 of the 15 songs would make it on to the album; the cover songs from artists such as Adele and Coldplay—artists whose popularity might possibly generate interest in this album from audiences who may not have normally bought a WT album—were conspicuously missing. Perhaps they had good reason for refusing, or maybe the needed approval didn't come in time for the band to release the songs. Or perhaps, as some WT fans might say, perhaps they declined because of the chance that the covers might be better than the originals?
At any rate, for many WT fans, this was their first chance to hear the songs that were played for the Q-Music audiences the year before; to hear WT's take not only on trendy modern hits, but also some beloved classics and a few obscure tunes from well-known bands. WT has often been referred to as being among the most "accessible" of the bands in their genre. Now that they were giving their take on actual pop songs, how seamlessly did they bridge the gap between those two vastly different worlds?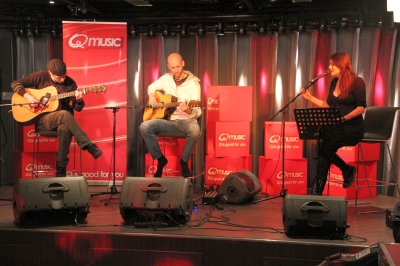 The album opens with a song called "Grenade", originally recorded by Bruno Mars. The vocals are the centerpiece in the original version, and putting the vocals at the forefront is what Sharon den Adel does best. This track hits the ground running with some snappy drums and heavy guitars before Sharon's ethereal voice takes this song to a new level. Where the original is more poppy and electronic, WT takes the opposite approach with crunchy guitars in the chorus. There is still some of that electronic feel in Martijn's keyboard work, but just enough to indicate the bare bones of the song's initial origins. Sharon's impassioned voice gives the pleading lyrics in the bridge that "teardrop in the vocal cords" that she is such a master at; her ability to convey the emotions in the lyrics from bitter anguish to vulnerable yearning within just a couple of bars. Just when Sharon's soft, delicate voice wraps itself around your heart, the song ends with an explosive sound. Like a grenade.
"Titanium" is the second track, and the first single off the album; originally recorded by David Guetta and the WT fans' first glimpse into what this album would be like. This song is quite anthemic in nature, at least when WT gets a hold of it. Where the original version starts off slow, WT's version charges through the gates with bright, up-tempo guitar work. In the original version, a female guest vocalist named Sia sounds like she is bored out of her mind, and just going through the motions of singing the words in front of her. One can say many things about Sharon den Adel's voice, but no one can ever say that she sounds bored with anything she sings! Even when she is trying to sing in such a repetitive style (i.e., songs like "The Cross"), it's almost impossible for her to sound emotionless or without passion. To be honest, I could barely stomach the original version; WT's take on this song actually makes this tune enjoyable and is much closer to the characteristics of a pop song than the original version: it's catchy, it's upbeat, it makes you want to sing along or dance to the music (whichever better suits your mood), and is fun to listen to. The only similarities between the two songs is the high singing on the chorus, and I don't just say this because I'm a WT fan, but Sharon's voice not only blows Sia's out of the water, but blasts it out into oblivion. I can see this cover making for a good sing-along at future live WT shows. I almost wish I had never heard the original version, because WT's interpretation is so good that I would have been quite content to think of it as one of their own songs. The only reason I did was because I'm writing this review and wanted to compare the covers to the originals. But if you don't have to, then I would recommend not to, and to just consider WT's version as the real deal.
The third song is a cover of Passenger's "Let Her Go", and WT's version does not stray too much from the original in that they are both slow ballads. That's about where the similarities begin, and end. Once again, I find the original to be sung by someone with a voice annoying enough to make nails on a chalkboard sound pleasant. Just not my style, I'm afraid. WT's version is much more morose; their ballads have always been tinged with melancholy, it's no different here. Sharon's voice has that heartbroken edge to it that makes all the WT ballads such tear-jerkers. The original version is a bit more "sprightly" than WT's version; almost belying its sad lyrics. But WT gives this tune a more solemn feel, and makes the music just as mournful as the words indicate. A fine example of a band who puts their stamp on a cover song and does it one better.
So over the past several months, even before I knew all the artists that WT covered on this album, the name Lana Del Rey kept following me. I admit that I don't listen to a lot of popular music (you guessed it, I'm old, who cares?), so I don't know who she is and couldn't name any other song besides the one that was covered by WT on this album, a tune called "Summertime Sadness". I figure she must be very popular, considering that her name seems to pop up wherever I go. I think I even read somewhere that a lot of metal fans might actually like her music because it has a lot of goth influences. I really can't remember. At any rate, I figured that this album was as good of an excuse as any to finally figure out what all the fuss was about and why everyone is talking about Lana Del Rey. Her song starts off slow and sad, just as the title indicates. This is another song where WT attempts this from a contrasting angle. Their version starts off with up-tempo guitars and drumming. Sharon and Lana Del Rey have a lot of similarities in their vocal delivery; out of all the covers so far, this is the most "appropriate", in that it is not too much of a stretch to imagine either of them venturing into the other's territory. In fact, you would expect a pop artist to have the upbeat, catchy version, and the symphonic metal band to have the slow, gloomy style; but they have switched roles here! Sharon's voice is cheery while Lana's down-hearted. Just listening to the original, it makes me wish that Lana would cover a WT song in this fashion. Or a duet between Sharon and Lana? Now that would be interesting to hear!
"Radioactive", the fifth song, is a cover from a band called Imagine Dragons. It starts off as a slow, acoustic piece; which seems like just the sort of thing that would be fitting for WT to cover. It's got that Coldplay sort of vibe to it; to compare it to more popular music that even I am familiar with. Just like Coldplay (at least to my ears), the original version sort of just drags and there doesn't seem to be much going on. The tempo stays pretty much the same whether in the verses or the chorus; there's no highs or lows like in WT's version. They start the song off slow too, with some electronic influences before kicking it into high gear and turning it into a fast-paced song. The guitars are crunchy, Sharon's voice is wild and free in the chorus, almost encouraging you to raise your fists when she sings about it, and sing right along with her. This is another song where the original, to my ears, sounds hollow and uninteresting; but WT takes it, gives it a kick in the ass, and turns it into a rockin' tune.
The sixth song is a cover of the Gnarls Barkley mega-hit "Crazy", a song that pretty much everyone on the planet has heard; even someone as far removed from what is on the charts as I am. Everyone knows this song and has probably sung along to it at least once in their lives since it became a hit several years ago. We all know it as a catchy tune with a lot of hooks, a memorable chorus, and music that makes you want to groove along. So if you have been paying attention to this review so far, you should probably have guessed by now that WT did not go the safe route and do the same thing. Surprisingly enough, this is not the first time I have heard this song covered in a slow, ballad-type style; so perhaps it wasn't as big of a surprise to me to hear them do it this way. WT's version is not much more than Martijn's piano and Sharon's delicate vocals that are barely above a whisper. It's so stripped down that any traces left of Gnarls Barkley could not be found, no matter how hard you listen for them. WT has turned it into a gorgeous ballad, in their style of doing ballads with a touch of sorrow.

Quick guitar fade-in opens up track seven, "Dirty Dancer", a cover originally recorded by Enrique Iglesias. The original features Usher and Lil' Wayne, and is in the electronic/techno style; as dissimilar from symphonic metal as you can be. Both versions are fast, up-tempo songs. That's about the only similarity you'll find between them. Enrique Iglesias' version makes you feel like you are at a rave or a strip club; while WT's version is chock-full of heavy guitars, pounding drums, and Sharon's lovely voice. You could almost see the band headbanging onstage and raising their fists as they perform this song live. Both songs are the kind you can dance to, but I doubt very many mosh pits form at Enrique Iglesias gigs!
"Don't You Worry Child" is the eighth song; another electronic-type song originally recorded by Swedish House Mafia. Both songs begin slowly; the original version a bit more upbeat than WT's, until they hit the chorus. WT's version takes off from that point, with Sharon's ability to use her voice to convey emotion with deadly accuracy. Their version is a lot more rock-oriented, making it a lot more anthemic and sing-along than the original. There are touches of electronic influences in the song, but just like with some of the other songs on this album, it's just enough to remind you of where the original version came from. Sharon's voice carries this tune through the catchy chorus, the electronic parts, and the rapid-fire drumming. With the right sort of remix, this version could just as easily hold its own in the same dance clubs where the original can be heard.
Unless you were born within the last couple of weeks or have been living under a rock for the last 40 years, everyone has heard the song "Behind Blue Eyes" by The Who. Whether you know any of their other songs or are even a fan of their music, everyone knows this song; and depending on how old you are, your parents (or grandparents) have probably played the hell out of it to where the song is seared into your consciousness. Countless bands have covered it (for better or for worse), and now WT has added their name to the long list of those who have dared to take on a classic that is beloved by millions and whose timelessness has spanned generations and musical preferences. There is not much difference between the two in that they're both slow songs, but WT's version is just lovely piano work, and Sharon's voice changing the words slightly. There are some guitars in the second verse, and Sharon's vocals go to that twisted place that we all love on WT classics like "Caged". There's a nice guitar solo in the middle as well. I'm not a fan of The Who, so I can't say if their fans would enjoy this cover, but I think the band did a good job at doing it justice. I've certainly heard worse, and I'm sure The Who has too!
When most people think of the '80s one-hit-wonder band Frankie Goes to Hollywood, the first thought that comes to their minds is their song "Relax", which spawned one of the many horrible fashion trends in the '80s (if you were alive in the '80s, as I was, I'm sure there was a "Frankie Says…" shirt somewhere in your wardrobe, admit it!). People would probably be hard-pressed to name any of their other songs, but obviously they have them, and WT has covered one of them here; a tune called "The Power of Love", which was on the same album as their huge hit. Their version is a slow ballad that sounds nothing like the tune we all recognize them for. Once again, WT twists it around, taking a ballad and turning it into a rock anthem; such as they have done here. There's pounding drums, crunchy guitars, and a catchy chorus. This is one time where I wish WT would have stayed closer to the style of the original version; it's a beautiful ballad, and to hear Sharon's voice singing it in the original way would have been downright gorgeous. Their version isn't bad at all, though; they did a nice job at re-interpreting a song from a band whose style is known more for what WT has done here.
The final track is "Apologize", originally recorded by OneRepublic. Typical of all WT albums, the album ends with a moving ballad. The original version appears to be a ballad as well, with some symphonic elements of its own. You'd think WT would capitalize on this and maximize those features, but they didn't. They stripped it down and left us with just Martijn's piano and Sharon's gentle voice. There is a guitar solo in the middle of the song, but it's not a soaring guitar solo that drowns out the simplistic beauty of the song. The solo is just enough to introduce another element to the song, but it knows its place and is not loud or overpowering. Even though this is a cover, I'd put it right there along with some of the classic WT ballads like "Forgiven" or "Bittersweet". A fitting closer to a very interesting album.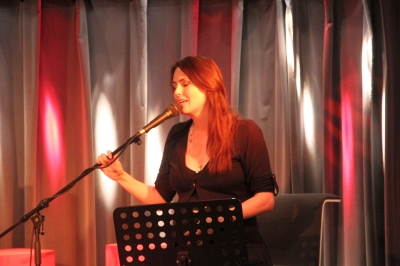 Overall opinion: What I really love about WT is their ability to not just break down stereotypes and limitations placed on their genre, but their ability to plow right through them as if they were never there in the first place. Whatever obstacle you place in front of them, they just seem to jump right over it with ease. You tell them to cover pop songs? Sure, here they are, and they'll sound even better than the originals! I consider myself to have a pretty diverse taste in music; metal is not the only type of music I listen to. That being said, however, I found a lot of the original versions of these songs to be boring or redundant (which I find a lot of modern pop music to be these days, unfortunately). Then listening to the WT versions, it's a stunning contrast. The songs are catchy and have a pop sensibility, but unlike many of these originals, they did not seem to be devoid of passion or lacking in creativity. What I especially liked was that for a majority of these songs, WT looked at them through a different lens than the original called for. They'd take an up-tempo song and turn it into a heart-wrenching ballad. They'd take a slow, easy-listening melody and turn it into a lively sing-along worthy of headbanging to. I liked that these songs were a pleasant surprise in their manner of delivery. It would have been so easy to just make all of them in the "typical" WT style, or to do the most predictable thing by making the song as close to the original as possible; but WT didn't do that They dared to be different; they actually took the Q-Music experiment seriously and gave the listeners a song that they thought they were familiar with, and recreated it as if it were brand-new. I like when bands make covers that way. It's too simple to just play "music by numbers" and use the same sort of instrumentation; almost everybody does covers that way because it's "safe" or somehow guarantees a built-in audience. WT has already established their audience, they were doing this for fun and never intended to make this into an album, so they had nothing to prove; they could make these songs whatever they wanted them to be, and they did. And the range of songs and artists they were given to cover was just as diverse: what other cover album have you picked up lately that has covers from Gnarls Barkley and The Who on the same disc? Not very many, probably. (On second thought, maybe there are some; I really don't need my e-mail to be swamped from music fans who feel the need to nit-pick all the cover albums out there in the world!) My only "gripe" (or more accurately, regret) about this album is that the covers from Coldplay and Adele were not included; those were amazing covers too and I think a wider audience might have been drawn to WT if these covers had been included as well (I'm going to put it out there, and I'll probably get a lot of hate mail for it, but WT's version of "Skyfall" sounded far better to me than Adele's version!). This album is a fun tide-over while waiting for the next batch of original WT songs, while at the same time feeling just as much like a genuine WT release as any other. If you're new to this genre or to WT, this might be an ideal place to start, as these might be songs you are already familiar with, and it's not so "metal" that the music is unfamiliar or strange to you. Or if you are one of those WT fans who have been trying for years to win over your friends to this Dutch symphonic powerhouse, you might have finally found just the thing to get you some new WT converts. It's worth a try!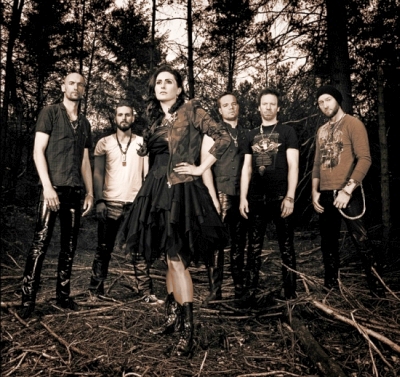 Photos provided courtesy of the band's official website
More information about The Q-Music Sessions can be found on Wikipedia