Introducing "The Harvest"


I find that it's nice to take a break from metal sometimes, and listen to something less dark, something more upbeat, something fun and precocious and sassy. Rock is relevant to this site, as are, obviously, big female voices. So let me introduce you to my latest earworm creators, Vancouver's very own modern rock quartet, The Harvest.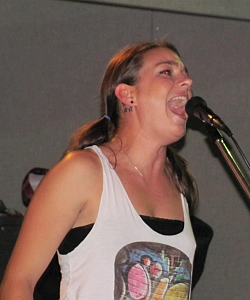 Sometimes fate throws things in the way of the humble music journalist that blossoms into something that just has to be written about, that just has to be shared with the larger word because it is just so special. One night this past April I attended a gig called Cirque Nocturna, an event put on by local metal head Adam Todd's fledgling company, Shows by RuinEnt, which had a well-known local female fronted metal act on the bill. The act bailed at the last minute, necessitating a quick replacement. An unknown named filled the spot on the evening's roster: it was The Harvest. I knew nothing about them. All I knew is that I wouldn't be seeing this well-known local female fronted metal act after all, and I was disappointed. I needn't have been. As fate would have it, The Harvest, fronted by a young woman whom I think can take this band to great heights, stopped me in my proverbial tracks, caused my skin to go all goosebumpy, and inspired this humble music journalist to do everything she possibly could about their relative obscurity with her limited superpowers.
The seeds of The Harvest were sewn at a New Year's party back when 2000 was turning into 2001, in Victoria, British Columbia, where two friends, bassist Jeremiah Johnson and guitarist Darren Lee were both attending the University of Victoria (where, incidentally I also went to university), Jeremiah majoring in music and PE and Darren in economics. They originally had a male vocalist who was also a UVic student, Sandy Thomson, and their first gig was in front of 350 people in a rented hall.
The current line-up started to gel in 2004 when drummer Mark Stone joined the band, and soon thereafter the band's debut album, Bumper Crop, came out. Eventually, the band split with Thomson, and in 2010 fate intervened in the form of a cell phone left behind at a party at the band's studio, Aurora Studios. Young Shauna Meloche, an Ontario transplant who came to British Columbia for work, came up on the band's radar.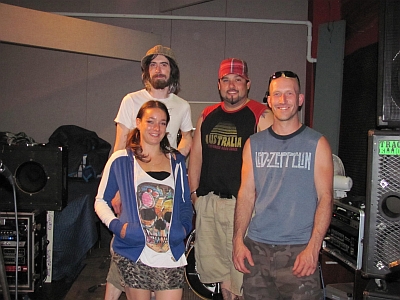 "I was working construction and had no friends on the site except for this one guy who I was glad to talk to because he was nice and he talked about music and I could have a normal conversation with him. And he asked me if I actually did sing and he brought me here [to the studio] and there was a party going on here," Shauna remembers. Jamming at the party was The Harvest, who were in the process of auditioning new female singers to fill their lead role. "The friend said 'these guys are looking for a singer, and maybe you can show them.' So I came and sang acapella and tried to get everybody's attention." And it worked.
"We heard her and we all thought, well, let's try it out," Jeremiah recalls. Shauna then did the classic cell phone leave-behind trick, so she had to return to the studio anyway...and the rest is history.
The magic of The Harvest is created by the combination of influences each member brings to the band. From Motown to popular music, to grunge and to metal, their music is a funky smorgasbord of sounds, textures, and atmospheres.
But the unequivocal star of the show is the singer, Shauna. It's hard to put into words just how incredible her voice is and how enormous is her talent. She's like a mixture of Adele and Janis Joplin - her voice is that huge and powerful. In fact, it's one of the biggest voices I've come across from artists new to me this year. She has no formal training under her belt, but did have a lot of informal training growing up from her father, who was a singer in an 80s band in the Windsor, Ontario, area called Amnesty.
"My dad taught me to properly vocalize as soon as I was old enough to start singing," says Shauna. "He taught me the diaphragm, he taught me mouth shapes, and then there was lots of practice growing up. I sang a lot and tried to sound like other singers - different kinds of singers, like country singers, jazz singers, and different rasps." She modestly mentions a high school vocal class and some chorus group work. "Pretty minimal, but everyone who has had something to teach me has taught me something that's stuck with me."
The Harvest's self-titled EP, their third official release, contains six songs and was released in March of this year. Recorded in Vancouver and mixed at Aurora Studios, the EP showcases the band's strong, fun, songwriting, with lyrics mainly written by Shauna. All members contribute to the music composition. The tracks contain hard rock riffing, complex vocal lines, and jumpy tempos. It's hard for me to pick a favourite because each song has its own flavour, but I love the opener, "One of Those Days" and track three "Happy Ending". "Playing With the Boys" celebrates tomboyism in all its glory, and things wrap up on a more laid back tone with the slower-paced "Vacation."
Live, which is how I highly recommend one experiences The Harvest if at all possible (their next gig is June 20 at The Princeton Pub on Powell Street in Vancouver's East End), this quartet is powerful and dynamic, and has an infectious energy. Shauna is even more powerful - so much so that she almost out-powers the band (metal singers that also do this who come to mind are Brittney Slayes of Unleash the Archers and ex-Dawn of Destiny vocalist Tanja Maul, though I never had the pleasure of seeing her live when she was with the band, much to my utter disappointment), but what is so special about The Harvest is that the energy they managed to convert their energy just as effectively on their recorded material as much as during their live performances.
So what's on the horizon for The Harvest. Well, I can tell you that there are new earworms in the making, for one thing. The night I was lucky enough to hang out with them and chat and conduct an informal interview, they also played some new material for me, and I can tell you that it is excellent - harder, heavier, and a bit darker than what's on their EP. Darren and Jeremiah are hard at work producing a new album, which the band is in the process of recording now. They also have local shows coming up this summer, one of which I previously mentioned, and another produced by Adam Todd's Shows by RuinEnt on July 6 at the Columbia Theatre in New Westminster.
Definitely check out this band, people! It'll be so worth it, I promise you! As Darren put it, "we don't want to be a local band, we want to be a band from Vancouver." And I truly believe that this "original four-piece powerhouse," (as they describe themselves on their Facebook page), has the talent and drive to do just that and be major players on the national and international scene as well.
Link Love:
The Harvest's web site
Facebook
iTunes (Canada)
CD Baby
Twitter
Reverbnation
BandCamp