Sonic Cathedral's Best Releases of 2014
Written by SC Staff December 2014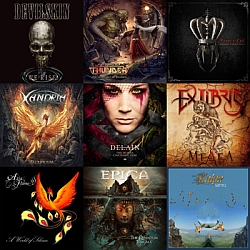 Introduction by John Thornburgh
2014 was an incredible year for female-fronted metal. There were so many excellent albums it was hard to keep up (and hard to pick just ten for my list)! We had releases from lots of big bands (Within Temptation, Arch Enemy, Lacuna Coil, Epica, Delain, and more), as well as many excellent releases from newer and less famous bands. The large number of releases is reflected in the diversity of picks by the different SC staffers. We all love female metal, but our favorites are different. In fact, with ten staffers submitting lists, we have nine different #1 albums! Only Delain gets the nod twice.
Other big news this year including The Pretty Reckless and In This Moment both debuting albums in the Billboard U.S. top ten; Alissa White-Gluz replacing Angela Gossow as Arch Enemy's vocalist; Doro celebrating her 30th anniversary with the Strong and Proud Tour; The Gathering performing their 25th anniversary show with Anneke van Giersbergen; Anneke, Liv Kristine, and Kari Rueslåtten uniting as The Sirens; Within Temptation releasing a DVD of their epic Elements show (Let Us Burn); and Helcanen Val announcing a one-year hiatus for the Metal Female Voices Fest after this year's edition.
The year also saw many great concerts and tours. Within Temptation and Delain toured together in Europe and then both toured North America separately (WT with Amaranthe and Delain with Sonata Arctica and Xandria). Delain also did their first two U.S. headlining shows. Arch Enemy toured North America with Kreator and is about to do the same in Europe. Lacuna Coil also toured North America, and Epica planned to do the same but was foiled by Machine Head cancelling the tour. Lindsay Schoolcraft toured with her new band Cradle of Filth, and the Milwaukee Meowsic Fest featured some of North America's best talent, including Aria Flame, Grace Méridan, and Kassandra Novell. Meanwhile, in Europe, it was another amazing year of festivals like Wacken (with Arch Enemy), Summer Breeze (with Anneke van Giersbergen, Arch Enemy, and Delain),M'era Luna (with Within Temptation), Dames of Darkness (headlined by Stream of Passion and Xandria), and of course MFVF (headlined by Therion and Leaves' Eyes).
With a year like that, one might fear that next year will be a dud. But have no worry, we can expect new releases from Nightwish, Battle Beast, Halestorm, and more. Plus, Nightwish has announced a North American tour with Delain.
But for now it's time for the 2014 lists. Our staff have once again compiled personal lists of their favorite female-fronted metal and rock albums of the year. This year we also decided to move up our list to the beginning of December, to make it useful for Holiday shopping. Hope that helps, and if we miss any year-end releases we'll try to include those next year!
Allyson Kenning


1. Xandria – Sacrificium
2. Terminatryx – Shadow
3. Dawn of Destiny – F.E.A.R.
4. Divided We Fall – DreamCrusher
5. Savn – Savn
6. Delain – The Human Contradiction
7. Evenoire – Herons
8. Epica – The Quantum Enigma
9. Where Angels Fall – Redemption
10. Liv Kristine – Vervain
C.


1. A Sound of Thunder – The Lesser Key of Solomon
2. Macbeth – Neo-Gothic Propaganda
3. Within Temptation – Hydra
4. Delain – The Human Contradiction
5. Lacuna Coil – Broken Crown Halo
6. Kingfisher Sky – Arms of Morpheus
7. MindMaze – Back From the Edge
8. Heliosaga – Towers in the Distance
9. Triosphere – The Heart of the Matter
10. Lydia's Libido – Kiss the Frog
Honorable mention: Tuomas Holopainen - The Life and Times of Scrooge McDuck
Christopher Backeberg


1. Kaipa – Sattyg (symphonic progressive rock, Sweden)
2. Arkona – Yav (folk metal, Russia)
3. Arch Enemy – War Eternal (melodic death metal, Sweden)
4. Silent Opera – Reflections (progressive melodic death metal, France)
5. Eluveitie – Origins (folk metal, Switzerland)
6. Lenore S. Fingers – Inner Tales (Gothic doom metal, Italy)
7. Crystal Viper – Possession (heavy metal, Poland)
8. Blues Pills – Blues Pills (blues rock, International)
9. Introitus – Anima (neo–progressive rock, Sweden)
10. stOrk – Broken Pieces (progressive metal, USA)
Doctor T.


1. Aria Flame – A World of Silence
2. Dominia – Thropania
3. Diskelion – Remember Sorrow
4. enkElination – Tears of Lust
5. Enemy of Reality – Rejected Gods
6. Edenian – The Rise of the Nephilim
7. Pesante – Overplayed
8. Scandelion – Nonsense
9. Revontulet – Hear Me
10. Cadaveria – Karma (DVD)
Also expecting a Blackthorn release in December that would, no doubt, have made the list.
Eastcoaster


1. Delain – The Human Contradiction
2. Devilskin – We Rise
3. Diskelion – Remember Sorrow
4. Lyria – Catharsis
5. Flight of Fire – Shatter the Sky
6. Darkyra – Dragon Tears
7. Within Temptation – Hydra
8. Dark Sarah – Episodes I and II
9. MindMaze – Back from the Edge
10. Kontrust – Explositive
Max Levites


1. Lacuna Coil – Broken Crown Halo
2. In This Moment – Black Widow
3. Destiny Potato – LUN
4. The Pretty Reckless – Going to Hell
5. Xandria – Sacrificium
6. Eluveitie – Origins
7. Myrkur – Myrkur
8. Amaranthe – Massive Addictive
9. Within Temptation – Hydra
10. Devilskin – We Rise
John Thornburgh


1. Delain – The Human Contradiction
2. Within Temptation – Hydra
3. Arch Enemy – War Eternal
4. Lana Del Rey – Ultraviolence
5. Needle Sharp – Demo
6. Devilskin – We Rise
7. Sister Sin – Black Lotus
8. Kobra and the Lotus – High Priestess
9. Amaranthe – Massive Addictive
10. The Pretty Reckless – Going to Hell
Justin Boyer


1. Epica – The Quantum Enigma
2. Delain – The Human Contradiction
3. Omnyoz – Fuujin Kaikou/Raijin Sousei
4. Within Temptation – Hydra
5. Within Temptation – Let Us Burn
6. In This Moment – Black Widow
7. Xandria – Sacrificium
8. Lacuna Coil – Broken Crown Halo
9. Stream of Passion – A War of Our Own
10. Light Bringer – Monument
Robin Stryker


1. Devilskin – We Rise
2. Delain – The Human Contradiction
3. The Pretty Reckless – Going to Hell
4. Triosphere – The Heart Of The Matter
5. Destiny Potato – LUN
6. Xandria – Sacrificium
7. Divided We Fall – Dreamcrusher
8. Elysion – Someplace Better
9. Diabulus in Musica – Argia
10. Kowai – Dissonance
Ton Dekkers


1. Ex Libris – Medea
2. Epica – The Quantum Enigma
3. Stream of Passion – A War of Our Own
4. Diabulus in Musica – Argia
5. Ancient Bards – A New Dawn Ending
6. Xandria – Sacrificium
7. Lacuna Coil – Broken Crown Halo
8. MaYaN – Antagonise
9. Enemy of Reality – Rejected Gods
10. November 7 – Awaraxid 7mg
Albums Most Often Mentioned by SC Staff
1. Delain – The Human Contradiction (6)
2. Within Temptation – Hydra (5)
2. Xandria – Sacrificium (5)
3. Devilskin – We Rise (4)
3. Lacuna Coil – Broken Crown Halo (4)
4. Epica – The Quantum Enigma (3)
4. The Pretty Reckless – Going to Hell (3)
5. Amaranthe – Massive Addictive (2)
5. Arch Enemy – War Eternal (2)
5. Destiny Potato – LUN (2)
5. Diabulus in Musica – Argia (2)
5. Diskelion – Remember Sorrow (2)
5. Divided We Fall – Dreamcrusher (2)
5. Eluveitie – Origins (2)
5. Enemy of Reality – Rejected Gods (2)
5. In This Moment – Black Widow (2)
5. MindMaze – Back From the Edge (2)
5. Stream of Passion – A War of Our Own (2)
5. Triosphere – The Heart of the Matter (2)
Weighted Average of SC Staff Lists
(10 points given for each #1 pick, 9 for #2, 8 for #3, etc.)
1. Delain – The Human Contradiction (50)
2. Within Temptation – Hydra (30)
2. Xandria – Sacrificium (30)
3. Devilskin – We Rise (25)
4. Lacuna Coil – Broken Crown Halo (23)
5. Epica – The Quantum Enigma (22)
6. The Pretty Reckless – Going to Hell (16)
6. Arch Enemy – War Eternal (16)
6. Diskelion – Remember Sorrow (16)
7. Destiny Potato – LUN (14)
7. In This Moment – Black Widow (14)