MFVF XII – Day 1
@ Oktoberhallen Wieze, Belgium
Friday 17 October 2014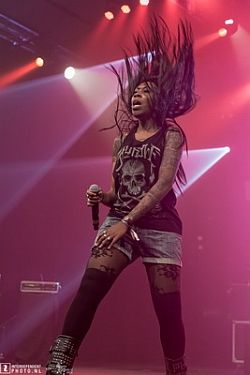 Early afternoon I'm leaving home (in Eindhoven) to go to Belgium. The first stop is the Ibis in Aalst where I meet the first group of (old) friends. Ibis is the base for die-hard Metal Female Voices Fest party animals, both audience and artists. This is my sixth attendance – an early one in 2003 and five in a row. This twelfth version of MFVF will be, for me, again different from previous editions. Not only because there are just two correspondents from Sonic Cathedral but in addition to shooting photos I need to write this report and last but not least I'm also supporting Ingeborg Steenhorst backstage. That's the reason I had to leave my friends early to go to Oktoberhallen in Wieze. For those that are not that familiar, she's stylist / designer for bands like Epica, Lacuna Coil and singers such as Floor Jansen and Dianne van Giersbergen. She's also my partner in crime for FemME (Female Metal Event). This assistance was the reason you could see me walking in with tailor dummy's backstage. That allowed me also to meet my friends in the bands in a more relaxed setting.
Anyway I was clearly in time for the festival start. The venue was already filling up with the people in the standard outfit, black band T-shirt. As it is still early and for the start of the festival with no well-known headliner on the Friday it's not too bad.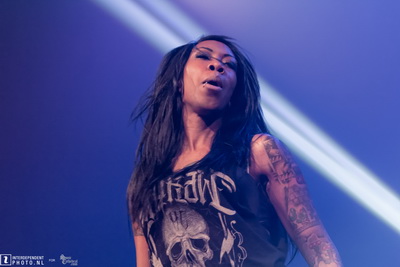 Diary Of Destruction had the honor to open the festival. Like most (less-known) bands this band from France is happy to be able to play at MFVF. It's for most of them a great experience. Playing on a (sometimes too) large stage, a professional setup, being filmed, a large crowd and playing with big(ger) names. The set brings a variety of songs; death metal, melodic and even metalcore, with a lot of energy, not always preformed optimally. Front woman Audrey takes care of both clean vocals and grunts in an impressive way. The enthusiasm of the band is great but it's hard to really excite the audience at that time in the festival. Larger and additional photos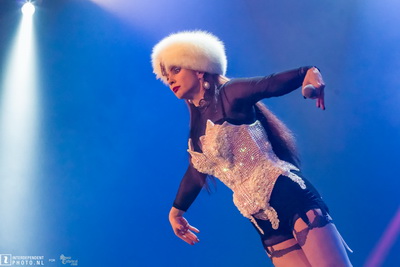 The change-over time is short, time for Ayin Aleph. The outfits of Ayin and the bass player align with mix of jazz and progressive metal with Barock influences. Also here a combination of clean (operatic) vocals and grunts is taken care of by the front lady. It's a little bit eccentric, which perhaps explains the reactions of the audience. The complexity and the vocal exercises did not appeal to everybody. Ayin is not only a singer; she's also an actress and entertainer. She did all she could to keep everyone's attention but for most it was a little over the top. Her outfit and performance (with some attributes) helped her to maintain attention, but the hints of cabaret / burlesque moved away from the music. Anyway something was happening on stage. Maybe it was still too early (or more down to earth, too low beer consumption) to appreciate the show fully. Larger and additional photos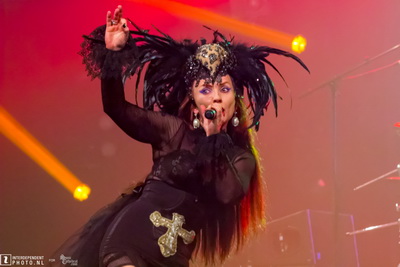 Preparation for the special MFVF project starts. Before that Saeko Kitamae opens with one short song linked to the victims of the tsunami in Japan. Saeko has some challenges with the lyrics assumingly as it was quite emotional. Anyway the song "Light of Life" can be found on the internet and downloaded at Spotify, ITunes and Amazon. All income will go to those that suffered from that disaster.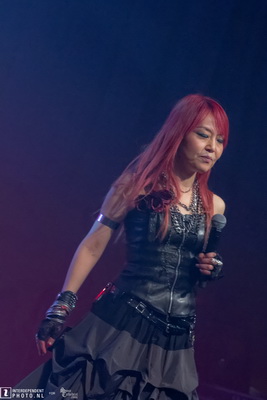 MFV United is the name of the special project. It's a limited edition of last year's version of Eve's Apples. This year Karolina Pacan, Iliana Tsakiraki, Mariangela Demurtas, Kassandra Novell, Maxi Nil, Ailyn Giménez and Saeko Kitamae party on stage with their selected covers.
Karolina had chosen "We're Not Gonna Take It" (Twisted Sister) and "Send Me An Angel" (Scorpions). These were well performed with the characteristic enthusiasm.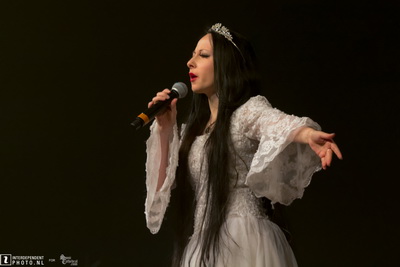 Although Iliana had some difficulties with her voices she was able to give "Whisper" (Evanescence) an additional level that shows the talent present. Her version of "Bless the Child" (Nightwish) created an excited crowd. Her voice is a perfect match.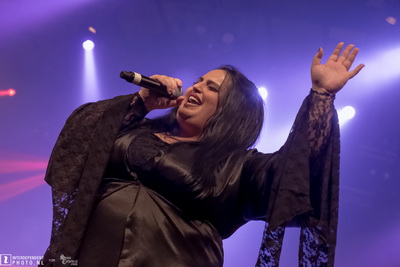 Also Ailyn has a beautiful voice and "Uninvited" (Alanis Morissette ) and "Fleurs Du Mal" (Sarah Brightman) are great.
Don't expect an operatic approach from Maxi. She had chosen for a different kind of song, a little alternative, that was performed very well; "Trains" (Porcupine Tree). A little "tricky" was the choice for "On Most Surfaces" (The Gathering) as Anneke was in the house.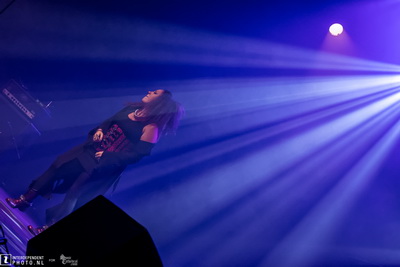 Mariangela chose more traditional rock songs like "Perfect Strangers" (Deep Purple) and Gypsy.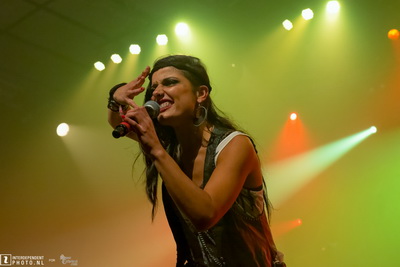 Last but not least Kassandra shows that she can do a lot vocally. Daring was the choice for "I Walk Alone" (Tarja). An excellent performance, "chapeaux" as we are close to France. As expected the closing is with the whole line-up complete with Sanna Salou. Larger and additional photos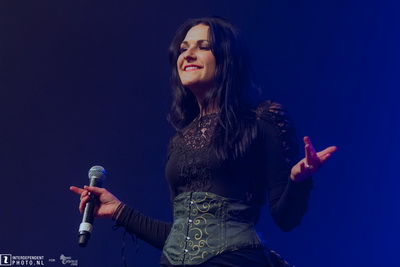 After a little "organizing" I was off with some band members to Ibis. Let's party and hopefully get up in time to catch the first bands tomorrow.