CD Info
Album: Most Beautiful Day
Artist: Last Union
Genre: Progressive metal
Label: Independent
Language: English
Tracks: 12
Total time: 50:47
Rating: 10 of 10
What do you get when you put together two Italian musicians (a vocalist and a guitarist), hook them up with Symphony X bassist Mike LePond and former Helloween drummer Uli Kusch, then call up your buddy James LaBrie from Dream Theater to guest star? Why, you get Last Union, a progressive metal supergroup consisting of two upcoming talents in vocalist Elisa Scarpaccio and guitarist Cristiano Tiberi, and some of the best names in prog and power metal.
Clearly, the DT and Symphony X influences are heard from the start, on the album's title track. However, it seems to have harnessed the best of the prog elements and kept it in a much more concise rock format, which will probably appeal to music fans who might like this genre of music, but find the long-winded progressive songs to be a bit much sometimes.
Elisa has a lovely voice, but I have to admit, as a fan of Dream Theater, it's the tracks with James LaBrie that jump out at me the most. I seem to be in the minority of DT fans who actually love James' voice and does not think he is this horrible singer that many of the band's fans paint him to be (but hey, to each their own!). He sounds especially stellar on the second track, "President Evil", which could almost be a political statement regarding current events (but that could just be my take on it!). His voice on this song and on the track "A Place in Heaven" have that perfect fusion of melodic and aggressive for which he is known so well.
But, since this is a site for female vocalists, I should probably concentrate more on that and get back to the tracks with Elisa. This is definitely not what DT or Symphony X would sound like with a female vocalist, even if there are some stylistic similarities. Last Union is a lot more hard rock with catchy choruses, like on tracks such as "Purple Angels" or "18 Euphoria". Although she does not sound anything like Anette Olzon, Elisa's voice reminds me Anette in that she has a very bright, open voice that lends almost a pop or AOR element to the music. "Ghostwriter" also gives a nod to the band's heavier side, with blistering guitar riffs and rapid-fire drums that get the point across in just two-and-a-half minutes. "Limousine" is another short song that doesn't reach the 3-minute mark, but Elisa gets into some crazy high vocals that pack a mighty punch! The penultimate track, "Back in the Shadow", is another heavy track that showcases some of Elisa's range and versatility as a vocalist.
With all of that, however, it still is a progressive metal album, so there has to be something for the prog-metal fans who came in through the Symphony X or Dream Theater connection. That would be the final track, "Taken", an 8-minute epic where James and Elisa sing together, their voices blending so perfectly that there are some parts where you almost wonder where one starts and the other begins. Their voices are so different, but when they join together, it's absolutely stunning. There is also a radio edit version of the same song in the middle of the album, which I found a little strange; I'm not used to radio edits being smack-dab in the middle of the record, but whatever works! Maybe they did that as a way to build up to what the full version would be, because it's a good album closer.
Overall opinion: If you are looking for a female-fronted band in the more progressive vein, but not too "out there" with the lengthy songs and musical noodling, then Last Union might be a good fit for you. If you are a fan of Dream Theater, you might come in for James LaBrie, but stay for the overall musicianship from the rest of the band (as I did). When it comes to the multitude of side-projects that the DT guys are involved in, I am very hard to please, because they all have so many different musical endeavors going on that: 1) I cannot keep track of them all, and 2) when you have that many pies cooling on the rack, not all of them are going to be to your taste. If you're not a fan of Dream Theater or don't know their music, that's OK too, because Last Union does not sound anything like DT and it is not a requirement to like one in order to appreciate the other. If you are looking for good female vocals and a solid band that can rock hard without a lot of frills, Last Union might be worth giving a listen. In any case, they are a band that is off to a good start and has all the potential to keep the momentum going. The only bad thing I can say about this album was that it was released too late in 2016 for it to make my list of albums of the year, and because it is a 2016 album, I can't put it on my favorites for 2017 either. But it has been one of the best albums I have heard this year so far!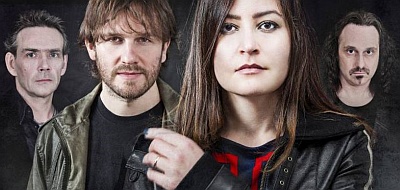 For more information on Last Union, visit their official website.