Doro - CD Review
Strong and Proud

CD Info:
Label: Nuclear Blast
Genre: Power metal
Language: English
Tracks: 14
Total time: 70:48
Rating: 10 of 10
In the femme-metal scene, or even in the world of metal in general, it goes without saying that I have a huge amount of respect for Doro. One of the first female trailblazers of metal and the undisputed Metal Queen, Doro continues to inspire young women everywhere who want to get out there and rock with the boys. With all her youthful vigor and enthusiasm, it's amazing to think that she has been in this business for 3 decades!
Strong and Proud, a commemoration of those 30 years in heavy metal, shows Doro in her element: as a live performer. From the opening track, "On the Run", where you hear the crowd enthusiastically chanting her name before she, her band, and full orchestra blow the roof off the house; to Doro's tribute to Ronnie James Dio on "Für Immer", where guitar legend Uli Jon Roth joins her ostage; to the closing track, the classic Warlock favorite "All we Are"—Doro's "strong and proud" voice is the rallying cry of every metalhead for whom this music is a culture and a way of life. The album also features covers of beloved metal classics: from Dio's "Egypt (The Chains Are On)", where Doro does Ronnie so much justice you almost expect the spirit of Ronnie to appear from the clouds and bless the audience himself—to Accept's "Balls to the Wall", a metal anthem that even non-metalheads know (and where former Accept frontman Udo appears to take the stage with her, those two supremely powerful voices combining to rattle the rafters)—to the cover of Iron Maiden's "Fear of the Dark", where the orchestra adds an extra bit of symphonic drama and her guitarist duplicates Adrian Smith's riffs perfectly (and where former Maiden vocalist Blaze Bayley joins her onstage for a rockin' duet)—Doro chronicles her years in heavy metal by paying respect to some of metal's most beloved idols in a way only Doro can.
When you have songs on your setlist like "Earthshaker Rock", "Raise Your Fist", and "Rock 'Till Death", you'd better believe this is going to be something to bang your head to, and the sound is so good that you feel as though you are right there in the crowd yourself. Seriously, while I was listening to this, I had to remind myself not to rock out, but to stay focused and write this review!
Throughout the performance, Doro's voice goes from rousing and enthusiastic to gritty and almost guttural (like on the tracks "Revenge" and "Hellbound") to honest and vulnerable (such as the songs "Without You", and "You're my Family", a song written about her fans), conveying all the emotional range of her vocal ability. I think if you listen to this, you can understand why Doro is such a "people's artist". When she sings, you can feel her sincerity. On one token, she sounds almost like she is singing just for you, but at the same time, she is singing to every person in that audience from the front row all the way to the nosebleed section. I don't know how anyone could fail to be moved by it. She whips the crowd into a frenzy with constant sing-alongs, chanting, clapping, and all the other standard rock show interactions. Even just listening to this, without seeing the actual DVD, you know that she puts on one hell of a live show. All live albums manage to give a fair glimpse of what that particular band or artist is like in a concert setting, but Doro is one of the few where I listen to it and can actually imagine myself right there at the performance. That says a lot not only about the production quality, but also about Doro as a performer as well. Whether you are an old-school metalhead who has been following Doro's career for a long time, or you are just discovering the music and want to school yourself on some of the legends in the genre—or if you're just a fan of good live DVDs, like I am—then this is a worthy addition to your music library.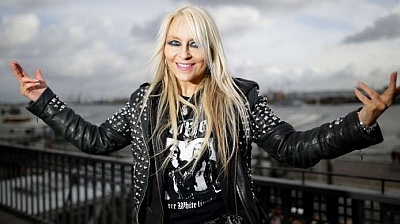 For more information, visit Doro's official website