Aggronymph - CD Review
Far Away as we Fade

CD Info:
Album: Far Away as we Fade
Artist: Aggronymph
Genre: Gothic/industrial metal
Language: English/Chinese/French
Label: Sugo Music Group
Tracks: 11 Total time: 39:19
Rating: 9 of 10
As femme-metal continues to span far and wide across the world, it has lengthened its reach all the way to China, where the current members of the band Aggronymph reside. Starting in Bangladesh in 2009, the band has gone through lineup changes, name changes, and changes of locale before finally settling in the town of Yichang.
The band's first taste of public recognition came by way of the compilation album Crossing the Borders, which also featured other big names on the scene such as Epica. From there, a debut album, Shivers in my Veins, was released in early 2015; with a follow-up EP, The Black Album, later that year. In 2016, the band has released their third offering, Far Away as we Fade: featuring some cover tunes and guest vocalists to round out the band's already-diverse sound; a sound which is described as having been influenced by bands all the way from Lacuna Coil and Nightwish to HIM and The 69 Eyes all the way to Skrillex and Armin van Buuren. When a band cites musical influences that far across the board, that automatically piques my curiosity!
"Far Away as we Fade": The title track starts things off, and it is a goth-inspired tune with pianos and the sound of falling rain in the background. A dark and doomy instrumental piece just a little over 2 minutes long, it perfectly sets the tone for the rest of the album.
"I Want You": This would be a good choice for a single; Elain's vocals are very reminiscent of Delain here. She has the same sort of power and emotion that Charlotte Wessels has in her vocal delivery. The growly male vocals are provided by guitarist/songwriter Saad Al Sami Arnob, and their harsh aggressiveness are a startling contrast to Elain's high, sweet voice; but the two contrasting voices convey the heartache in the lyrical content quite well. It's got all that gothic-metal flair, with just a touch of '90s alternative rock to give it that extra something.
"Thousand Tears": The band's industrial influences are heard clearly on this track, where Saad's harsh vocals take the lead here. It's an interesting mix of electronica, gothic rock, pop, and a little bit of nu-metal. A heavy track that would probably get a crowd going at shows.
"Time Will Tell": Another track that hearkens to the band's more nu-metal/electronic influences, including some rapping from guest vocalist Peter Curtis Bopenda and some singing in Chinese from guest vocalist LuLu. However, unlike your typical nu-metal song, this is not forceful rapping done over aggressive guitars and drums; this is a lot more melodic, and the rap flows with the music in an easy, mellow style.
"Distant": This track is one I would highly recommend for fans of gothic/symphonic metal; their Nightwish/Epica influences are definitely heard here. While Elain's vocals are not on the operatic end, the music is dark and melodic and there are some harsh male vocals to accompany Elain's higher notes.
"Ya Libela (Forever)": Another track featuring the rapping of guest vocalist Peter Curtis Bopenda, this time he brings his A-game to the table in French, and it works perfectly with the keyboard work on this track.
"Take me Out": One of the heavier tracks on the album, it's still got enough of a straight-up rock vibe to where I think it would make a good second (or third) single. Saad's harsh vocals carry the verses while Elain is heard more on the choruses, but it's a track that captures the band's overall sound.
"She": A dreamy ballad-type of song, the clean vocals here are provided by bassist Godric, whose voice is quite pleasant. I'd like to hear more between he and Elain, or more between all three singers. Godric's voice is the centerpiece here, and it floats along with the slow acoustic guitars and gentle drum work.
"Kai Dao Tu Mi": A track in Chinese, guest vocalist Babette makes an appearance for this Wang Fei cover. It starts off very heavy, and it's definitely laden with all the sounds that make symphonic metal so enjoyable: the crunchy guitar riffs, the ethereal keyboard sounds, and the cadent drums. Babette has a slightly deeper voice than Elain, but is no less pleasant to listen to; her voice is like water running over smooth stones; steady and strong while the music takes off into all sorts of places, from icy electronic tones to gothic darkness to symphonic savoir-faire.
"Xiao Pinguo": This guitar-based track shows off the band's power metal side, and Godric tries his hand at this sort of rapping/singing in rapid-fire style in Chinese. Even though the guitars are very power metal, there is a dance element to it, and you can almost see yourself bobbing your head to the music as the vocals take on a sing-song fashion.
"Amani": The album's final track, guest vocalist LuLu returns with another guest, Xia Haoran; and their voices combine over electronic work that is frenzied and tightly-woven at the same time. The way their voices weave together, it's got this anthemic quality, almost like a "We Are the World" sort of feel to it! And maybe that's what they were going for with this; for an album that has incorporated so many different sounds, styles, and vocalists, perhaps it is only fitting to end it with a track that sounds like everyone joining together in harmony to build a perfect world with music.
Overall opinion: Wow! I really have to say that Aggronymph is the most interesting-sounding band I have heard lately. So many bands promote themselves as being sonically diverse and having numerous influences—and many of them do a great job at taking bits and pieces from all sorts of genres and patching them together to make something great—but I haven't heard it done in quite the way Aggronymph has done it. They have the standard guitar/bass/drums/vocals, but they also have rappers, they have turntables, they have keyboards, they have singers in different languages. Aggronymph does it all. And where so many bands seem to suffer from filling their plates too high whenever they try to incorporate so many sounds, or fall short of their promise; Aggronymph effortlessly weaves together this tapestry of rock, metal, symphonic/gothic metal, grunge, new-wave, electronica, industrial, pop, dance, nu-metal, hip-hop, and sprinkles on just a little bit of funk, power metal, and folk music. Yet none of it sounds out of place with any of the other sounds, and none of it sounds like a blatant attempt to cram as many sounds together as possible. Everything fits together neatly and has its place. There are some elements that one would not think sounds like a good combination, but Aggronymph merges them into something new and refreshing. There is a lot of potential here, but there is also a lot of room for improvement. One thing about the music I feel needs more work is knowing when to economize and when not to. Many of the songs fit right in the 3-4 minute mark, which is fine, but there were a couple of songs that felt like they were just getting started, or that there was still room for a little more, and then it started fading off as though it realized that they had reached its time limit. I understand that not everyone has the patience for 7-8 minute songs, but a couple of these tracks would not have suffered any if they had been allowed to reach the 5-6 minute mark. There were a few tracks that made me think, "wait, I want to hear the rest of this!", and then it was gone. So in that respect, I think Aggronymph needs a little more work. However, the band's overall sound is so wide-ranging and so diverse, that they are interesting to listen to if only to find out where they will go next. It's exciting to hear all the different ways they have found to combine all these influences. If you are new to the genre, Aggronymph might actually not be a bad place to start, because there is something for everyone. If you like symphonic metal, there is something there for you. If you like electronica or hip-hop, there is something there for you. If Far Away as we Fade is Aggronymph just getting started, then they have a lot of room to be one of China's most promising exports on the metal scene.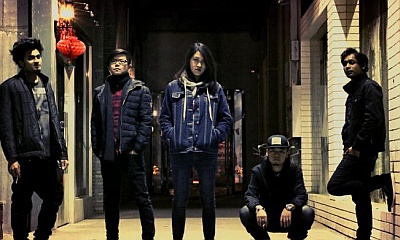 For more information on Aggronymph, visit their official Facebook page