Interview with Marta Gabriel
February 2014



Christopher Backeberg completely flipped when he reviewed Possession, the newest album by Crystal Viper. He couldn't stop enthusing about Marta Gabriel, the power, inspiration and voice of the band, the new album and the other Crystal Viper albums that came before Possession.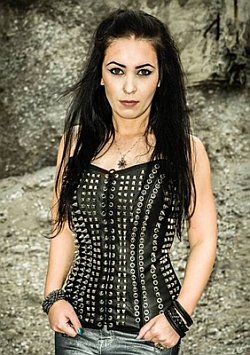 He wanted to genuflect before Marta and kiss her feet. Marta would have none of that, fearing that Backeberg might infect her with foot and mouth disease, according to unreliable sources.
When the chance arose to interview Marta about the album, the Sonic Cathedral metal commandos had to strap Backeberg to his office chair to stop him teleporting straight to Poland to speak to Marta. They had to play the whole of Possession again to stop his brain waves spilling out of his nostrils.
The new album represents several breakthroughs for Crystal Viper. It's the first concept album composed by Marta. It expands beyond traditional heavy metal and absorbs other metal influences. Two legendary singers were chosen to do guest vocals. Backeberg was champing at the restraints to ask Marta for more, more.
An email interview doesn't contain the number of questions or the expanded answers that a face-to-face might elicit. We had to limit the number of question anyway because Backeberg reads even more slowly than he types. However, Marta graciously and humorously answered what he did ask.
Sonic Cathedral: Marta, you've announced on your Facebook page that you are going on "a secret mission to London." Can you tell us more about this mission?
Marta: This mission was so secret that I can't tell about it even right now, ha ha! But seriously, I received an offer as a session musician and went to London to talk the details. Anyway, I decided to not take this offer.
Sonic Cathedral: What prompted you to compose a concept album, and how did you arrive at the very dark theme for the album?
Marta: The Possession concept I had in mind for a very long time, and I finally decided to make an album about it. It's worth mentioning it's not a typical story about possession, it has an unexpected twist, but I won't tell the whole story. That would be like telling the end of the movie to the person who is going to watch it.
Sonic Cathedral: What were the new challenges for you in writing all the songs around a story instead of composing a set of stand-alone songs?
Marta: Writing concept albums is more difficult, as it's like composing a soundtrack for a movie – you see the pictures in your head and then you create the music. And to be honest with you, I prefer this way of making music more than composing simple songs. It's a very creative process. As I'm a huge fan of movie scores and I dream about making music to a movie, this way of working is perfect for me.
Sonic Cathedral: On Possession you've very neatly pulled in some other musical styles, such as doom and even melodic black metal. How are you planning to introduce other metal influences in your future work?
Marta: The truth is I never plan anything. The influences you hear in songs that I compose come from my love for a lot of different genres of music. It's not like that I sit and plan: "All right now, I will compose a song like this or like that." No, music usually plays in my head, I don't control it, and when it happens, I sit along with my instruments and recording equipment, and record what's playing in my head. If it's schizophrenia please don't cure me, ha ha..
.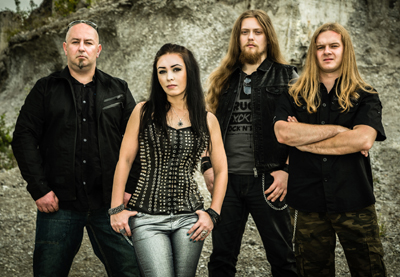 Sonic Cathedral: You also brought out the best in your two guest vocalists, Sataniac from Desaster and Harry Conklin from Jag Panzer and other bands. How did you come to choose those two guys specifically, and how did the members of your band find the experience of working with guest vocalists?
Marta: We always try to invite members of other bands to be special guests on our albums; it's already kind of tradition for us, like recording cover songs. We invite people we respect and like, this time it was Harry and Sataniac. They are great guys, talented musicians, and it was a great pleasure and honour to work with them. So everyone, if you don't know Desaster or Harry's bands – Jag Panzer, Satan's Host and Titan Force – then check them out, they are fuckin' awesome and metal to the bone!
I wouldn't say that working with guest vocalists is a kind of new experience for my band members, as our guests record everything in their local studios and send us their tracks.
Sonic Cathedral: How are the fans reacting to Possession, and how would you describe the typical Crystal Viper fan?
Marta: It looks like our fans really like this album, and a lot of them to say it's our best album so far. It's always great to hear such nice words from the people, thanks to whom Crystal Viper really exist. Typical Crystal Viper fan? I would say it's a person who loves heavy metal music!
Sonic Cathedral: Looking ahead, what are your plans for tours, concerts, festivals and studio work this year?
Marta: I still compose music, so it's not really a plan, but with Crystal Viper we will play in few great places this year, and we will visit countries in which we've never been before. There are also other projects that I've started to work on, but it's too early to reveal the details.
Sonic Cathedral: Looking in other musical directions, how do feel about a solo Leather Wych album, or perhaps a project like the projects by Arjen Lucassen with Ayreon, etc? For example, your brilliant countryman Mariusz Dudek, from Riverside, took a different and more atmospheric approach on his solo albums as Lunatic Soul. As for you, Marta, you have considerable experience as a session musician and a guest musician. On Possession you used guest vocalists. You should be very qualified to put together a project album!
Marta: First of all, I never officially used the Leather Wych nickname. I know you can find it on several websites, but it's not true. To your question, well, I've never really thought about a solo project, as I actually write all the music and lyrics in Crystal Viper. But in addition to Crystal Viper I'm working right now on something very special. I don't want to tell too much before it's done. Time will show!
Sonic Cathedral: What gave you the idea of starting your Thunderball range of clothing, and how is Thunderball doing?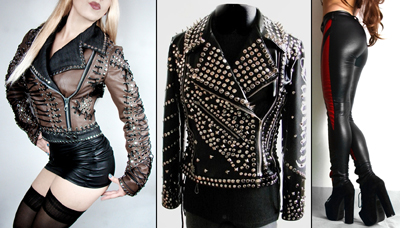 Marta: Oh, it's a long story. When I started playing in a band, I wanted to wear cool clothes on stage, but there was nothing special in the stores. So I was sewing my stage outfits myself, and from time to time I was making something for my band mates or for friends. I finally decided to expand this hobby into something more serious, and I created my own clothing line.
From the other side, this is the next possibility for me to do something creative, something that I like, and you know, I can bring to life my most crazy ideas. And I'm even happier when somebody wears Thunderball clothes, it's a great feeling!
It looks like it's getting better and better, I already created clothes for bands such as Sabaton, Vader, Wizard, Steel Horse, and many others. Of course I also design and make clothes for people who don't play in any band, but want to look original and who are ready to rock!
Sonic Cathedral: You are described as one of the hardest-working musicians. How do you relax, and what are your interests outside music and business?
Marta: Well, my two biggest hobbies are music and fashion, but I also like to watch movies, go out with my husband to the cinema, and recently I caught the photography bug, but sadly I don't have much time to expand this hobby.
Sonic Cathedral: Who have been your role models during your life and your career, and how do you feel about being a role model for other musicians?
Marta: As a person, I didn't have role models, I've always tried to be a good person and not hurt others, that's it. As a musician, I've always had a lot of "heroes", like Mike Oldfield, Tony Martin, Glenn Tipton, Rob Halford, Doro, and many, many others. Regarding being a role model, I know a few musicians who used to say that they were inspired by my work, and it's a huge honour for me, really.
I've never thought in my life that I would become an important musician for a young people. If they are able to see something good and valuable in my music, and thanks to this they want to make music, then it's a most beautiful thing: art makes art.
Sonic Cathedral: There are so many new bands emerging all the time, all of them full of dreams about becoming as big as Crystal Viper. Would you have some advice for those bands with real talent who are struggling to break through? They would surely welcome some words of wisdom from you.
Marta: I've never thought about my band this way, if we are big or not, and to be totally honest, I don't think we are big: look at bands like Iron Maiden, Metallica or Slayer! To answer your question, if a young band want to achieve something, the first thing is hard work and being able to learn from people with greater experience.
Always follow your dreams, and what is most important: always write music that you really love and feel. Never think about writing something that you don't like to satisfy the audience, because fake feelings in music are hearable. Do what you love, don't hurry, and enjoy it as much as you can.
Sonic Cathedral: Finally, let's look really far ahead, Marta. Where do you see yourself in 25 years?
Marta: On stage with my guitar, composing music with my piano, and in my Thunderball atelier working on a killer outfits for all those who rock!

Marta Gabriel's Thunderball Clothing Facebook
Special thanks to Dustin Hardman at AFM Records
Photographs: Crystal Viper and Thunderball website and Facebook pages