MacBeth Interview 2005
By: C.
With: Fabrizio of MacBeth

Upon reading my review of the latest Macbeth album for Sonic Cathedral, I was contacted by the band's management and asked if I would like to conduct an interview. As I had never interviewed a band before I decided to do what I felt was easiest and compile a list of questions for the band to answer by e-mail. I received a prompt answer from Macbeth drummer/lyricist/songwriter Fabrizio.
I tried to cover as many bases as I could, and in the following you will read about the band's history from their beginnings in the late '90s starting with their demo recording
Nocturnal Embrace;
the process behind the making of their latest album
Malae Artes
as well as their latest tour, and their plans and hopes for the future. You will read about what inspires the bandmembers, from everything to their fans to the matter of the outside world that inspires their lyrics.


Interview Info

By: C.
With: Fabrizio of MacBeth (drums, lyrics, songwriter)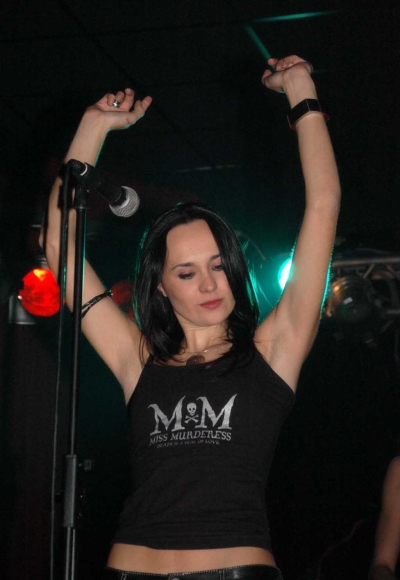 Questions about the new album and tour:C:
Tell us some things about the process of making Malae Artes and how it differed from the making of other albums.
Fabrizio:
We recorded and mixed Malae Artes in Milan and then it was mastered in Trento. Our recording process can be broken down into a series of steps. We usually enter the studio to record drums, bass, and guitars parts, then we exit the studio for few days with a first rough mix. Next step is to record keyboards and some of the vocal parts. Again a rough mix and a week to listen the work done. Last step is to record voices and samplers, mix and mastering. That's all...For the first albums we enter the studios and we exit with the album done in few weeks…you can hear the differences.
C:
Were any extra tracks recorded during the Malae Artes sessions, and if so, is there any intent on releasing them for future singles, limited edition CDs, etc.?
Fabrizio:
Sorry, no extra tracks. :(
C:
How did the idea come about to cover a Sarah Brightman song on this album? Is it because you are fans of her music or was it more an "experiment" for you?
Fabrizio:
We like very much this song and we made our cover version. It fits like a glove on our new sounds! You don't think so, huh?
(Editor's note: I think it's great!)
C:
What difficulties, if any, did you encounter during the Malae Artes sessions? What lessons did you learn during the making of this album that will better prepare you for future endeavors?
Fabrizio:
Few difficulties because we entered the studio ready. We learned to plan all the things and try to think before to the problems that may occur when you're in studio. You know, if tension is high…
C:
We know that during the time period between Vanitas and Malae Artes, there have been some bandmember changes. Tell us about how that has changed Macbeth, in positive or negative ways.
Fabrizio:
We lost few unprofessional musicians; we gained a good guitarist. ;) Sometimes you've to choose what is right over what is easy…
C:
What was the reason for the lapse of time between albums?
Fabrizio:
After recording our second album, the lead guitarist decided in a week to give up the band. He was with me one of the main composers; you can realize that it was not a very good period for MACBETH. We began to look for a guitarist and after trying a couple of bad musicians, I remembered my old friend Max. After 2 months he was on stage with MACBETH. So, we started to work on new stuff after throwing out of the window all the songs composed between Vanitas and the main guitarist giving up…We wasted time and waiting is often painful, but I think the new album is a reward to all pains!!!
(Editor's note: As I said in my review, I agree wholeheartedly!)
C:
How were the gigs in Mexico? How were you received there, and is there any possibility of doing a small tour in the United States anytime in the future?
Fabrizio:
The shows in Mexico were awesome! Fans are really crazy, especially in Mexico City and Guadalajara.
The crowd was amazing; they knew all the lyrics, which surprised even the band. I remember our fans jumping, and singing our songs...it was amazing!
Malae Artes
will be released in USA soon, our label signed just now a license deal…we like very much your country and we hope to play in USA soon to bring our sound. We will see what happens…
Questions about touring and songwriting in general:C:
Of all the places you have been to, which cities did you enjoy the most and why? Are your fans most rabid closer to home, or in other places outside of Italy?
Fabrizio:
My favourite gig was in Guadalajara, Hard Rock live. Cool venue, crazy fans, great show. I remember also a pretty cool show here in Milan last year with a huge crowd. We have many fans in Mexico and South America, so here's the better place...
C:
Who were your musical influences when you started playing music, and what bands of today do you consider being an inspiration to you?
Fabrizio:
I guess a musician must listen to all kinds of good music. So, there's not only one band or few bands in our background. I like very much: Porcupine Tree, Slayer, Muse, Hocico, Sopor Aeternus, Death, Madonna, Enya and many more… Our sound comes from a ton of stuff, (too many bands to be mentioned) because our roots are very different, but if you add them the result is MACBETH. I began with an Iron Maiden LP…and then I fell in love with heavy music.
C:
We know that lyrically, you write most if not all of the lyrics. What are your influences for lyric writing? Many musicians cite outsides sources such as books, movies, etc., for being influential to their lyric writing. Is this the same for you? Which "non-musical" influences do you have that inspire your lyrics?
Fabrizio:
Life experience is the biggest influence. I can say the main subject of the album is the truth. I can be inspired by everything, by movies, soundtracks, books, basically by reflections of my life. All new songs deal with lies, deceit, double-faced people…Anyhow the album is not a concept. "Nuda Veritas" (the intro) is a prelude to many reflections upon appearance. But be careful! Do not expect a negative album because our lyrics will teach you to open your eyes to search the other face of everything. We are really positive people…
C:
Explain your songwriting process; is there a set routine or does each song differ by way of how the inspiration for that song might come to you?
Fabrizio:
Somebody comes up with a riff and I work on it with Max. Then we practice that all together until we feel it's sounding pretty tight and soon after I write lyrics to the music we just made. Sometimes we're inspired and we'll have a whole song in five minutes, sometimes it could take months to complete a song…
C:
Do you write songs constantly, even when on tour, or do you only focus on songwriting in certain places/environments?
Fabrizio:
Usually we focus on songwriting after a tour but maybe we use riffs or ideas born on tour…
C:
Are there any songs of yours that have personal meanings or are significant to you? What songs do you enjoy playing live the best? Which songs would you rather not play live for whatever reason?
Fabrizio:
I guess I like all our songs from the first one to the last album. I must say I prefer to play live the new songs, because are direct and heavier…people like this kind of live shows.
C:
What songs can fans expect to hear on the tour? Any songs you are pulling out from the early days that you have not played in a long time, or any older songs that you have never played live before?
Fabrizio:
In the last tour we played a lot of old songs to please fans that pay to see the show. ;)
C:
When choosing a setlist for the tour, are you more prone to choose songs that are fan favorites, or do you like to be full of surprises and change your setlist from night to night?
Fabrizio:
We have to arrange with the situation…we usually choose a fan favourite setlist and then we think how to promote the new album. Of course we'll play only songs that we like to play.
Questions about the band's history:C:
Is there any possibility of re-releasing Nocturnal Embrace to CD? Or perhaps remaking Romantic Tragedy's Crescendo with Morena's vocals?
Fabrizio:
I guess that a remake is never as good as the original. Though I prefer Morena's voice I don't think that we'll do a remake the first album. Imperfections are part of life…I kept a bunch of
Nocturnal Embrace on tape
…Maybe one day someone will release a new remastered edition…
C:
How long did it take after the departure of your first singer to find Morena? Did the band actually hold auditions for a new singer, or was Morena someone you already knew and recruited to the band straightaway?
Fabrizio:
When we asked to our first singer to give up the band we already knew another singer that sang in MACBETH for few months. So, straightway we recruited Morena to record Vanitas, she was a friend of friends.
Questions about the band's present success and immediate future:C:
How has the massive success of Lacuna Coil helped you as an Italian band playing similar music, if at all? In what ways has it helped and in what ways has it been a hindrance?
Fabrizio:
Well, you must answer…Lacuna are popular in your country…our album will be released soon in USA and we'll see what happens. We love Lacuna Coil, they rock! Anyway, we have our sound though a lot of people always compare us to them. I read your review and I know that you understand we've our trademark, it is so?
(Editor's note: Yes, I think so; I've never personally been inclined to compare Lacuna Coil to Macbeth other than that they both have male and female vocalists and are from Italy…and that they're both great bands!)
C:
Are there any bands/artists out there that you would like to perform with or collaborate with in the future?
Fabrizio:
Lacuna Coil of course, then I don't know…In Flames, Moonspell, Paradise Lost…
C:
Many Macbeth fans want to know, are you already thinking as far ahead as a new album? Or does the band focus on each release as it comes and think only of newer material after the tour is over?
Fabrizio:
Soon we'll work on new stuff, don't worry. ;)
C:
Thank you for your time and best of luck with the new album and tour. :)
Fabrizio:
Thank you C. & Sonic Cathedral for the cool interview and thanks to all the fans that support our music.
To learn more about Macbeth, visit the band's official website:
http://www.macbeth.it