Category: Concerts & Events
Published: November 19 2012
By Max Levites & John Thornburgh
Hits: 7844
Metal Female Voices Festival X
October 19-21, 2012

Sonic Cathedral has been a sponsor and partner of the Metal Female Voices Fest since the beginning, but for the first time in SC history, more than two staff members (six, to be exact) found themselves in the same place at the same time, which just happened to be the festival's tenth anniversary show! Not only did we have a good time meeting and getting to know each other, we also got to watch no less than twenty two bands and a ton of phenomenal women rock the Oktoberhallen in Wieze, Belgium over the course of three days!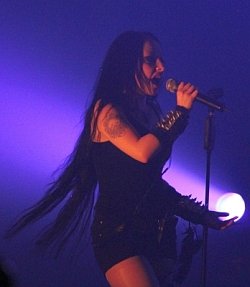 It'd be nearly impossible to compile all of our thoughts and experiences of the festival, but two of our writers, John Thornburgh and Max Levites, have put together their impressions of the festival and of each band they saw to share with the masses.
Note: not every one of us saw every band (to do so may have killed us), so if you only see one review of a band instead of two, it's because one of us was taking a well-deserved break and/or was too busy being starstruck to notice that another band had started their set.

Read more: MFVF X - Review II