Within Temptation - Live in Concert
September 11, 2011 - Terminal 5 New York City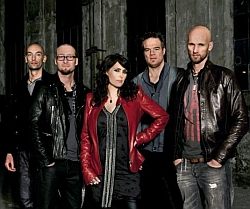 It has been 4 years since Within Temptation has played a concert in North America and the fans that were lucky enough to attend one of the 6 showcase shows in September were treated to an amazing musical experience from one of the premiere bands in female metal. Although the stage setup was more minimalistic than their previous headlining tour, the band was as majestic as ever.
Coming to New York City's Terminal 5 on September 10th, the band played a venue that was almost 3 times the size of the hall they played back in 2007 and were able to sell it out well in advance. Bass player Jeroen stated afterwards that he didn't expect these kinds of crowds with the band being relatively unknown in the United States but that he was pleasantly surprised with the attendance and to expect Within Temptation to return as soon as they can.
Read more: Within Temptation - Live in New York