Dame-Nation, Chicago, June 31, 2012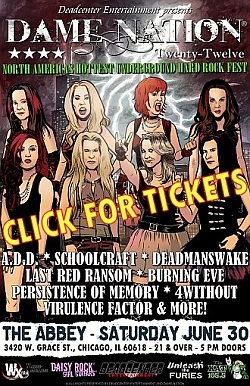 Back in the day I did my share of big concerts. I was at Monterey for the Pop Festival in '67. There were others that may not have been that large but they sure drew by the tens of thousands. And, there were the one day concerts that occurred in Florida and Georgia seemingly every weekend, Jimmy Buffett bringing in a bunch of bands to play at the Miami Marine Stadium for an afternoon and evening while we sat around on a three masted schooner and watched the girls swim around topless, trying to remember who was playing and not really caring all that much. The 60s and 70s were the decades of big concerts, lots of Southern Rock, the San Francisco sounds from the Summer of Love followed up with the big hair bands of the 80s. Well, about that time, I had kids and the concerts seemed to stop for me for the next 20 years. By the time I got back to giving the notion some consideration, the bands were of somewhat less interest, although I did attend some Country / Western things in the Deep South. So, when Robin Stryker suggested heading down to Chicago for Dame-Nation, it seemed like a good idea. Summer time, very little chance of snow and the drive slightly over 100 miles each way. So, I packed it up, taking the convertible rather than Black Bonnie, my more typical two wheeled form of transportation with full knowledge of the traffic in Chicago and knowing that there might be a beer or two to be had at the venue before heading home around 2:30 the following morning.


All things considered, not a bad trip although it was so hot the top was up on the ride down from Wisconsin with the air conditioning running and Rammstein and Blackthorn blaring from the car stereo. Of course, the expected run through "Pay toll here" Alley drained the bank account faster than the bar and Chicago traffic lived up to expectation, at least on the way down. But, the venue, the "Abbey" was relatively easy to find and parking was no problema. So, I got there a bit earlier than planned and spent some time reconnoitering the premises and making sure I had the bar fully explored before the first band hit the stage. Now, interestingly enough, Dame-Nation is advertised as being "American / Canadian" acts, which is about as close to local as you can get in this part of the world, Canada being closer than my previous abode in North Carolina. Well, the first band I met up with at the bar was speaking nothing but Polish. I mean, WTF? But then I thought about it and, well, in this part of the US there's probably more Poles than there are in Poland so I guess it shouldn't be that big a deal. But, after talking to them, I hooked up with another band, and they were talking Czech, as in Czech Republic. This was beginning to look a little more international that what I was prepared for. But, after talking to that band for a while, I got much the same story as I had from the Poles; most members of both bands had been here for more than a decade and were pretty much Americanized. But, it did give the bands some color, especially the Polish band, Burning Eve and their flaming red haired suprême chanteuse Toyah Tarnowska who put on one of the more energetic and dynamic performances of the event.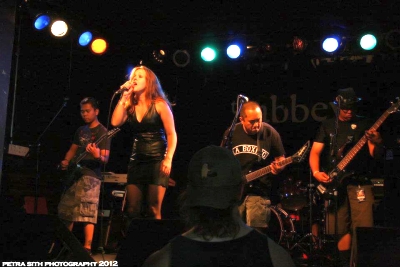 Well, the evening was a long one, the bar was fully stocked and it was unreasonably hot in the Abbey; Chicago, like much of the rest of the country going through one of the most devastating heat waves in a long time. But, then came the call, "Oyez, Oyez, Oyez. All persons having business before the honorable, the Dame-Nation are admonished to draw near and give their attention for the bands are now ready to crank it up. God save Femme Metal and this honorable Festival, let 'er rip." Yup, the music was finally starting and I pulled myself away from the bar to catch the first act, Virulence Factor which featured a hot, long haired vocalist with a bunch of pretty strong, mainly Asian guys backing her up. Now, you know I'm up on the latest in the technology arena, I am a SAS jock after all, but, my media skills seem to be falling behind. My new camera works well under water, where I spend much of my time, but not that well in low light and the video format doesn't interact well with my video editing software. So, although I'm working on the problem, I don't have much to work with video wise and these pictures were supplied by promoter Eric Sanchez. I will attempt to provide a YouTube video where possible, not from the night in question but from someplace, probably in the Chicago area. And here's one with VF and the lovely Deborah Villanueva on vocals. Their set was largely representative of much of the evening's fare, heavy on the metal, light on the symphonic Gothic. Now, I certainly didn't get into the lyrics, and they weren't available, so my knowledge of what the bands were singing about was limited to a few conversations. But, the Midwestern US tends to favor this approach and that's what we got for most of the night.
The second act was 4without and they differed from the previous act by presenting one of the more dynamic little singers I have had the privilege of watching. Now, you'd think I'd remember her name, spent enough time talking to her, but can't seem to remember, I do remember a lot of other things about her. When you watch the European femme metal singers, you tend to get a much more reserved style, more classically oriented, less moving around. Not this lady, she was all over the place, a little dynamo and very much fun to watch. Sound wasn't bad either, good act, could have watched more but they had a second date that evening so they were here and gone.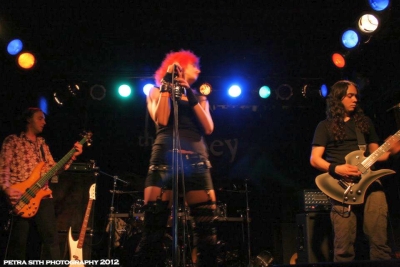 The third act was the Poles, Burning Eve. Guess if I had to pick a favorite for the night this might be it. Again, a truly dynamic vocalist, although this video doesn't demonstrate it. The girl can bring a house down, and she was just as animated before and after going on stage. Remember that girl in the movie the 5th Element, well, put her on speed and that's what you have here. At one point, the boys told me they were going out to eat, I looked over at the merchandise corner and there she was, putting out the shirts and CDs. I asked her why she hadn't gone out to eat and she said "Don't have time." She never slowed down, and on stage she just cranked it up to double time. A very solid performance, and the EP they provided me with demonstrated that musical flow just as nicely. I'm sure planning to get back to Chicago to see this bunch, once it cools down a little of course.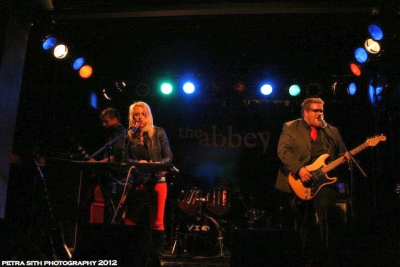 Next up was Last Red Ransom from Atlanta, er, Marietta as I recall. Probably my other favorite performance, a lovely blond vocalist who also did guitar and keyboards. Now, having lived in Marietta I had a fondness for this band based on that fact alone, but, since they were also friends of Robin's, we got to spend some time after their performance talking. They had driven all the way from Atlanta in a day, were planning on getting a little sleep and heading home, real road warriors. This was clearly the most European sounding production of the evening. The vocalist, Charlotte Kelli, did both harsh vocals and a lovely clean vocal style, alongside clean male vocals by her husband, Saint. We discussed their approach to music a little, I was impressed with the keyboards but Charlotte told me they didn't compose with keyboards, they tended to use them to fill in where required. Certainly a different approach from many Europeans. But, the sound did mirror that direction and was certainly the most comfortable sound of the evening for me. And you just don't see a musician as multitalented as Charlotte very often. There should be a review of their latest CD on the Zine before too much longer.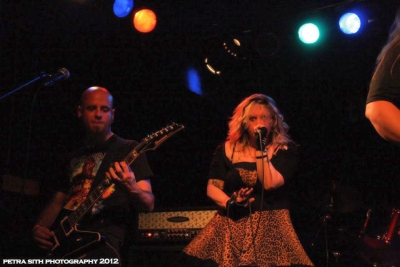 Deadmanswake was up next, another rock style band from Chicago with an uptempo vocalist demonstrating a lot of energy. This seems to be the style in Chicago, guess it helps them warm up in the winter when the winds off Lake Michigan are sending temperatures that would frighten an Eskimo. They put on a solid performance and vocalist Kryssie Ridolfi worked the crowd like a Chicago politician. This was their fourth go at Dame-Nation; they consistently wow the crowd and are invited back year-after-year. Seemed like a lot of people knew them, I of course did not, guess they don't get to the Carolinas or Wisconsin. But, if you like high-energy rock with a sly undertone, this was a good option to meet that need.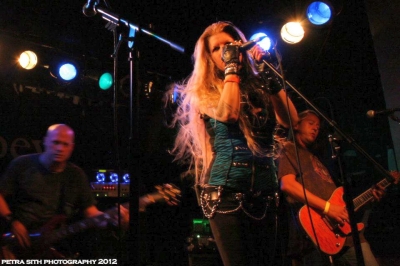 The following act was another repeat from an earlier Dame Nation. This one was A.D.D. which, I understand, stands for Analog Digital Disorder. I did a bit of a double take when they came out on stage, vocalist Margaret Young performs with long flowing blond hair and sure favors Frida Eurenius of the Swedish band Lapis Lazuli, not a comparison to be taken lightly. But the styles were different, musically and lyrically from what I could understand. Frida is far more into the dark Gothic sounds from Europe, and their music captures that theme. A.D.D was more metal oriented, more guitars, less keyboards. But, the hair thing, seen here, was difficult to ignore. . Certainly a band with a solid visual appeal and, if you prefer the guitar-oriented sound and huge vocals with a raw edge, they capture it nicely.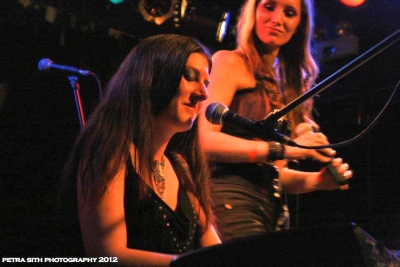 The next performance was a bit different from the rest; I had to get the details from Robin Stryker since they're all friends of hers. Seems that Lindsay Schoolcraft (vocalist for the Canadian alt/goth rock band, Mary and The Black Lamb) was giving the audience a sneak peek at some tracks from her solo project, Schoolcraft. A welcome respite in an evening primarily full of high-decibel rock … just Lindsay on keyboards and Scott Brindley on drums for most of the set. About midway through, she was joined by Grace Méridan (vocalist for Shield of Wings) for a duet cover of "New Way to Bleed" by Evanescence. Grace and her partner-in-crime, Dale Tippett (vocalist for Something Beautiful) performed one song from their project, Candlelit, before yielding the stage to Schoolcraft. I, for one, will be interested to hear the final Schoolcraft tracks with the guitars and symphonic elements in place.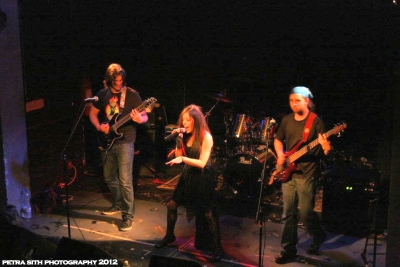 Mindshatter brought us back to the more traditional approach for the evening, featuring a totally loveable front woman. By this time, the influence of the bar's liquid reality enhancers were beginning to impact my thinking and I probably didn't catch much of what was going on, and all the girls were looking really good. I don't have a lot of information on the band, and the only video I have is this one from a different show, where they cover Paramore's "Decode." The audio quality leaves something to be desired, but hopefully you get the idea.
The final act was Persistence of Memory, another Chicago area act and a relatively new one. They got the late slot, and I mean very late, but Robin says they poured their hearts and souls into their performance. Gotta respect musicians who give their all, even when the crowd has thinned in the wee hours of the morning. I don't remember, I might have been headed for home by then and visiting my best friends in the world at the Chicago Toll Booths. But, they seem to have some videos and, again, they reflect that Midwestern American approach to music that predominated here. And frankly, I can't recall the last time I saw a femme metal music video that featured a fist fight. Definitely a Chicago thing.
Well, there you are. It's good to see something like this occurring in the American Midwest. I have to say there were some terrific moments, lots of high octane metal, lots of easy on the eyes vocalists. Sure beats spending the night in middle Wisconsin drinking the local brews with the bikers. And, as I was headed home, this time with the top down and listening to Six Magics from Chile I couldn't help but appreciate that there were this many femme metal bands in the area. We had about 3 in the Carolinas. I expect the concert to go on again next year; I will be there, hopefully in something less than 95 degree heat. Hope you'll be there with me.
Photos Credits: www.dame-nation.com