Delain - CD Review
Lunar Prelude

CD Info
Album: Lunar Prelude
Artist: Delain
Label: Napalm Records
Language: English
Tracks: 8
Total time: 36:04
Rating: 9 of 10
"Strike while the iron is hot": that seems to be an adage that has served Delain well over the course of their decade-long existence. Never one to rest too long on their laurels, the Dutch six-piece are always up to something even if Delain is not currently at the top of the to-do list. Even while touring for their 2014 album, The Human Condition, Delain frontwoman Charlotte Wessels found time to start a side-project, Phantasma, based on a novella she also had time to write in-between touring and recording and everything else she does.
Delain has not only gained a reputation as hard workers, but within the scene, they have also become one of the few bands with a message. Instead of opting for the fantasy theme or lyrically abstract concepts, Delain actually speaks up (and out) about the things that matter to them. Whether it's writing anti-bullying anthems, or challenging their listeners to question societal standards of beauty, or warning of the dangers of prescription drugs and its stranglehold on humanity; Delain have used their music to champion the causes they believe in, and as a result, has found an audience among a community that already have been branded as outcasts or social misfits. Delain writes the rallying cries for the underdogs; even when doing covers, they tend to choose those songs that carry the same sort of meaning. Over the last several years, they have really evolved into a band that stands out from their contemporaries by way of using the power of music to make a statement; and while there are many things to love about Delain, this is the main reason for me.
Because they are a band that knows how to keep their own momentum going, they know that when that proverbial iron is hot, there is not enough time to stop the train dead in its tracks to go into the studio and make a new album right away. So, just as they did in 2013 for the Interlude album, as a tide-over between We Are the Others and The Human Condition, Delain gives us another similar offering in 2016 with Lunar Prelude, an 8-song EP complete with a few new songs, some live tracks, and some alternate versions of older tunes. Something to give the fans while they wait for new music, which will likely not come until sometime next year; as they are going to set out on another North American tour with Nightwish this spring, and have tons more touring to do before the year is over.
Delain has also experienced some lineup changes recently, with the acquisition of guitarist Merel Bechtold, adding some even more "girl power" to complement Charlotte's fierce stage presence. Lunar Prelude not only gives the fans a chance to hear a few new songs while waiting for a full-length album, but it also gives them the chance to hear what Merel brings to the table as well.
From the second the opening track, ""Suckerpunch", kicks in, it's a fitting title, because it hits you from the moment the first keyboard riffs start in. Charlotte's voice is strong in the chorus, there's a lot of chanting in the background and some cool orchestral elements going on as well. This is Delain at their best: more "symphonic rock/pop" than "symphonic metal", but that's not a put-down by any means: they are one of the few bands in the genre that can manage to write a catchy, "radio-friendly" hit song while still maintaining all the key components that make up symphonic rock or metal. Delain is flawless at this, and "Suckerpunch" is a fine example of Delain's ability to craft hooky melodies that are still steeped in symphonic goodness.
The second track, and the other new song, is "Turn the Lights Out"—which is starts off slow and builds up—is even more akin to the symphonic style than its predecessor. Charlotte's vocals are positively gorgeous here; those marvelous high notes that she does so well.
The third song is an alternate version of a bonus track from The Human Contradiction: "Don't Let Go". It's heavy, it's driving, it's in-your-face. I love the Delain songs that are hard-hitters, while Charlotte sings in a soft voice or with not much force. The contrast in style just gives the music that extra something that would be overkill if the vocals were equally forceful. There isn't much difference between this version and the original, other than in Charlotte's vocal delivery on some parts, and it's about 10 seconds longer.
The next four songs are live versions of tracks from The Human Condition: "Lullaby", "Stardust", "Here Come the Vultures", and "Army of Dolls". These are wonderful examples of what a great band Delain is live: musically, they're on-point, and Charlotte knows just how to use her voice to work the audience. She has those moments where she sings low and soft, and then pulls you in with her high notes that get the crowd clapping along and completely under her spell. The audience loves it, as they cheer madly at the end of each song. Even after seeing them live twice (so far) and knowing how closely they come to their studio magic, it's still amazing to hear how tight of a live band they are, and how they manage to duplicate their studio sound almost note for note.
The final track is an orchestral version of "Suckerpunch", and it's a gorgeous rendition with nothing but strings, building to a dramatic crescendo. Play this one for your friends who say that metal isn't "real music". They'll think they're listening to a dramatic movie score, and will never be the wiser!
Overall opinion: Lunar Prelude is a perfect "tide-me-over" until the next full-length Delain album comes our way. It's also a good way to introduce new fans to the band, because it has a little bit of everything: new songs, live tracks, and remakes of previous material so as the listener can hear the band's musical diversity. Longtime fans and new listeners alike will not be disappointed!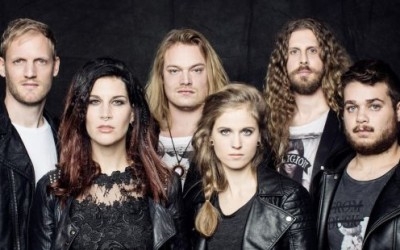 For more information about Delain, visit the band's website: www.delain.nl