Helion Prime - CD Review
Helion Prime


CD Info
Album: Helion Prime
Artist: Helion Prime
Genre: Power/progressive metal
Language: English
Tracks: 10 Total time: 50:12
Rating: 9 of 10
Nerd culture and heavy metal lifestyle have always shared similar characteristics: both are shunned and ridiculed by the general population, until or unless some invisible "they" deems it as cool or fashionable, and then all of a sudden everyone wants to jump on the bandwagon and claim a spot for themselves. So it isn't too surprising that the two factions often cross paths, and that usually many metalheads are closet "geeks" or vice-versa. We see it a lot in both places: the power metal genre in particular thrives on combining the two worlds for those people who love fantasy stories, video games, comic books, or sci-fi movies. I would go so far as to say that power metal was built by and for the "nerdy" metalheads who weren't particularly interested in the mosh pit or the beer-swilling denim-and-leather crowds; but still loved heavy music and found it difficult to belong even in a group full of outcasts and outsiders.

Over the last decade or so, as "nerd culture" has become more favorably looked upon, and "geek chic" has become a term, power metal has filled that need even more: from bands basing their entire catalog on the works of J.R.R. Tolkien, concept albums built around comic books or video game characters, or elaborate stage productions paying tribute to futuristic spaceships or life-size replicas of mythical beasts; power metal has become the soundtrack for any metalhead with a collection of mint-condition memorabilia and a penchant for cosplay.
So what happens when two like-minded metalhead science enthusiasts get together? Well, you form a band, of course! That's what happened when about 2 years ago, Dire Peril guitarist Jason Ashcraft and Graveshadow vocalist Heather Michele bonded over their mutual love of The Chronicles of Riddick, Star Trek, and all other things related to science fiction and science in general. The concept of their project of simple: to combine power metal with "themes based on actual scientific theories with the occasional sci-fi tribute". Taking their name from a planet in The Chronicles of Riddick movie, Helion Prime was formed.

Between the both of them, Jason and Heather are some well-rounded musicians in their own right, working with everyone on the scene from Ralf Scheepers of Primal Fear, Brittney Slayes of Unleash the Archers, all the way to Arjen Lucassen himself! So they had not only a musical vision and the passion to make it work, but they had the experience to put it all together. In early 208, Helion Prime released an EP; now, almost a year later, their full-length self-titled debut is ready for the world. With an album cover reminiscent of the classic Martian movies of the 1950s, you can see right away what Helion Prime is all about, as the music takes you away…to another galaxy, perhaps?

"Into the Alien Terrain": From the start, this short instrumental piece tells you straight off that this is something based on sci-fi. The synths are reminiscent of video game music.

"The Drake Equation": Jason's ripping guitar riffs grab you by the throat from the outset, and Heather's voice is clear and melodic (it gets especially high in the second half of the tune). Complete with a sing-along chorus, this song asks the question, "are we alone?"

"Life Finds a Way": Some killer drum rolls and equally crunchy guitar riffs, complete with a blistering guitar solo. Heather throws down on this track with her vocal chops as well.

"Into the Black Hole": Quintessential "space metal"; this lightning-fast venture into power metal takes us on a trip through the titular locale. The music and vocals pack a mighty punch, making us feel as if we're floating through space, lost and forlorn, but anxiously excited to find where we'll land.

"A Place I Thought I Knew": Written in honor of Leonard Nimoy, it doesn't get more "sci-fi nerd" than this! Although this piece was composed before Nimoy's death and is more in reference to his Spock character, it has become a moving tribute to an icon to so many fans of the genre. A fitting memorial, if I may say so myself. But I'm probably not a good judge of that, considering I'm not keen on sci-fi or know anything about Leonard Nimoy (besides the obvious), other than that he wrote a song about Bilbo Baggins!

"You Keep What You Kill": Guest vocalist Niklas Isfeldt of Dream Evil comes in to add his menacing growl to Heather's luminous vocals. She holds her own right along with him by belting it out with her own enormous voice.

"Ocean of Time": This is my favorite track on the album. Not only does it feature some of Heather's best vocal work, but musically, it combines the speed and aggression of thrash metal with the melodic intricacy of power metal. It's got something for everyone!

"Moon-Watcher": A slow intro ushers in this song, which builds up and explodes into some serious guitar riffing. Heather's voice is a bit more on the gentle side here, and it sounds lovely. The chorus is damn-near infectious!

"Apollo (The Eagle Has Landed)": A balls-out heavy tune that recants the historical event of the 1969 Moon Landing, everyone goes full-throttle on this track. Heather belts it out, and the band is jamming their asses off. It's right up there with the Rush song "Countdown" as the most kick-ass song ever written about modern-day space exploration!

"Live and Die on This Day": This one features another duet between Heather and Niklas; this time with his clean vocals, so they sound quite nice together. The song starts off slow, but then breaks out into a power metal jam for the ages to send this album off properly! And while I can't give away the ultimate spoiler of the final track, let's just say this album ends with a special guest vocalist that is near and dear to Jason and Heather!


Overall opinion: Helion Prime has made a strong debut album, and it is a must for any fans of Ayreon or those who enjoy "space metal" or bands whose themes are based in science fiction or tackles scientific subjects. The album addresses topics such as questioning our place in the universe ("The Drake Equation"), black holes ("Into the Black Hole"), and the lunar landing of 1969 ("Apollo"). There is a lot here not only for sci-fi enthusiasts to enjoy, but for anyone who loves scientific theories or anything pertaining to science. The music is very diverse as well; though Helion Prime calls themselves power metal, I hear a lot of progressive elements here—especially on songs like "A Place I Thought I Knew" and "Moon-Watcher"—and there are also elements of thrash and speed metal. Jason has a multi-faceted playing style that showcases all these different genres in just the course of one song or one guitar solo. Heather is a kick-ass vocalist whose strength is not in operatic grandiosity or aggressive growls: she's just a straight-up rock singer that can sing her ass off. The songs are heavy and melodic, but also have those choruses that you can't help but sing along to, because they stick so easily in your head! The music has so much going on, it's hard to narrow it down to categories or genres. It's just good music, and sometimes that is the best description of all! If you are fairly new to the genre, Helion Prime is worth putting on your list of bands to check out; it's heavy enough to definitely qualify as metal, but it's straightforward enough to where a new listener is not overwhelmed by too many other things going on. (Even if you're not new to the genre, Helion Prime is still worth giving a try!) For a debut album, this is leaps and bounds ahead of what most bands can pull off on their first time out, but Helion Prime has a lengthy résumé in the music biz, so they know what they want to do and know exactly how to put it together. Even though it's only the beginning of the year, Helion Prime is a strong contender already for making my list of favorite albums of 2016.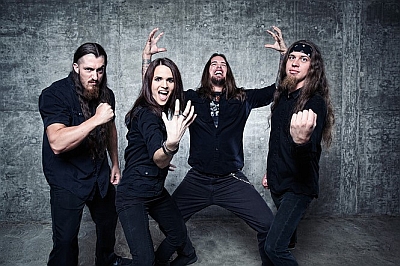 Special thanks to Jason Ashcraft
For more information on Helion Prime, visit their website