Nightwish - CD Review
Endless Forms Most Beautiful



CD Info
Label: Nuclear Blast
Tracks: 11
Language: English
Total track time: 78:54
Rating: 10 of 10
From the moment that Floor Jansen stepped on a stage with Nightwish in Seattle on the first night of October in 2012, fans were captivated by her and what she brought to the band. As she continued her tenure with Nightwish throughout the Imaginaerum tour, she won the hearts of fans all around the world; from North America to the band's home country of Finland, all the way to Australia. Yet through it all, two questions remained: would she stay with the band when the tour was over? If so, what kind of magic would they create together? It was clear that Floor was breathing new life into the songs that had been written for either of the two past singers, so once it became official that Floor was the new singer of Nightwish just a year later, fans were anxious to hear if this long-awaited merger would live up to its promised potential.
However, it seems par for the course when it comes to Nightwish, that whenever a new chapter begins, there is something that comes along to put a damper on things. As the band gathered together in mid-2014 to start putting together the new album, it was announced that drummer Jukka Nevalainen—who had been part of Nightwish from the very beginning—was stepping away from the drum kit due to health issues and would be taking an indefinite hiatus, which meant he would neither play on the new album nor join the band on tour. It seemed that for the first time in years, Nightwish had the perfect lineup finally intact, and now it would be compromised again with yet another bandmember change.
Enter Kai Hahto, the man who was chosen by Jukka to fill in for him. Kai, a well-known and respected drummer in the Finnish metal scene, seemed a good fit. Though it was a shame that the first album featuring Floor and longtime guest musician Troy Donockley as official bandmembers would also mark the first Nightwish album not to feature Jukka, the band wasted no time in pressing forward and putting together what would become Endless Forms Most Beautiful: the album that most Nightwish fans have waited nearly 3 years to hear. For some fans, they'd waited even longer than that; for many of them wanted Floor in the band as far back as her After Forever days. As the saying goes, things happen for a reason, and while Floor was not available to front Nightwish back when many would have liked to see her there, it seemed as though she was meant for the job all along.
Thematically, the album was not a concept record the way Imaginaerum had been, but Tuomas compared the two albums in interviews by saying that if Imaginaerum had been an ode to imagination and fantasy, then Endless Forms Most Beautiful was its polar opposite in that it was a tribute to logic, rationale, and purpose. To emphasize this point, the album featured a guest no one was expecting: not a musician or a singer, but world-renowned scientist Richard Dawkins. At any rate, the album promised to be something very different on a lyrical scale than what fans were used to. Now it was time to find out if the music was going to be every bit as special as fans had hoped for ever since Floor Jansen joined forces with Nightwish less than 3 years ago.
"Shudder Before the Beautiful": A spoken part by Richard Dawkins ushers in this bombastic opening track; very reminiscent of several Nightwish songs at once. The orchestra is grand and sweeping as we've come to expect, matching the frenzied pace of the band. Floor's vocals start out softly at first, but build up to that big voice of hers in the chorus. "We are shuddering before the beautiful…we are the voyagers", Floor sings with such power and conviction. And what's this? A guitar solo from Emppu? Tuomas bringing back more of the keyboards? No wonder this song sounds so across the board; parts of it sound like it could have been on Dark Passion Play, others are reminiscent of Oceanborn. Apparently this song is supposed to be a "summary" of the band's musical history, and it does a spot-on job of that. This is a stellar opening track and will probably be a staple at shows on this tour.
"Weak Fantasy": The heaviness of Nightwish is apparent here, with guitar riffs so crunchy you can taste them. The orchestra is present, but not overwhelming. Vocally, Floor delivers this in almost a chanting, sing-song style. Marco jumps in on the chorus with his wild vocals to complement hers. Floor also gets a little more aggressive on this track; closer to her ReVamp-style vocals in some parts. Emppu has a lovely acoustic guitar part in the middle of the song, making a nice melodic break in an otherwise predominantly heavy song. Marco has a spot for his voice, which sounds so perfect with the heavier tracks. This song stands out as a favorite for me.
"Élan": The first single, it has all the trademarks of a "typical" Nightwish single; think "Amaranth" crossed with "Nemo" with a touch of "Last of the Wilds" thrown in for good measure. Troy's pipes open up the song, which is a catchy, mid-tempo tune that easily sticks in your head and might even make you want to nod your head to the beat or maybe even get up and dance a little, if you are so inclined. It also features some of my favorite Nightwish song lyrics so far for this album: "write a lyric for a song only you can understand". Even on an album that is supposed to center on the cerebral and analytical, Tuomas still manages to incorporate his lyrics of fancy and escape.
"Yours is an Empty Hope": If I had to compare this to other Nightwish songs or other albums, I'd say to consider this tune to be the "Master Passion Greed" or "Slaying the Dreamer" of Endless Forms Most Beautiful. Musically, it sounds like a darker, heavier version of "Dark Chest of Wonders", but that only lasts until Floor and Marco let loose on the vocals. This is a perfect blending of orchestra with the band; neither is overpowering the other, but working in tandem to pack a heavy punch. Floor and Marco go back and forth, almost in a contest to see whose voice can get the most aggressive. Floor pulls out all the stops and does some growling on this track!
"Our Decades in the Sun": A heart-stirringly gorgeous ballad, I'm not going to lie—the first time I listened to this song was on headphones while taking my dog to the groomer. I damn near cried right there at the groomer's in front of everyone; that's how beautiful and moving this song is. In a recent article, it was said that this song was deeply emotional for everyone in the band and the most difficult to record. Lyrically, the song is a token of gratitude towards our parents: the ones who give us life, who see us through to adulthood, and who will live on as part of us long after they are gone. Floor's voice is soft and soothing, matching the gentle melodies of Tuomas' piano parts. Again, if I had to make reference to past Nightwish material, this would be the "Meadows of Heaven" or the "Dead Boy's Poem" of the album; although not as operatic or theatrical, yet no less poignant or evocative.
"My Walden": Now that Nightwish technically has 3 vocalists, Troy gets a singing part of his own as this song starts off with his voice singing lyrics in either Gaelic or Welsh (not really sure which; as of this time I only have a promotional copy to hand, and there are no lyrics provided). This song is full of the light-hearted whimsy that Tuomas is known for: his ability to pen songs that are not only deep and heart-wrenching, but also fun and playful. This is one of those in the latter category; yet at the same time this is a Nightwish song not quite like any other they've done before. Troy's pipes set the stage for a tune that makes you want to get up and dance around merrily, and the chorus is so hooky that you'll be singing it at random moments long after you've stopped listening to the album. I could see this making an excellent sing-along at live shows, if the band plans to make this part of their setlist. Floor puts a cap on this song and belts it out in that wonderfully bone-chilling way that she does with that giant voice of hers.
"Endless Forms Most Beautiful": The title track kicks off with some snappy, fast-paced drumming, and reminds me in some ways of the Once bonus track "Live to Tell the Tale"; the same sort of catchy sing-along vocal style, quicker-paced during the chorus. Kai shows off some lightning-fast drum rolls at this time as well. We also hear just the barest hint of Floor's operatic voice at the start of the song. The orchestra and the band do a fantastic trade-off during the instrumental part; each one showcasing themselves long enough for the listener to get a taste of each, but never too long to where it seems one or the other is stealing the spotlight.
"Edema Ruh": During the video trailers chronicling the making of the album, Tuomas mentioned that this track was the one he had originally intended to be the first single before the democratic vote went to "Élan". Listening to it, I can understand why, and I have a feeling this track will be the second single; it would be a shame not to make it a single, because it is catchy enough to be one, but also just different enough to where it stands out. Floor's voice remains on the softer side throughout, gaining a little more momentum during the chorus and as the music picks up. Lyrically, this song appears to be in reference to The Kingkiller Chronicle trilogy of fantasy books written by Patrick Rothfuss; the title characters being a band of wandering musicians and storytellers traveling as troupes in covered wagons, trading their art for food and shelter. Seems rather fitting material for a Nightwish song! Musically, it has that same spirited sense of delight that make up some of the Nightwish songs in the "fun and playful" side of their catalog. Parts of this song even remind me a little of HIM; that same contrast of gothic darkness mixed with bright pop sensibility. I'd count this song as another favorite.
"Alpenglow": I can see this song being a big fan favorite; it's in the same vein as songs like "The Wayfarer" or "The Escapist"; catchy-yet-heavy with a memorable chorus. Emppu and Troy play off each other so well during the instrumental break, and Floor's vocals are delivered in that similar hooky way that induces head-bobbing and finger-snapping as the aforementioned songs.
"The Eyes of Sharbat Gula": Named for the iconic National Geographic magazine cover featuring the wide eyes of a young girl—a sight familiar to many of us who grew up in the '80s, including myself—this instrumental piece is definitely the "soundtrack song" of the album. Musically it is no-frills, but so powerful in its simplicity. We hear the voices of all three singers chanting a mournful, wordless vocal; followed by the children's choir chanting a melody. Troy's pipes with the children's voices suggest a feeling of innocent determination, as Kai's subtle drumbeats tattoo a cadence to the confusion and senselessness of war.
"The Greatest Show on Earth": The longest Nightwish song written to date, this track clocking in at nearly 24 minutes has had a lot to live up to for all the expectations. Starting off slowly with the piano, it builds up to a thunderous roar of the sounds comets, punctuated with the orchestra at each beat. Parts of the beginning are reminiscent of "Song of Myself", but with more punch from the orchestra as it weaves between the softness of Troy's pipes or Tuomas' piano. Then, at last, we hear the operatic vocals from Floor that we have been dying for all along. They pierce your heart with its pure beauty, sounding as close to old-school Nightwish in these all-too-brief moments as we have had so far; and that's saying a lot, for an album that has done such a fantastic job of merging together old with new. Although her operatic parts are small, any more would be overkill. Tuomas knew what he was doing by waiting for the final song to give the fans what they wanted, but also knowing what was just enough. Then Richard Dawkins takes the mic to wax poetic about the beauty of nature and evolution; of life and death. Whether these words are his own, or if he is reciting words that Tuomas has written, the words are brilliantly evocative in a very Nightwish way; and if these are his own words, one can tell how he fits in with Nightwish and feels as though he's always belonged there. After he speaks his part, the entire band jumps in for a symphonic metal jam for the ages. Floor's vocals are more of a speaking voice when she returns for the verses; sounding cold and robotic in its delivery, only to be contrasted by her great, commanding vocals seconds later. While the orchestra has held back during most of the album, they are making up for it now. We hear more random sounds in the background as the orchestra builds up to the heavy part of the song, where Marco and Floor go back and forth and just fucking rock it out as they describe the history of the world and the nature of evolution in their verses. "We were here! We were here!" the voices of the choir and of the vocalists chant again until it explodes into a moment of silence, and slowly back to life with Tuomas' piano and Troy's pipes. The music slows as Dawkins speaks again of how lucky we are to be able to die, because we were able to live at all; and goes on to describe how those who never get to be born "outnumber the sand grains of the Sahara", and that through insurmountable odds, our DNA somehow managed to beat out all those others. "How dare we whine", how dare we complain that we have to die, when "the vast majority have never stirred" and so many could have been born in our place instead? The orchestra takes over, and in its bombast, carries the song to the end, where Dawkins speaks the words which inspired the album's title, and we fade out to the sounds of comets crashing to earth, the turmoil of ocean waves pounding against the rock, and birds chirping in the trees, and the breath of human life. The greatest show on earth? More like possibly the greatest Nightwish song to date!
Overall opinion: In many ways, this is exactly the Nightwish album we have been waiting for and were expecting with Floor Jansen. Now, I know a lot of fans are going to hear this on first listen and will be turned off by the fact that her operatic voice was not utilized nearly as much as it might have been; or they will hear a lot of these songs and wonder why Tuomas is still writing for a more rock or pop voice when he has someone who can actually sing more complex vocal parts. But I think the goal here was to showcase all the myriads of Floor's vocal ability, and if that was the objective, then Endless Forms Most Beautiful achieved it perfectly. Whether it was her operatic voice on "The Greatest Show on Earth", her softer vocals on "Our Decades in the Sun" or "Edema Ruh"; or her larger-than-life powerhouse voice on tracks like "Shudder Before the Beautiful" and her straight-up aggressive growling on "Yours is an Empty Hope", Floor Jansen's voice ran the gamut of anything she was required to do vocally, and aced with flying colors. I daresay that neither Tarja nor Anette could have pulled off these tracks in quite the same way, or would be able to sing these songs with the same flourish. Sure, there are songs either one of them could have done well—"Élan" could have been easily tailor-made for Anette, for example—but I don't think either of them could have pulled off all 11 songs in exactly the same way.
For Marco fans, they may be a little disappointed to hear that he is not featured as much vocally either; but one theme that has run throughout this album in several ways has been "less is more", and while Marco is not featured as much as he has been on past albums, his parts are exactly where they need to be, and perhaps it is nice to finally have Nightwish back to a female vocalist who can take on the bulk of the work. I also love how they have found a way to utilize Troy's voice as well! It seems that everyone had a role on this album, and played it no more or no less than where they needed to be.
That being said, one thing I do think the fans will like about the album is that the orchestra has taken a backseat as well. They are still as ever-present to the music, but they have gone back to being an accompaniment to Nightwish, instead of the band accompanying them, as seemed to be a major complaint among fans regarding the last two albums, but especially Imaginaerum. It got to a point where it felt like Nightwish was guesting for the London Symphony instead of the other way around! On this album, we get to hear Nightwish as a band again: Emppu is playing guitar solos, Tuomas is bringing his keys to the forefront, and Troy is incorporating other instrumentation besides his pipes (such as the bouzouki). You can tell in each song that this was a group effort, and that everyone had a part instead of just some parts hanging in the background while the orchestra took over.
This brings me to Kai Hahto, who obviously must be mentioned as he is the newest addition to the Nightwish dynamic. Granted, he does not have the skin-bashing, pounding style of Jukka, but Kai fits into Nightwish rather well. His approach is more concise, and definitely works with the "less is more" method that this album has called for. He knows when to jump in and show off, and how to execute a drum part with just the right amount of finesse. He knows when to be heavy and aggressive, when to be quick and to-the-point, or when to be slow and methodical. That is not to say Jukka never did any of those things, but rather that Kai's style is more about fitting himself into the song rather than fitting the song to him, which many identifiable drummers (such as Jukka) tend to do. There are just those drummers that you know instantly when you hear them and Jukka is/was one of them, no matter how fast or slow the song may have been. Considering I have not heard much of Kai outside of this album, I can't say if this unique ability to be noticeable while unobtrusive is his style, or if he is just holding back on making too much of a mark because he is "the new guy". Either way, I rather like what he's brought to the table and think he's a solid component to the music.
Speaking of the music, another thing that might jolt the fans is how much this album both at the same time incorporates so many new things, yet much of it has a feel of albums past. So many parts are reminiscent of Oceanborn, yet in other parts reminiscent of Once, or Imaginaerum, or even Tuomas' solo album. While Endless Forms Most Beautiful seems to be a musical rundown of the "evolution" of Nightwish, there is so much here that is unlike past Nightwish material; "My Walden" is a prime example. While there's never been a song quite like it, the song has bits and pieces that bring several older songs to mind. "Alpenglow" is another example of this. Really, each song has this unique trait of reminding the listener of something they have heard in the band's catalog, yet also sounding like something new and exciting. "The Greatest Show on Earth" is probably the best example of that; it has all the hallmarks of a Nightwish epic, but it's not like one we've heard before. The only song that might not fall into that category is "Élan", because it does sound so much like that "typical" Nightwish single, but even as the "dark horse" of the album, it's still a lovely tune that fits nicely within the album's theme.
Lyrically, I have always wished for Tuomas to dive into more intellectual waters, as he has dipped his toes in the subject matter here and there on songs like "A Return to the Sea" or "Stargazers", for example. Much as I have always loved his lyrics about fantasy, imagination, and innocence; I have also been curious to see other sides to him as a lyricist, and have wondered what kind of things he would write about if he ever wished to become more philosophical or analytical. Not surprisingly, he has that same sensitivity and openness when he writes about evolution as he does when he writes about escapism. I hope this will not be the end of such cerebral lyrics, as I rather like them and would enjoy seeing him adopt this style more in the future. That being said, however, I do see a lot of fans having a hard time adjusting to this, as many people love Nightwish for those lyrics of childhood daydreams and make-believe. But we've all got to grow up sometime, even our poets; and Tuomas loses nothing in the transition from illusionary to pragmatic.
Overall, this is an album that needs more than one listen to properly digest, because there is a lot going on. There are little things you don't catch on the first few listens, and there are things you hear right away that you have to go back and listen to again because you're not sure if you heard them (Floor's growling being one of those things!). For those Nightwish fans out there that have lost hope that the band will ever get back to their roots or go back to their glory days, they may not hear it right away with Endless Forms Most Beautiful, because they are looking for something that smacks of the obvious. But if you are willing to give it a chance and listen to it with an open mind, you will hear all of those things that many fans claim to have missed over the last few albums. The symphonic bombast is still there, the poetic lyrics and dramatic vocal delivery is all there too; all the things that people have come to love about Nightwish, it's all there. This quite possibly might be the band's best effort since Century Child; in that it's the last Nightwish album I can think of where the band and the orchestra worked fluidly together, and the orchestra did not override the music too much. Endless Forms Most Beautiful has accomplished that as well, and many Nightwish fans who have missed hearing the entire band or have felt that the band has been drowned out by the orchestra as of late; I think they will be pleased to hear that those issues are not a problem anymore. It's clear that the orchestra is not going anywhere; nor should they, because they have become just as much a part of Nightwish as the band themselves, and there would be a void without them. But I do think that Nightwish has finally struck a perfect balance of knowing how to use them, and using them in new ways. As a longtime fan, I do feel that Endless Forms Most Beautiful is the start of a new chapter in the ongoing Nightwish story; and with any luck, it's only a sign of even better things to come!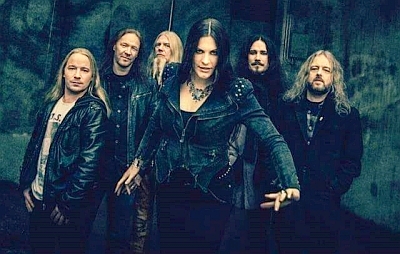 Special thanks to Oceansouls of America: www.nightwish-osa.ezweb123.com
For more information, visit the band's official website: www.nightwish.com