Triosphere - CD Review
The Heart of the Matter

CD Info
Genre: Symphonic/progressive metal
Label: AFM Records
Language: English
Total tracks: 12 Total time: 54:26
Rating: 9 of 10
After a 4-year wait, Norwegian progressive/symphonic band Triosphere is back with their third album, The Heart of the Matter. Making waves on the femme-metal scene since their inception several years ago, Triosphere's unique frontwoman/bassist Ida Haukland was setting herself apart from her contemporaries on the scene. With her straight-up, no-frills rock voice that could set aflame the coldest of hearts, Triosphere was becoming something uniquely different than the other symphonic metal bands out there, yet at the same time doing it just as well as any of their legendary counterparts.
"My Fortress": Some guitar work reminiscent to '70s rock like Black Sabbath or Led Zeppelin builds up to heavy riffing and fast drumming. Ida's voice just rips through and grabs you by the jugular from the outset. A great album opener; a track that gets you headbanging right away, complete with a lightning-fast guitar solo.
"Steal Away the Light": Some classic power-metal riffing here; think stuff like early Stratovarius. Ida starts off slow, but that doesn't last long, as she belts it out in the chorus and gets stronger with each verse. The insanely fast guitar playing is the centerpiece of this track, which only gets more intricate in the solo. This seems like it would be a great sing-along at live shows.
"The Sentinel": Mournful orchestral sounds make you think this is going to be a slow ballad, but then the band jumps in and Ida lets loose! This is another heavy tune with a catchy chorus that's sure to get your fists pumping and your head banging.
"Breathless": A super-heavy tune with crunchy guitar riffs, and then slows down to bring in Ida's softer voice, which is just as pretty as her rock voice is aggressive. She also shows off a little of her bass-playing skills on this track as well; as the song alternates seamlessly from slow and melodic to fast and heavy. So far this is my favorite track on the album.
"Departure": Dreamy-sounding guitar work provides the melody to the fast, pounding aggression that is the center of this song. The band's symphonic elements really show on this track, and Ida switches back and forth from sweet and seductive to tough-as-nails.
"The Heart's Dominion": The band's first single, this was a good choice for a track that best defines the album's sound. A choir of operatic voices opens up the song, and then Ida rips it up with her insanely out-of-this-world vocals. You can really hear the contrast between her more melodic vocals and her grittier rock voice. The orchestral elements in this song appeal to any new listener that assumes they are getting yet another run-of-the-mill symphonic metal band, but they learn fast that this is not the case!
"As I Call": Impressive drum work opens up this song, along with some more power metal-type guitar riffs. Ida experiments with her lower register here, which is no less powerful. This song shows another side to the diversity in her voice: the lower, more voluptuous vocals; coupled with the high, soaring vocals.
"Relentless": Slow acoustic guitar work leads in to the fastest and heaviest riffing on the album so far, where Ida is there to meet us with even higher, mightier vocals. This is another song I can picture being an all-out headbang-fest at the band's live shows. The guitar solo is so fast you almost wonder if you wandered into a Dragonforce song!
"The Sphere": So once you think the album has gotten as heavy as it's going to get, Triosphere throws another one at you that assures that indeed, they can go faster and heavier! This song is a little darker and more progressive in feel, but no less filled with power metal potency. "Can you feel me like I feel you?" Ida inquires in a chant-like voice that would make for a good crowd sing-along.
"Remedy": Whether the song is going through its fast or slow parts, Ida's vocals are a total powerhouse throughout. Another song that fuses the fast melodies of power metal with the cohesive complexities of progressive metal. As heavy as the song is, it ends with gentle piano work, which is about as close to a ballad as this album has come so far.
"Storyteller": Cadenced drumming and rapid-fire riffing takes us to Ida's voice, urging the song title's subject to "tell us a story". We then hear her own version of "beauty and the beast" vocalizations…between herself! Going from sinister and almost growly in one moment to harmonious and sweet in the next, Ida shows us how a femme-metal band doesn't need to rely on a strong male voice to convey aggression. The song takes an even heavier turn with thrash-type guitar riffing that would make the Big 4 proud.
"Virgin Ground": Melodic progressive guitar work joins in with Ida's soft, mournful vocals; a slow, dreamy song that makes for a fantastic album closer. We have heard all of what Triosphere can do when the volume is cranked all the way up; now we get to hear them stripped down to the basics, and it is gorgeous for all its simplicity. The song clocks in at less than 3 minutes, but it's clear that "less is more" is the basis here. It's a fitting end to an album that took us on a rollercoaster of crazy guitar riffs, bombastic vocals, and straight-up symphonic metal splendor. After all that, it's nice to end on a gentler note, and Triosphere is just as amazing when they are plucking at your heartstrings with a ballad as they have been when they are kicking your ass with a heavy tune.
Overall opinion: If you think this is going to be another one of your cookie-cutter symphonic metal bands, think again! There has been a shift over the past several years in the femme-metal scene as far as what we've come to expect in our female-fronted symphonic metal bands, and Triosphere is definitely among those who are shattering the glass ceiling and showing the listeners out there that it doesn't always have to be about majestic opera vocals or high, sweet elfin voices. Straight-up rock voices with a rougher edge are starting to incorporate their way into the world of symphonic metal, and Triosphere is leading the way in this new approach to the genre. When listening to Ida's voice, I am instantly reminded of the pure, melodic passion of Ann Wilson; but also at the same time think of the wild and free, no-nonsense boldness of vocalists like Leather Leone. Musically, Triosphere takes the lightning-fast power metal guitar riffing of bands like Stratovarius, the sophisticated progressive metal sensibility of bands like Dream Theater, the lavish symphonic metal majesty of bands like Nightwish; tosses them all together and adds their own special ingredients to the mix to make for a full, multifaceted sound that can still be contained within a reasonable 4-5 minute timeframe. The guitar riffs are crazy-good, and Ida's voice is to be heard to be believed. She can belt it out with abandon, or sing softly in a way that will pierce your heart; whatever the song calls for, she's right there to bring it full force to the listener. Triosphere grabs you from the opening notes of "My Fortress" and refuses to let go until the last chords of "Virgin Ground". But by that point, you're probably transfixed anyway! If you are a fan of symphonic metal but feel the genre has gotten a little stale or predictable over the past few years, or someone who is new to the genre that has found many of the bands to sound a great deal alike; then you might want to give Triosphere a listen. Likewise, if you are a longtime fan of the genre who wants to know what the newer bands are up to or what sorts of new sounds are cropping up on the scene these days, then Triosphere is a band you want to put on your "bands to watch out for" list. Either way, Triosphere is a breath of fresh air on a scene that has perhaps grown a little too comfortable in its skin as of late. With any luck, Triosphere may quite possibly be on their way to becoming the future of female-fronted symphonic metal.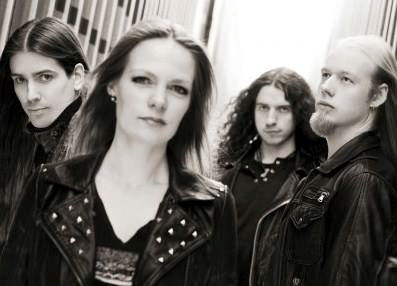 For more information, visit the band's website