Article by Angela Infernale
Review by John Thornburgh
With a mini interview with Oliver Thierjung of Lyriel

Release Dates: Europe: September 26th, 2014 North America: November 4th, 2014
Germany's Lyriel have a lot going on right now. They just released another great album and new music video, they're preparing another live DVD, and they also have their release party and 10th anniversary shows coming up. Even before Skin and Bones officially hit the shelves it made it to #1 of the German Amazon Gothic Metal charts.
I'm not good at CD reviews. Especially when I feel I'm too close to the product, which, with me being friends with the band and having seen and heard the material at different stages, was the case here. So I decided to do a collab article and to get a second opinion. John Thornburgh, Sonic Cathedral staff writer, had heard the album before – or so he thought – and wanted to join in. Turns out he just mixed up Lyriel and another band, but after hearing Skin and Bones, he was still all for it. And in order to give you a true inside view of the album and some current Lyriel projects, we also asked the band a few questions.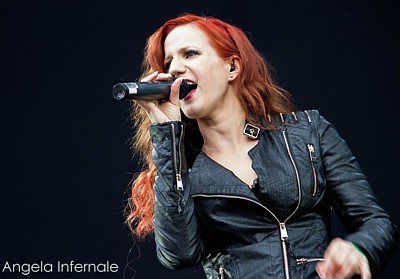 Personally, I have to say that Skin and Bones is probably my favorite Lyriel album thus far. In the past few years they've gone from a more mellow rock with Celtic influences to a heavier style of rock. With Leverage, their previous album, they took their first big step into the metal world, and now with this latest album they've pressed ahead with this transition. The band still maintains its signature style, though - a combination of standard rock/metal instruments with classical elements. My personal favorite is "Der Weg", the only German song on Skin and Bones, and even if you don't know the language you should give it a listen for its great musical composition and vocal melodies, especially in the chorus.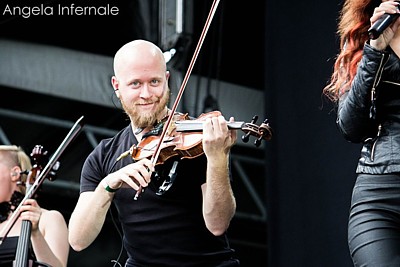 Skin and Bones Album Review
I'm really glad that I confused Lyriel for another band I like (Lyria) because Lyriel's new album, Skin and Bones, is great.
The opening notes of the first song, "Numbers," reveal what to expect on this album: powerful melodic riffs and galloping bass. You might think you've put on an Iron Maiden album. But then moments later Lyriel's folk metal sound kicks in, adding violin and cello to the mix. After that come Jessica Thierjung's enticing vocals, accompanied by a funky beat. The guitar and strings ramp up again for the chorus, and Jessica kicks her vocals into anthem style. This song, which the band has released as a video, is a great introduction to the album.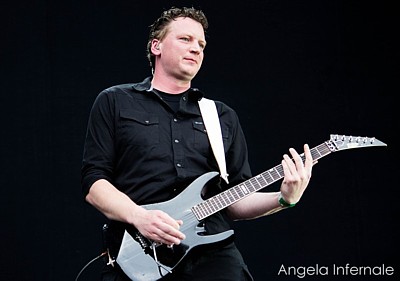 The next song, "Falling Skies," is even better and reinforces my view that Lyriel has successfully merged Iron Maiden with folk metal. This song is dynamic and cinematic, with cool riffs, driving rhythms, and soaring vocals. Jessica does a great job conveying emotion with her voice, and she switches easily from quiet, pretty passages to the high energy chorus. Her articulation is also great, so we get the full benefit of the band's lyrics, which fit the emotion of the music perfectly: "I'm prepared to see the mountains crumble. Come on, let the skies fall on me. Let them fall on me." I really enjoy the passage where Jessica chants, "Let them fall. Let them fall. Let them fall." The album is full of dark, dramatic lyrics. Some of the best are in "Dream Within a Dream," a piano ballad inspired by Edgar Allan Poe. "We are not supposed to be. All that we see or seem to be is but a dream within a dream."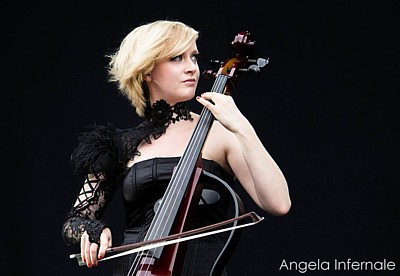 Another standout song is "Black and White," which features clean male vocals and intense growls from guest Christian Älvestam, along with more of the album's signature music. "Worth the Fight" and "Running in Our Blood" are two other energetic, galloping numbers. "Days Had Just Begun" is a power ballad that provides some contrast, as does the catchy "Your Eyes."
Lyriel mentions one of my favorite bands, Delain, in their press material, and I can definitely see the connection in terms of voice, lyrics, and guitars (though Delain is of course symphonic rather than folk).
I expect that most fans of Delain or Maiden, as well as folk metal fans, will really enjoy Skin and Bones.
Rating 9/10.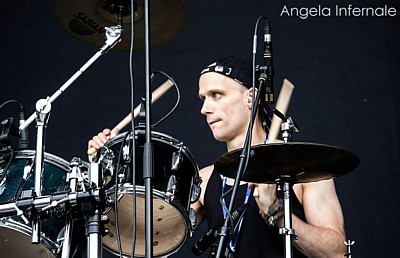 Mini Interview with Oliver Thierjung of Lyriel Translated from German
Oliver Thierjung, co-founder and bass-player of Lyriel, took some time to sit down and answer a few quick questions about the album, the writing process, and what's coming up next for Lyriel.
How would you describe the style of Skin and Bones?
That's hard to explain when it comes to our music. We mix heavy sounds that are typical in rock, gothic, and metal music with softer instruments such as violin, cello, and female vocals. We don't put the focus on operatic vocals or bombastic music like other bands in this genre do, but put emphasis on an authentic sound with lots of melodies and emotions. Celtic influences also come in, and we are open to other influences as well.
How has your style changed since the last album – and in general?
The early albums are a lot more romantic Celtic rock and not very metal. Skin and Bones is probably the most metal Lyriel album so far.
Can you tell us something about the writing process for the new album?
The songs usually start out on my laptop, as a basic composition. These basic compositions are not for the sophisticated listener, because what you hear sounds nothing like the final product. At this point Linda usually gets the demos to write the lyrics. The next step is fleshing up the basic composition with the complete instrumentation and turning it into a demo. Then we do the recordings for the final mix.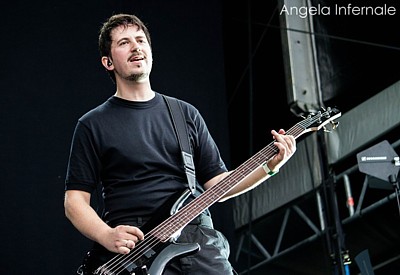 What's your favorite song on the album and why?
My favorite is definitely "Worth the Fight". I love this song, it has a very lively structure and is a bit more complex than the other songs. The ending with the rhythm guitar tops it off and then there's the finale.
Were there any songs that didn't make it onto the album?
Not this time. There was one that didn't make it onto Leverage [the previous album], but we will be releasing it soon. The song didn't make it onto the album because we couldn't finish it in time. So we put it on hold for a while.
What's up next?
Quite a lot until the end of next year. On December 13th, 2014, there's the 10th band anniversary party with another release to go with it. In spring we'll release a live DVD, and in fall 2015 want to release the next album already. We're also planning a lot of shows. So far there are no set dates, but they're coming soon.
Is there anything else you'd like to tell us?
Sure, check out our new video on Youtube. We'd be happy about your likes on Facebook, and to see a lot of you at our shows. See you then!
To learn more about Lyriel, check out these links
Official website: www.lyriel.net
Facebook: www.facebook.com/lyrielofficial
Youtube: www.youtube.com/channel/UCXAN7XvNfOLPPd3S3L3-5yw
Lyriel are (left to right): Oliver Thierjung (bass), Tim Sonnenstuhl (guitars), Linda Laukamp (Cello, backing vocals), Jessica Thierjung (vocals), Markus "Fidi" Fidorra (drums), Joon Laukamp (violin).